Features
Tech Specs
Awards
Gallery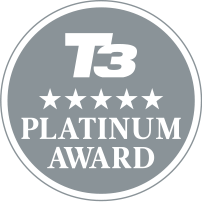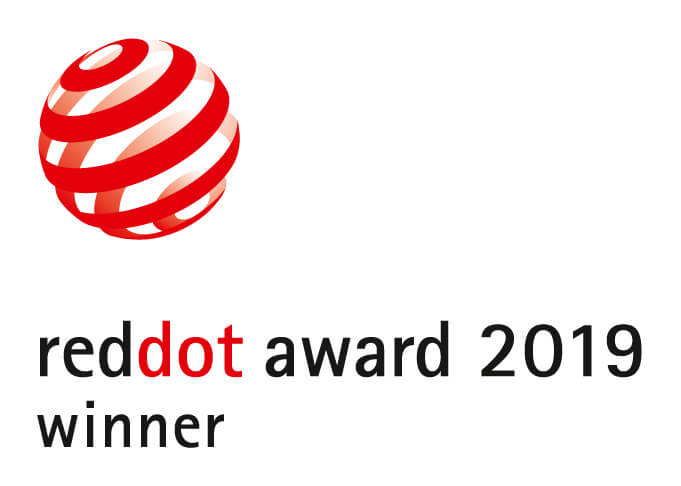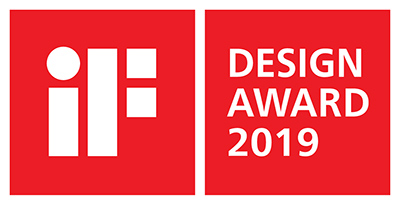 Go Big. Stay Slim.
The ROG Zephyrus S17 sets the standard for ultra-slim Windows 10 Pro gaming laptops. Powerfully equipped with up to a GeForce® RTX 2080 SUPER™ GPU and 10th Gen Intel® Core™ i7 CPU, the Zephyrus S17 blazes through serious workloads. Thunderbolt™ 3 amplifies your versatility, letting you connect next-gen devices that accelerate video editing, 3D rendering, and more. Experience silky smooth gameplay with the blazing fast 300Hz/3ms display, complete with Pantone® validation that ensures superb color accuracy. The ROG-exclusive GPU switch changes between G-SYNC™ for gaming and Optimus for battery life.
DESIGN
THE MOST COMPACT 17-INCH GAMING LAPTOP EVER
Immersing yourself in a larger display usually means lugging a larger laptop, but slim bezels and smart design make the ROG Zephyrus S17 the smallest in its class. Easily carry it around town or across the world thanks to compact dimensions that put a 17-inch display in a 15-inch form factor. The sleek magnesium-alloy body fits inside standard bags* and is strong enough to stand up to everyday life.
*The ROG Zephyrus S17 fits into the 15-inch ASUS and ROG backpacks below.
ROG backpack: 15180-00203000
ROG Zephyrus S17
399 x 272 x 18.7mm
OTHER TRADITIONAL 17" LAPTOP
424 x 332 x 29.9mm
6.9
MM
Super narrow bezels
23
%
Smaller than conventional 17"
DISPLAY
TRUE SPEED AND COLOR ON DISPLAY
Slender bezels draw you deeper into the action on the fastest 300Hz IPS-level display. The ultra-high refresh rate makes fast-paced gameplay smoother and lowers input lag, while the 3ms grey-to-grey response time produces sharper visuals with no blurring. Pantone® validation ensures superb color accuracy across all of your visual media, whether you're playing the latest AAA titles or adding creative content to your professional portfolio.
Pantone
®

Color Validation

Each IPS-level panel is Pantone® Validated to ensure superior color accuracy across the full sRGB range. Artists, designers, and content creators can do serious professional work and enjoy richer gaming visuals all on the same machine.
PERFORMANCE
QUICKLY SWITCH GEARS FOR WORK AND PLAY
Live a double life powered by the ROG-exclusive GPU switch. With just a few clicks, RLive a double life powered by the ROG-exclusive GPU switch. With just a few clicks, the ROG Zephyrus S17 transitions between better gaming and longer battery life. G-SYNC mode synchronizes the GPU and display to deliver smoother gameplay with lower input lag and tear-free graphics, while Optimus mode selectively turns off the discrete GPU to save power with everyday desktop productivity and entertainment.
* Performance may vary based on system configuration. Battery life tested with NVIDIA® GeForce® RTX 2080 SUPER™ GPU, Intel® Core™ i7-10875H CPU, 300Hz display, and 1TB SSD.
BATTERY PERFORMANCE
(OPTIMUS MODE)
* Tested in Windows 10 version 1809.
* Performance may vary based on system configuration. Battery life tested with NVIDIA® GeForce® RTX 2080 SUPER™ GPU, Intel® Core™ i7-10875H CPU, 300Hz display, and 1TB SSD.
PERFORMANCE
POTENT PERFORMANCE WITH NEXT-GEN GRAPHICS
Remarkably slim without sacrificing speed, the ROG Zephyrus S17 harnesses the latest GeForce® RTX 2080 SUPER™ GPU and 10th Gen Intel® Core™ i7 CPU to deliver desktop-like performance for hardcore gaming and serious creative work. The GPU enables photorealistic graphics thanks to real-time ray tracing technology and AI-enhanced image processing. It's accelerated by ROG Boost up to 1330MHz at 90W in Turbo mode, with 8GB of GDDR6 VRAM that can be overclocked up to 120MHz faster than stock speeds. This powerful core is backed by up to 48GB of DDR4-3200 RAM* support for heavy multitasking and a 1TB NVMe SSD for your game library and professional portfolio.
*Requires i7-10875H processor or better. Please check with local vendors for qualifying configurations.

ROG carefully chooses advanced components to ensure system stability and performance. To deliver the best experience, we use DDR4-3200 memory running at 1.2V. Reaching that speed with third-party modules is not guaranteed. Please contact your local ASUS support center for more details on memory upgrade options.
Up to a GeForce
RTX
2080
SUPER™
GPU
8-core
10

TH
Gen
Intel® Core i7 CPU
BOOST CLOCK (90W)
1330MHz
GPU
UP TO
1TB
PCIE® X4
SSD STORAGE
SUPPORT UP TO
48GB
DDR4-3200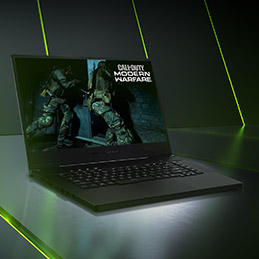 NVIDIA
®
GeForce RTX™ 20-series GPU
GeForce® RTX laptops are the ultimate gaming powerhouse with the fastest performance and most realistic graphics, packed into thin designs. Unleash the power of AI and real-time ray tracing on the most demanding games and creative projects.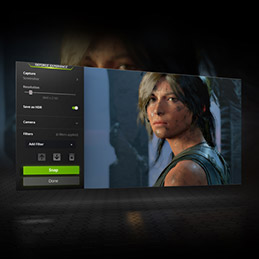 NVIDIA® Ansel
Turn your screenshots into art with this powerful in-game photo mode that captures 360-degree, HDR, and super-resolution photos.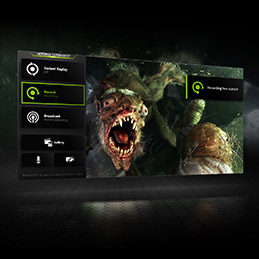 NVIDIA® Shadowplay™
Record and share high-quality gameplay videos, screenshots, and livestreams with your friends.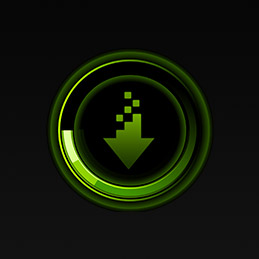 Game Ready Drivers
Get the highest levels of performance—and the smoothest experience possible—from the moment you start playing.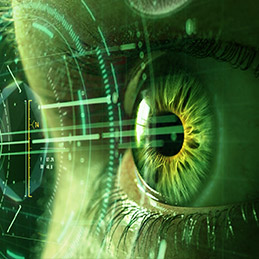 Virtual Reality
GeForce® RTX combines advanced VR rendering, real-time ray tracing, and AI to bring you a whole new level of VR realism.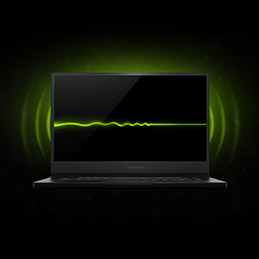 Whisper Mode
Now, your plugged-in laptop runs much quieter while in use. Whisper Mode intelligently paces the performance and graphics settings for optimal power-efficiency.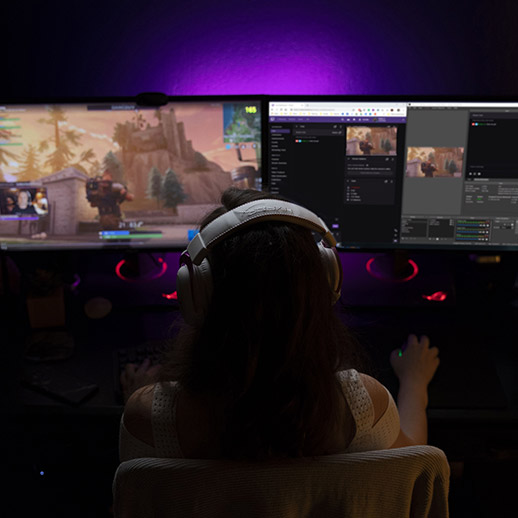 Broadcast Like a Pro
The best of both worlds. GeForce® RTX 20 Series features a dedicated hardware encoder that unlocks the ability to game and stream simultaneously with superior quality. RTX graphics cards are optimized for your favorite streaming apps to provide maximum performance for your live stream.
POWERFUL 8-CORE CPU
Even demanding games and programs run like silk with the latest 10th Gen Intel® Core™ i7-10875H CPU. The new 8-core processor reaches speeds up to 5.1GHz with Turbo Boost 3.0 technology, while Hyper-Threading enables up to 16 parallel threads to accelerate heavy multitasking. Multimedia professionals can work on intensive projects, like video editing and 3D rendering, faster and more efficiently; and gamers can play, chat with teammates, and live-stream the action all at the same time.
TURING-POWERED GRAPHICS TECHNOLOGY
Based on revolutionary Turing™ Architecture, the NVIDIA® GeForce® RTX 2080 SUPER™ enables a new level of in-game realism. With its blend of CUDA, RT, and Tensor cores, the GPU combines programmable shading, real-time ray tracing, and A.I. to create an immersive visual experience with lifelike lighting, reflections, and shadows. Clocking up to 1330MHz at 90W in Turbo mode with ROG Boost, this GPU delivers remarkably smooth performance for even the most graphically demanding titles.
HIGH-SPEED HYPERDRIVE STORAGE
Games, applications, and large files load at warp speed on the NVM Express® (NVMe®) SSD. ROG HyperDrive storage uses up to four PCI Express® (PCIe®) lanes to achieve amazing throughput. Up to 1TB of storage leaves loads of space to install larger content creation applications and all the games you might want to play, with plenty of room left for your professional portfolio.
DUAL-CHANNEL DDR4 MEMORY
With up to 48GB of dual-channel DDR4-3200 memory support at its disposal, no multitasking challenge is too great for this powerhouse to handle. The RAM is clocked at 3200MHz, offering a 33% performance increase over DDR4-2400. Gamers and content creators can stream, chat, and play at the same time, while power users can run every program they need for maximum productivity.
ROG carefully chooses advanced components to ensure system stability and performance. To deliver the best experience, we use DDR4-3200 memory running at 1.2V. Reaching that speed with third-party modules is not guaranteed. Please contact your local ASUS support center for more details on memory upgrade options.
Productivity
Create Everywhere
Do more with versatile Thunderbolt 3 connectivity and superfast Intel® Wi-Fi 6 (Gig+) networking. Thunderbolt 3 gives you the flexibility to expand your workstation with additional displays, external GPUs, and high-speed storage for heavy duty multimedia editing anywhere. The latest Intel® Wi-Fi 6 (Gig+) enables lower latency connections everywhere from packed lecture halls to crowded coffee shops.
ULTRAFAST. ULTRA VERSATILE.
The USB Type-C with Thunderbolt™ 3 support gives creators, gamers, and power users flexibility to expand their workstations anywhere. Connect multiple displays for more efficient multitasking, add on high-speed storage for lightning fast multimedia editing and transfers, or plug your set-up into a more powerful battlestation to reach new levels of pro performance. With a peak interface bandwidth of up to 40Gbps, 4x the throughput of USB 3.1, you can output media to UHD TVs, monitors, and more at up to 8K resolution.
STAY CONNECTED AT WARP SPEED
Ultrafast Intel® Wi-Fi 6 with Gig+ (802.11ax) lets you game reliably at LAN speeds wherever compatible connections are available. Wi-Fi 6 (Gig+) boosts network speed and efficiency, providing a better connection in crowded spaces and reducing latency for network-sensitive activities. ROG RangeBoost technology makes your Wi-Fi signal even more reliable no matter where you are. The RangeBoost algorithm evaluates the signal of four internal antennas and picks the best pair to use in any given environment, increasing your coverage by up to 30%. Work and play on Wi-Fi and enjoy the strongest possible signal anywhere.
*Unless otherwise stated, claimed Wi-Fi speeds are based on theoretical performance. Actual performance may vary in real-world situations.
COOLING
SMARTER COOLING FOR FASTER PERFORMANCE
Ultra-slim laptops leave less breathing room for cooling, so the unique ROG Active Aerodynamic System (AAS) expands to help Zephyrus S17 sustain top performance for gaming and other heavy loads. Lifting the lid opens a large intake that increases airflow by up to 32% compared to typical designs. Liquid metal compound from Thermal Grizzly reduces CPU temperatures by up to 10°C compared to standard thermal paste. Anti-dust tunnels keep the heatsinks clean to preserve cooling efficiency and system stability over time.
THERMAL GRIZZLY
Liquid Metal
ANTI-DUST
Self-cleaning fans
AAS BREATHES DEEPER
Slim chassis leave limited space for airflow, which can compromise performance for marathon gaming sessions, so our innovative Active Aerodynamic System opens a 5mm vent that helps increase airflow by 22%. Dual 12V fans draw cool air in from the expanding intake in the base and from vents perforating the panel above the keyboard. Exhaust is pumped through four outlets in the edges of the chassis, each one shaped to separate warm outflow from the layer of cool air flowing into the AAS.
LIQUID METAL KEEPS CPUS COOLER
Liquid metal compound from Thermal Grizzly reduces CPU temperatures by up to 10°C* compared to standard thermal paste. The right amount must be applied meticulously for the best results, so we commissioned custom equipment that automates the process with mechanical precision. The block that sits on the CPU also has a special internal fence that prevents liquid metal from leaking out over time.
*Unless otherwise stated, figures are based on theoretical performance. Actual figures may vary in real-world situations.
COMPREHENSIVE COOLING COVERAGE
Six heatpipes snake beneath the surface to pull heat away from not only the CPU, GPU and VRM, but also the circuitry supplying them with power. This design keeps the VRM under 80°C, which helps improve long-term reliability. The CPU and GPU connect to both shared and dedicated heatsinks to ensure efficient cooling for any workload.
MORE ULTRA-THIN FINS
Thermal energy is dissipated by four heatsinks in the flanks. Each one is lined with ultra-thin copper fins as slim as 0.1mm, allowing higher density and lower air resistance than typical fins that are twice as thick. Airflow is strongest on the far side of the heatsink. The fins on the other side capture air at a lower angle, so they alternate in length and use special chamfers to reduce turbulence and improve heat exchange. In total, there are 220 heatsink fins that create 111,700mm2 of surface area, and the ones on the sides are angled slightly toward the back to direct warm air away from your mousing hand.
SELF-CLEANING COOLING SYSTEM
Keeping the heatsinks free of debris is critical to maintaining optimal thermal dissipation, so our engineers designed a special anti-dust tunnel that catches and channels particles outside the chassis to prevent them from collecting on the fins. This self-cleaning system helps ensure consistent cooling performance, which improves long-term stability and reliability.
MORE BLADES INCREASE AIRFLOW
Slim chassis leave little room for cooling, so we enhance every aspect of the n-Blade fans to maximize airflow. The carefully shaped aluminum intake shrouds use curved edges and raised guides to help the fans draw in more air. Once inside, it's blasted toward the heatsinks by liquid-crystal-polymer blades that are 33% thinner than conventional designs yet still strong enough to spin at high RPMs. The Zephyrus S17 matches our highest blade density with 83 per fan, improving airflow by up to 15%.
THE RIGHT MODE FOR THE MOMENT
Gaming laptops are versatile enough to tackle a range of tasks, but requirements vary wildly, so Intelligent Cooling adapts accordingly. It automatically switches between operating modes that optimize performance and acoustics for different games and applications. Turbo mode uses the highest fan speed and clocks to sustain maximum speed. Performance mode adjusts the clocks and cooling to lower noise levels for gaming, and Silent mode runs even quieter for lighter work and entertainment.
KEYBOARD
CUSTOMIZE AND COORDINATE COLORS
The forward keyboard position lowers surface temperatures on the desktop-style layout, so you can game in comfort for hours. Customize per-key RGB backlighting for different games and workflows, and match colors and effects with compatible peripherals using Aura Sync. Illumination extends to a unique volume roller positioned for quick adjustment and a glowing numpad that appears on the touchpad.
AUDIO
INCREDIBLE SOUND POWERED BY SMARTAMP
Smart amplifier tech keeps the speakers within thermal and excursion limits when you spin the volume wheel, so you can turn it up without harming the cones. The amplified output is louder, with more bass and range that help you hear enemies on the battlefield, dialog in videos, and subtleties of your productivity soundtrack. Plug in a headset for immersion, and go deeper with virtual surround sound.
SmartAmp
2.5x
MORE VOLUME
SmartAmp
1.5x
DYNAMIC RANGE
7.1 Channels
SURROUND SOUND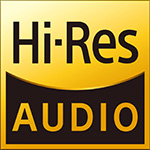 VIRTUAL SURROUND SOUND
Clever software lets Zephyrus S17 simulate surround-sound environments for stereo headsets, putting you right in the middle of the action. This versatile capability works with not only analog cans, but also USB and VR headsets that typically don't work with virtual surround sound.
USB PD
TAP INTO TYPE-C CHARGING
USB Power Delivery supports secondary charging from portable power packs, so you don't have to fight for a socket when the battery gets low. Fast-charging reverses the flow, letting you use up to 3A to quickly rejuvenate smartphones and other devices. If you're not loading the CPU or discrete GPU with intensive tasks, you can use a smaller adapter up to 65W that lightens your load on the road.
*ZenPower Pro PD and 65W adapter are sold separately.
*Charging time is based on when the laptop is web-surfing.
65W Adaptor
60%
charged
In 58 mins
65W Adaptor
100%
charged
In 150 mins
ZenPower Pro PD
162+
MINS
Web surfing
ZenPower Pro PD
197+
MINS
Video playback
CONNECTIVITY
COMPREHENSIVE CONNECTIVITY
The ROG Zephyrus S17 features a Thunderbolt™ 3 with USB 3.2 Gen 2 Type-C™, DisplayPort™ 1.4 and Power Delivery, a Type-A port for ultra-fast transfers, and two USB 3.2 Gen 1 ports perfect for your mouse and gamepad. Play or entertain on the big screen with HDMI 2.0b output that supports 4K UHD at up to 60Hz. The superfast Wi-Fi 6 also provides fast online access for everyday activities.
CAMERA
EXTERNAL CAMERA FOR BETTER LIVE-STREAMING
Upgrade your stream with the ROG GC21 external camera. It captures crisp Full HD detail at a silky 60 FPS that makes movement smoother and more nuanced. Despite doubling the frame rate of conventional cameras, ROG GC21 folds to just 17mm thin and slips easily into a pocket. Position the USB-connected camera anywhere for the perfect angle, and be heard clearly by the beamforming microphone array.
* External camera option varies by region.
1080
p@60FPS
External Camera
EXCLUSIVE SOFTWARE
UNIFIED SYSTEM TUNING AND PERSONALIZATION
ROG Armoury Crate unifies system and lighting controls to put essential settings at your fingertips in a single utility. You can easily define and customize Scenario Profiles that automatically make adjustments when you launch your favorite titles.
Learn More >
*Interface may vary by version.
Unlimited access to over 100 high-quality PC games on Windows 10. One month subscription to Game Pass that's included with the purchase of your device. With games added all the time, you'll always have something new to play.
* Active subscription required; continues until cancelled; game catalog varies over time. Requires Windows 10 and an app to play PC games; see details at xbox.com/pcgamesplan. See xbox.com/game-pass.
Aura Creator is a powerful lighting editor that lets you craft complex RGB effects from the ground up. An easy-to-use interface allows you to personalize preloaded lighting effects, layer and transition them to perfection, and activate them across a full array of Aura Sync devices. Create custom RGB lighting and let your personality shine.
ROG GameFirst VI technology maximizes throughput for your game! It prioritizes network packets to increase bandwidth for online gaming and streaming that need it the most. Auto mode prioritizes applications automatically, while Manual mode lets you categorize programs and prioritize them yourself. In addition, ROG First ensures ROG and ASUS GT-series routers prioritize packets according to the GameFirst VI settings of your ROG laptop.
ROG GameVisual software offers six expertly tuned graphic modes designed to optimize your visual experience for specific game genres. First Person Shooter (FPS) mode, for example, enhances visibility in dark environments, allowing you to get the drop on any enemies lurking in the shadows. Use GameVisual to get the best experience for every game in your library.
Sonic Studio III supports all of your in-game audio needs. Its main control panel offers manual customizations as well as access to five specially tuned audio modes for different game types. Enhanced noise cancellation, voice-volume stabilization, and echo cancellation for recording give you clearer audio transmission for team voice chat and streaming.
Automatic switching between Silent, Performance, and Turbo modes is just the beginning for Scenario Profiles. You can also define application-specific preferences for other vital system settings, like the lighting configuration, whether the Windows key or touchpad are enabled, and which GameFirst V and Sonic Studio III profile to use. Armoury Crate makes adjustments in an instant to best fit the task at hand, and you can configure each profile exactly how you want.
Pick up the free Armoury Crate mobile app for Android or iOS to easily access your settings without interrupting your game! Available now on both Google Play™ and the App Store.
BUNDLED
GEAR UP AND GO
Arm yourself with a full collection of gaming gear and accessories. Stream anywhere with the ROG GC21 external camera, capable of capturing Full HD footage at 60 FPS. Keep superior precision and control close at hand with the Aura Sync-compatible ROG Gladius II and Strix Impact optical gaming mouse. Enhance your audio experience with the cushy and comfortable ROG Delta headset, perfect for immersing yourself in rich, high-fidelity sound. And carry it all with you on the move in a durable 17" ROG-branded backpack.
*Bundled peripherals are varied by regions
Video Reviews
This ROG Zephyrus S17 might be the best 17-inch performance ultra-portable of this generation
"I've never seen a keyboard that popped up like this. Certainly not one that was mechanical."
"We have three 1 TB NVMe M.2 SSDs in this absolute beast!"
ASUS ROG Zephyrus S17 review: you will not want any other PC!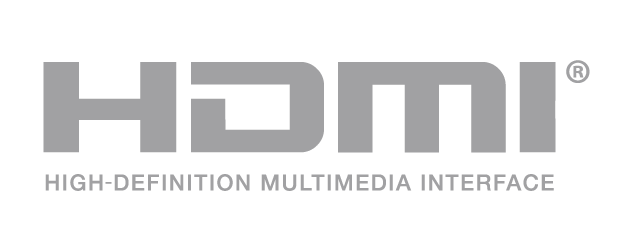 Disclaimer
IPS stands for in-plane switching, a type of LED (a form of LCD) display panel technology.
Unless otherwise stated, all performance claims are based on theoretical performance. Actual figures may vary in real-world situations.
The actual transfer speed of USB 3.0, 3.1, 3.2, and/or Type-C will vary depending on many factors including the processing speed of the host device, file attributes and other factors related to system configuration and your operating environment.
Ultrabook, Celeron, Celeron Inside, Core Inside, Intel, Intel Logo, Intel Atom, Intel Atom Inside, Intel Core, Intel Inside, Intel Inside Logo, Intel vPro, Itanium, Itanium Inside, Pentium, Pentium Inside, vPro Inside, Xeon, Xeon Phi, and Xeon Inside are trademarks of Intel Corporation or its subsidiaries in the U.S. and/or other countries.
Product specifications may differ from country to country. We recommend that you check with your local dealers for the specifications of the products available in your country. Colors of products may not be perfectly accurate due to variations caused by photography and monitor settings.Due to photographic variables and conditions, actual product appearance may differ from images shown on this site.Although we endeavor to present the most accurate and comprehensive information at the time of publication, we reserve the right to make changes without prior notice.
* Result from Mobile Mark 2014 office productivity.
The terms HDMI, HDMI High-Definition Multimedia Interface, HDMI Trade dress and the HDMI Logos are trademarks or registered trademarks of HDMI Licensing Administrator, Inc.
Unit with  RJ45 port does not support "Power over Ethernet" (PoE), only support data transmission.
Products certified by the Federal Communications Commission and Industry Canada will be distributed in the United States and Canada. Please visit the ASUS USA and ASUS Canada websites for information about locally available products.
All specifications are subject to change without notice. Please check with your supplier for exact offers. Products may not be available in all markets.
Specifications and features vary by model, and all images are illustrative. Please refer to specification pages for full details.
PCB color and bundled software versions are subject to change without notice.
Brand and product names mentioned are trademarks of their respective companies.
Unless otherwise stated, all performance claims are based on theoretical performance. Actual figures may vary in real-world situations.
The actual transfer speed of USB 3.0, 3.1, 3.2, and/or Type-C will vary depending on many factors including the processing speed of the host device, file attributes and other factors related to system configuration and your operating environment.
For pricing information, ASUS is only entitled to set a recommendation resale price. All resellers are free to set their own price as they wish.
Price may not include extra fee, including tax、shipping、handling、recycling fee.
Product Comparison
Product added to comparison. Add up to 4 products or proceed to view compare products selected.
ASUS Footer