Funkcie
Technická špecifikácia
Ocenenie
Galéria
Kde kúpiť?
Podpora
ROG backpack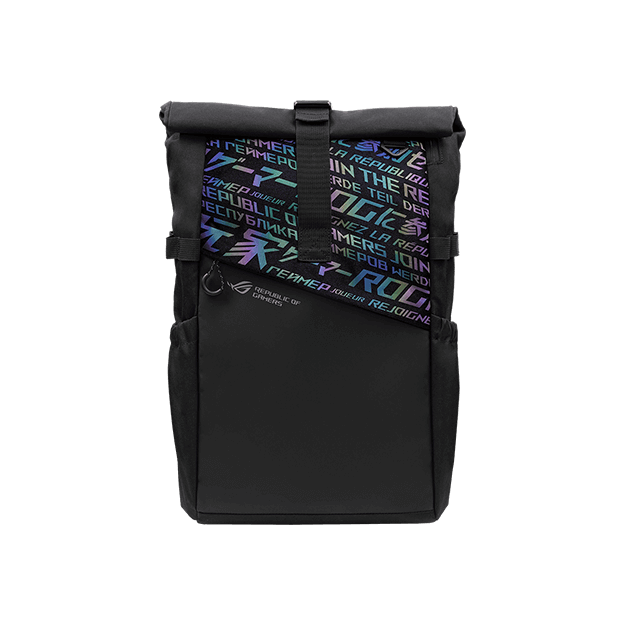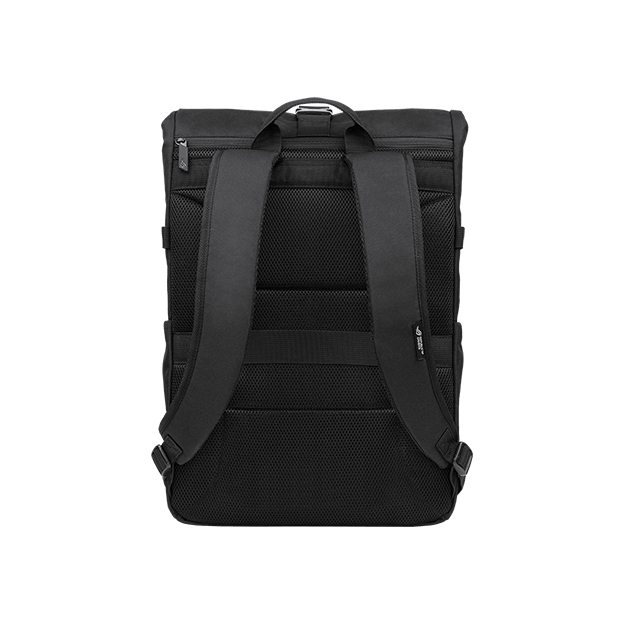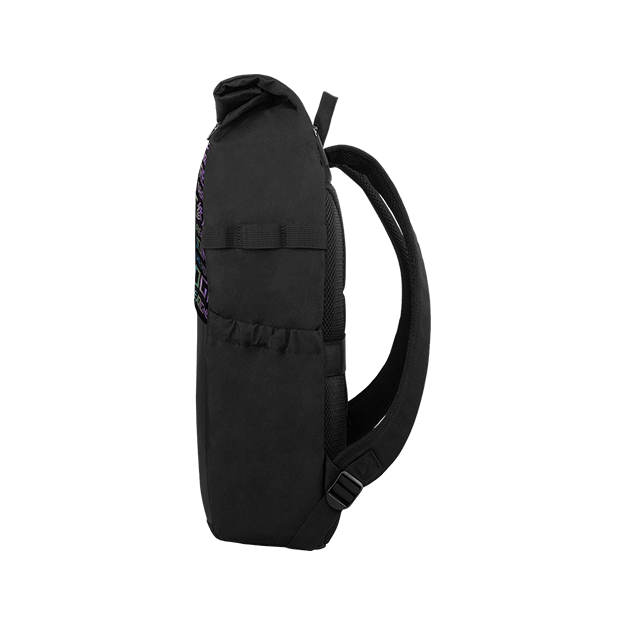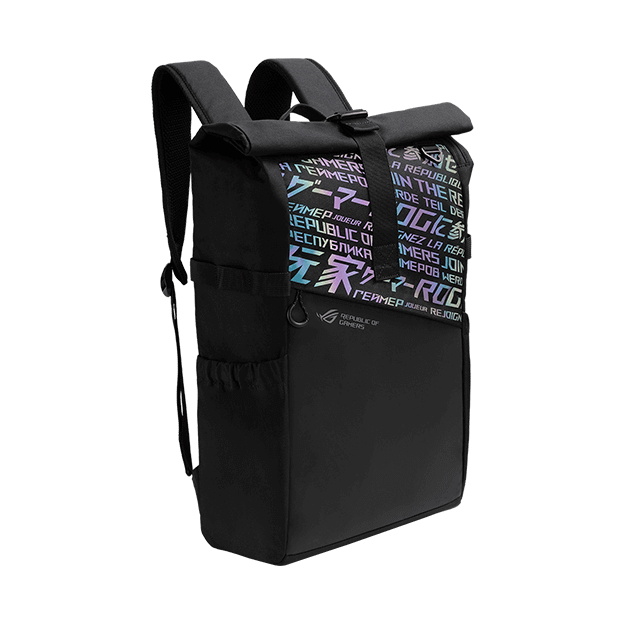 ---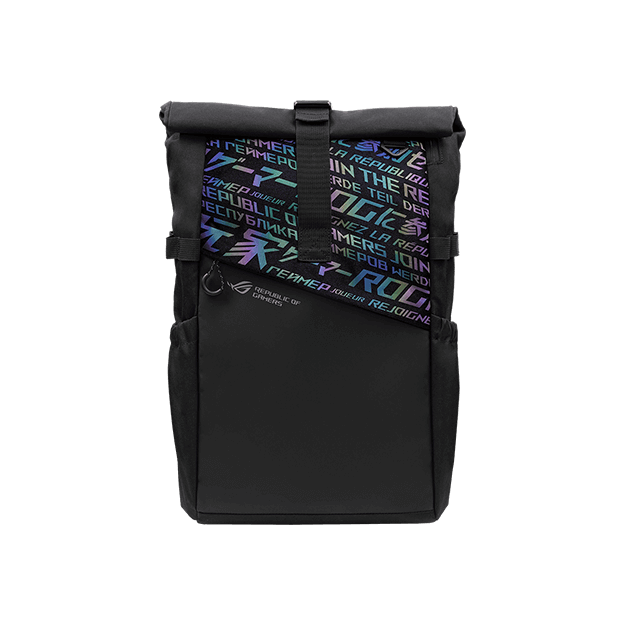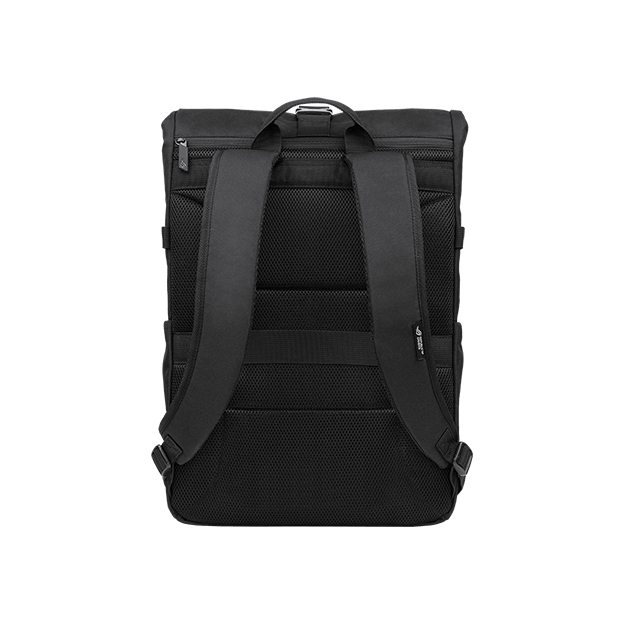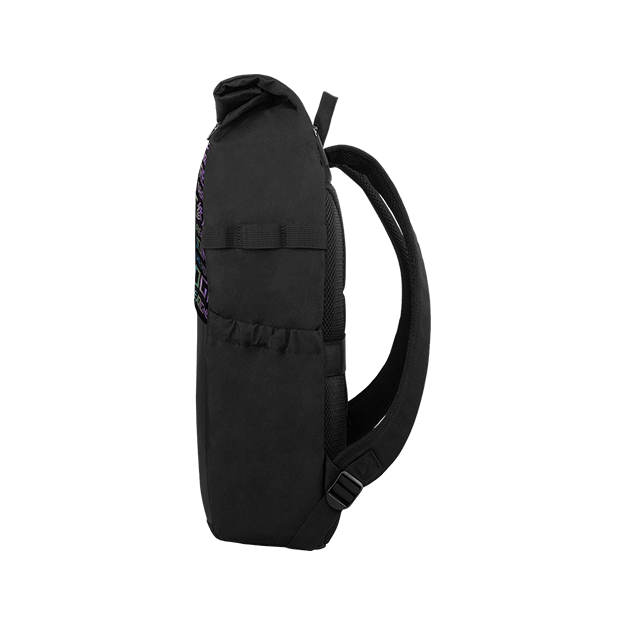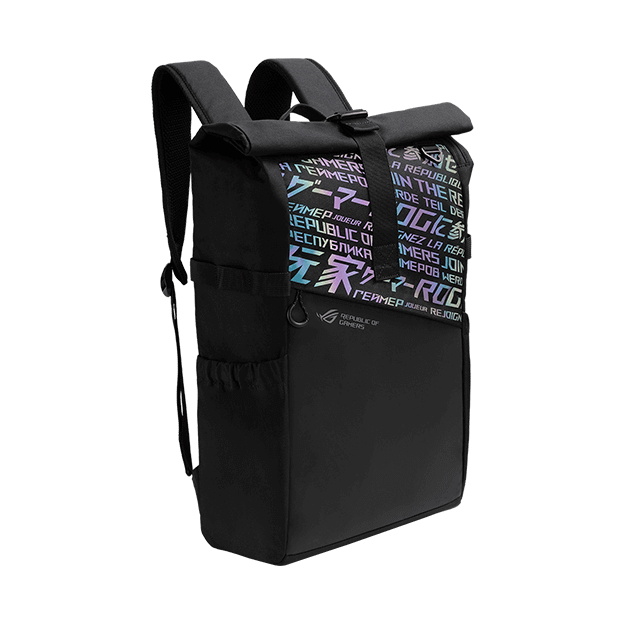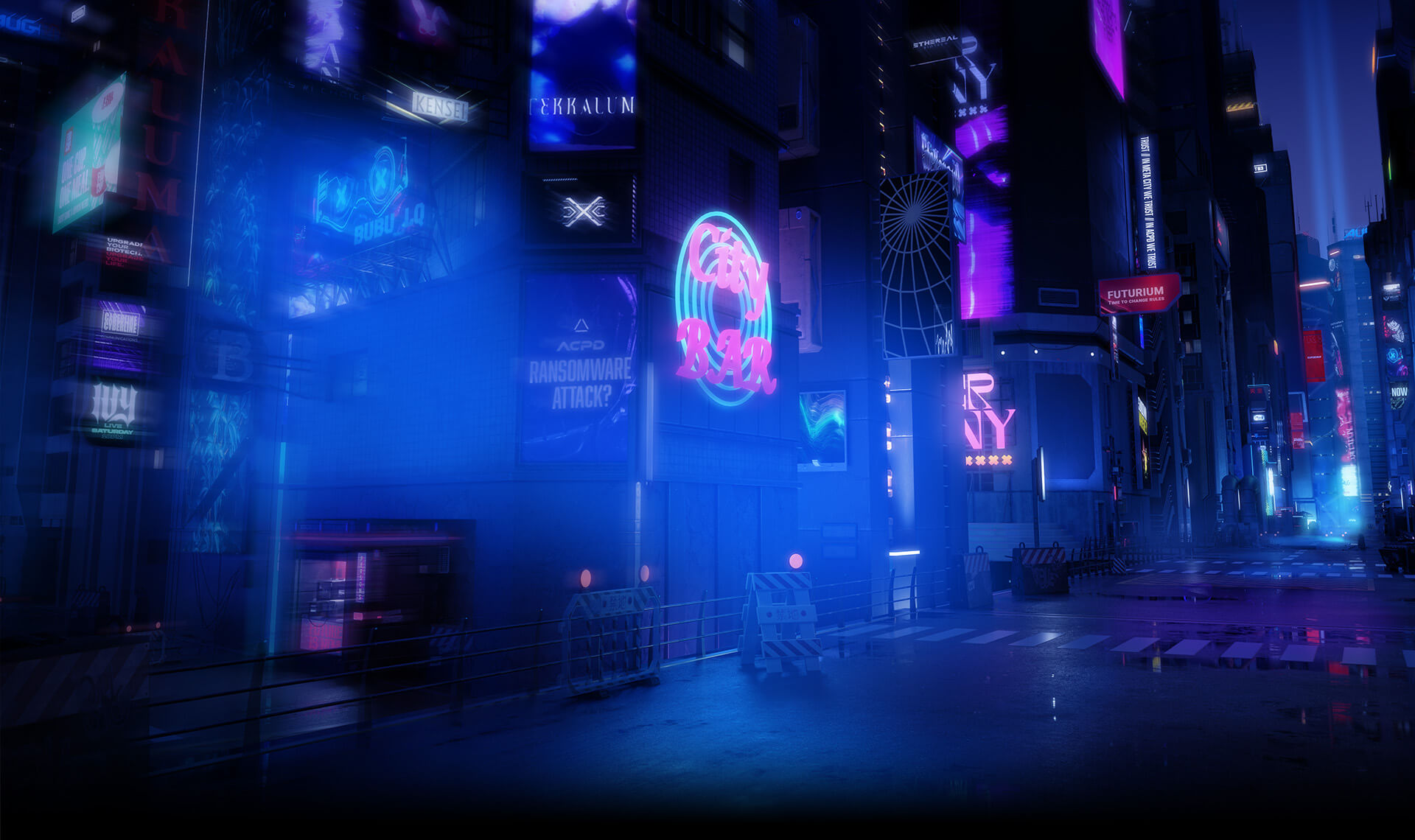 ROG Strix Scar 18
PORAZ NAJLEPŠÍCH. BEZ LIMITOV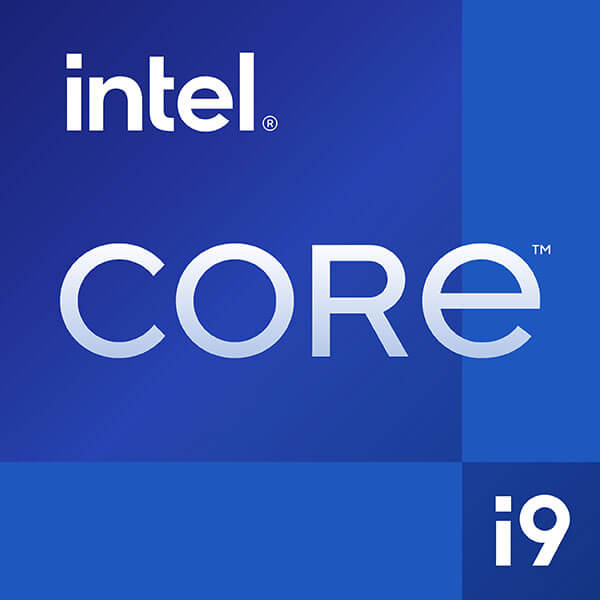 Ovládnite bojové pole s úplne novým notebookom ROG Strix SCAR 18 vybaveným systémom Windows 11 Pro. Vôbec prvýkrát v rade SCAR predstavujeme 18-palcový displej, aby ste na nepriateľa videli jasnejšie ako kedykoľvek predtým. SCAR 18 využíva procesor Intel® Core™ i9-13980HX 13. generácie a notebookovú grafiku NVIDIA® GeForce RTX™ 4090 s maximálnym TGP 175 W, a preto si ľahko poradí aj s tými najnáročnejšími hrami. Je vybavený aj špeciálnym prepínačom MUX Switch s podporou technológie NVIDIA Advanced Optimus, ktorý vám umožní využiť skutočný výkon grafického procesora pri hraní hier. Vďaka podpore až 64 GB pamäte DDR5 RAM a až 4 TB úložisku PCIe Gen4x4 môžete na SCAR 18 súčasne hrať, streamovať a vytvárať obsah, a notebook sa pritom ani nezadýcha. Pokiaľ hľadáte dokonalý herný notebook, už nehľadajte - je tu Strix SCAR 18.



Windows 11 Pro

OS

Intel® Core™

i9-13980HX

procesor

NVIDIA® GeForce

RTX™ 4090

notebooková GPU

Až

4 TB PCIe 4.0

v RAID 0

NVIDIA®

Advanced Optimus




Až

64 GB

pamäte DDR5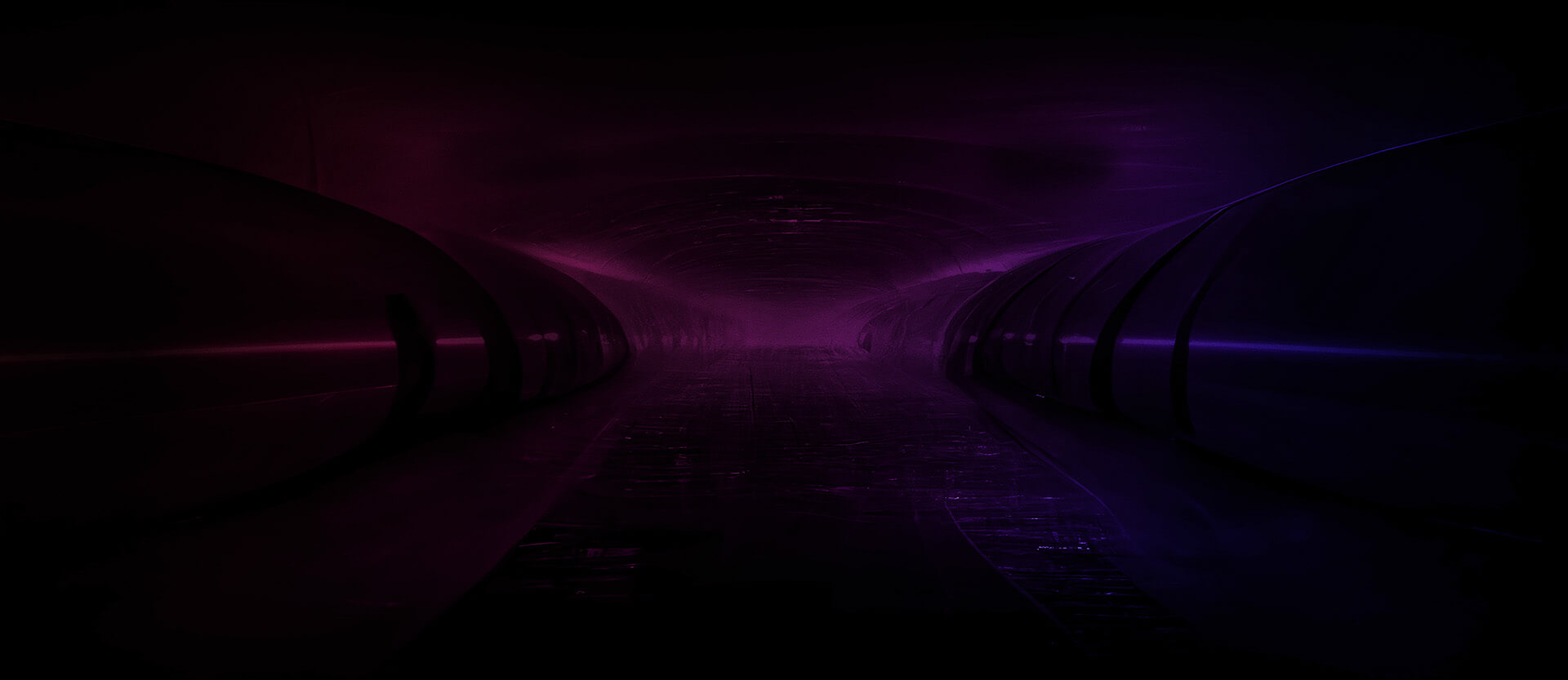 FREKVENCIA NA MAXIMUM

CPU
CPU
Výkon sa snúbi s účinnosťou
---
S procesorom Intel® Core™ i9-13980HX s TDP až 65 W a hybridnou architektúrou od základu vytvorenou pre Windows 11 zvládnete akúkoľvek hru alebo projekt. Vďaka až 8 výkonným jadrám a 16 úsporným jadrám je hranie AAA hier bezchybné a streamovanie bezproblémové.



24 jadier

16 E-jadier + 8 P-jadier




32

vlákien

Až

175 W

PL2 manuálny režim

Až

65 W

TDP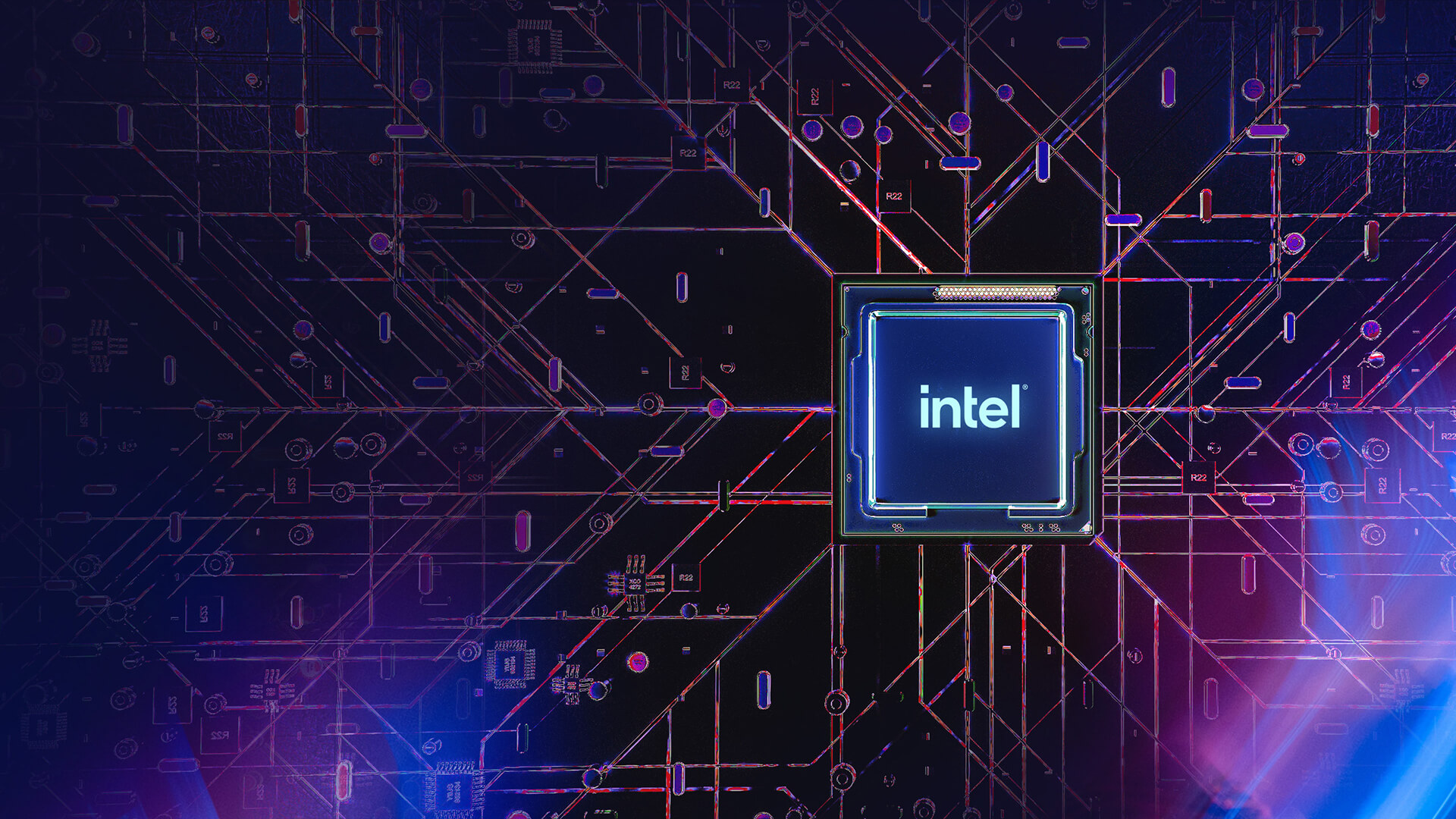 GPU
GPU
Nespútaná grafika
---
Špičkové komponenty vyžadujú výkon, najmä pokiaľ ide o maximalizáciu výkonu grafického procesora. Notebooková grafická karta NVIDIA® GeForce RTX™ 4090 využíva technológiu NVIDIA DLSS 3, mimoriadne účinnú architektúru Ada Lovelace a technológiu Max-Q. Vďaka maximálnemu TGP 175 W s Dynamic Boost dosiahne dych vyrážajúci výkon.
NVIDIA® GeForce

RTX™ 4090

noteboooková GPU

Max. TGP

175 W

s Dynamic Boost

NVIDIA®

Advanced Optimus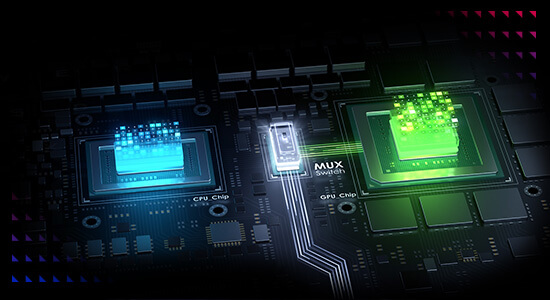 NVIDIA® Advanced Optimus
Vďaka technológii NVIDIA® Advanced Optimus môže notebook automaticky smerovať snímky zo samostatnej grafickej karty priamo na displej pomocou prepínača MUX Switch, a obísť tak integrovanú grafiku. Toto presmerovanie zvyšuje výkon o 5-10% v porovnaní so zariadeniami bez MUX Switch a zaisťuje vám absolútne najlepší herný zážitok, a to všetko bez nutnosti dotknúť sa jediného tlačidla. Toto automatické prepínanie taktiež šetrí výdrž batérie vášho počítača, pretože dokáže dynamicky prechádzať medzi výkonným diskrétnym GPU a integrovaným GPU s nižšou spotrebou. Bez ohľadu na to, čo práve robíte, váš počítač sa prepne do optimálneho režimu bez toho, aby ste museli pohnúť prstom.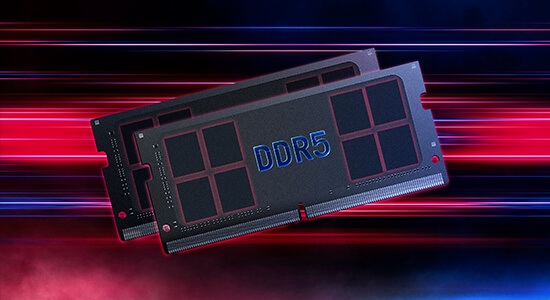 Bleskovo rýchla pamäť DDR5
Využite úplne nový štandard pamäte DDR5 a vychutnajte si obrovský generačný výkonnostný skok na frekvencii 4800 MHz s časmi zápisu o 50% rýchlejšími ako pri počítačoch vybavených pamäťou DDR4. Vďaka tejto ultrarýchlej pamäti sú všetky aspekty notebooku svižné, od intenzívneho hrania hier až po bežné prezeranie webu.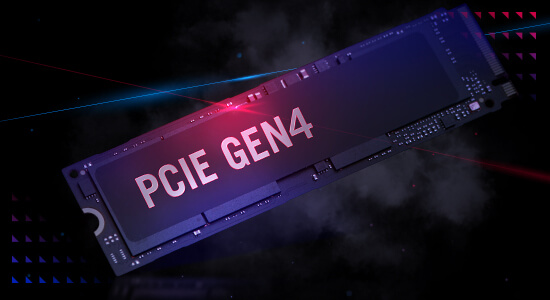 Lepší, rýchlejší, silnejší
Vďaka SSD úložisku PCIE Gen4 nakonfigurovanému v zapojení RAID 0 sa môžete sebavedome pustiť aj do tých najväčších projektov. Vďaka hrubej priepustnosti až 7000 MB/s sa obrovské súbory a detailné herné svety načítajú behom okamihu.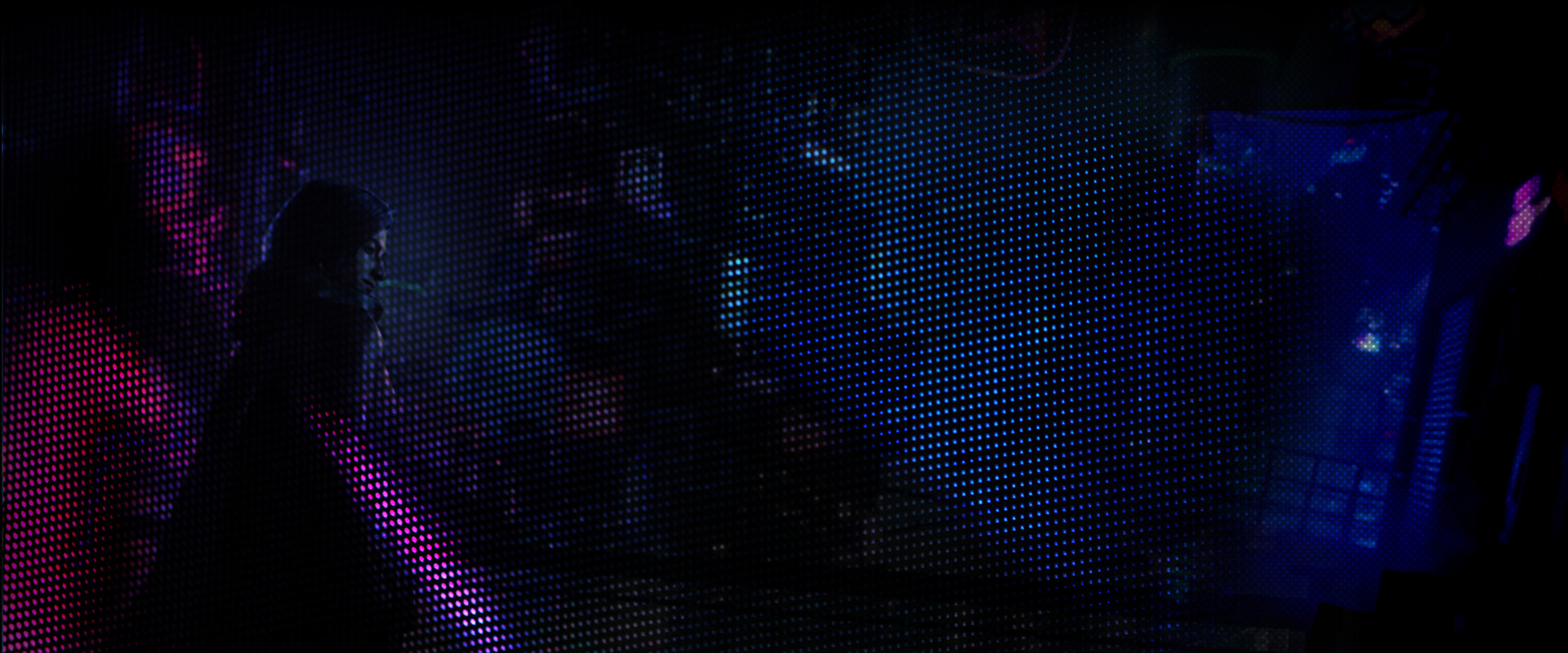 Notebooky s grafikou radu GeForce RTX 40
Za hranice rýchlosti pre hráčov aj tvorcov
Výkon poháňaný AI a realistická grafika*

Zažite výkonnostný skok u hier a kreatívnych aplikácií s technológiou DLSS 3 poháňanou umelou inteligenciou a umožnite verné virtuálne svety zásluhou plného ray tracingu.

Zrýchlite realizáciu svojich nápadov

NVIDIA Studio posunie vaše kreatívne projekty na vyššiu úroveň. Využite akceleráciu RTX a AI v špičkových kreatívnych aplikáciách, ovládače NVIDIA Studio pre maximálnu stabilitu a súpravu exkluzívnych nástrojov na zrýchlenie vašej kreativity.

Optimalizovaná spotreba a výkon

NVIDIA Max-Q je pokročilá súprava technológií využívajúcich umelú inteligenciu, ktorá optimalizuje váš systém s cieľom dosiahnuť maximálnu efektivitu. Vďaka tomu sú notebooky bleskovo rýchle, tenké, tiché a majú úžasnú výdrž batérie.
*Obrázok z hry Cyberpunk 2077 zachytený na stolnom PC s novým Ray Tracingom: určené iba pre ilustráciu. Skutočný výkon sa líši v závislosti od systému.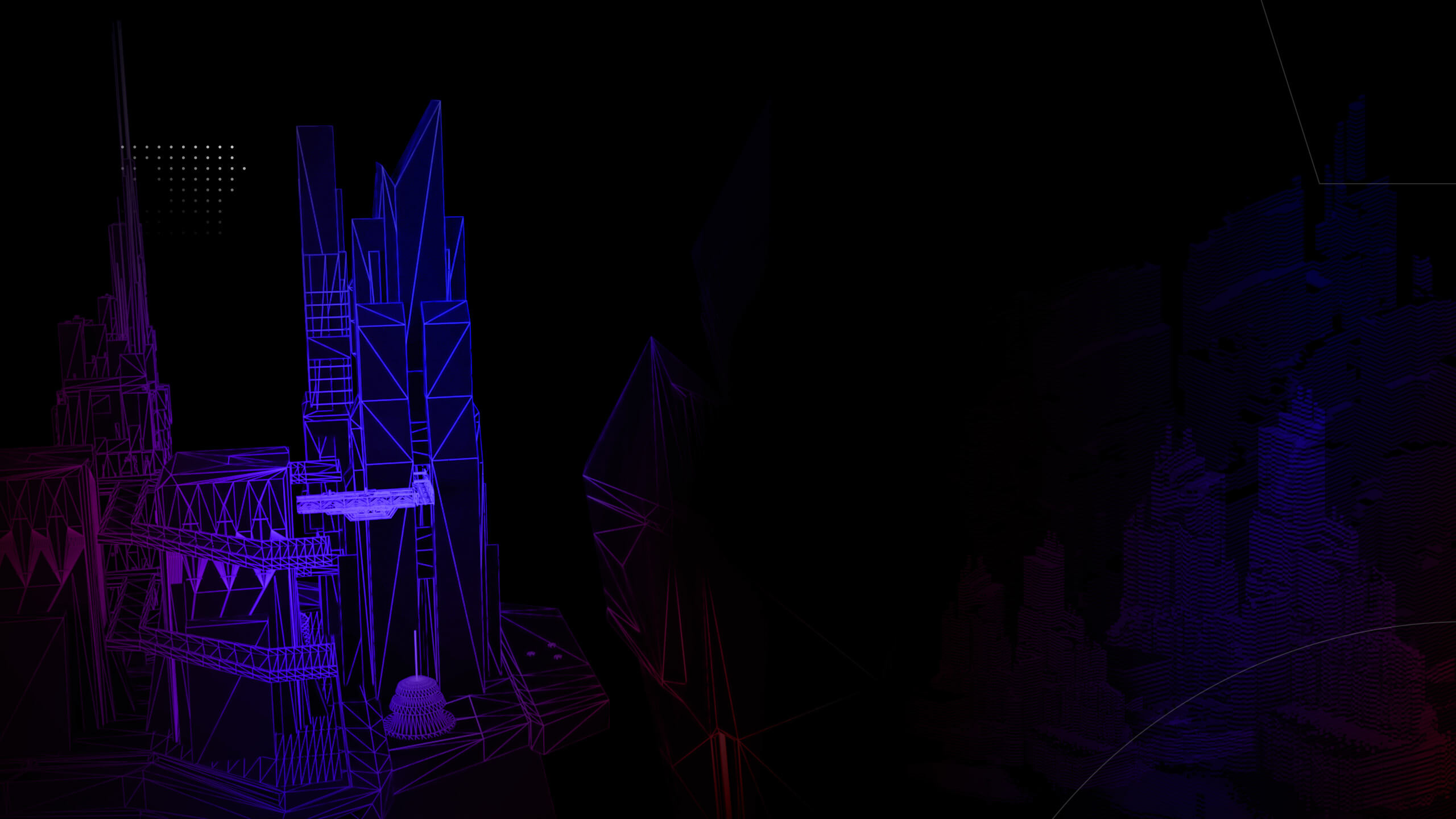 HERNÁ MAŠINA
Hrajte, streamujte, tvorte
---
Rad SCAR je od základu vytvorený pre hráčov - a samozrejme aj pre herných vývojárov. Na Strix SCAR 18 je možné spustiť všetky najnovšie herné enginy, čo vám umožní rozvinúť svoju kreativitu a vyskúšať si tvorbu ďalšej skvelej hry. Či už ste digitálny umelec, streamer, upravujete videá alebo sa venujete animácii a vývoju hier, Strix SCAR 18 má všetok výkon, ktorý potrebujete, aby ste svoje výtvory posunuli na vyššiu úroveň. Vďaka procesoru až Intel® Core™ i9 a notebookovej grafickej karte až NVIDIA® GeForce RTX™ radu 40 vykreslíte zložité projekty v obľúbených vývojárskych nástrojoch, ako sú Unity a Autodesk, behom chvíľky. Máte všetko, čo je potrebné, aby ste boli najlepší na bojisku, ale ste pripravení vymyslieť ďalšiu hru?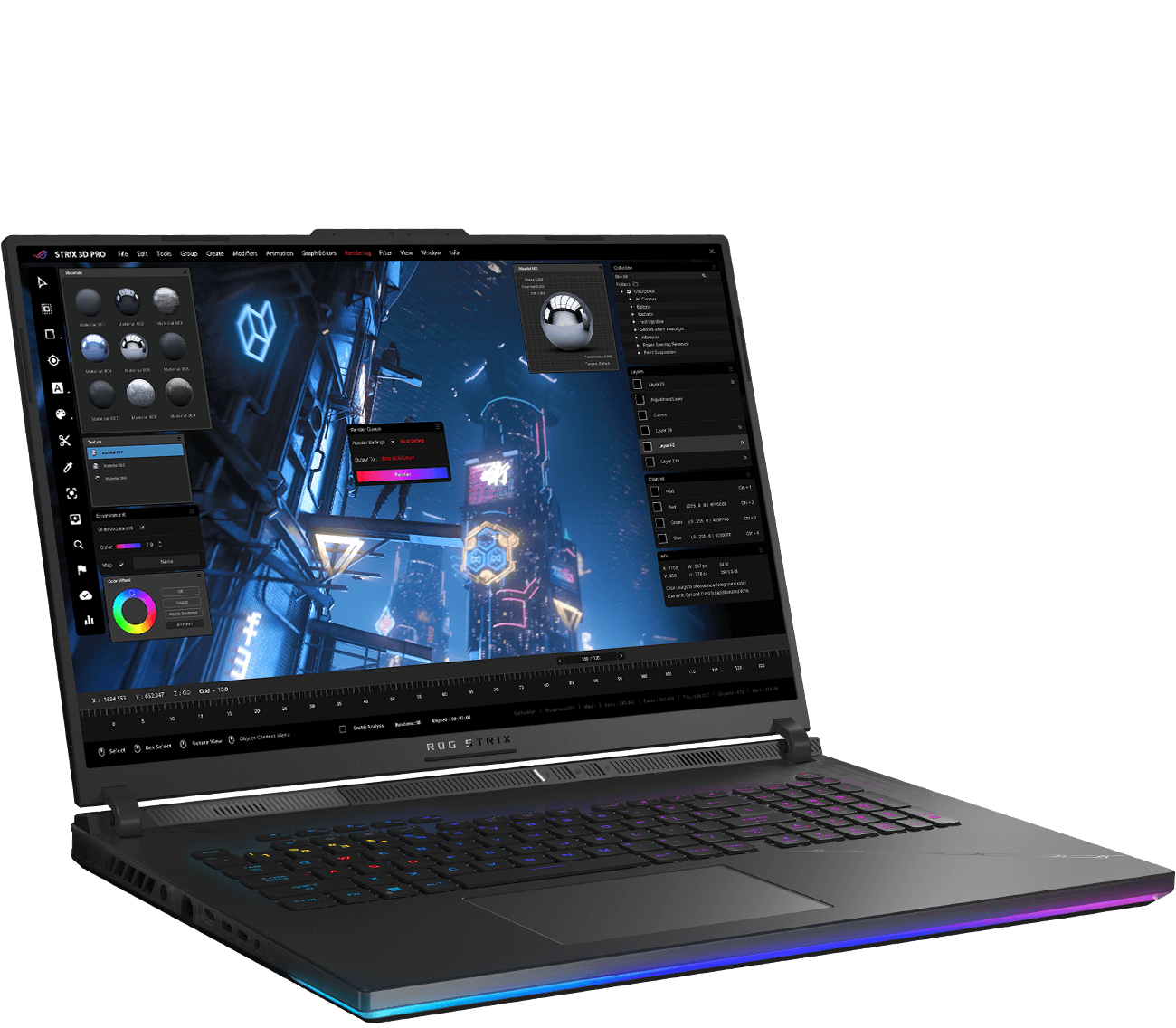 CHLADENIE

---
Aby bolo možné použiť také výkonné komponenty, boli šasi aj základná doska Strix SCAR 18 prepracované tak, aby sa do nich vošiel náš nový chladič cez celú šírku notebooku, zatiaľ čo medené rebrá boli presunuté ešte bližšie k ventilačným otvorom, aby bolo chladenie účinnejšie. Tento jedinečný chladič je zostavený z troch rôznych častí, ktoré obklopujú základnú dosku husto osadenými rebrami s celkovou plochou 195 509 mm², čo je o 82,5 % viac ako pri modeli Strix SCAR 17 z roku 2022. Táto konštrukcia maximalizuje dostupné cesty pre odvod horúceho vzduchu z počítača a výrazne zlepšuje celkové chladenie.

A konečne, väčšina herných notebookov disponuje systémom chladenia pomocou dvoch ventilátorov, ale pri modeli SCAR 18 sa podarilo posunúť výkon ešte ďalej vďaka použitiu tretieho ventilátora, ktorý pomáha udržiavať GPU a VRAM v chlade. V spojení so siedmimi teplovodivými trubicami a tekutým kovom Conductonaut Extreme na CPU aj GPU je systém chladenia SCAR 18 skutočným zázrakom techniky.



Tri-Fan

technológia




Celoplošné

vetracie otvory

Až

o 15 °C nižší

teploty CPU a GPU

Využíva

7 teplovodivých trubíc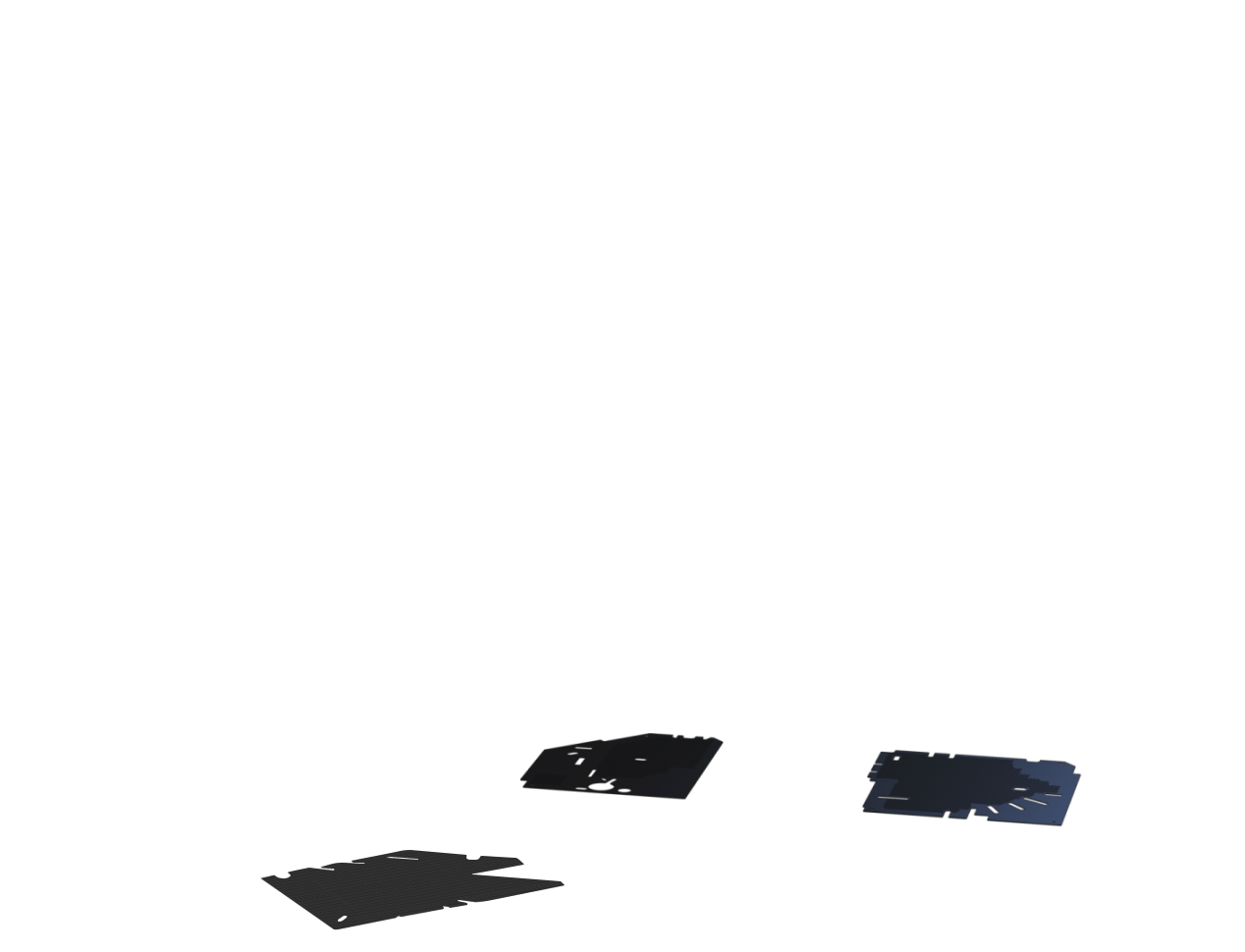 Celoplošné vetracie otvory
Horúci vzduch musí niekam odchádzať, a preto sme prepracovali ventilačné otvory modelu SCAR 18 tak, aby bol zaistený jeho efektívny odvod. Okrem toho, že sa celá zadná časť stroja stala ventilačným otvorom, si SCAR 18 zachoval aj bočné ventilačné otvory, čo mu dáva dostatok možností na odvádzanie horúceho vzduchu zo systému. Dokonca sme presunuli chladiče bližšie k samotným vetracím otvorom, čím sme horúcemu vzduchu umožnili priamu cestu von zo stroja, a zabránili tým jeho recirkulácii.
Chladič cez celú šírku
SCAR 18 je vybavený 414 rebrami na chladiči, pričom každé z nich je obložené ultratenkou medenou vrstvou s hrúbkou iba 0,1 mm. To umožňuje dosiahnuť vyššiu hustotu a nižší odpor vzduchu s celkovou plochou 195 509 mm², čo je o 82,5 % viac ako pri modeli SCAR 17 z roku 2022. Táto celomedená konštrukcia pokračuje aj v novom prevedení cez celú šírku notebooku, takže je dvakrát väčšia než bežný chladič a zaberá celú zadnú časť stroja.
Technológia Tri-Fan
Základom každého skvelého notebooku je výborné riešenie chladenia. Naša nová technológia Tri-Fan smeruje vzduch cez presne vymerané výrezy v šasi a posiela prúd vzduchu priamo k vnútorným komponentom, aby boli chladné za všetkých okolností. Tretí prídavný ventilátor navyše pomáha odvádzať ďalšie teplo od grafického procesora priamo do chladičov a udržuje tak počítač chladný aj pri dlhom renderovaní videa alebo hraní hier.
Tekutý kov Conductonaut Extreme
Od roku 2022 boli vybrané modely ROG vybavené špičkovou technológiou Conductonaut Extreme od spoločnosti Thermal Grizzly, ktorá ešte viac zlepšuje prenos tepla pomocou tekutého kovu. V porovnaní s tradičnými termálnymi pastami ponúka táto zmes na báze india a gália 17-krát vyššiu vodivosť a navyše znižuje teplotu CPU a GPU až o 15 stupňov Celzia. Tento materiál, ktorý používa výhradne ROG, umožňuje najvyšší možný odvod tepla v notebooku.
*Zníženie teploty v porovnaní s predchádzajúcou generáciou tepelnej zmesi na základe interných testov spoločnosti ASUS. Tepelná vodivosť v porovnaní s odborovým štandardom.
Až 7 komplexných teplovodivých trubíc
Komplexná konštrukcia chladenia notebooku Strix SCAR 18 zahŕňa rozšírený rozptyľovač tepla, ktorý pohlcuje teplo z CPU, GPU, VRAM a VRM. Vďaka 7 teplovodivým trubiciam a zvýšeniu celkovej plochy z 29 % na 33 % základnej dosky v porovnaní s minulou generáciou pomáha toto rozsiahle riešenie chladenia udržať a predĺžiť celkový výkon, spoľahlivosť a životnosť systému.
0dB Ambient Cooling
Vychutnajte si skutočne tiché chladenie pri nízkom pracovnom zaťažení vďaka technológii 0 dB. V tichom prevádzkovom režime systém chladenia pri bežných úlohách vypína všetky ventilátory a pasívne odvádza teplo. Môžete sa preto sústrediť na prácu alebo sa nechať vtiahnuť do sledovania filmov bez rozptyľovania. Ak sa teplota CPU alebo GPU zvýši, ventilátory sa opäť automaticky zapnú.
Prachový filter
ROG Strix SCAR 18 je vybavený prachovým filtrom, ktorý bol prvýkrát predstavený pri modeli Zephyrus G14. Prach a nečistoty sa môžu hromadiť vo vnútri notebooku, zachytávať teplo a časom spôsobovať zhoršený výkon. Filter zabraňuje usadzovaniu prachu na CPU a GPU, čo zaručuje dlhoročnú bezproblémovú a stabilnú prevádzku.
*Interné testovanie v simulovanom prašnom prostredí
0,1 mm ultratenké rebrá
Tepelnú energiu odvádzajú štyri chladiče, z ktorých každý je obložený medenými rebrami tenkými iba 0,1 mm. Tieto rebrá sú o polovicu menšie ako pri bežných riešeniach. To umožňuje ich vyššiu hustotu zaručujúcu lepší odvod tepla, nižší odpor vzduchu s plynulejším prietokom vzduchu. Vďaka až 414 rebrám chladiča s celkovou plochou 195 509 mm² prúdi teplo zo systému neuveriteľne efektívne, čo umožňuje komponentom v notebooku nárast výkonu dlhšiu dobu.
Klávesnica CoolZone
Pri dlhšom hraní hier sa môžu zahrievať vnútorné komponenty a klávesnica môže byť na dotyk teplá. Aby k tomu nedochádzalo, malé vetracie otvory okolo klávesov WASD umožňujú ventilátorom nasávať zhora do šasi chladný vzduch.
Profily scenárov
Naše režimy Silent, Performance a Turbo sú len začiatok. Profily scenárov umožňujú systému automaticky prepínať medzi týmito režimami na základe spustenej aplikácie a ďalších dôležitých nastavení systému. Automaticky prepínajte medzi konfiguráciami osvetlenia, zakážte kláves Windows a touchpad počas hrania hier a automatizujte podľa ľubovôle. Armoury Crate vykoná nastavenie behom okamihu tak, aby čo najlepšie vyhovovala danej úlohe.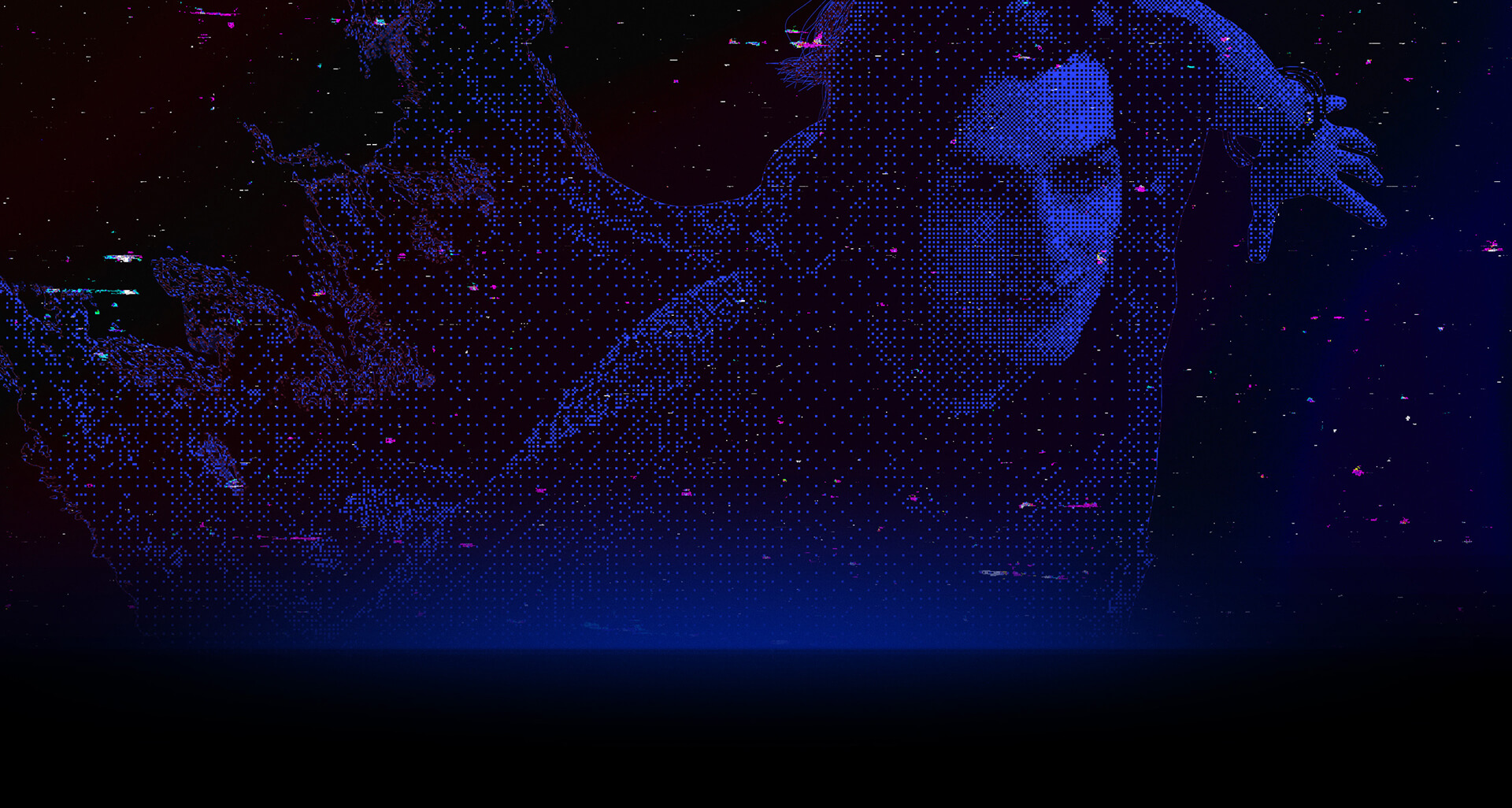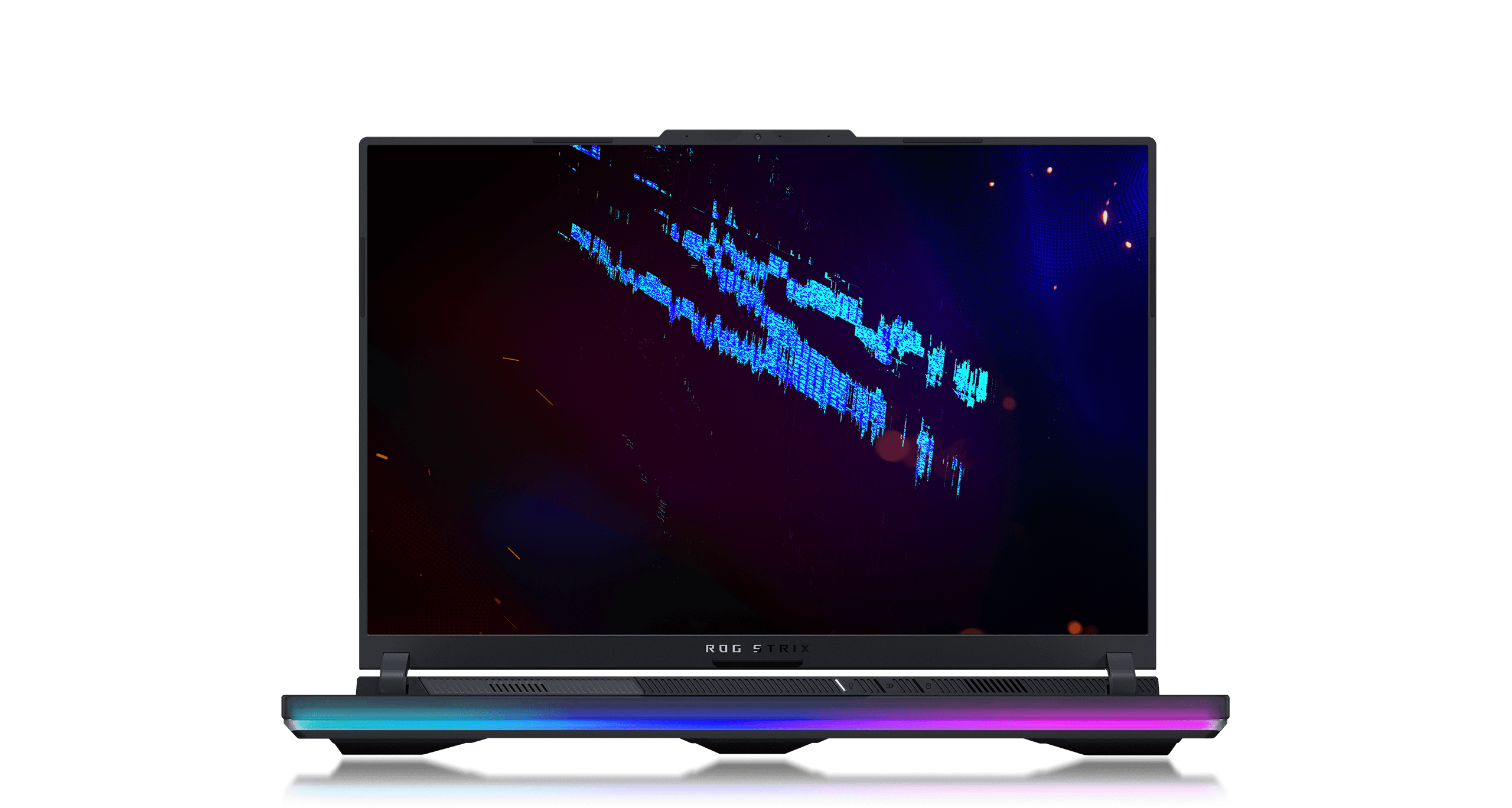 DISPLEJ

---
Pre hráčov, ktorí vyžadujú absolútne najlepší pohyb a čistotu obrazu, ponúka SCAR 18 neuveriteľný displej Nebula s obnovovacou frekvenciou 240 Hz, 100% pokrytím DCI-P3 a ohromujúcim jasom 500 nitov pre úžasné hranie. 18-palcový panel s rozlíšením QHD a pomerom strán 16:10 poskytuje úžasne hlbokú čiernu pre obsah, ktorý priamo vystupuje z obrazovky, či už sledujete film, alebo hráte rýchlu arénovú strieľačku. Model SCAR 18 je k dispozícii aj vo variante s Full HD panelom s obnovovacou frekvenciou 165 Hz, pričom oba panely ponúkajú fantastické farby, Dolby Vision, podporu Adaptive-Sync a 89% pomer obrazovky k telu garantujúce hviezdny zážitok z hrania a sledovania.
16:10 QHD

panel

240 Hz/3 ms

obnovovacia frekvencia

500 nitov

jas

100% DCI-P3

gamut
16:10

pomer strán

165 Hz

Full HD

Adaptive Sync

technológia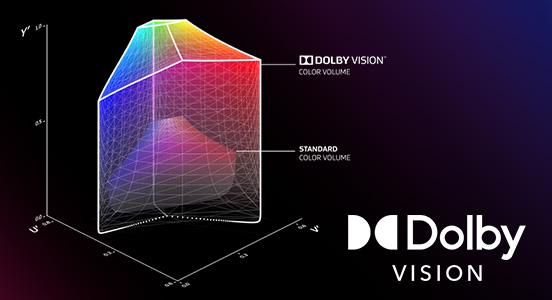 Technológia Dolby Vision®
Dolby Vision zvyšuje kvalitu obrazu snímku za snímkou, scénu za scénou. Táto technológia vylepšuje štandardné video v 4K rozlíšení s vysokým dynamickým rozsahom (HDR) a dynamicky upravuje obraz tak, aby bol bohatší, jasnejší a živší. Tvorcovia môžu natáčať a upravovať svoje streamy, videá a ďalší obsah vo formáte, ktorý bežne používajú profesionáli v odbore.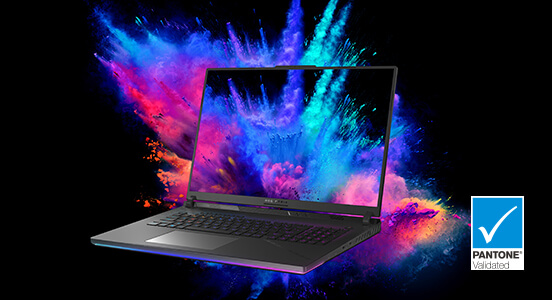 Farebná validácia Pantone®
Každý IPS-level displej je kalibrovaný z výroby, aby sa zaistila presnosť farieb podľa palety Pantone®. Umelci, dizajnéri a tvorcovia obsahu môžu obohatiť svoje portfóliá o vysoko kvalitný obsah a vychutnať si bohatší herný obraz na rovnakom notebooku.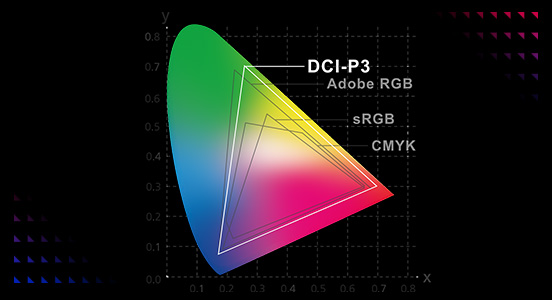 100% pokrytie farebnej škály DCI-P3
Farebný priestor sRGB je síce štandardom pre väčšinu digitálnych obrazov, ale predstavuje iba asi 75 % spektra DCI-P3, ktoré sa používa v profesionálnej filmovej tvorbe. Displeje s kompletným pokrytím DCI-P3 ponúkajú široký farebný gamut pre živší obraz, ktorý vám umožní sledovať filmy a ďalší obsah v takej kvalite, ako chceli ich tvorcovia.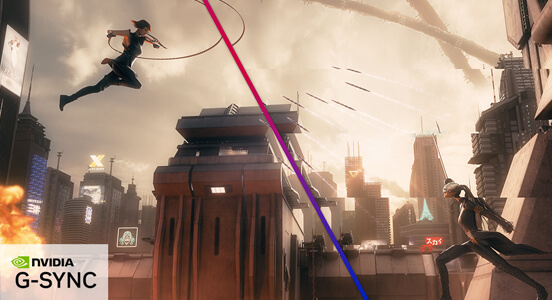 NVIDIA® G-SYNC®
Nič nenarúša hernú atmosféru tak ako zasekávanie a trhanie obrazu. Grafické procesory vykresľujú snímky rôznou rýchlosťou, ale displeje sa obvykle obnovujú konštantnou rýchlosťou, takže dochádza k disharmónii, čo spôsobuje viditeľné zasekávanie a artefakty, ktoré vás vytrhnú z akcie. Vďaka technológii NVIDIA G-SYNC sa obnovovacia frekvencia displeja synchronizuje so snímkovou frekvenciou GPU, čím sa eliminuje trhanie obrazu, minimalizuje zasekávanie a znižuje vstupné oneskorenie. Pripravte sa na hranie, ktoré je reálnejšie ako kedykoľvek predtým.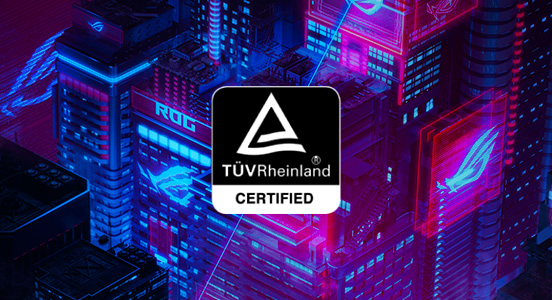 Certifikácia TÜV Rheinland
Displeje Nebula spĺňajú certifikáciu TÜV Rheinland®, ktorá zaručuje, že vyžarujú nízke emisie modrého svetla a neblikajú, čo zabraňuje únave očí pri dlhom hraní hier alebo tvorbe obsahu.
DIZAJN ZAMERANÝ NA GAMING
Predurčený víťaziť 
Stvorený pre víťazstvo
---
Republic of Gamers vytvorili tí, ktorí radi hrajú videohry. Všetky návrhy a úvahy ROG vychádzajú v prvom rade od hráčov, a to od designu šasi, cez integráciu osvetlenia až po softvérové ovládanie a makro funkcie. Tieto exkluzívne dizajnové prvky ROG vám nielen poskytnú konkurenčnú výhodu, ale súčasne sa postarajú o to, aby ste nikdy nesplynuli s davom.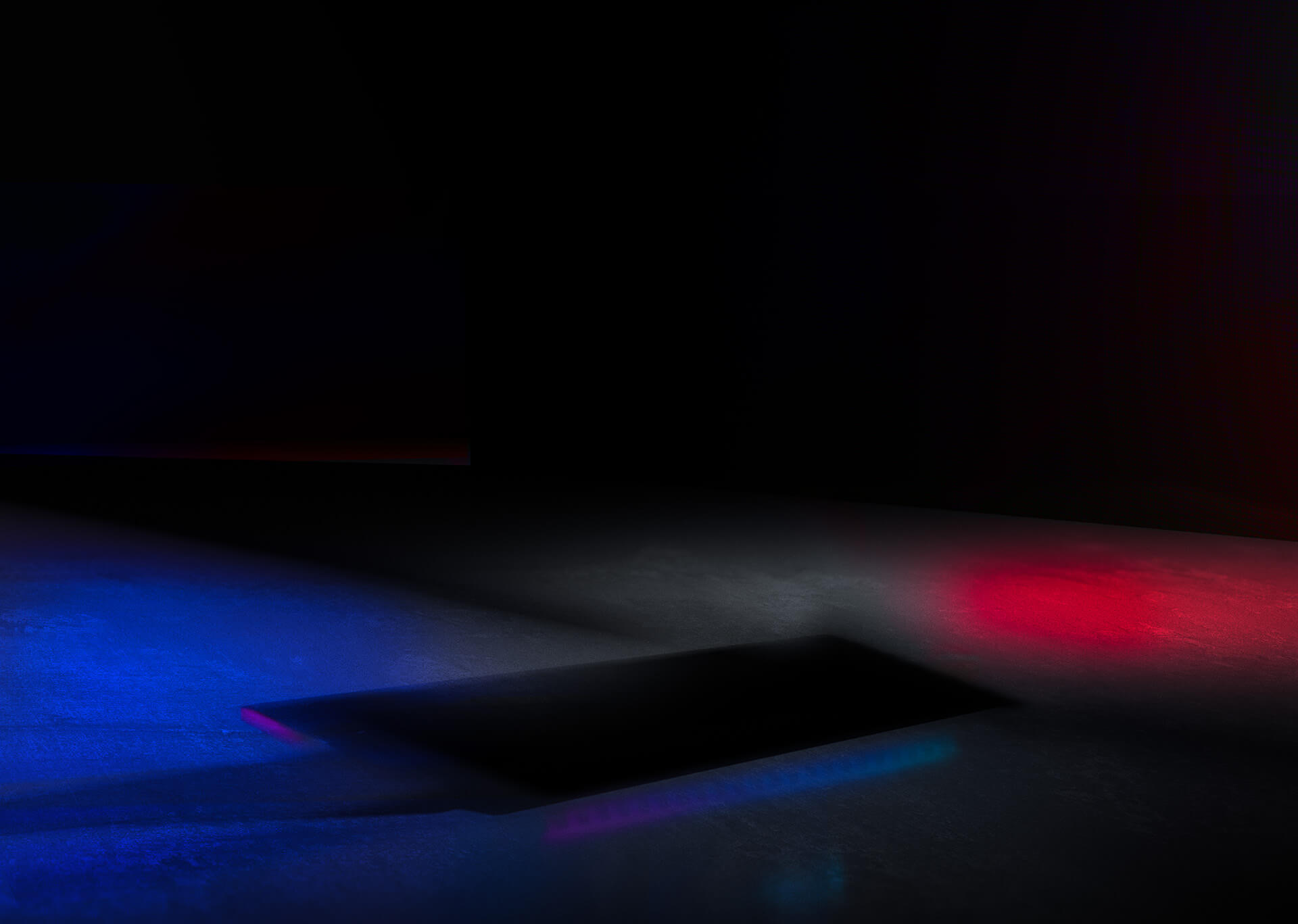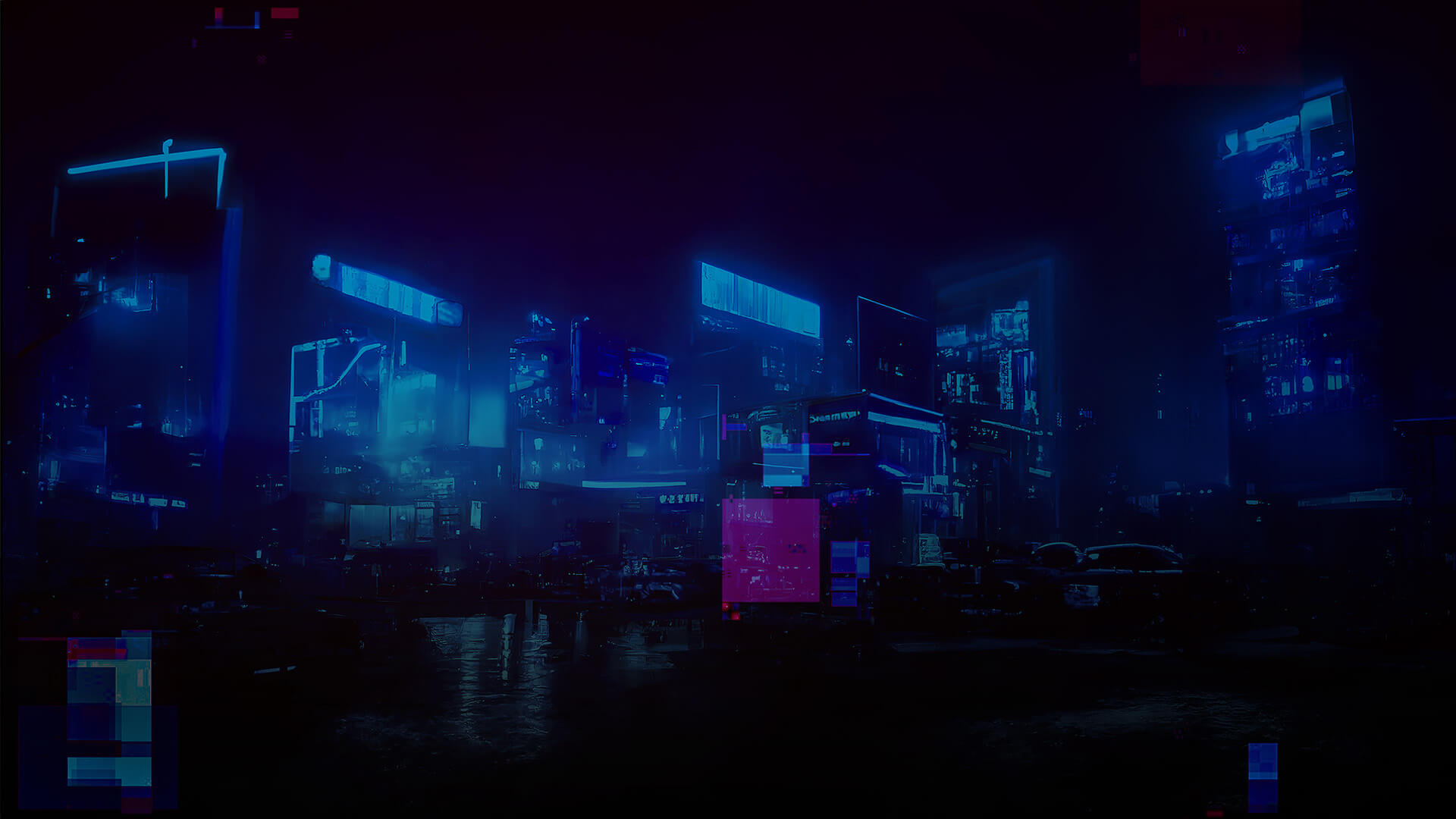 SOFTVÉR
Nekonečné možnosti prispôsobenia
---
Nekonečné možnosti prispôsobenia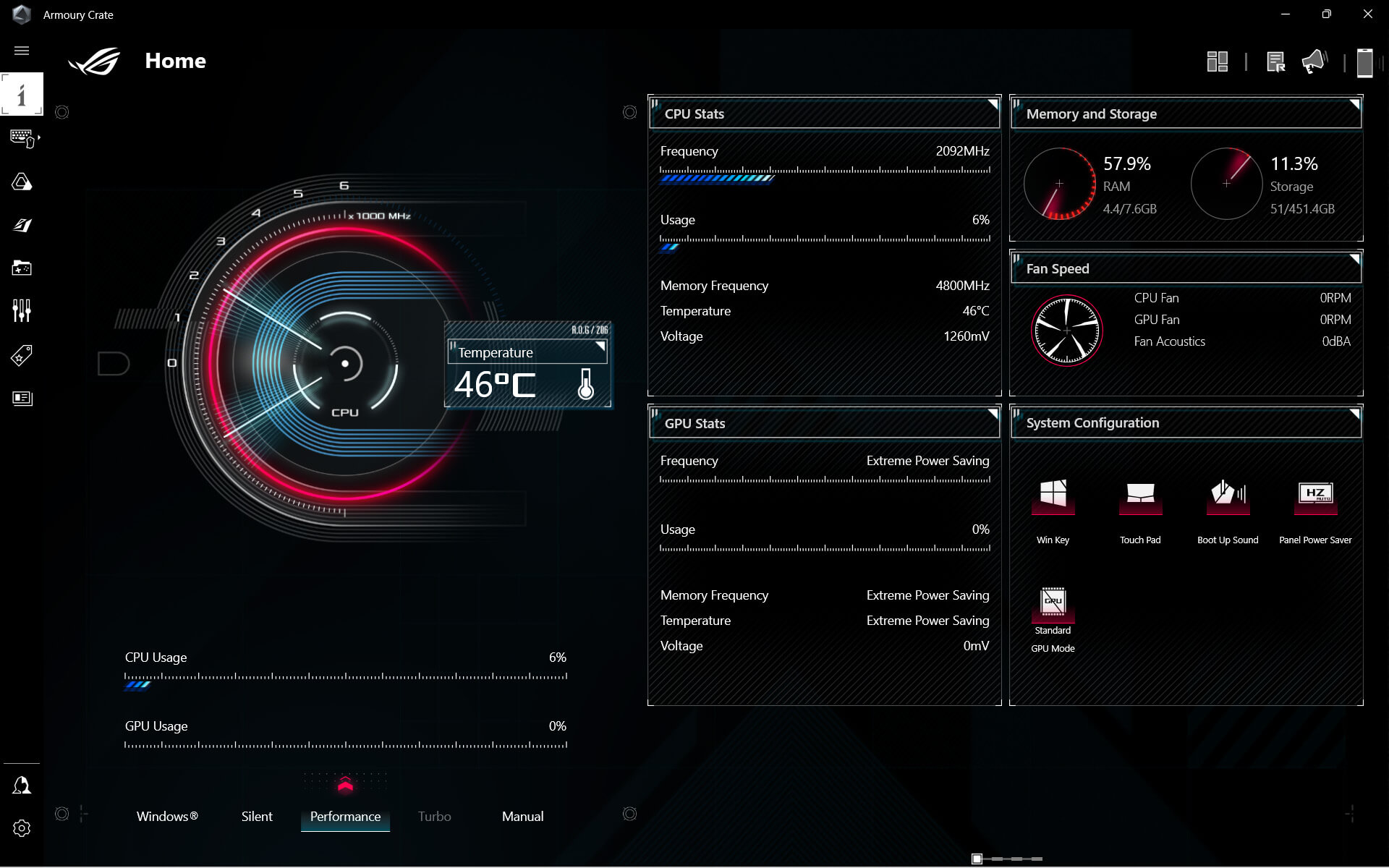 Keď chcete upraviť nastavenia, sledovať teploty alebo sa pohrať s nastavením notebooku, Armoury Crate sa stane vaším riadiacim centrom. Monitorovanie v reálnom čase vám umožní sledovať, čo robí grafika, procesor a pamäť. RGB osvetlenie je možné upravovať podľa jednotlivých hier pomocou funkcie Aura Sync. Profily ventilátorov a napájania umožňujú meniť akustiku, napájanie a tepelné vlastnosti notebooku za chodu. A vďaka exkluzívnym ponukám hier bude vaša knižnica neustále plná.
Režimy výkonu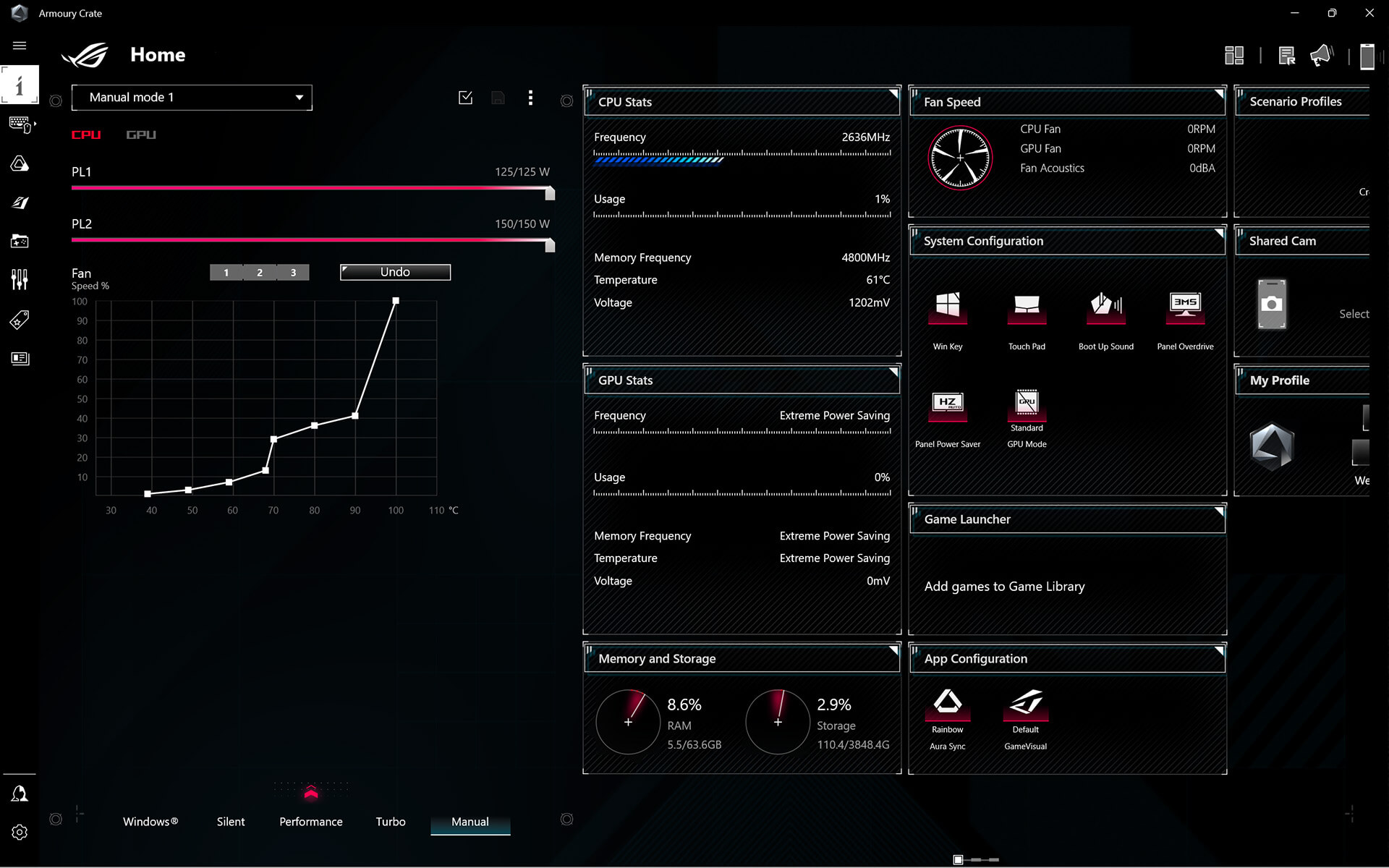 Výkonnostné režimy v rámci Armoury Crate sú viac než obyčajné krivky ventilátorov. Slúži na premenu vášho počítača z tichého spoločníka pri prezeraní webu na plnohodnotnú hernú beštiu s maximálnym výkonom. A pre tých, ktorí vyžadujú ešte podrobnejšie ovládanie, je k dispozícii manuálny režim, ktorý odstráni všetky obmedzenia a umožní vám vytvoriť vlastný profil, ktorý bude presne vyhovovať vašim potrebám. Ďalšie informácie o výkonnostných režimoch nájdete v našom kompletnom sprievodcovi tu.
Makro klávesy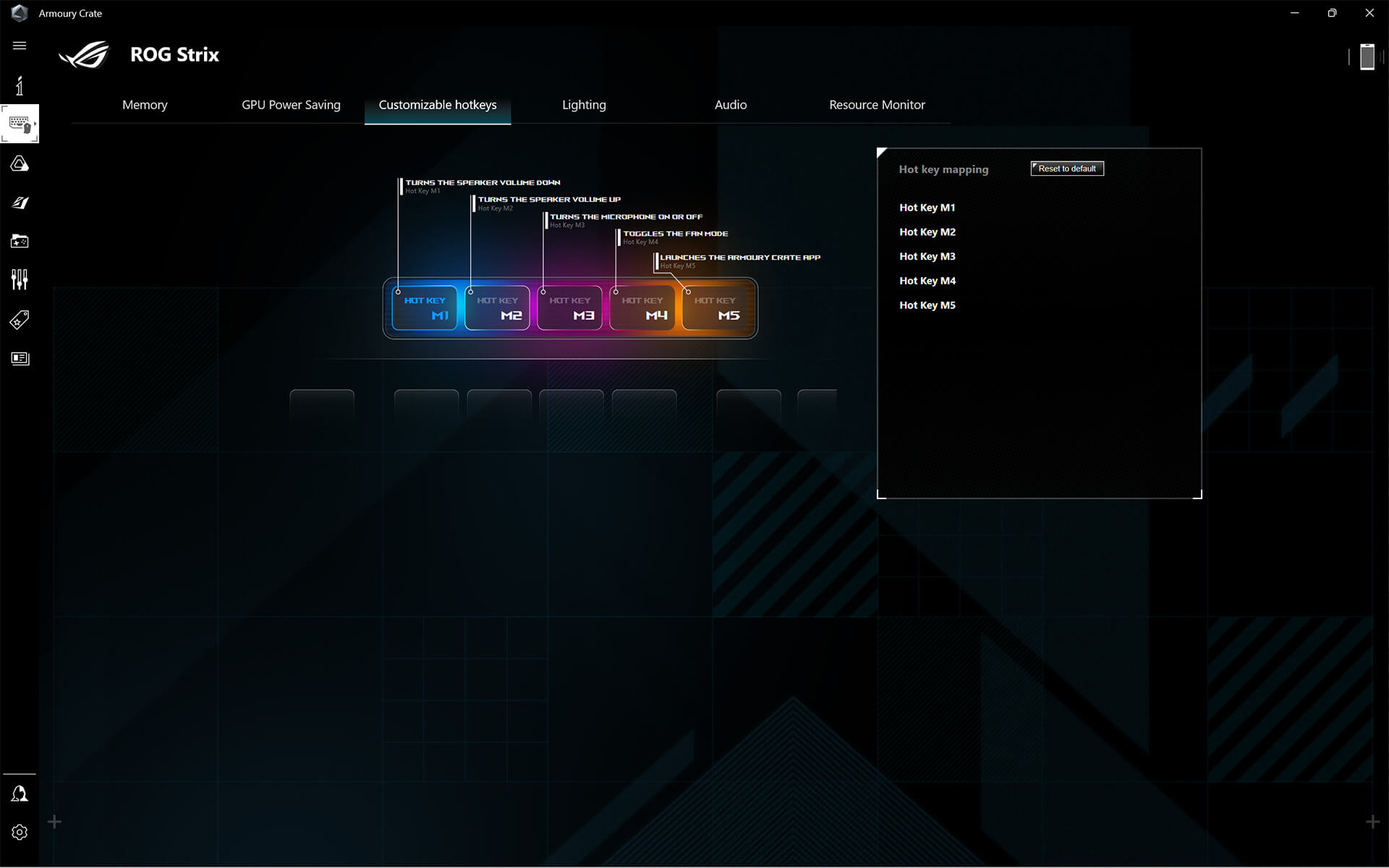 Armoury Crate tiež podporuje úplné prispôsobenie špeciálnych klávesov. V predvolenom nastavení zastanú funkcie ovládania hlasitosti, stlmenie mikrofónu a rýchle spustenie Armoury Crate, ale niekoľkými úpravami ich môžete prispôsobiť svojim potrebám. Vytvorte si funkčnú klávesu pre rýchle prepínanie v prípade potreby, makro pre zložité kombinácie klávesov alebo dokonca tlačidlo rýchleho spustenia vybranej aplikácie. Vytvorte si svoj jedinečný notebook.
Game Visual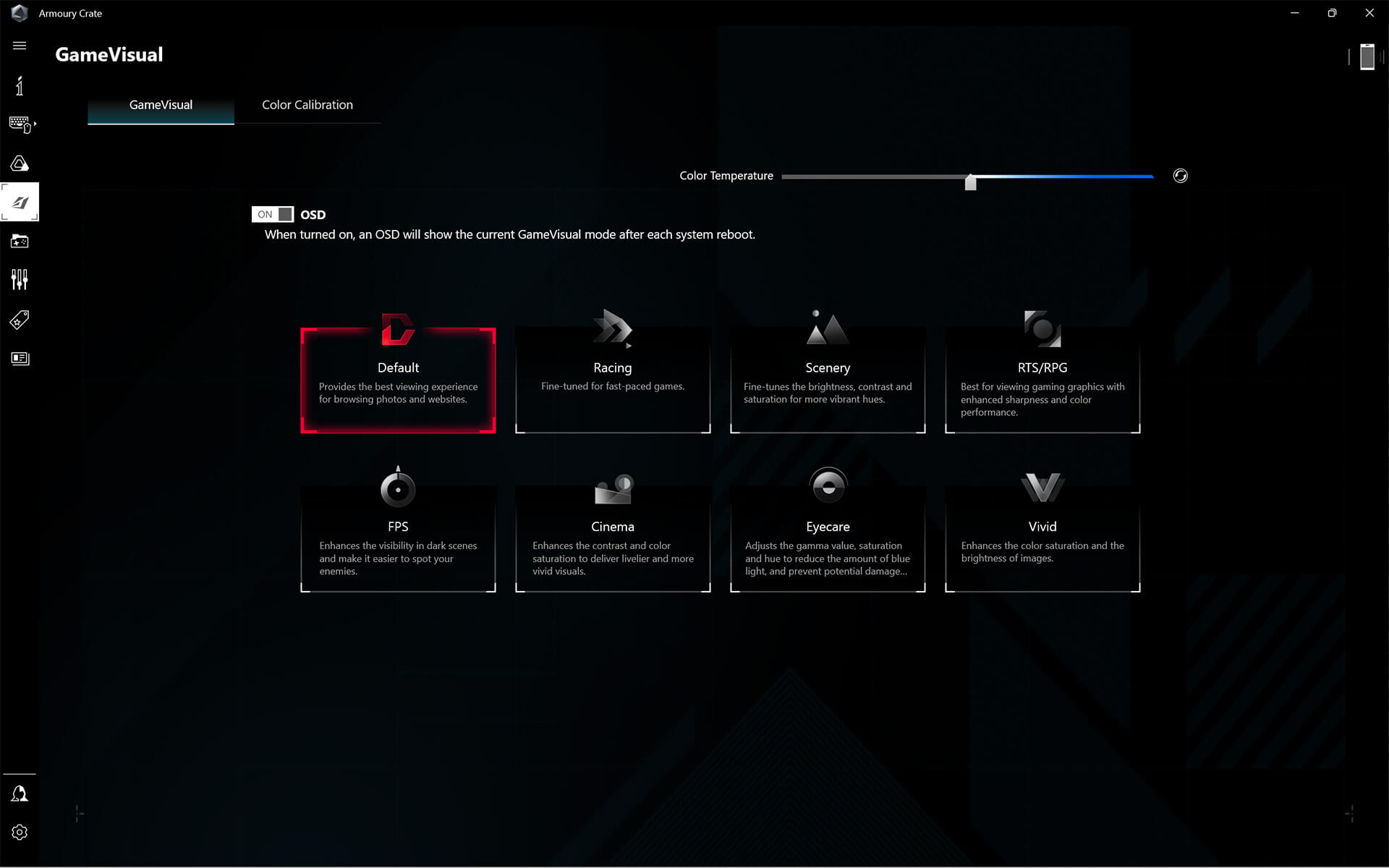 Softvér ROG GameVisual ponúka šesť odborne vyladených grafických režimov navrhnutých na optimalizáciu vizuálneho zážitku pre konkrétne herné žánre. Napríklad režim First Person Shooter (FPS) zlepšuje viditeľnosť v tmavom prostredí a dáva vám prehľad o všetkých nepriateľoch, ktorí číhajú v tieňoch. Pomocou GameVisual získate najlepší zážitok z každej hry vo svojej knižnici.
Aura Creator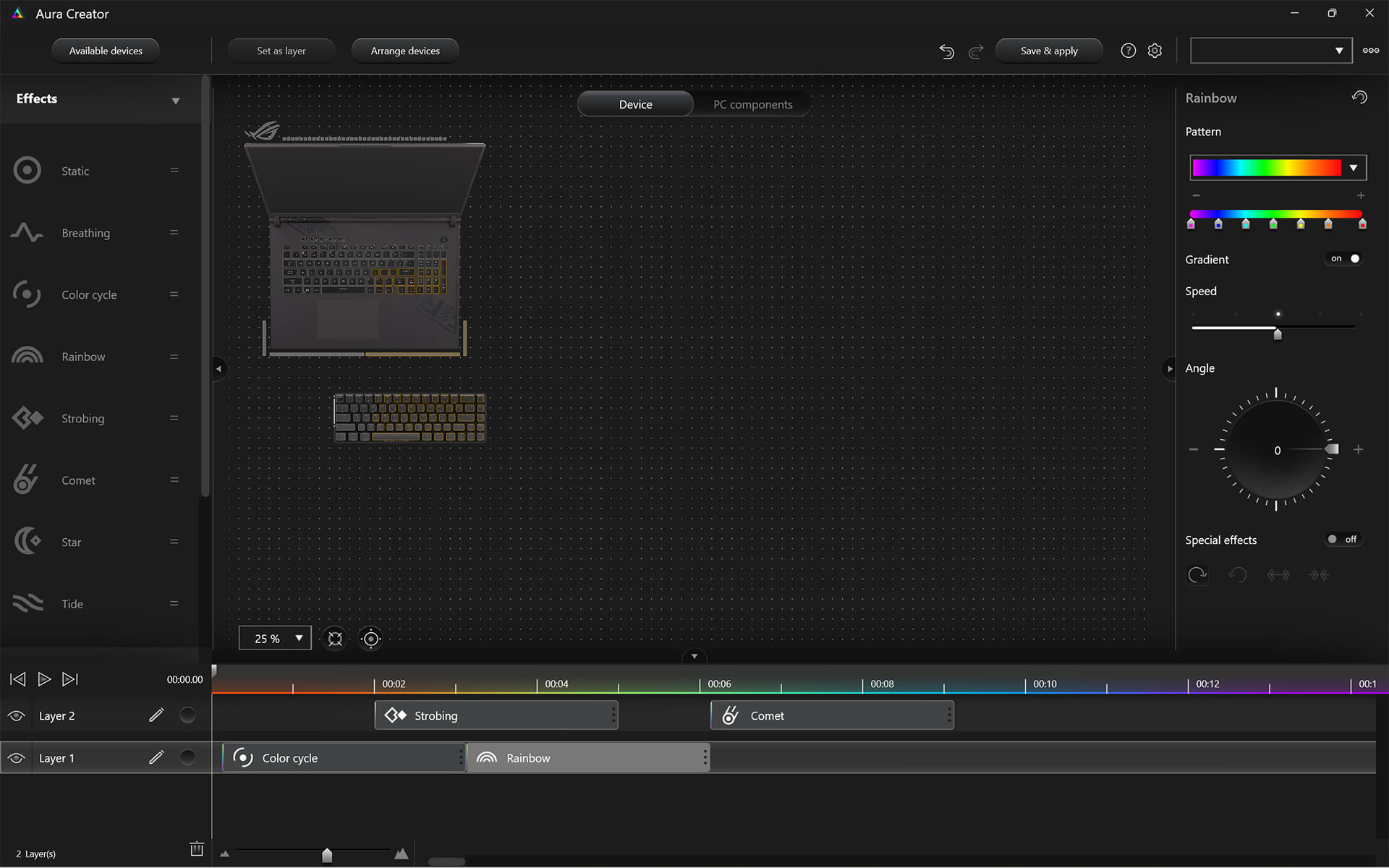 Prispôsobte si RGB osvetlenie na perifériách kompatibilných s technológiou Aura tak, aby vyhovovalo vášmu hernému štýlu. Ľahko použiteľný ovládací panel v rámci Aura Core umožňuje meniť brilantné spektrum svetelných efektov a farieb. Okrem výmeny prednastavených režimov osvetlenia môžete tiež aktivovať funkciu Aura Sync pre zladenie farieb a efektov na viacerých zariadeniach.
Aura Wallpaper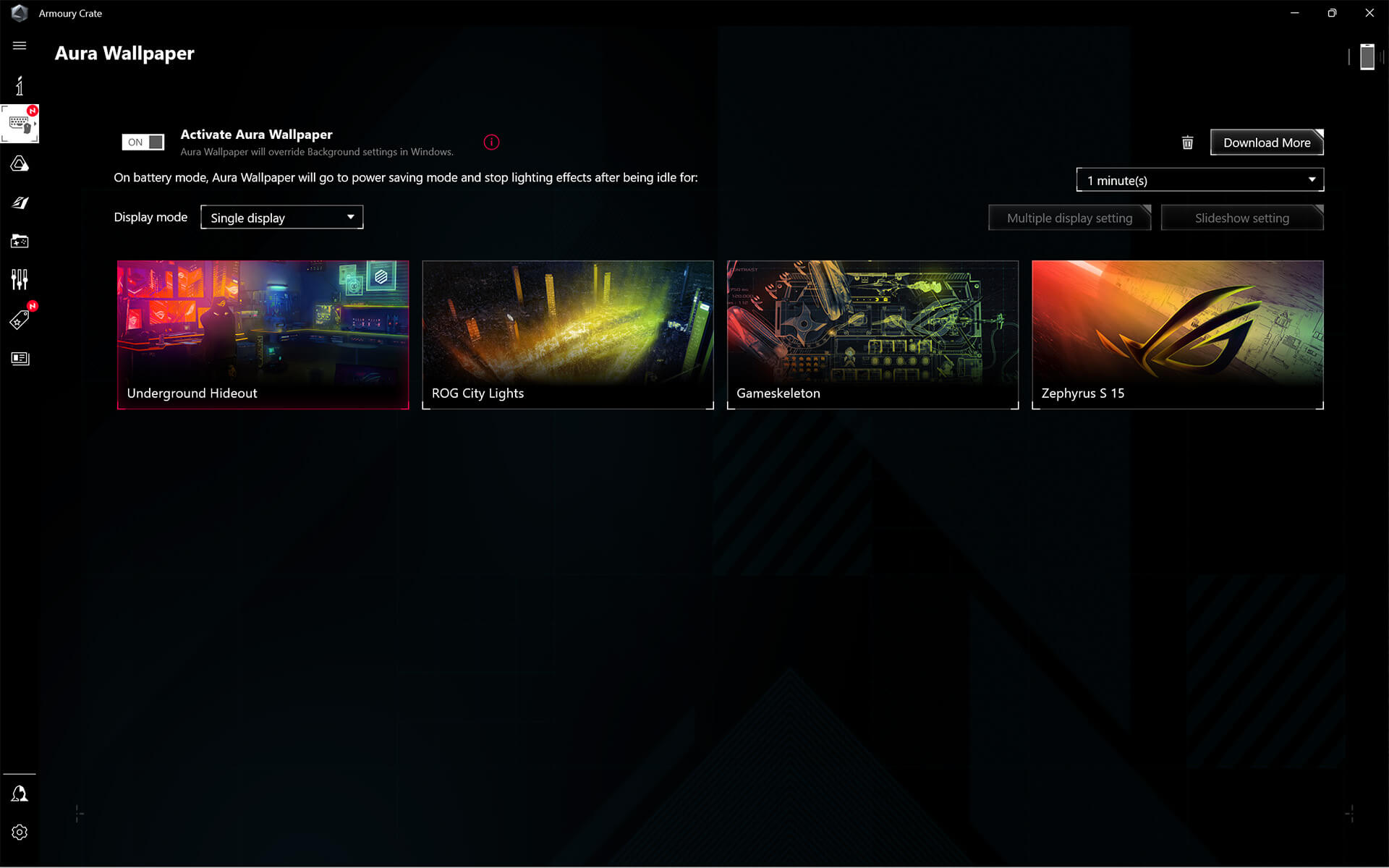 Táto úplne nová funkcia v aplikácii Armoury Crate 5.0 umožňuje synchronizovať animovanú tapetu plochy s RGB osvetlením notebooku. Vyberte si z niekoľkých tapiet s motívom ROG a RGB efektov a dodajte svojej zostave jednotný vzhľad. Ďalšie tapety si môžete stiahnuť priamo z Armoury Crate. Aplikáciu je možné ľahko ovládať zo systémovej lišty Windows.
Profily scenárov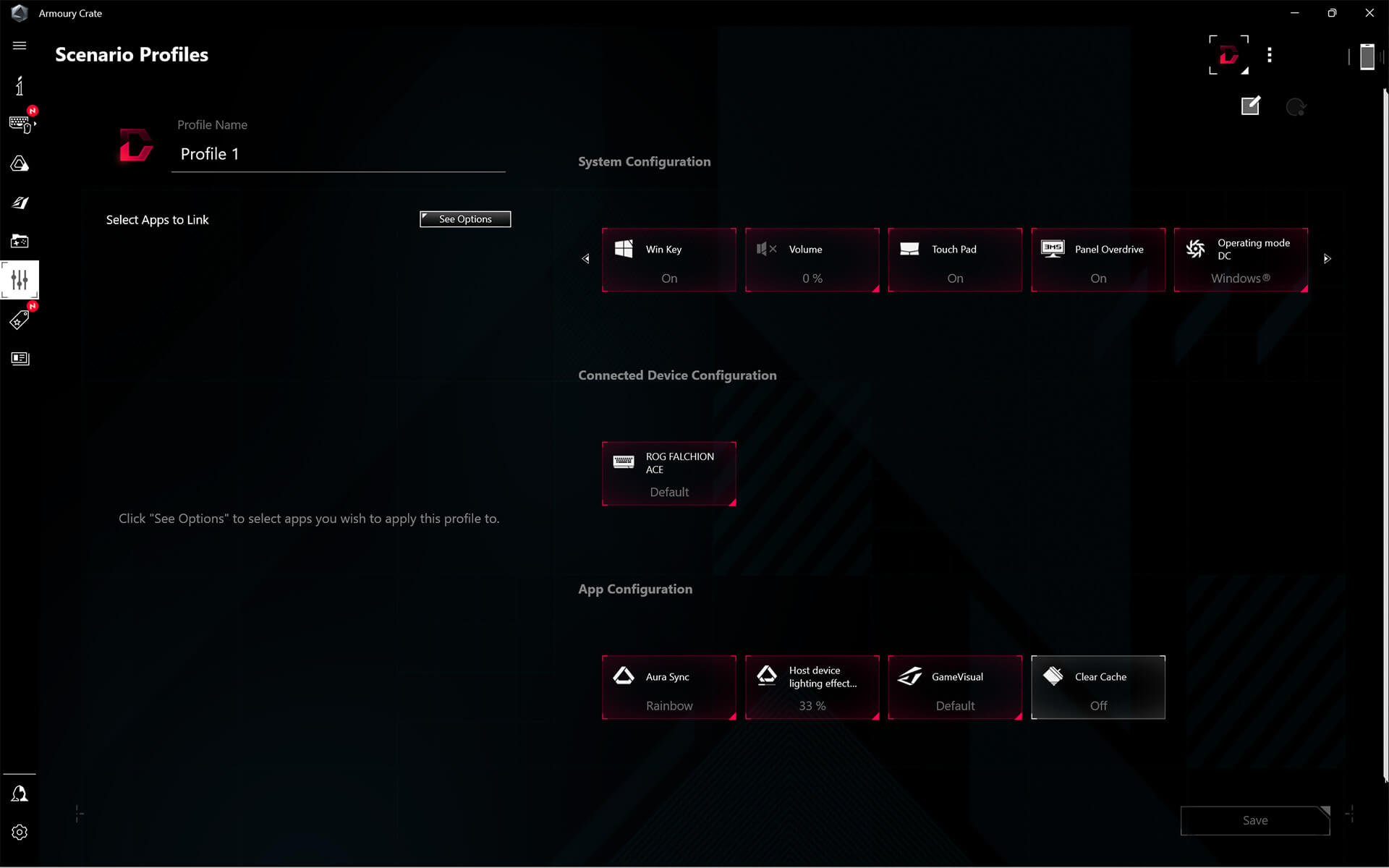 Automatické prepínanie medzi režimami Silent, Performance a Turbo je len začiatok. Pre konkrétne aplikácie môžete tiež definovať predvoľby ďalších dôležitých systémových nastavení, ako je konfigurácia osvetlenia, či je povolený kláves Windows alebo touchpad a ktorý profil GameFirst VI a Sonic Studio III sa má použiť. Armoury Crate vykoná úpravy behom okamihu tak, aby čo najlepšie vyhovovali danej úlohe. Každý profil si navyše môžete nakonfigurovať presne podľa svojich predstáv.
Nekonečné možnosti prispôsobenia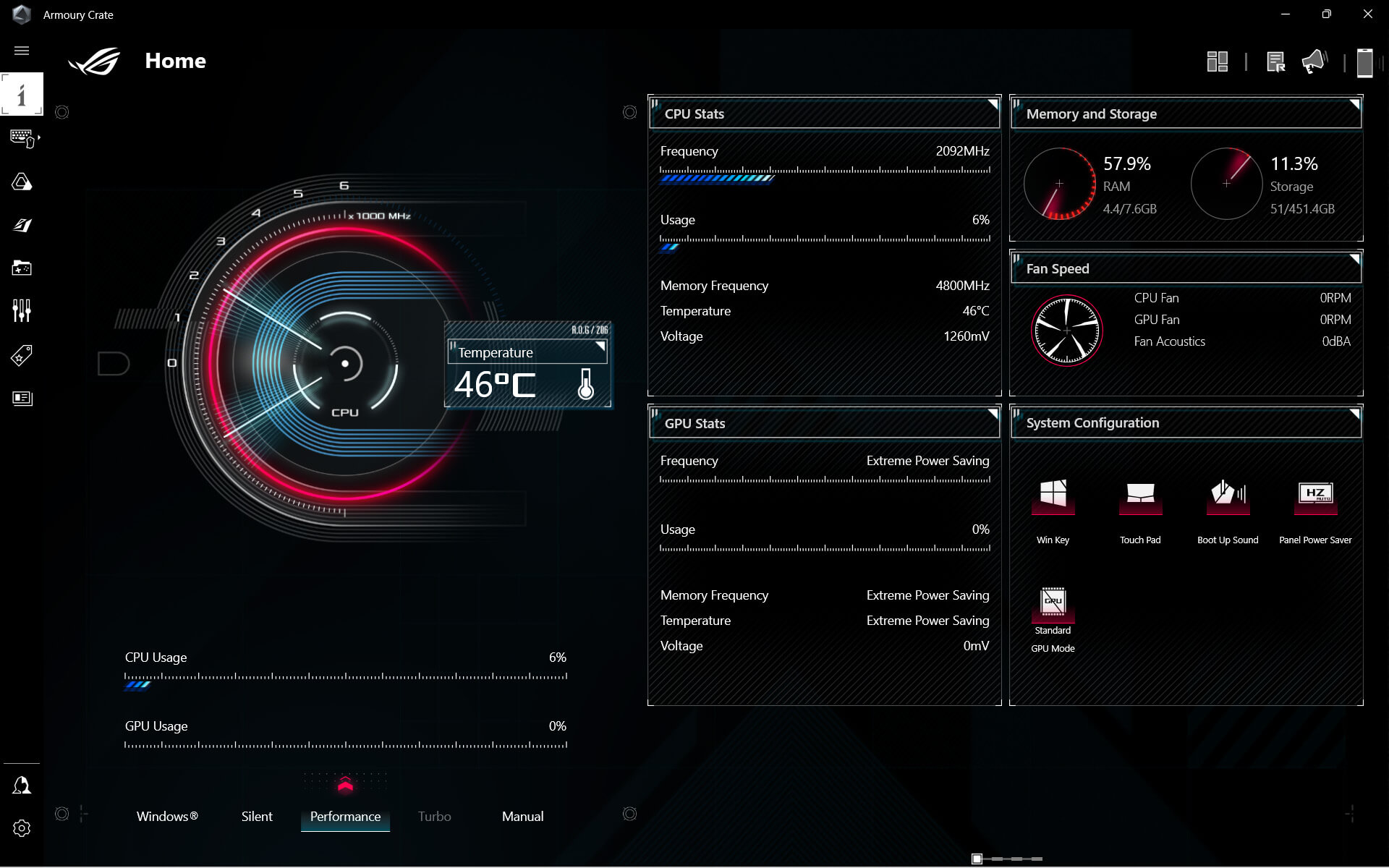 Režimy výkonu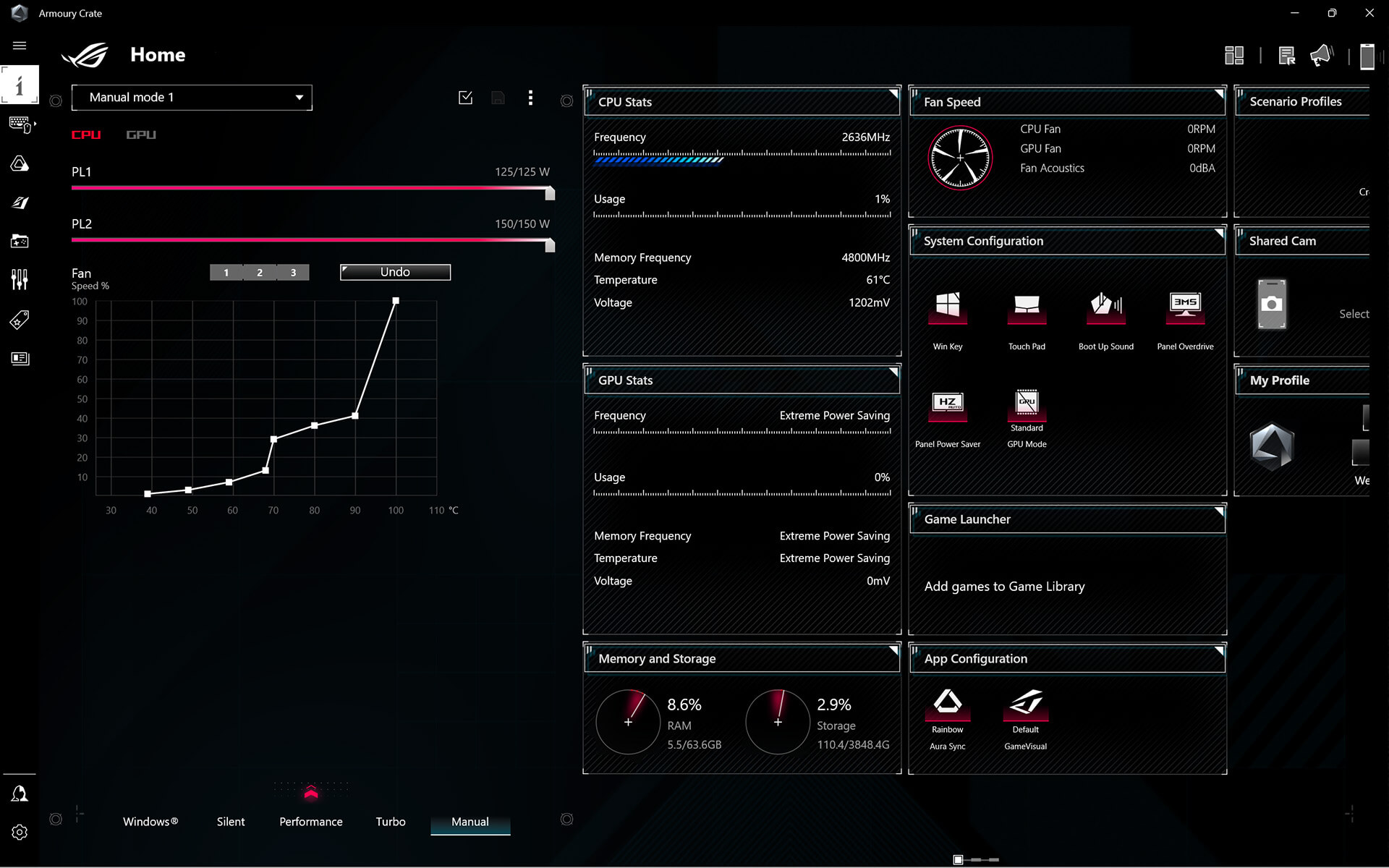 Makro klávesy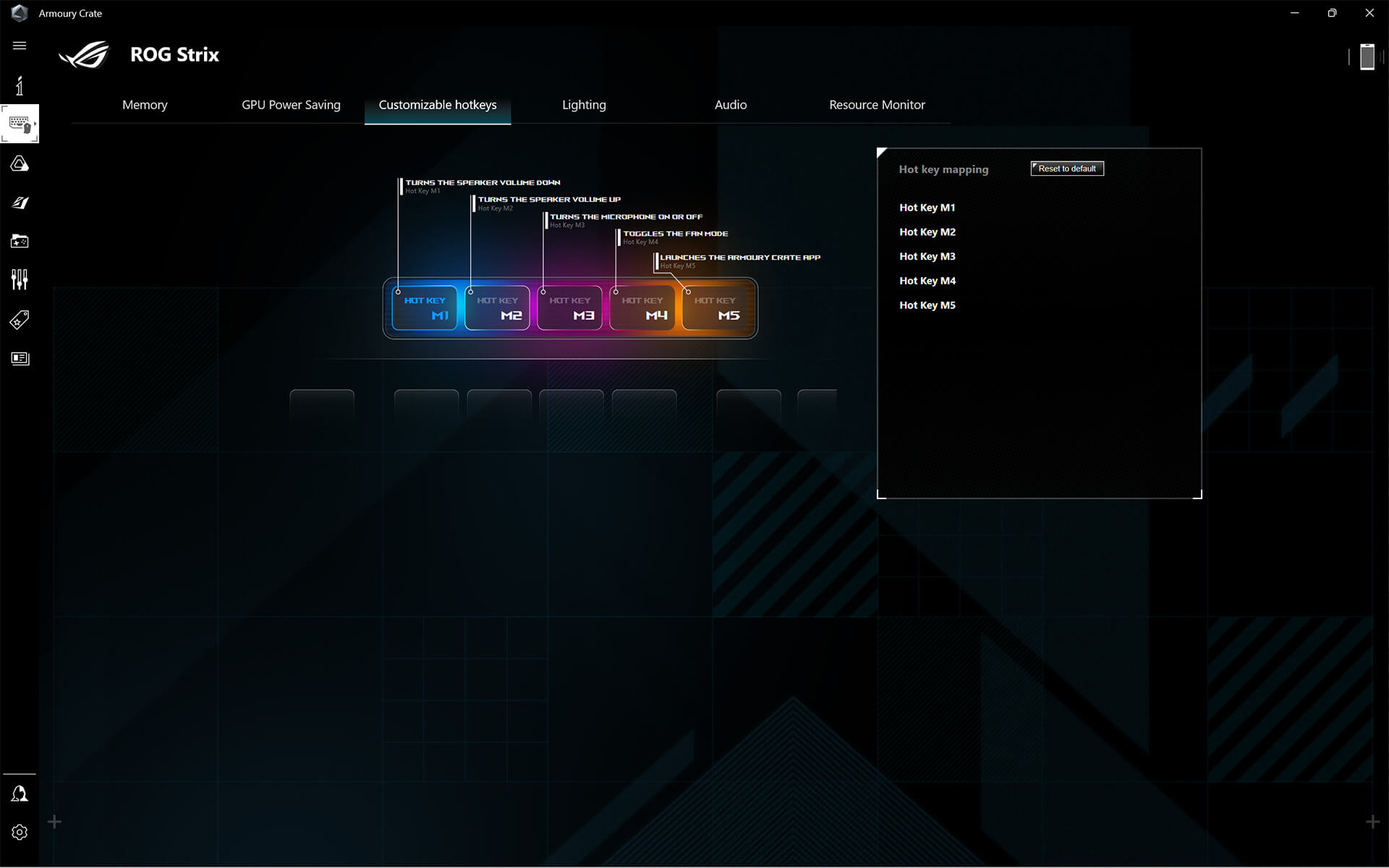 Game Visual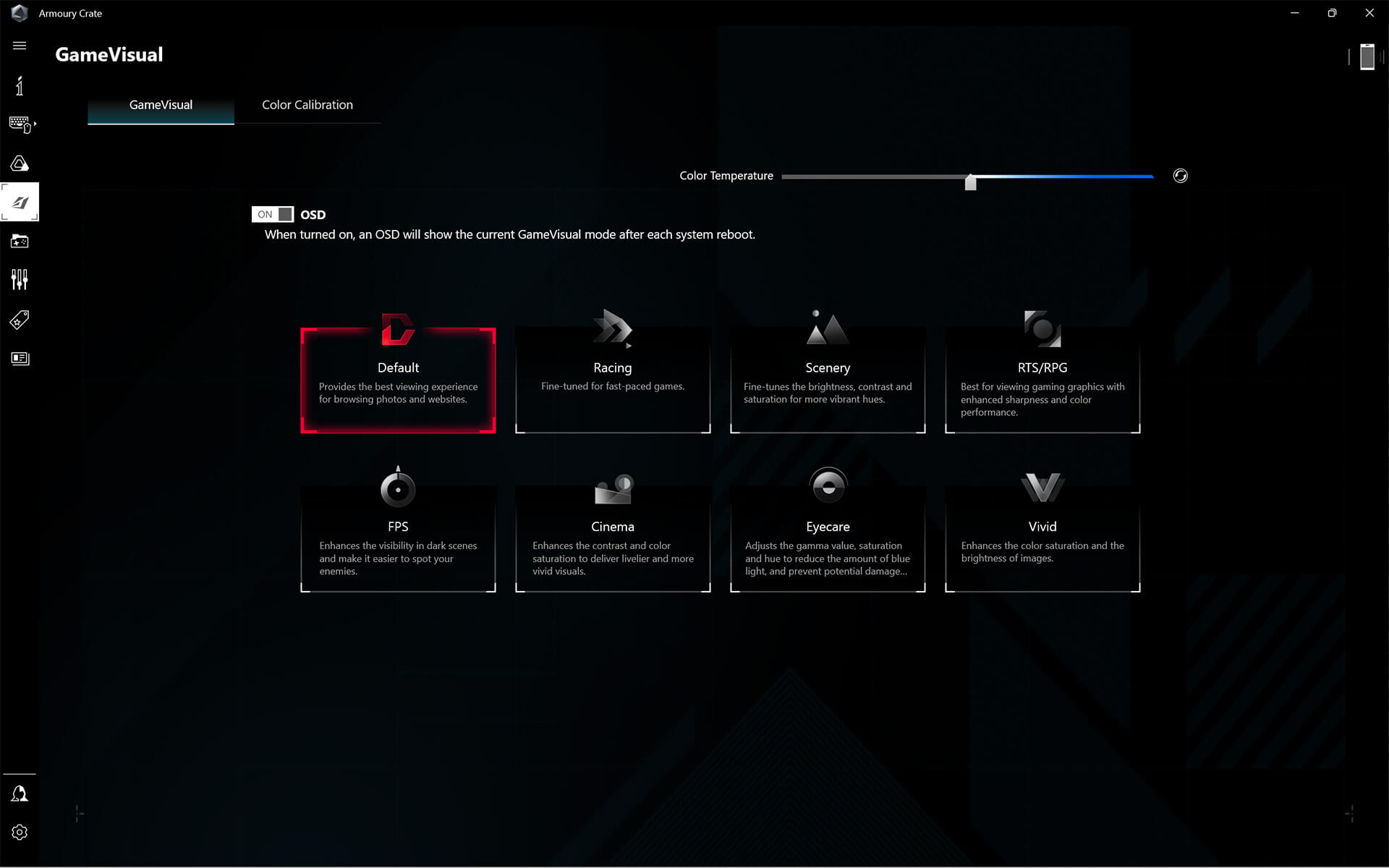 Aura Creator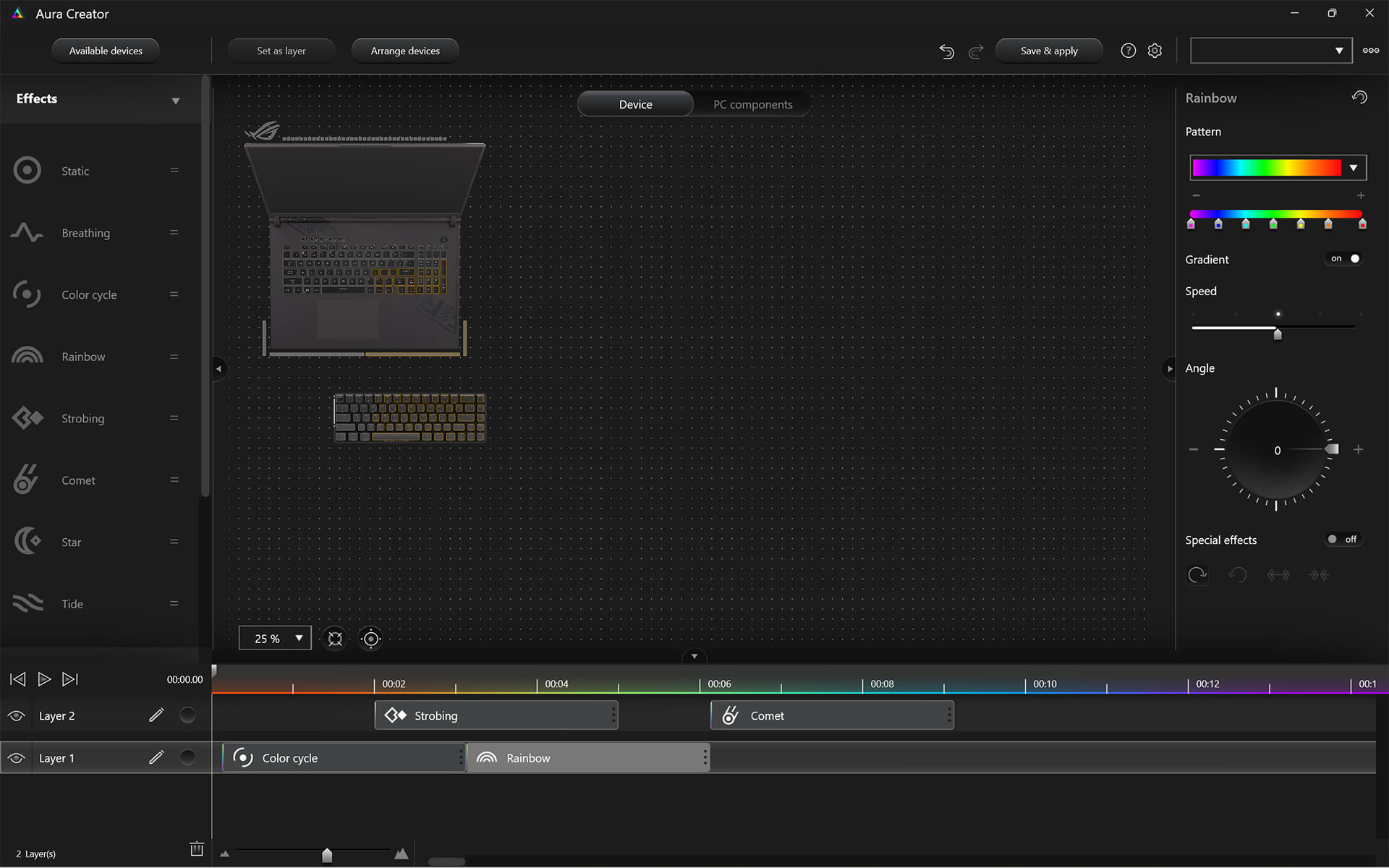 Aura Wallpaper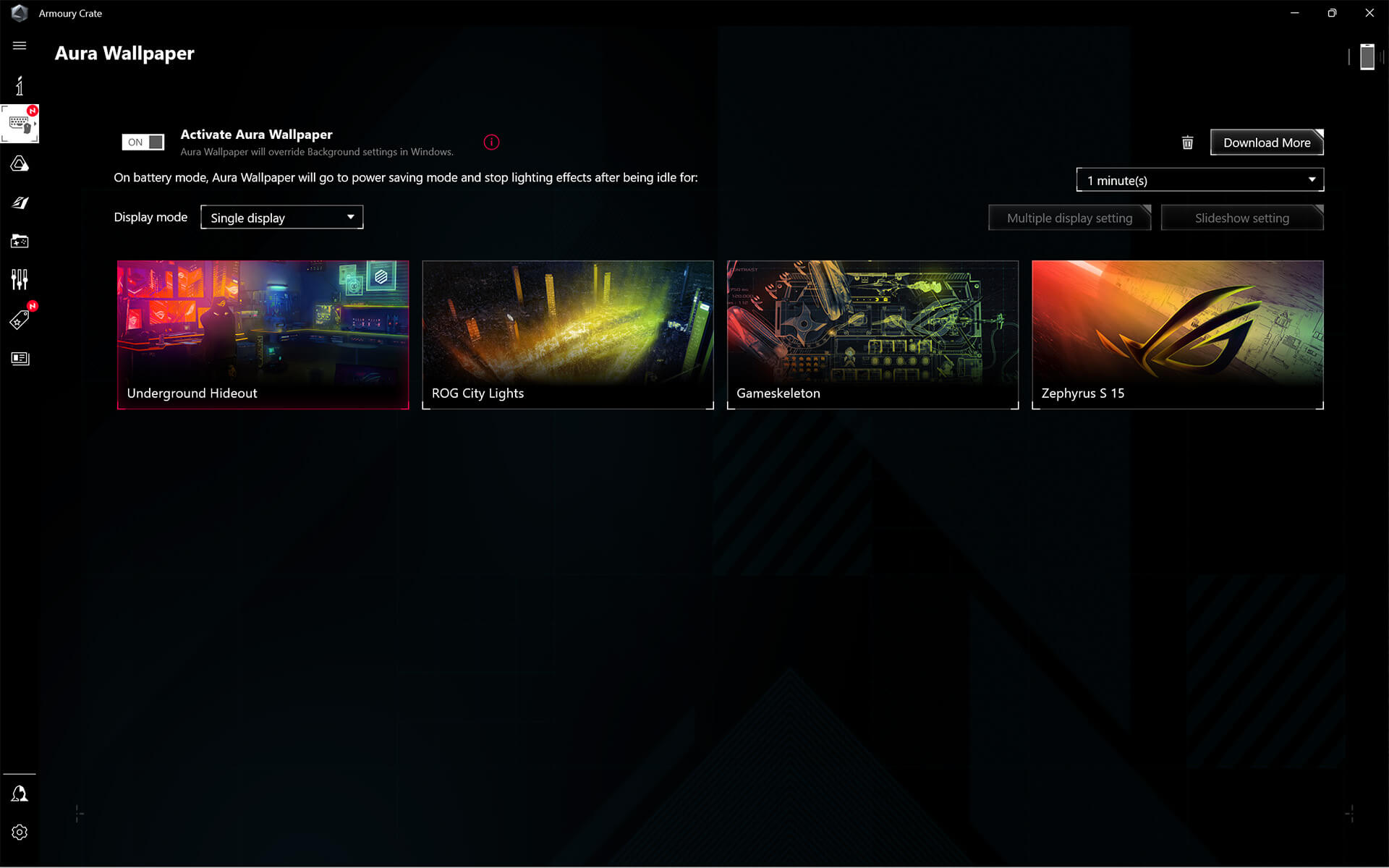 Profily scenárov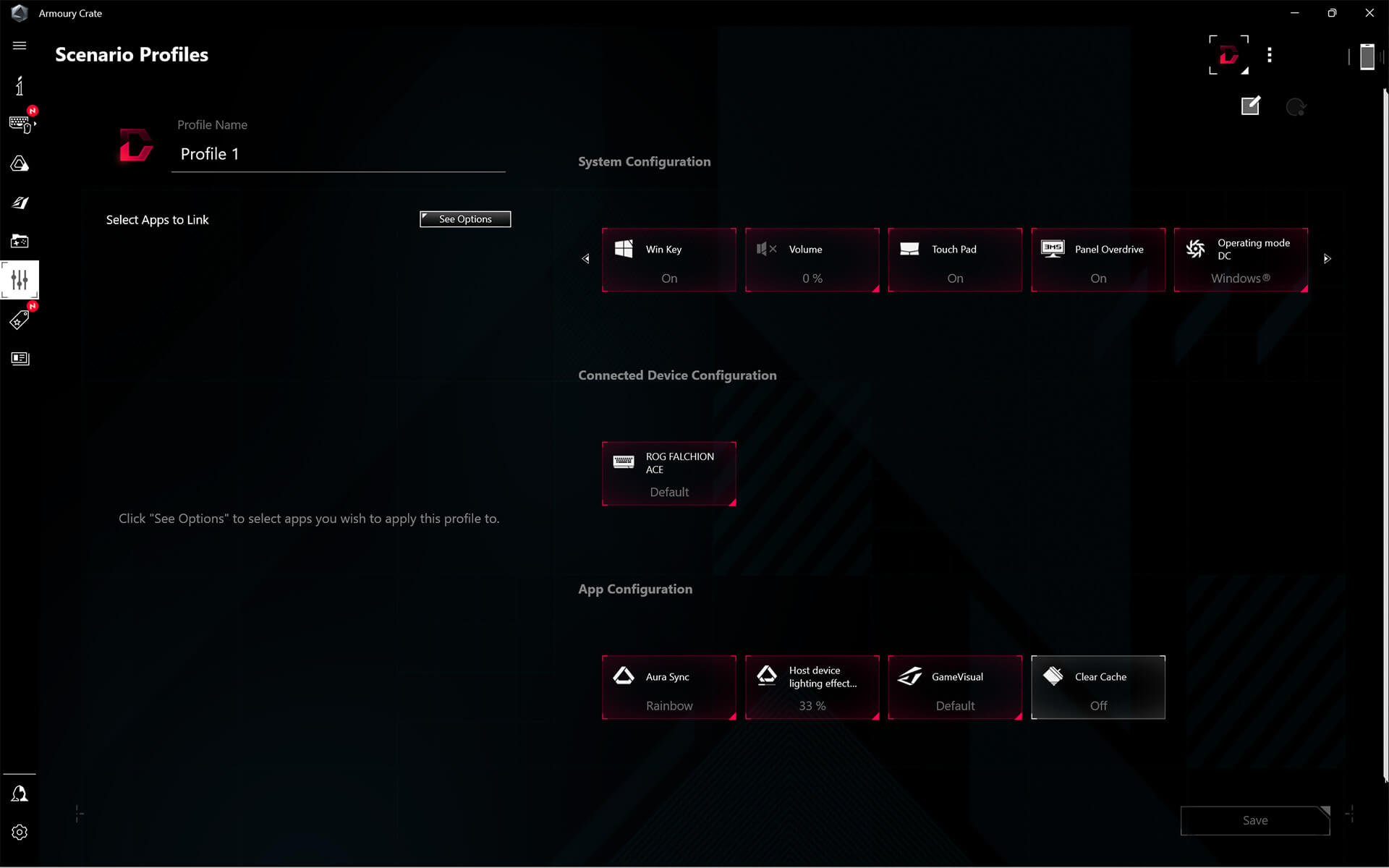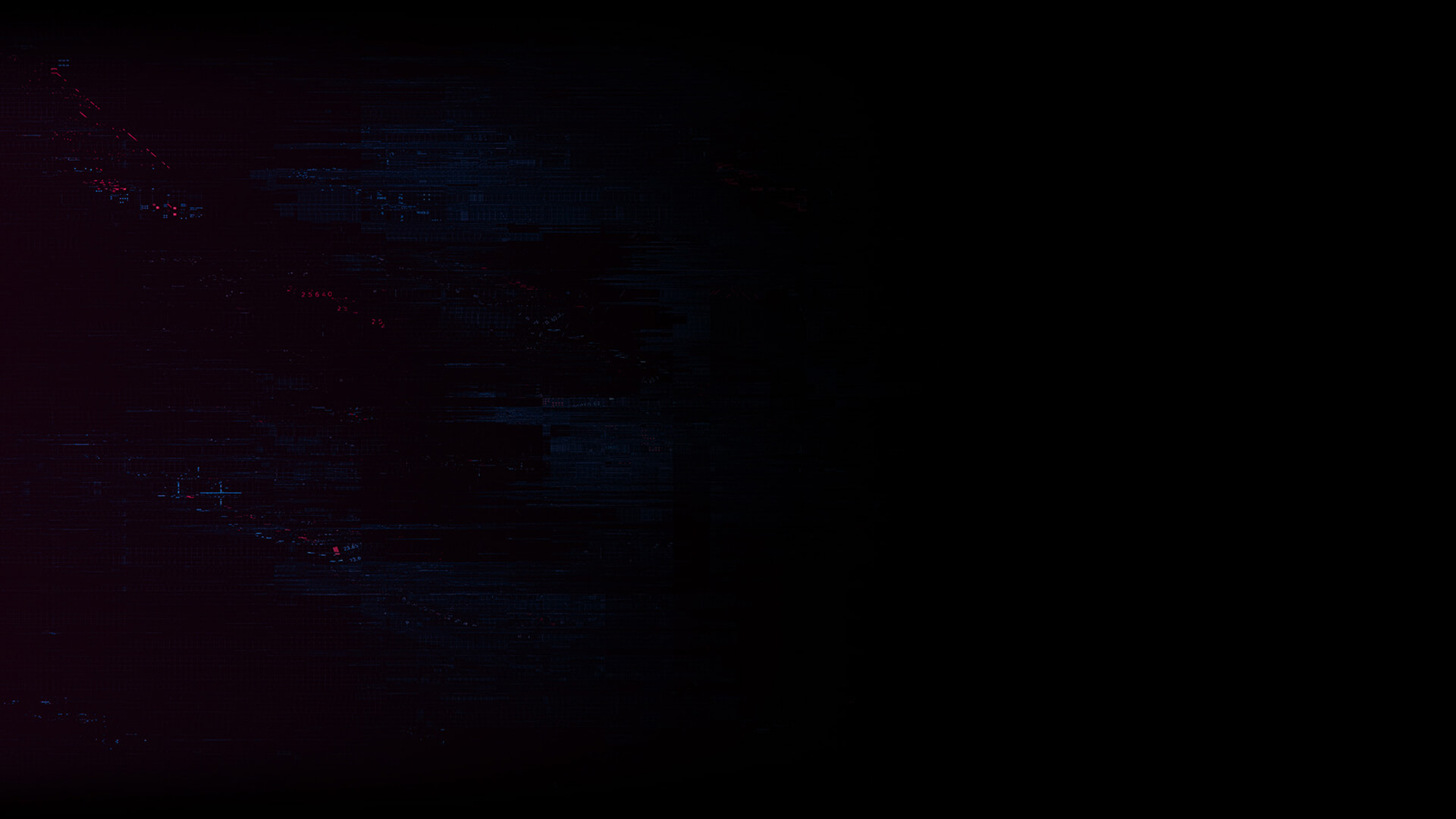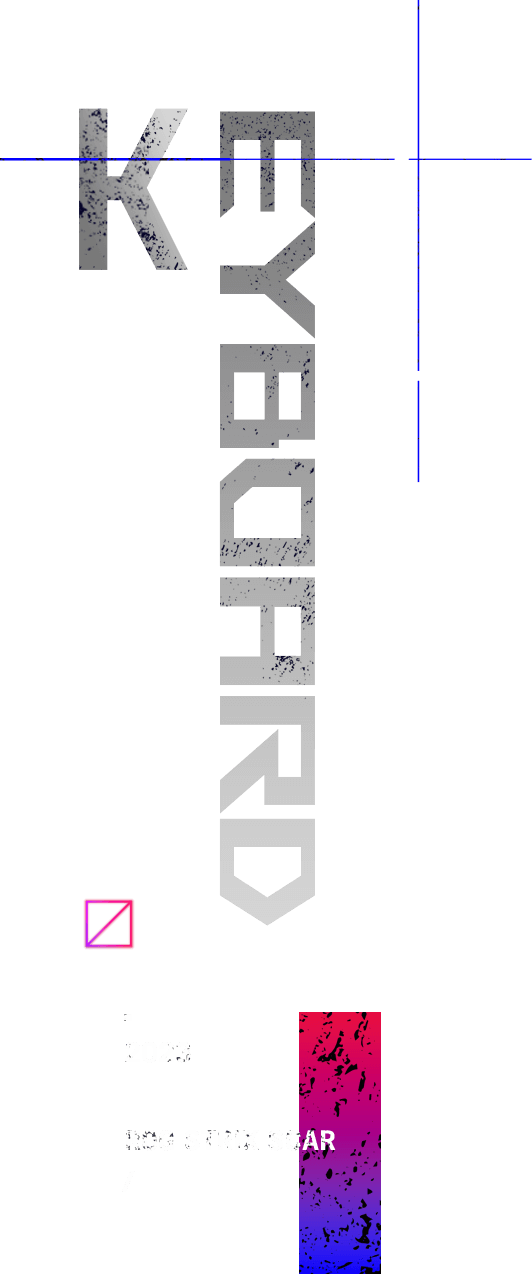 OVLÁDANIE
Zaveľte do útoku
---
O víťazstve alebo porážke môže rozhodnúť jediný stisk klávesy, a preto má SCAR 18 profesionálnu klávesnicu pre esport navrhnutú tak, aby dopomohla k víťazstvu. Spínače klávesnice Strix SCAR vydržia viac ako 20 miliónov stlačení. Funkcia N-key rollover zaručuje, že váš systém nikdy nevynechá príkaz, aj keď stlačíte viac klávesov naraz. SCAR ponúka klávesnicu plnej veľkosti so samostatnými ovládacími prvkami médií a špeciálnymi klávesmi, ktoré sú v predvolenom nastavení vyladené pre ovládanie hlasitosti a Armoury Crate, ale je možné ich prispôsobiť pre rôzne funkcie alebo makrá. A vďaka funkcii RGB pre každú klávesu a plnému prispôsobeniu Aura Sync bude mať SCAR vždy vzhľad zodpovedajúci vašej nálade.



Každý kláves s

RGB




Plnohodnotná

klávesnica

Herné

špeciálne klávesy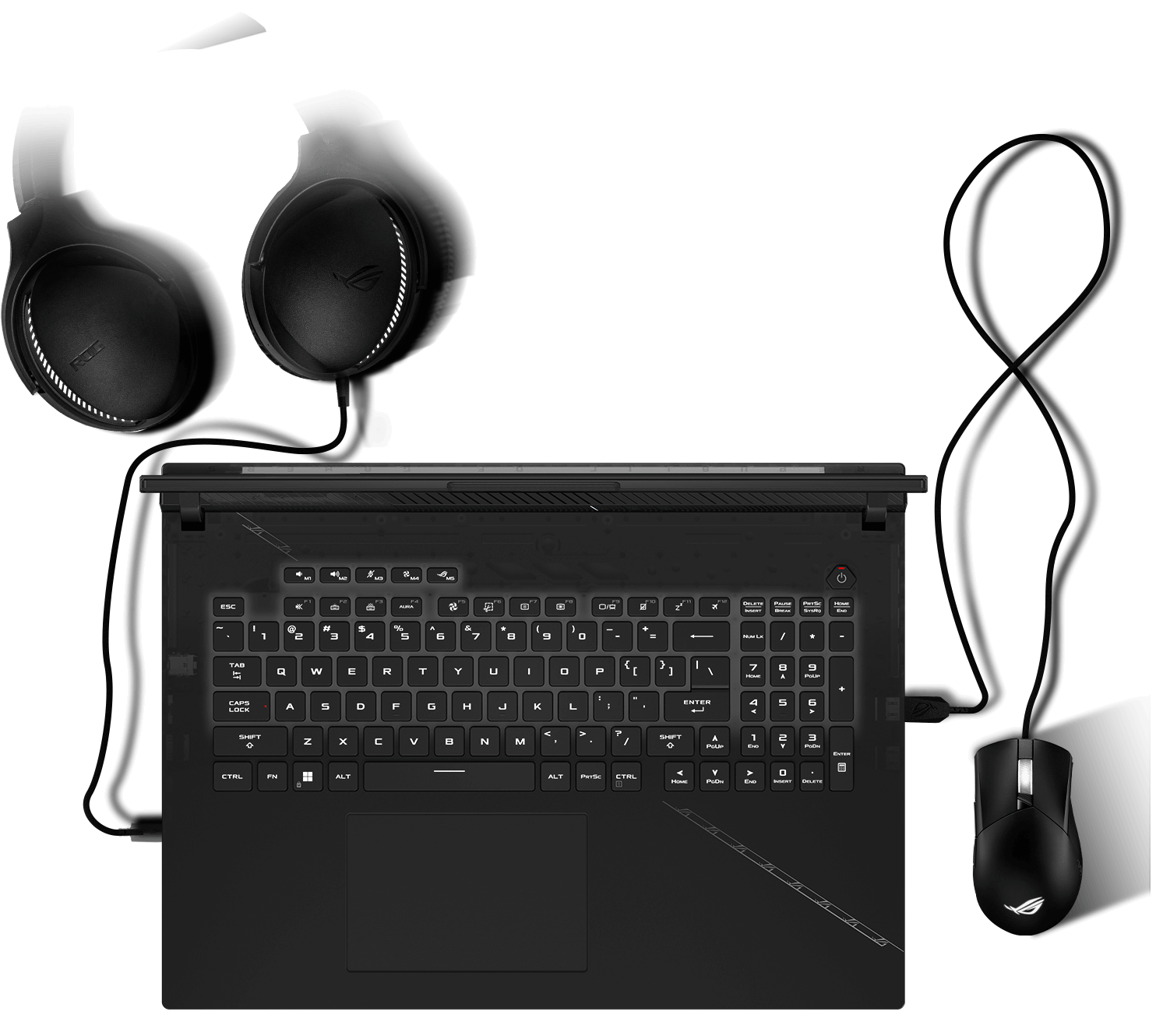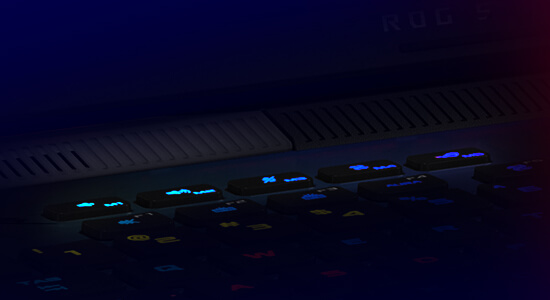 Špeciálne klávesy
Špeciálne herné klávesy sú umiestnené v ľavej hornej časti nad klávesnicou a umožňujú rýchly prístup k ovládaniu hlasitosti a stlmeniu mikrofónu, prevádzkovým režimom a nástroju Armoury Crate. Sú tiež plne prispôsobiteľné a je možné ich naprogramovať na spúšťanie aplikácií, nastaviť ako funkčné klávesy alebo použiť ako makro. Strix SCAR má všetky nástroje, ktoré potrebujete na dosiahnutie víťazstva.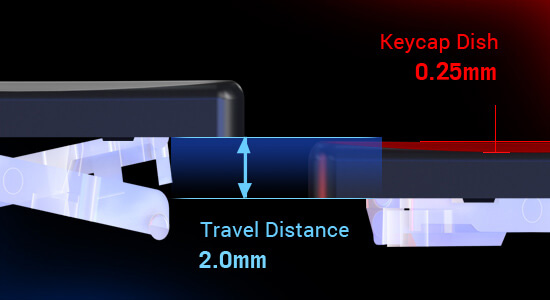 Technológia Overstroke
Exkluzívna technológia ROG Overstroke registruje stlačenie klávesov v skoršej fáze úderu, čo umožňuje citlivejšiu odozvu pri intenzívnom hraní a práci. Skoršie stlačenie znamená rýchlejšie a jednoduchšie ovládanie s väčšou presnosťou.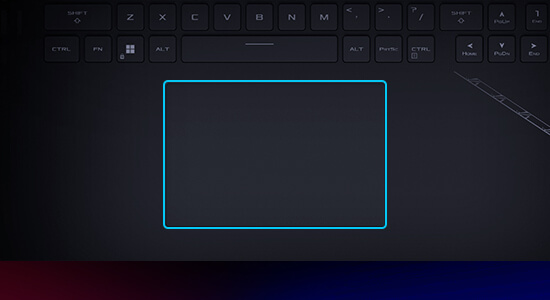 Veľký touchpad
Užite si väčšie pohodlie pri ovládaní vďaka o 10% väčšiemu touchpadu. Touchpad modelu SCAR 18 2023 je navyše opatrený sklenenou vrstvou pre prémiovejší pocit. Väčší priestor znamená väčšiu presnosť a pohodlnejšie pohyby rúk a gestá pri ovládaní.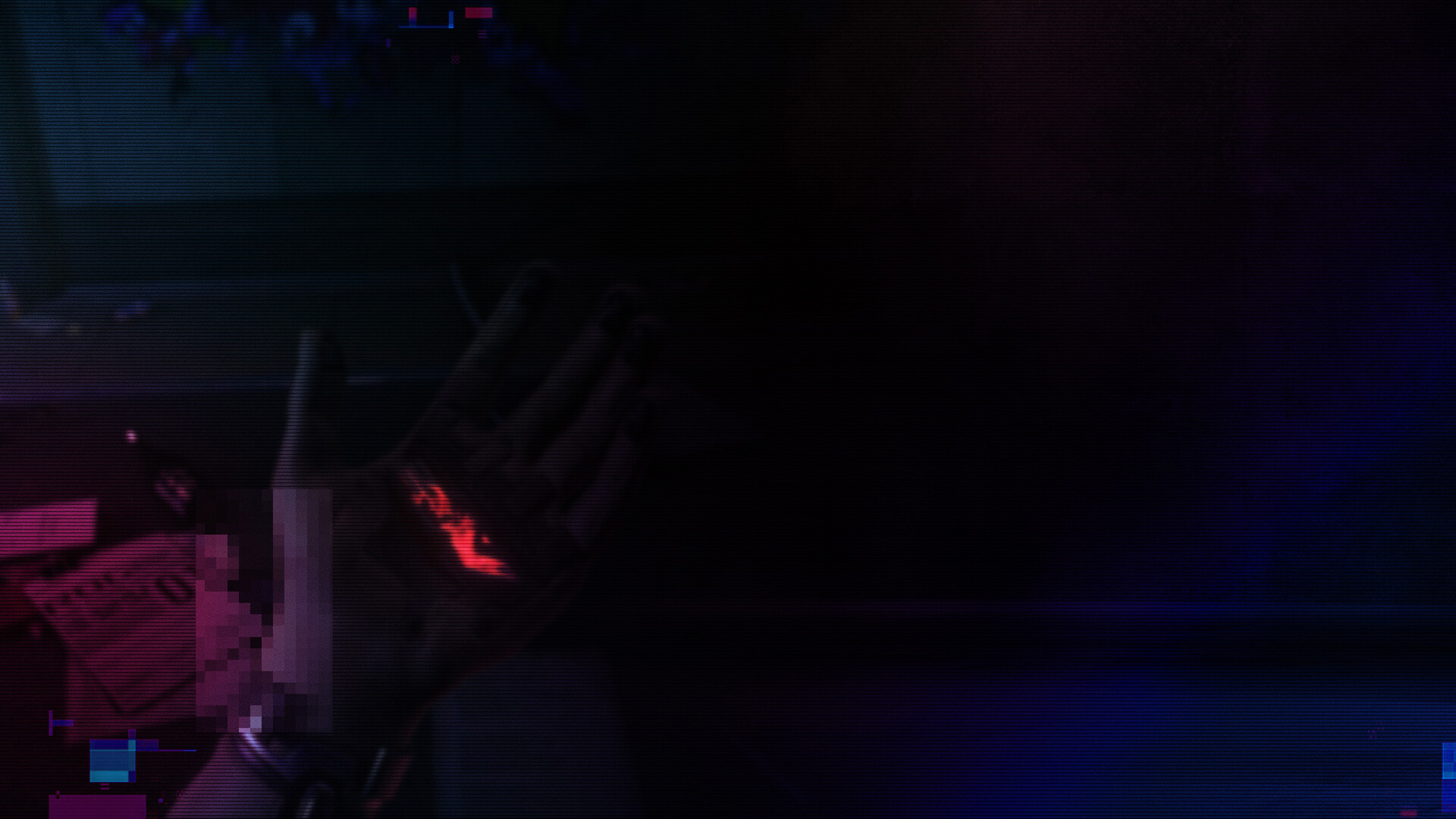 2023 Strix SCAR 18 je aj naďalej stelesnením charakteristického štýlu ROG. Vďaka výraznému dizajnu šasi, jedinečným RGB akcentom a osobitej hernej atmosfére bude notebook Strix vždy vyčnievať z davu. Novinkou pre rok 2023 je, že Strix SCAR ponúka zadný svetelný RGB panel, ktorý v spojení s RGB osvetlením jednotlivých klávesov na klávesnici a svetelnou lištou robí z notebooku maják herného výkonu pri pohľade z akéhokoľvek uhla.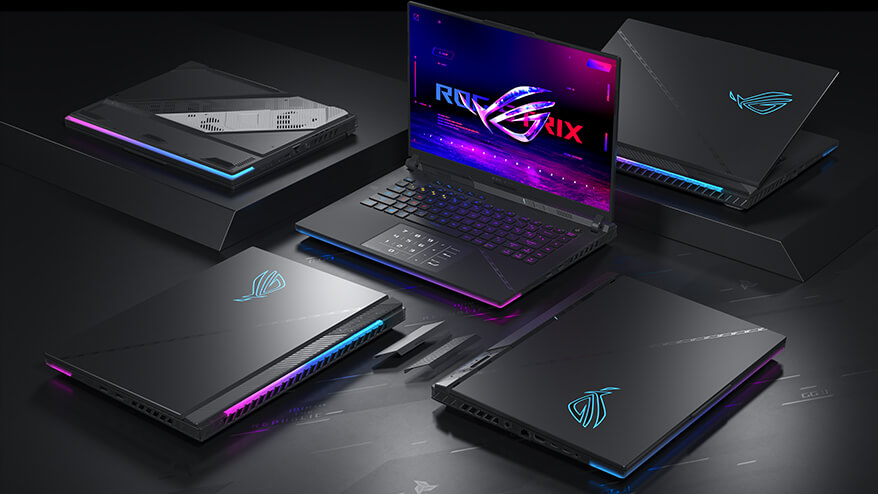 Nahliadnite za oponu

Strix SCAR 18 pokračuje v presúvaní hraníc materiálového dizajnu. Je vybavený jedinečnou polopriehľadnou doskou ROG klávesnice, ktorá bola prvýkrát predstavená v roku 2020. SCAR vám dáva nahliadnuť na výkonné vnútorné komponenty, ktoré z neho robia vlajkový herný stroj, a zároveň opäť udáva smer v oblasti designu.

Nasaďte si brnenie

Jedným z charakteristických dizajnových prvkov modelu Strix SCAR 18 sú vymeniteľné krytky Armor Cap. Tieto magnetické krytky, ktoré sú súčasťou balenia SCAR 18, vám pomôžu vyjadriť vašu osobnosť. Môžete si tiež vytvoriť vlastné jedinečné 3D tlačené krytky Armor Caps.

Laserom gravírovaný styling

SCAR 18 si zaslúži šasi, ktorá odráža jeho obrovský výkon. V roku 2022 sme predstavili úplne novú povrchovú úpravu proti odtlačkom prstov, vďaka ktorej SCAR 18 vyzerá tmavšie ako kedykoľvek predtým a je za všetkých okolností čistý. Vďaka použitiu vysoko výkonného laserového leštenia na povrchovej úprave hrdo vyniká kontrastná lomka so signatúrou ROG, ktorá zaisťuje, že notebook bude pôsobiť odvážne všade, kam ho postavíte.

Ohromí zo všetkých strán

Premyslené detaily odlišujú tento notebook od konkurencie. Naša filozofia 360 ° designu zahŕňa jemné, ale výrazné prvky v každej časti stroja. Maticový dizajn na veku prechádza v krížovo šrafované vetracie otvory pod základňou. Rozsiahla pogumovaná rukoväť drží notebook pevne na mieste a uľahčuje jeho prenášanie. Typografické prvky okolo obloženia decentne dávajú najavo vašu hrdosť na značku ROG.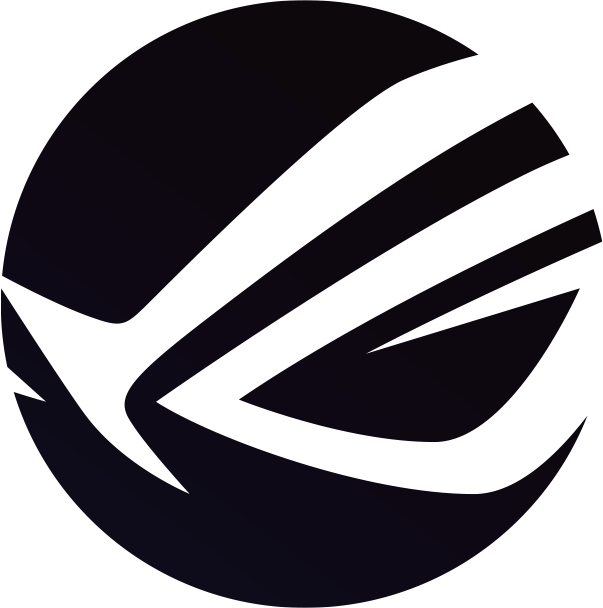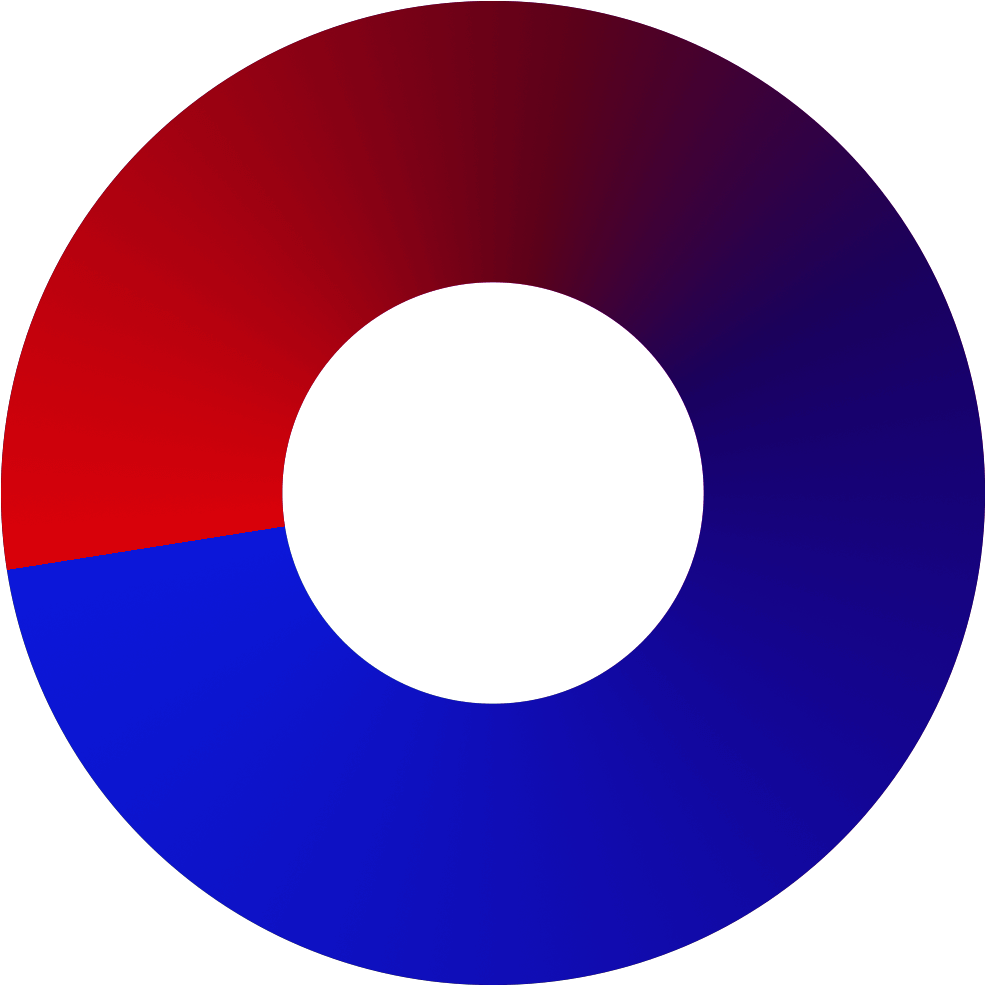 POHLCUJÚCI
POHLCUJÚCI
POHLCUJÚCI
POHLCUJÚCI
POHLCUJÚCI AUDIO
Zvuk v štúdiovej kvalite
---
Reproduktory s technológiou Dolby Atmos obsahujú dva výškové reproduktory a dva nízkofrekvenčné reproduktory, ktoré vytvárajú autentickú zvukovú scénu pre vaše hry. Hi-Res zvuk zaručuje, že hudbu budete počuť v rovnakej kvalite, v akej bola nahraná. Funkcia obojsmerného potlačenia šumu pomocou umelej inteligencie spracováva prichádzajúci aj odchádzajúci zvuk, aby odfiltrovala všetky rušivé zvuky v pozadí a zabezpečila, že vaše hovory, chaty a streamy budú prebiehať bez rušenia.
4X

reproduktory s inteligentným zosilňovačom

5.1.2 kanálový

virtuálny priestorový zvuk

Obojsmerné

potlačenie šumu pomocou AI
Obojsmerné potlačenie šumu pomocou AI

Naša pokročilá technológia obojsmerného potlačenia šumu pomocou AI beží na CPU, čo uvoľňuje kapacitu GPU a prispieva k dosiahnutiu vyšších snímkových frekvencií. Funguje s akýmkoľvek vstupným zariadením a tiež s nadväzujúcimi pripojeniami, takže odstráni šum ako z vlastného mikrofónneho vstupu, tak z prichádzajúcich kanálov. Nastavenie potlačenia šumu je možné dokonca prispôsobiť jednotlivým programom a odfiltrovať tak konkrétne aplikácie, ako je hlasový chat bez toho, aby to ovplyvnilo zvuk hier, ktoré chcete nechať nedotknuté.

Štvorica reproduktorov s Dolby Atmos

Dva výškové a dva nízkofrekvenčné reproduktory využívajúce inteligentný zosilňovač ponúkajú bohatší zvuk s 2,8-krát väčšou hlasitosťou, 3-krát silnejšími basmi a až 3-krát väčším dynamickým rozsahom ako alternatívy. Táto zostava štyroch reproduktorov prináša pohlcujúci priestorový zvuk optimalizovaný technológiou Dolby Atmos, ktorá poskytuje vyvážený, viacrozmerný zvuk v celom spektre bez straty čistoty a detailov.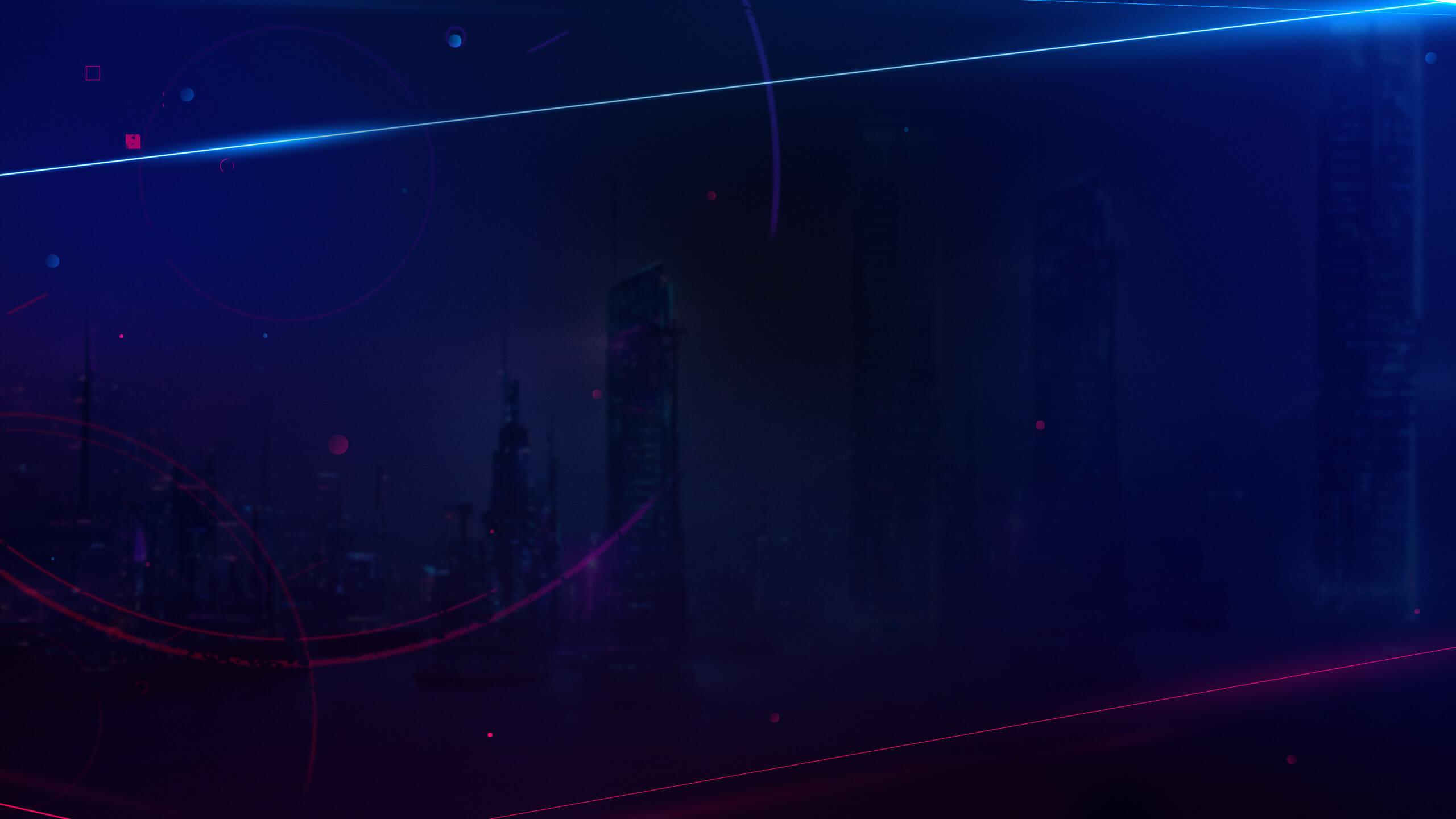 Strix SCAR 18 je pripravený prekonávať vzdialenosti. Notebook je vybavený 90Wh batériou, takže bez problémov zvládne prezeranie webu po celé hodiny mimo dosahu elektrickej siete, než bude potrebné ho dobiť. Pre flexibilitu na cestách je podporované nabíjanie cez USB-C s výkonom až 100 W. Pri nabíjaní pomocou 330W napájacieho adaptéra v balení sa SCAR 18 dokáže dobiť z nuly na 50% už za 30 minút.



90Wh

batéria

Rýchle

USB-C

nabíjanie

KONEKTIVITA
Zostaňte v spojení
---
V moderných hrách pre viacerých hráčov je stabilné pripojenie k internetu nevyhnutnosťou. Strix SCAR 18 je pripravený zapojiť sa do boja vďaka portu RJ45 a tiež najnovšiemu bezdrôtovému štandardu Wi-Fi 6E. V sieťach s podporou Wi-Fi 6E si užijete prístup k najnovšiemu bezdrôtovému pásmu bez rušenia a interferencií od ostatných bezdrôtových zariadení vo vašej domácnosti, čo vám zaručí, že už nikdy nebude dochádzať k oneskoreniu.
2.5G LAN

Rýchlejší internet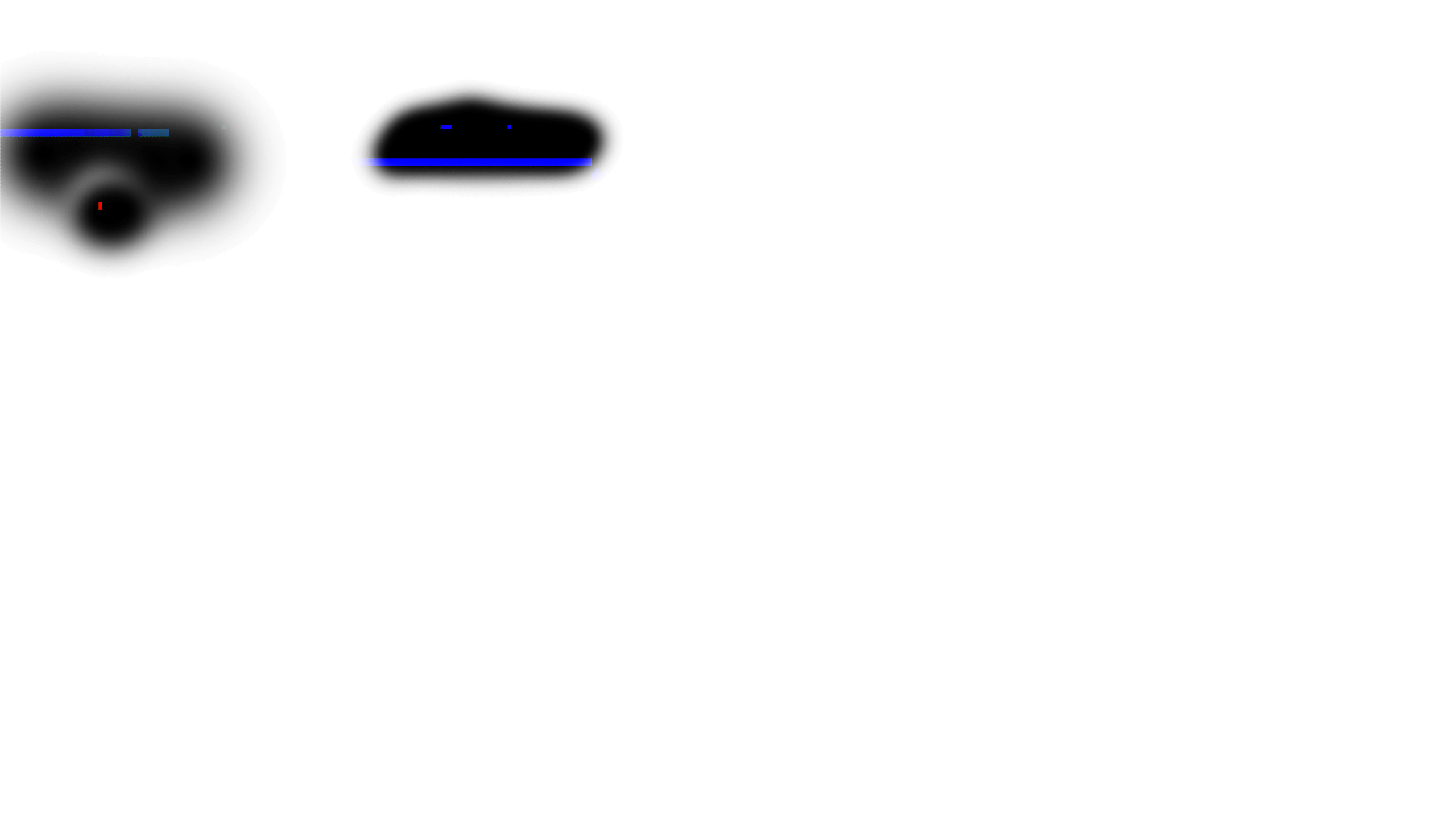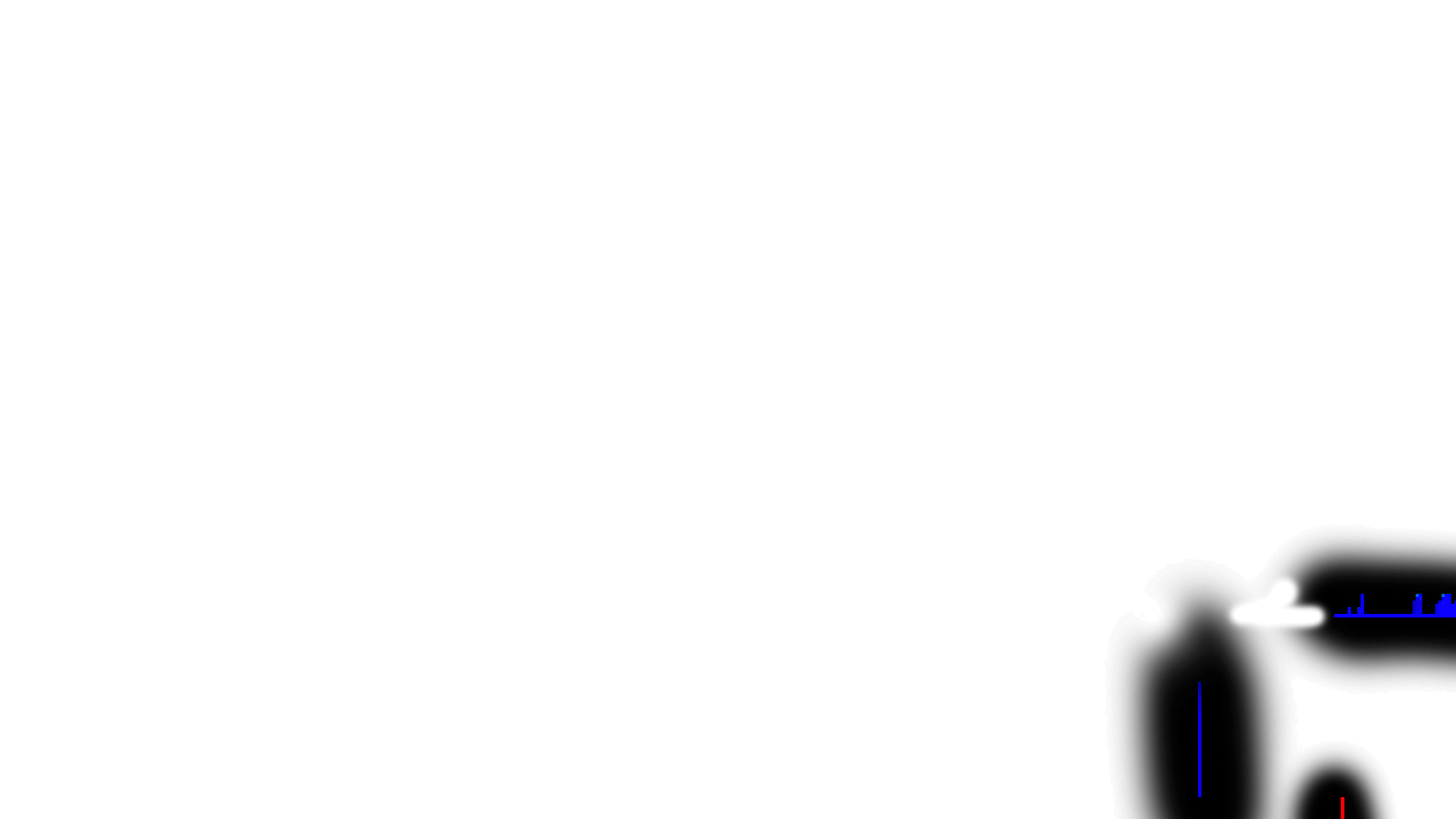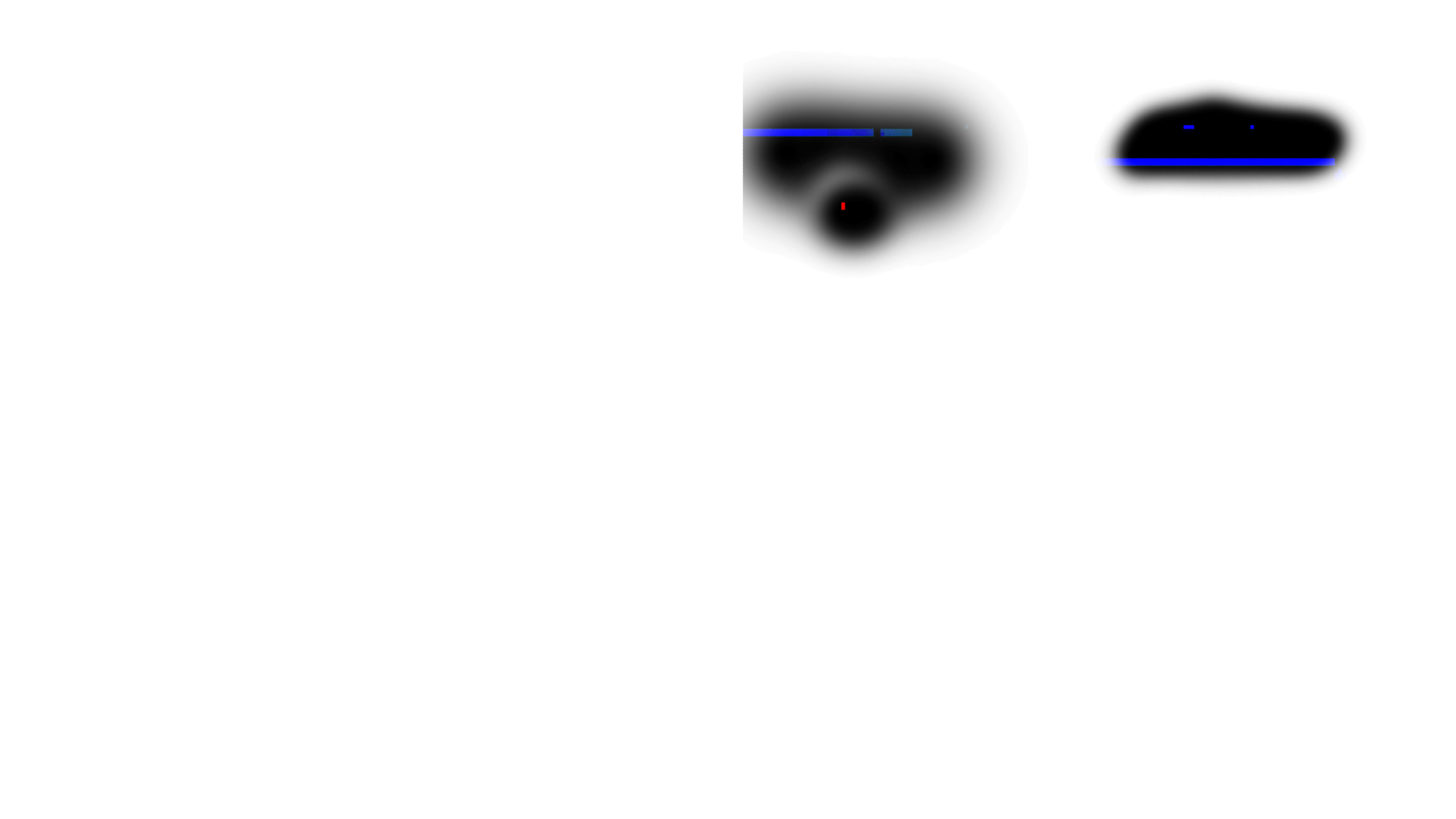 Napájanie
konektor 2.5G LAN RJ-45
HDMI (2.1)
USB3.2 Gen2 Type-C s Thunderbolt™ 4 (podpora DisplayPort)
USB3.2 Gen2 Type-C (podpora DisplayPort a nabíjania PD)
Audio konektor
USB 3.2 Gen2 Type-A
USB 3.2 Gen2 Type-A

VÝKON
Bojová základňa pripravená
---
Keď sa potrebujete pripojiť k veľkej obrazovke, samostatný grafický procesor podporuje port HDMI 2.1 pre najnovšie televízory a monitory, zvyšuje celkovú šírku pásma z 18 na 48 Gb/sa podporuje až 4K 120Hz alebo 8K 60Hz obsah. Dva porty USB-C ponúkajú množstvo možností pripojenia - jeden pre DisplayPort a napájanie typu Power delivery a druhý s podporou Thunderbolt 4.
Neopúšťajte domov bez herného príslušenstva ROG. S myšou ROG Strix Gladius III kompatibilnou s technológiou Aura Sync máte vynikajúcu presnosť ovládania na dosah ruky. Spríjemniť zvukový zážitok vám pomôže pohodlný headset ROG Fusion II 300 s bohatým a vysoko verným zvukom, ktorý vás vtiahne do hry. Aby ste mohli všetko toto vybavenie dopraviť na miesto určenia, nezabudnite si zobrať odolný batoh ROG backpack.
*Pribalené periférie sa môžu líšiť v závislosti od regiónu. Presnú ponuku si prosím overte u miestnych predajcov.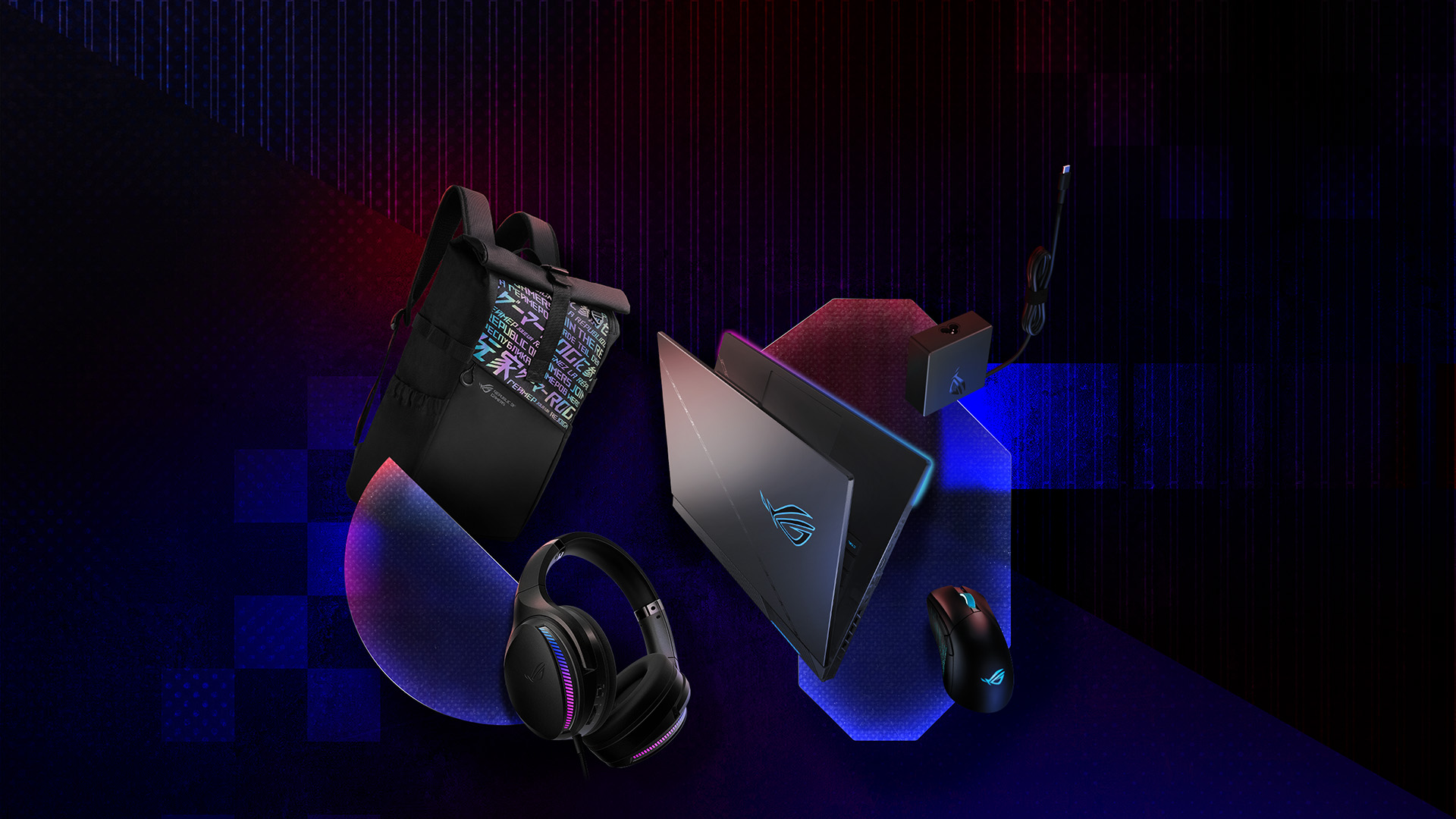 Xbox Game Pass Ultimate
---
Objavte ďalšie obľúbené hry
Zahrajte si s priateľmi viac ako 100 vysoko kvalitných hier na PC, konzole, telefóne alebo tablete za nízky mesačný poplatok.* Vďaka neustále pribúdajúcim hrám si zakaždým zahráte niečo nové.
*Platia podmienky a výnimky. Katalóg hier sa mení časom a v závislosti od regiónu a zariadenia. Podrobnosti nájdete na
xbox.com/gamepass
a
https://www.ea.com/eaplay/terms
. Xbox Cloud Gaming: Platia obmedzenia pre streamovanie. Vyžaduje kompatibilný ovládač (predáva sa samostatne), podporované zariadenie a aplikáciu Xbox Game Pass; viď systémové požiadavky. Systémové požiadavky sa líšia podľa hry; výkon sa zvyšuje s vyššími systémami. **Logá EA a Battlefield sú ochranné známky spoločnosti Electronic Arts Inc. © FIFA je autorské právo a/alebo ochranná známka spoločnosti FIFA. Všetky práva vyhradené. Vyrobené na základe licencie spoločnosti Electronic Arts Inc. STAR WARS © & TM 2019 Lucasfilm Ltd. Všetky práva vyhradené.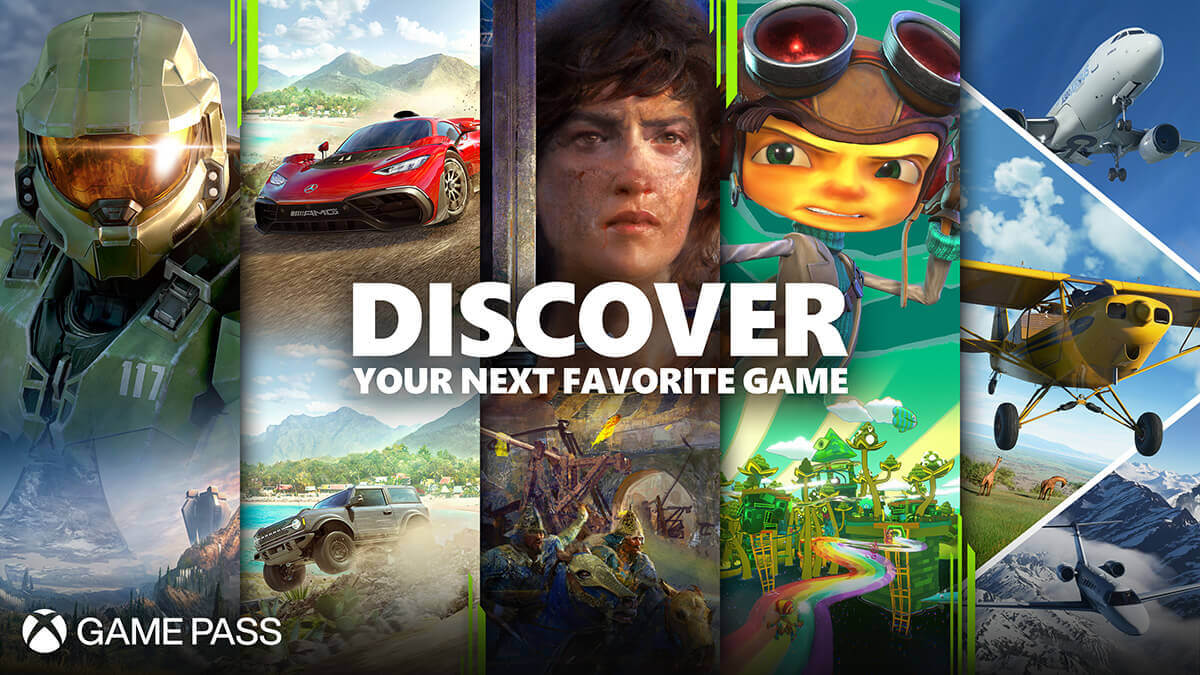 Video recenzia
2023 ROG Strix SCAR 16/18 Product Video
성능 미쳤습니다!🤩 'CES 2023 ASUS 게이밍 노트북 총정리!'
This thing is one of the best laptops for sure at CES 2023! Probably top 3 laptops
This thing is one of the best laptops for sure at CES 2023! Probably top 3 laptops
SCAR 16 is an absolute beast somehow in this well it's not exactly small or thin or light, but for the amount of performance, it certainly is.
2023 ROG Strix SCAR 18 Review - This is NEXT-GEN! [RTX 4090]
Review of ASUS ROG Strix SCAR 18 G834 with Core i9 and RTX 4090.
2023 ROG Strix Scar 16/18 최상의 경험, 토탈 게이밍 기어
Đánh giá Asus ROG Strix Scar 18 (2023): Intel 13th + RTX 4090. QUÁ KHỦNG KHIẾP!!
Đánh giá chiếc laptop MẠNH VÔ ĐỊCH THẾ GIỚI 2023: ASUS ROG Strix SCAR 18
ROG Strix SCAR 18 chính là phiên bản nâng cấp, lột xác một cách hoàn toàn của ROG Strix SCAR 17 SE
ASUS ROG STRIX SCAR 18 là chiếc laptop trang bị cực nhiều công nghệ khủng để hỗ trợ cho việc chơi game tốt nhất.
ASUS ROG STRIX SCAR 18 là mẫu laptop rất to lên đến 18 inch. Cấu hình KHỦNG NHẤT THẾ GIỚI hiện tại.
XEM KỸ LAPTOP HƠN TRĂM TRIỆU CÓ GÌ! - ASUS ROG Strix Scar 18: Intel Core i9 13980HX, RTX 4090
ới dòng laptop gaming mà còn xài màn hình 18 inch như thế này, rõ ràng ROG Strix SCAR 18 nằm ở phân khúc rất cao cấp và rất mạnh mẽ.
Một trong những con laptop mạnh mẽ nhất thế giới hiện nay sử dụng màn hình 18", CPU Intel Core i9-13980HX, GPU NVIDIA RTX 4090, RAM 64GB.
Laptop đầu tiên về Việt Nam trang bị thế hệ CPU Raptor Lake HX thế hệ 13 lẫn GPU Ada Lovelace RTX 40 series mới nhất.
ROG Strix Scar 18 is considered the strongest gaming notebook at the moment. The screen is ROG Nebula. The new design device looks better. new cooling vents make heat dissipation better.
This is the most powerful notebook ROG has ever made. The screen is as good as the 18-inch Nebula Display, offering vibrant colors and a full range of connectivity ports. Very good cooling system
It's too strong! For the ASUS ROG Strix SCAR 18 gaming notebook, the new 2023 model comes with the most extreme specification. Whether it's an Intel Core i9 Gen 13 CPU, an NVIDIA RTX 4090 graphics card, and a new design, arranging RGB lights to collect the machine, creating a magnificent palace. It can be said that it is the dream notebook of many people.
Summary for ROG Strix Scar 18 It is a strong gaming laptop. Considered the strongest gaming notebook on the market right now with a budget of over a hundred thousand baht, this one is the real end.
Gaming Notebook The flagship specification of the ASUS ROG brand, this model is STRIX SCAR 18 (G834), comes with the ultimate CPU - Intel Core i9-13980HX and GeForce RTX4090 graphics card, along with playing games that can be adjusted for many years. And the screen is big, vivid, 18 "high resolution and smooth, wide color gamut. Can be used for both gaming and semi-pro work .. But of course, this notebook is powerful and large. The weight has already surpassed 3Kg.
The highlight is the speed and strength of the port quite complete. A little heavy Suitable for people who want a single device to finish all tasks.
The most powerful laptop on the market!
THE BIGGEST COMPETITION FOR YOU + ROG STRIX SCAR 18 is a BEAST!
Here, I present to you the Monster with ❗RTX4090❗ Rog Strix SCAR 18 😵
2023 ROG Strix SCAR 16/18 - BEAT THE BEST. BREAK ALL LIMITS.
New ASUS Gaming Laptops in 2023 are CRAZY!
2023 ROG Nebula Display & ROG Nebula HDR - Fast. Bright. Vivid colors.
A Monster Gaming Laptop... RTX 4090! - $3900 ROG Strix SCAR 18
PURE INSANITY - RTX 4090 Gaming Laptops Are HERE! 😮 - Asus ROG Strix SCAR 18
Scar 18 - Best Gaming Laptop of 2023 so Far?
I need to see inside... - Asus CES 2023
Beautiful and powerful unboxing!
ROG Strix SCAR 18 (2023) review. RTX 4090 for 180k hryvnias
Gaming laptop of the year! Although the year has just begun — ROG Strix SCAR 18
ROG STRIX SCAR 18 | RTX 4090, i9 13980HX, 18 inches
Some time ago we learned about the existence of the mobile RTX 4090 and now it has finally made it to the test in the SCAR 18 laptop from Asus together with the new Intel i9. Both are very interesting, but will it stand up to our assumptions?
WHO THOUGHT THIS WAS A GOOD IDEA? He was right...
We've never had a laptop like this before! The ASUS ROG Strix Scar 18 delivers a supercharged Intel i9 processor, Nvidia RTX 4090 graphics and two SSDs in RAID 0 - all powered by a 330W power supply! Of course, we tested the laptop, benchmarked it - and here are the results!
With the year 2023, new powerful laptops are coming to the market that claim the throne of the best you can buy. And so we're extremely happy that this year Asus has sent us their hot new Asus Strix Scar 18 to test out as well. It's equipped with a new 13th generation Intel processor and GeForce RTX 4090 graphics card, and if you're wondering just how powerful this machine is, you'll get your answer in our test.
You may own the best possible gaming laptop from last year. Maybe you own a PS5. Maybe you also own a solid newer gaming desktop.... I'll tell you right now that the ROG Strix 18, a laptop, is very likely far more powerful. ASUS has managed to masterfully curate the best and latest that Intel and NVIDIA have to offer, and the result is the most extreme I've ever seen.
The beast of gaming ROG Strix Scar 18: First 18' laptop with RTX4090 in KSA
ASUS ROG Strix Scar 18 Powerful as a desktop
the most powerful of all time: ROG Strix Scar 18
ASUS have made their Scar gaming laptop bigger and better than ever this year with a new 18 inch version
Overview of ROG Nebula and ROG Nebula HDR displays
4K and 60 FPS in a laptop – is it real? | Review of the powerful ROG Strix SCAR 18 2023 laptop with i9 and RTX 4080.
A laptop that's faster than most gaming PC! We took a look at the Asus ROG Strix Scar 18, and see how it performs, and see what else does it offer!
If you're looking for a super high-performance laptop, then this new ROG Strix SCAR 18 is a good choice
ROG Strix SCAR 18 Benchmark Gaming
The all-new ROG Strix SCAR 18 is here. Featuring 13th gen Intel Core processor and NVIDIA RTX 40 series laptop graphics card, this powerful gaming laptop shall elevate your gaming experience unlike any gaming laptop.
The performance, the thermals, the looks, the design, all are combined to give you an ultimate experience
The most powerful notebook But the weight is not suitable for portability. the price is quite high
Responding to all applications, whether playing games or editing work In particular, editing saves quite a lot of work time.
Video review from channel QalamGO
Video review from channel The ROCO
Video review from channel Nurchannel
Video review from channel ТЕХНОБЛОГ АЛИША
Video review from channel stupidmadworld
Video review from channel Di-Di
Video review from channel ALSER kz
Video review from channel Texnoplov
It is a strong notebook with a big screen, but has to be exchanged with a heavy machine weight.
Product Comparison
Product added to comparison. Add up to 4 products or proceed to view compare products selected.
ASUS Footer