Funkcie
Technická špecifikácia
Ocenenie
Galéria
Podpora
&lt/Zephyrus G14&gt
Procesor až AMD Ryzen™ 9 a mobilná grafika AMD Radeon™ RX 6800S s prepínačom MUX Switch.
Chladenie ROG Intelligent Cooling: Špeciálna odparovacia komora a tekutý kov umožňujú bezhlučné chladenie 0dB ambient cooling.
ROG Nebula Display™: pomer strán 16:10, panel QHD/120 Hz, validácia Pantone®, 100% PCI-P3 a Dolby Vision® HDR.
Vylepšený displej AniMe Matrix™ s živšími animáciami, novými funkciami a minihrami.
Rýchle nabíjanie - 50 % za 30 minút, 100W nabíjanie cez port USB-C a podpora Wi-Fi 6E.
Štyri reproduktory, 3D mikrofóny pre snímanie hlasu a Dolby Atmos® pre krištáľovo čistý zvuk.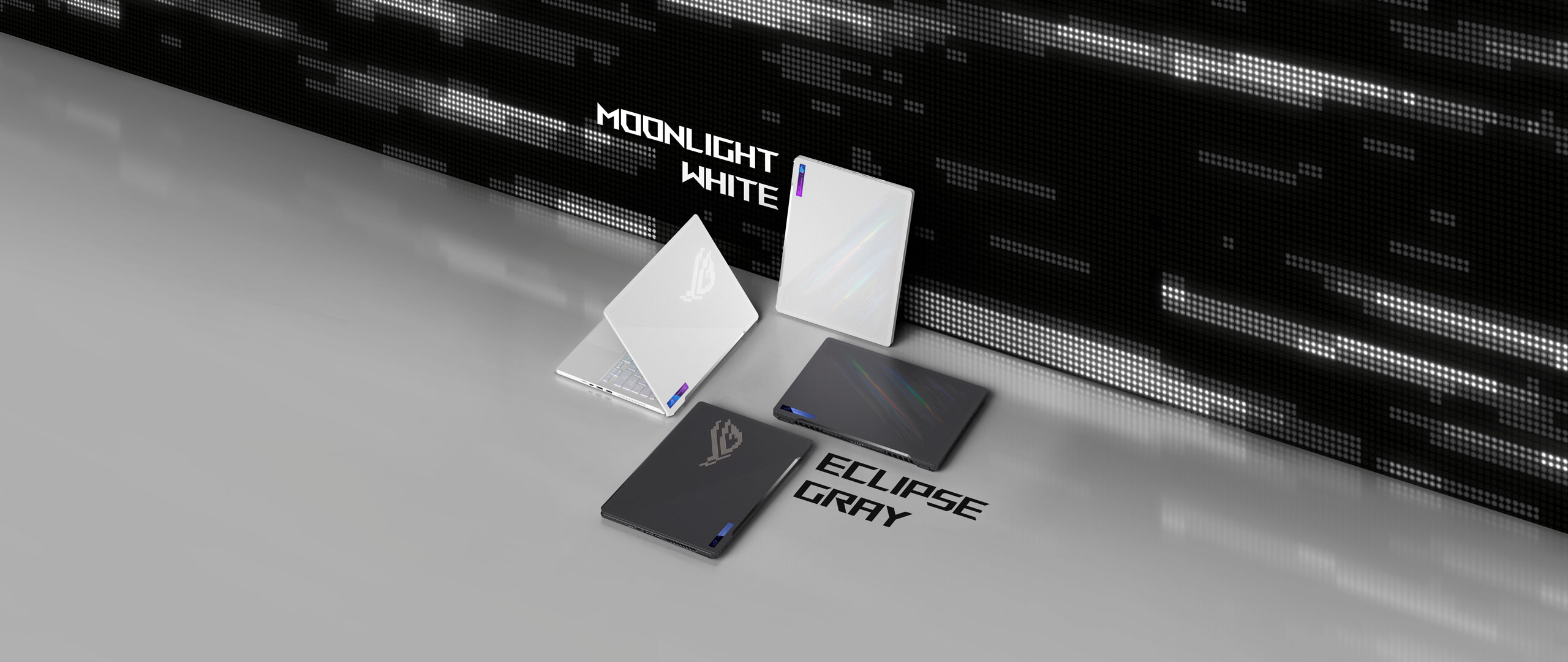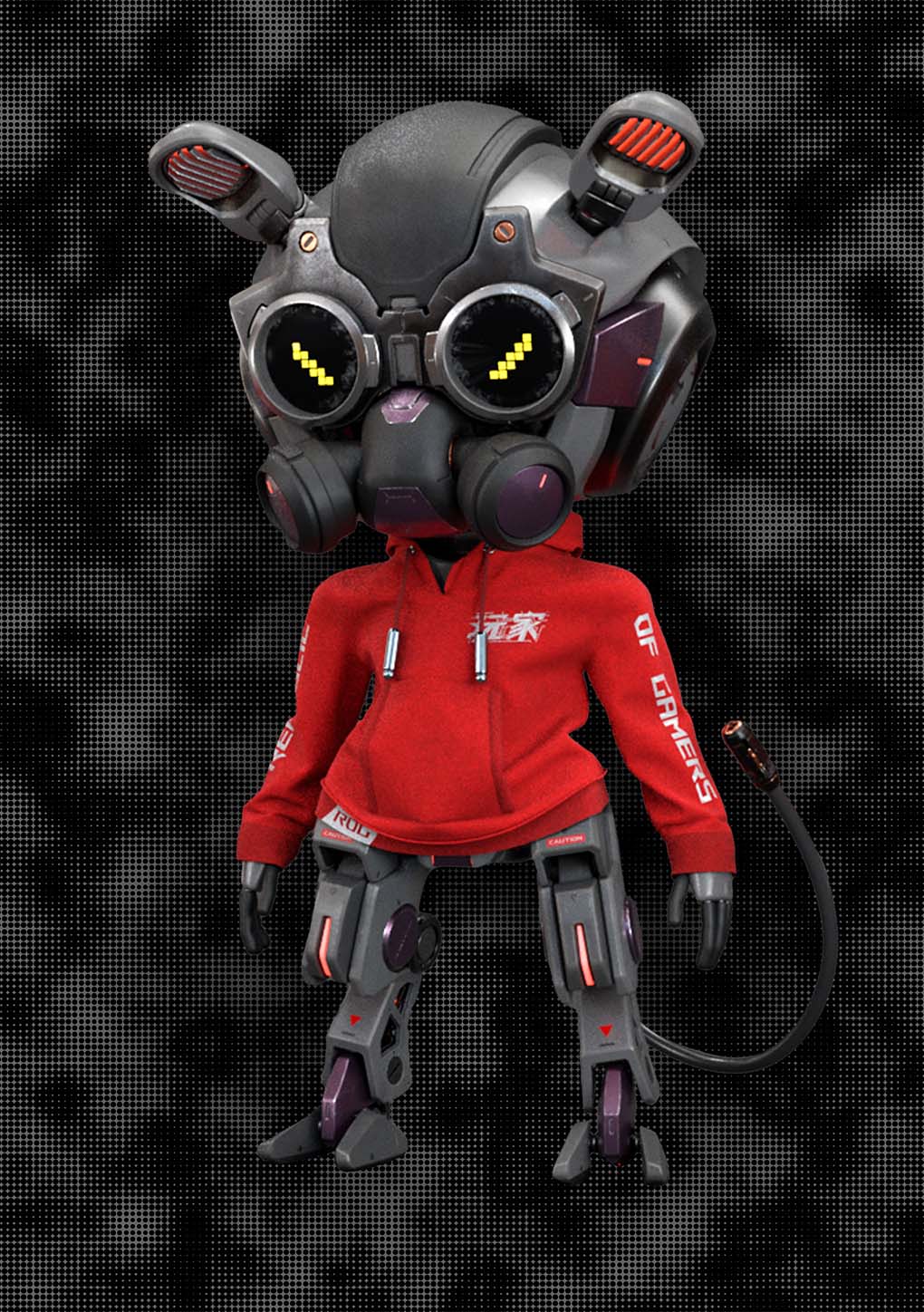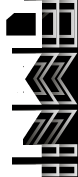 #AniMe Matrix
VSTÚPTE DO MATRIXU
Displej AniMe Matrix™, rovnako ako virtuálny maznáčik OMNI, prešiel výraznou premenou. Viac LED diód znamená viac možností animácií. OMNI je späť s celým radom nových minihier, ako je Slot Machine, Shoot'em Up a Whack-A-Mole. Tieto hry sa objavujú na displeji AniMe Matrix™ v priebehu hrania a dosiahnuté vysoké skóre vám odomkne ďalšie animácie maznáčika OMNI, ktorý sa k vám pripojí na ploche.
NEKONEČNÉ MOŽNOSTI PRISPÔSOBENIA
Váš Zephyrus G14 môže vypadať úplne unikátne vďaka rôznym možnostiam nastavenia animácií. Zobrazte textové správy alebo systémové oznámenia, nastavte matricu, aby v reálnom čase reagovala na zdroj zvuku alebo si vytvorte svoju vlastnú animáciu.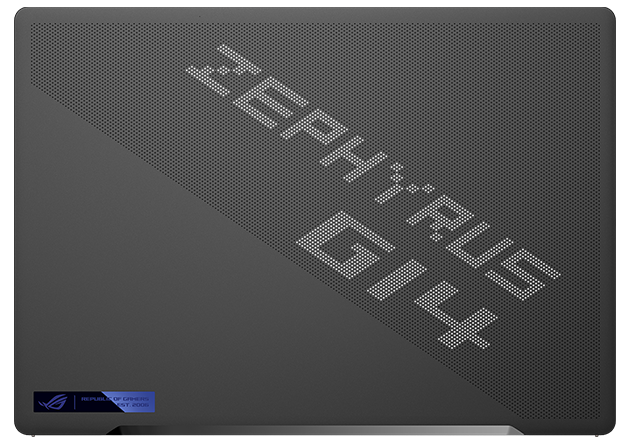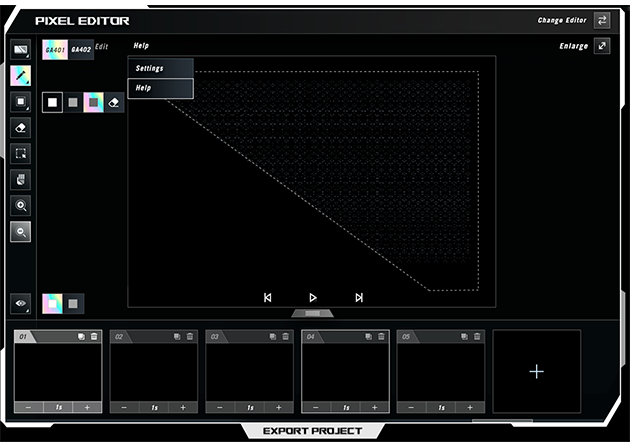 **Pre uloženie vlastnej animácie je nutný počítač
#VÝKON
VŠETKY PREDNOSTI AMD
Úplne nový počítač Zephyrus G14 2022 je vybavený procesorom AMD a využíva operačný systém Windows 11 Pro. Vďaka novým procesorom Ryzen™ 9 a mobilnej grafike Radeon™ RX 6800S je tento výkonný počítač pripravený na náročné hry aj multitasking. Počítač G14 využíva aj ďalšie technológie AMD, ako je Smartshift a Smart Access Memory. Technológia AMD Smartshift umožňuje procesoru a grafickému procesoru dynamicky prideľovať výkon tam, kde je ho momentálne najviac treba. Technológia AMD Smart Access Memory poskytuje procesoru kompletný prístup k pamäti VRAM grafického procesora, čo zvyšuje výkon v hrách.
WINDOWS 11 Pro
Operačný systém
AMD
RYZEN™ 9 radu 6000
Procesor
AMD
Radeon™ RX 6800S
Grafika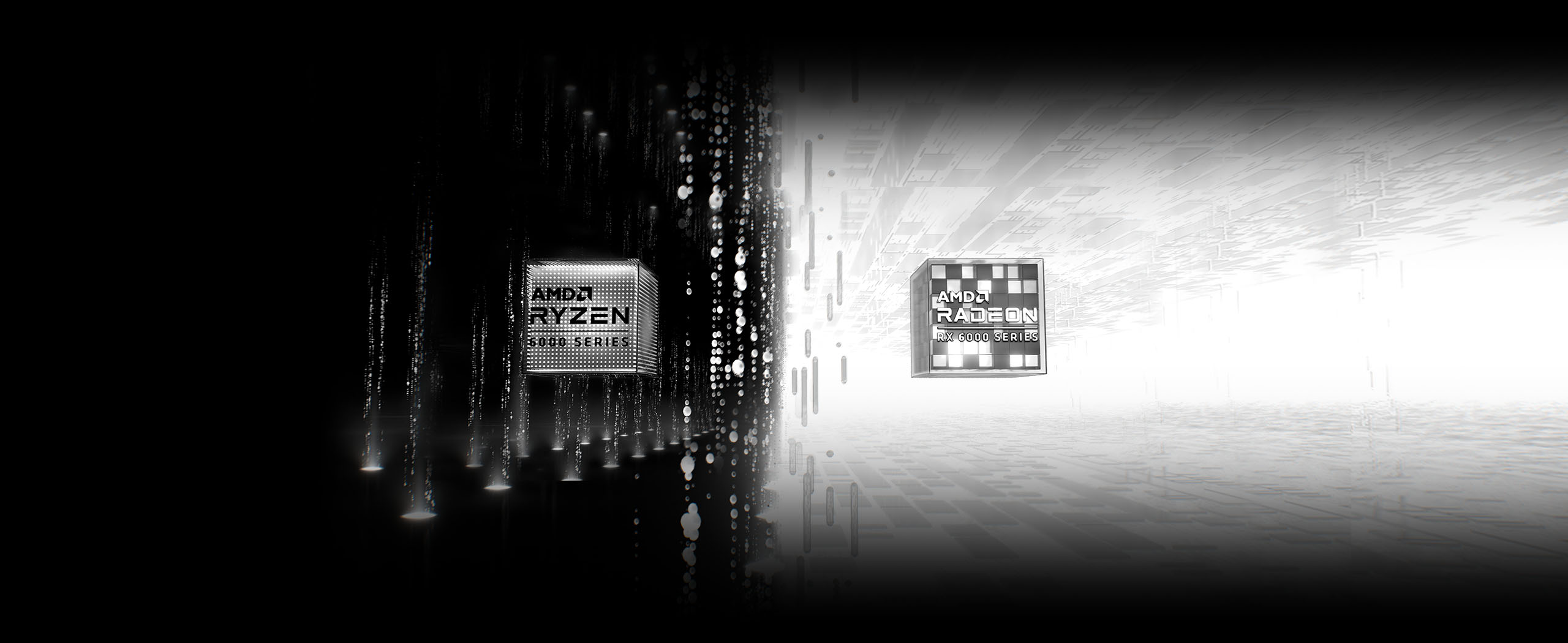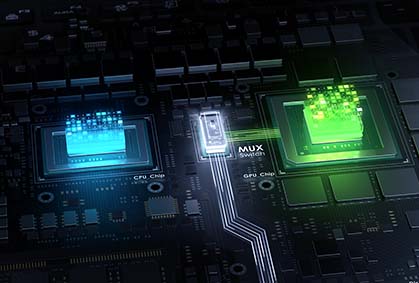 VYLADENÝ VÝKON
Väčšina moderných herných notebookov používa výkonné dedikované grafické čipy, ale kvôli maximálnej výdrži batérie smeruje snímky cez integrovanú grafiku procesora, kým sa dostanú na displej. To bráni grafickému procesoru podávať absolútne najlepší výkon, a preto prinášame prepínač MUX Switch do všetkých notebookov ROG 2022. Pre kompetetívne hry môžete zapnúť režim priameho GPU, ktorý znižuje latenciu a zvyšuje výkon v priemere až o 5–10 %.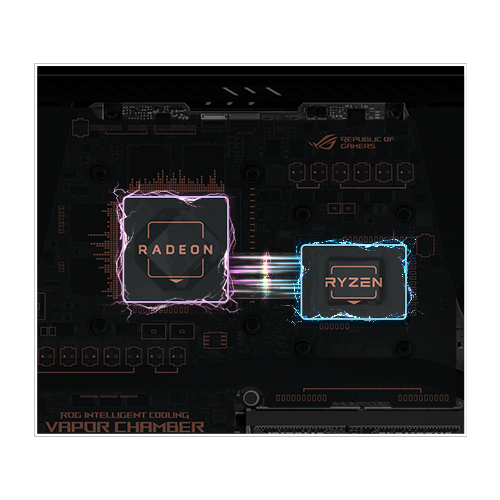 AMD SmartShift Max
Technológia AMD SmartShift umožňuje, aby spolu CPU a GPU komunikovali a prideľovali výkon za chodu tam, kde je to práve nutné. Technológia SmartShift, riadená algoritmami strojového učenia, prepája CPU a GPU prostredníctvom Infinity Fabric, takže oba komponenty môžu rýchlo reagovať na dynamické pracovné zaťaženie.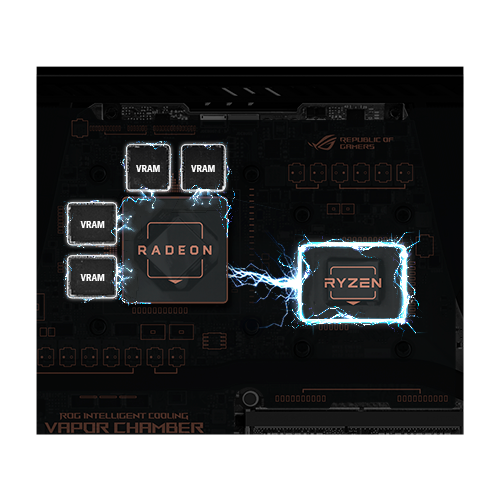 Pamäť AMD Smart Access
Bežné počítače so systémom Windows umožňujú procesoru prístup len k malým častiam grafickej pamäte (VRAM). V spojení s grafickými kartami AMD radu RX 6000 odstraňuje pamäť Smart Access toto obmedzenie tým, že procesorom AMD Ryzen umožňuje plný prístup k pamäti VRAM a zvyšuje tak celkový výkon.

AMD FidelityFX™ Super Resolution
AMD FidelityFX™ Super Resolution (FSR) využíva špičkové technológie upscalingu, ktoré vám pomôžu zvýšiť snímkovú rýchlosť vo vybraných tituloch a poskytnúť vysoko kvalitné herné zážitky vo vysokom rozlíšení.

DDR5 Bandwidth
Leverage the unparalleled data transfer speeds of DDR5 to power more responsive gaming and multitasking.

Vysokorýchlostné úložisko SSD PCIe® Gen 4
1TB PCIe SSD zabezpečuje rýchle spustenie systému, rýchlejšie načítanie hier a celkovú rýchlosť odozvy naprieč operačným systémom.
pauza
#CHLADENIE
Chladenie

Výkonný hardvér vyžaduje rozsiahle chladenie, najmä v takto kompaktnom šasi. Zephyrus G14 obsahuje odparovaciu komoru pre CPU a GPU s chladiacou zmesou z tekutého kovu pre mimoriadne účinný odvod tepla od najhorúcejších komponentov. V tichom prevádzkovom režime pri úlohách s nízkou spotrebou umožňuje technológia 0 dB automatické vypnutie ventilátorov, čo znamená úplne tichý chod.

*Ďalšie informácie o chladení ROG Intelligent Cooling™ nájdete tu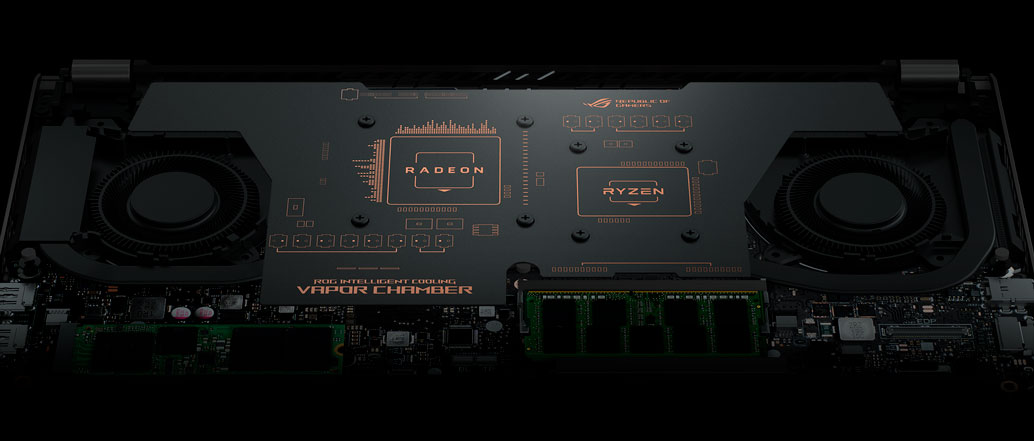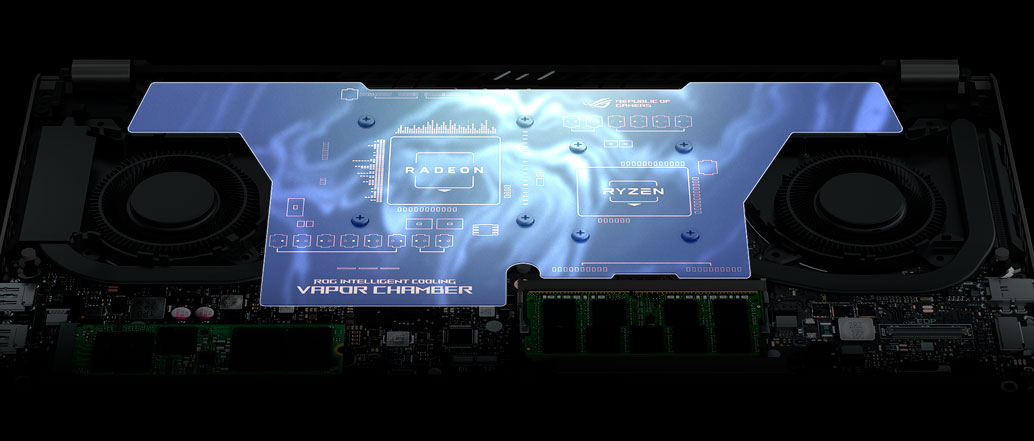 Odparovacia komora

rýchlejšie odvádza teplo

V porovnaní s bežnými tepelnými trubicami, ktoré vedú teplo len pozdĺž svojej osy, konštrukcia s odparovacou komorou rozvádza teplo po celom svojom povrchu, čím vytvárajú väčšiu plochu pre rýchly odvod tepla na malom priestore. Zníženie teploty týchto výkonných komponentov pomáha zlepšiť dlhodobú stabilitu a spoľahlivosť notebooku.

48.2%

Termálneho pokrytia

25W

HIGHER THERMAL HEADROOM*

*Improvements compared to using heatpipes, as tested in Turbo mode internally by ASUS.
Udržujte procesor v chlade pomocou

tekutého kovu
Až
o 10 °C nižšia
teplota procesora
Až
14x lepšia
tepelná vodivosť

*Zníženie teploty v porovnaní s predchádzajúcou generáciou podľa interných testov spoločnosti ASUS. Tepelná vodivosť v porovnaní s priemyslovým štandardom.
Technológia 0dB

,
žiadne rozptyľovanie

Vychutnajte si skutočne tiché chladenie pri nízkej pracovnej záťaži s technológiou 0 dB. V tichom prevádzkovom režime táto technológia chladenia vypína všetky ventilátory behom úloh s nízkou spotrebou energie, aby bolo teplo odvádzané pasívne. Vďaka tomu sa môžete sústrediť na prácu alebo sledovať filmy bez rušenia. Ak sa teplota CPU alebo GPU zvýši, ako napr. behom hrania hier, ventilátory sa opäť automaticky zapnú.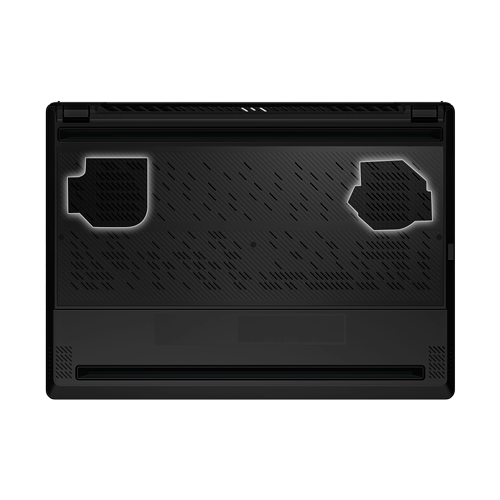 Filtre si poradia s prachom
Novinkou pre verziu G14 2022 je prachový filter pre oba ventilátory. Filter pomáha zabrániť nasávaniu prachu a vlákien do šasi, čo umožňuje, aby CPU po dlhšej dobe používania pracoval s o 15 % vyšším výkonom a GPU s o 4 % vyšším výkonom v porovnaní so strojmi bez filtra. Čím menej prachu, tým dlhšie môže počítač bežať na špičkový výkon bez throttlingu.
*Interné testovanie v simulovanom prašnom prostredí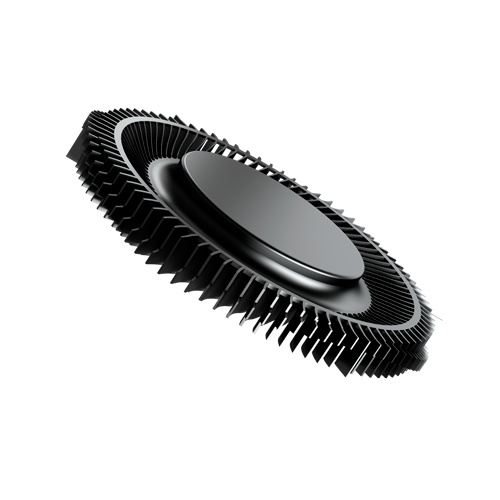 Modernizované
ventilátory Arc Flow™

prenášajú viac vzduchu s nižšou hlučnosťou

Vylepšené ventilátory Arc Flow™ majú 84 zakrivených lopatiek špeciálne tvarovaných tak, aby maximalizovali prúdenie vzduchu pri minimálnej hlučnosti. Lopatky s premenlivou hrúbkou, ktoré sa na špičke zužujú len na 0,1 mm, znižujú turbulencie, pretože ventilátor zrýchľuje vzduch odstredivou silou, čo umožňuje zvýšiť prietok vzduchu až o 32 %* a zároveň zostať až o 2 dB tichší. Vďaka zmenšeniu priemeru osy ventilátora majú ventilátory modelu G14 2022 o 5 % vyšší prietok vzduchu než štandardné ventilátory Arc Flow s rovnakou rýchlosťou otáčania.

*Zlepšenie prúdenia vzduchu v porovnaní s ventilátorom ROG so 71 lopatkami behom interného testovania spoločnosti ASUS.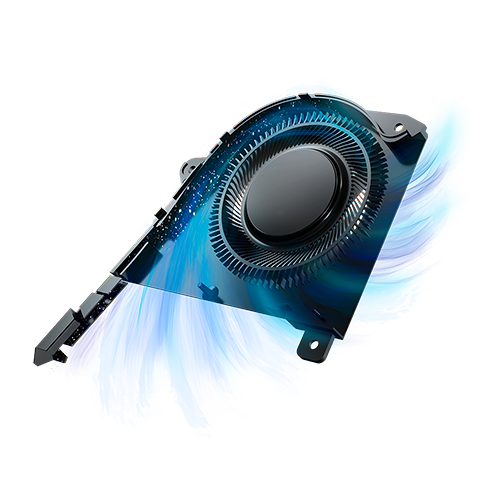 Protiprachové tunely 2.0

predlžujú funkčnosť systému

Naša vylepšená konštrukcia chladiaceho modulu využíva kratšie protiprachové tunely, ktoré nechávajú viac priestoru okolo ventilátora, čím sa zlepšuje prúdenie vzduchu až o 15 %. Zabraňujú hromadeniu prachu a zabezpečujú dlhodobú stabilitu a spoľahlivosť vášho systému.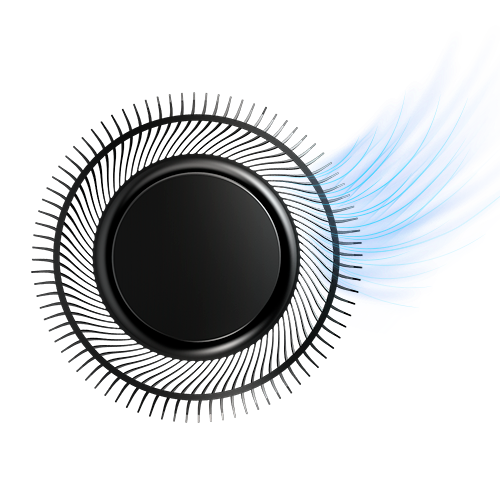 Variabilná hrúbka lopatiek ventilátorov

znižuje trenie vzduchu

Naše ventilátory používajú lopatky rôznej hrúbky a tvaru, postupne prechádzajú z oblasti vysokého tlaku do oblasti nízkeho tlaku a až potom vháňajú vzduch. Tým sa znižujú vibrácie a maximalizuje sa účinnosť prúdenie vzduchu v porovnaní s bežnými lopatkami ventilátorov. Táto nová patentovaná konštrukcia vznikla za pomoci najnovších technológií spracovanie tekutých kryštálov a polymérov, ktoré nám umožňujú vytvárať ultratenké a pritom odolné lopatky ventilátorov pre zvýšenie prívodu vzduchu.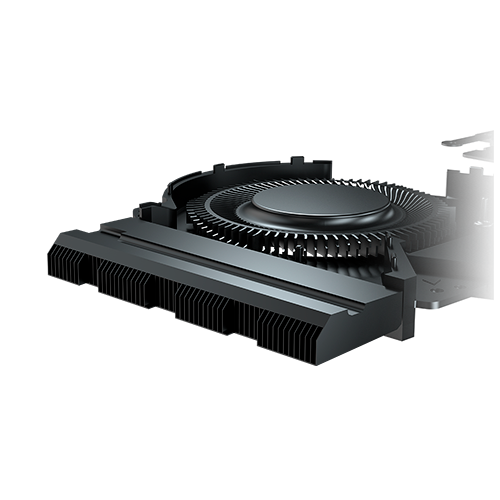 0,15mm ultratenké rebrovanie
Tepelná energia je odvádzaná štyrmi chladičmi, z ktorých každý je vybavený ultratenkými medenými rebrami s hrúbkou len 0,15 mm. Tieto rebrá sú o polovicu menšie než je bežné, čo umožňuje rýchlejší odvod tepla s nižším odporom vzduchu. K dispozícii je až 211 rebier chladiča s celkovou plochou 75 368 mm².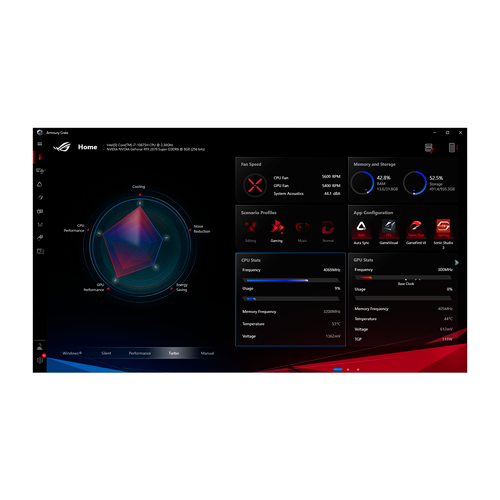 Profily

scenárov zaistia správne chladenia v správny čas

Naše režimy Tichý, Výkon a Turbo sú len začiatok. Profily scenárov umožňujú vášmu systému automaticky prepínať medzi režimami podľa toho, aká aplikácia je spustená a ďalších dôležitých nastavení systému. Prepínajte automaticky konfigurácie osvetlenia, deaktivujte behom hrania kláves Windows alebo touchpad a automatizujte činnosti podľa svojho. Softvér Armoury Crate umožňuje úpravy behom okamihu tak, aby čo najlepšie vyhovovali danej úlohe.
pauza
#DISPLEJ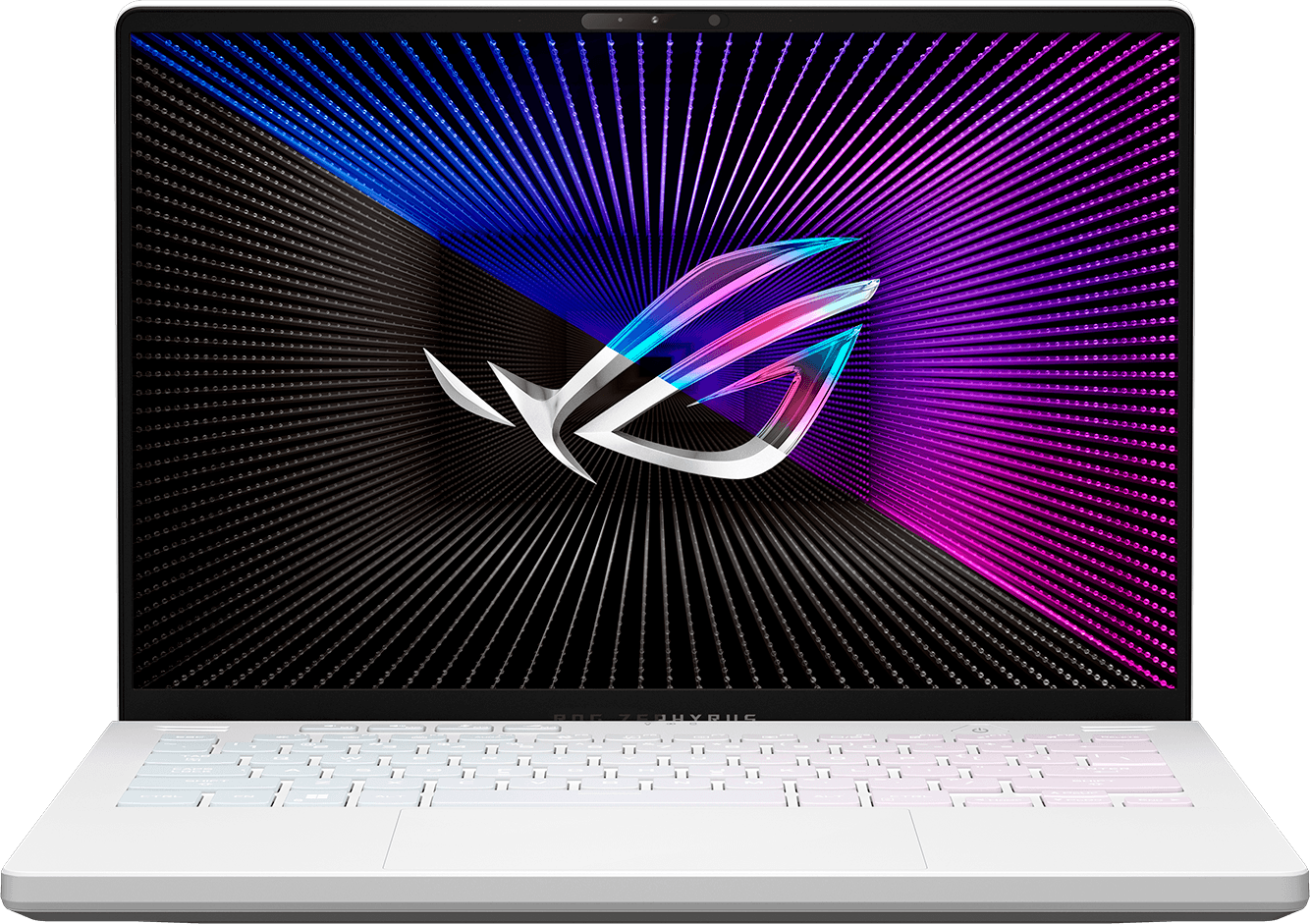 16:10
3 ms
Doba odozvy
Jas 500 nitov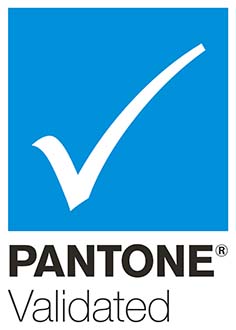 NADPOZEMSKÝ OBRAZ
Displej vášho notebooku je oknom ku všetkému, čo robíte na počítači. V tomto roku prichádzame s úžasným displejom s 91% pomerom obrazovky k telu a pomerom strán 16:10. Náš QHD 120Hz panel tiež spĺňa štandard displeja ROG Nebula, so 100% pokrytím gamutu DCI-P3, validáciou Pantone®, jasom 500 nitov a dobou odozvy len 3 ms. Tento takmer bezrámový displej je úplne pohlcujúci.
*Ďalšie informácie o displejoch ROG Nebula nájdete tu
*Dve nádherné možnosti displeja – s vysokým rozlíšením QHD a vysokou obnovovacou frekvenciou 120 Hz alebo ultra plynulý Full HD s obnovovacou frekvenciou 144 Hz – vás pohltí realistickými farbami s validáciou Pantone®.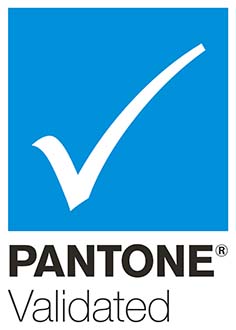 Technológia Dolby Vision®
Dolby Vision® zvyšuje scénu po scéne a snímku po snímke kvalitu obrazu. Táto technológia vylepšuje štandardné vysoké rozlíšenie dynamického rozsahu (HDR) 4K videa, dynamicky upravuje obraz tak, aby bola každá zobrazená scéna bohatšia, jasnejšia a živšia. Tvorcovia môžu natáčať a upravovať svoje streamy, videa a ďalší obsah vo formáte, ktorý bežne používajú profesionáli v obore.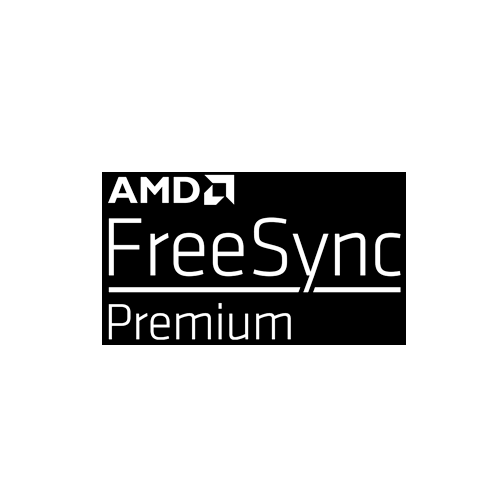 Technológia AMD FreeSync Premium
Nič nenarúša pohltenie hrou tak ako neželané sekania a trhanie obrazu. Grafické procesory vykresľujú snímky rôznou rýchlosťou, ale displeje sa obvykle obnovujú konštantnou rýchlosťou, takže môže dôjsť k disharmónii medzi nimi, čo spôsobuje viditeľné sekanie a artefakty, ktoré rozptyľujú. Vďaka technológii FreeSync sa obnovovacia frekvencia displeje synchronizuje so snímkovou frekvenciou GPU, čím sa eliminuje trhania obrazu a znižuje sa vstupné oneskorenie. Pripravte sa na zážitok z hrania, aký ste doteraz nepoznali.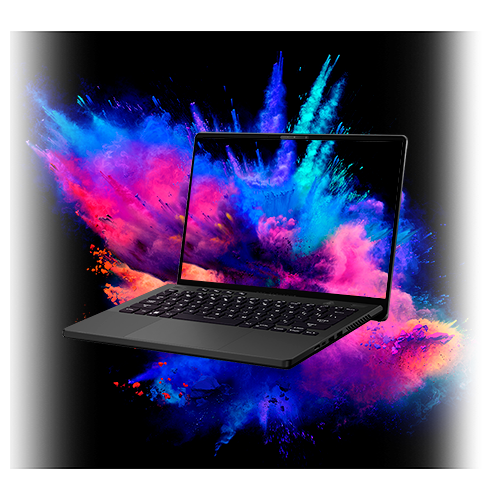 Validácia farieb Pantone®
Každý IPS-level displej je kalibrovaný z výroby, aby bola garantovaná presnosť farieb podľa palety Pantone®. Umelci, dizajnéri a tvorcovia obsahu môžu obohatiť svoje portfólia o vysoko kvalitný obsah a vychutnať si bohatší herný obraz na jednom jedinom zariadení.
pauza
#MOBILITA
#AUDIO

V RÝCHLOM RYTME
Virtuálny 5.1.2kanálový priestorový zvuk s technológiou Dolby Atmos® vás vtiahne priamo do akcie. Dva výškové reproduktory vysielajú zvuk priamo na vás, zatiaľ čo dva basové reproduktory Smart Amp odrážajú zvuk od dosky stola. Prepínajte medzi 6 prednastavenými režimami, ktoré optimalizujú nastavenia zvuku podľa typu hry a média, alebo robte ručné nastavenia, ktoré sa prispôsobia vašim preferenciám. Obojsmerné potlačenie šumu pomocou umelej inteligencie filtruje vstupný aj výstupný zvuk, takže streamy, chaty a nahrávky budú čistejšie než kedykoľvek predtým.

Obojsmerné
potlačenie hluku pomocou AI
Univerzálna
3D mikrofóny
zostava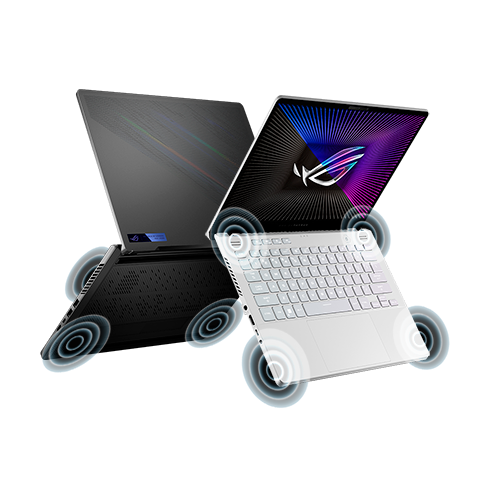 Dolby Atmos®
Bez ohľadu na to, či používate slúchadlá alebo reproduktory, Dolby Atmos® vylepšuje priestorový zážitok vďaka jemnejším nuansám a za pomoci virtuálnych priestorových zvukových efektov, ktoré môžete ďalej optimalizovať pomocou špeciálne vyladených prednastavených režimov pre filmy a hry.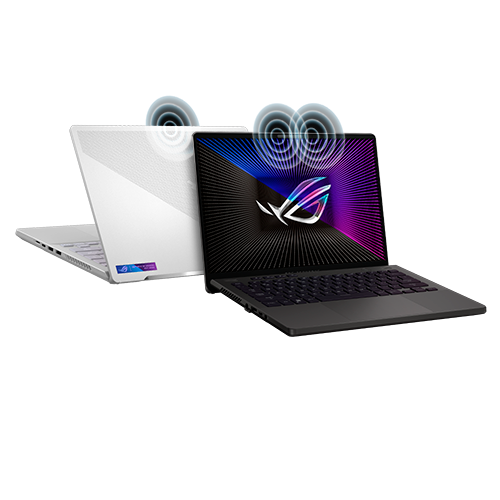 Súprava 3D mikrofónov
Tri režimy integrovanej zostavy mikrofónov umožňujú lepšiu kontrolu. Kardioidný režim sníma zvuk priamo z prednej časti notebooku, zatiaľ čo minimalizuje vstup zo zadnej strany, takže je ideálny pre streamovanie a hranie hier. Stereofónny režim využíva pravý a ľavý kanál pre nahrávanie širšieho zvukového priestoru pre živú hudbu alebo iné pohlcujúce zážitky. Všesmerový režim sníma zvuk zo všetkých smerov rovnomerne pre čistejšie konferenčné hovory.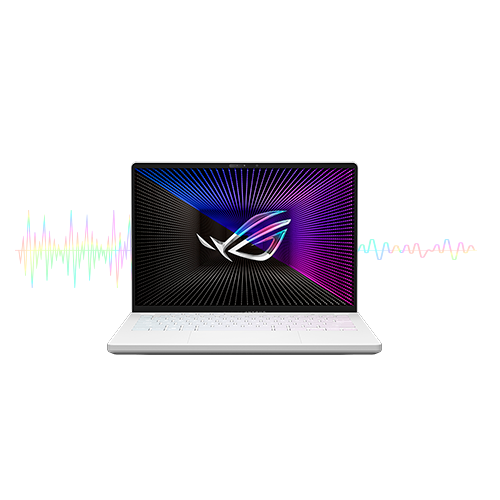 Obojsmerné potlačenie šumu pomocou AI
Naša pokročilá technológia obojsmerného potlačenia hluku pomocou umelej inteligencie pracuje s akýmkoľvek vstupným zariadením a s nadväzujúcim pripojením a umožňuje vám odstrániť šum ako z vlastného mikrofónu, tak aj z prichádzajúcich kanálov. Funguje len na úrovni procesora, čo umožňuje grafickému procesoru dosiahnuť vyššie snímkové frekvencie v hre. Nastavenie potlačenia šumu môžete dokonca prispôsobiť podľa programu a filtrovať tak konkrétne aplikácie, ako je hlasový chat bez toho, aby bol akokoľvek ovplyvnený zvuk hry, ktorú hráte.
pauza
#KLÁVESNICA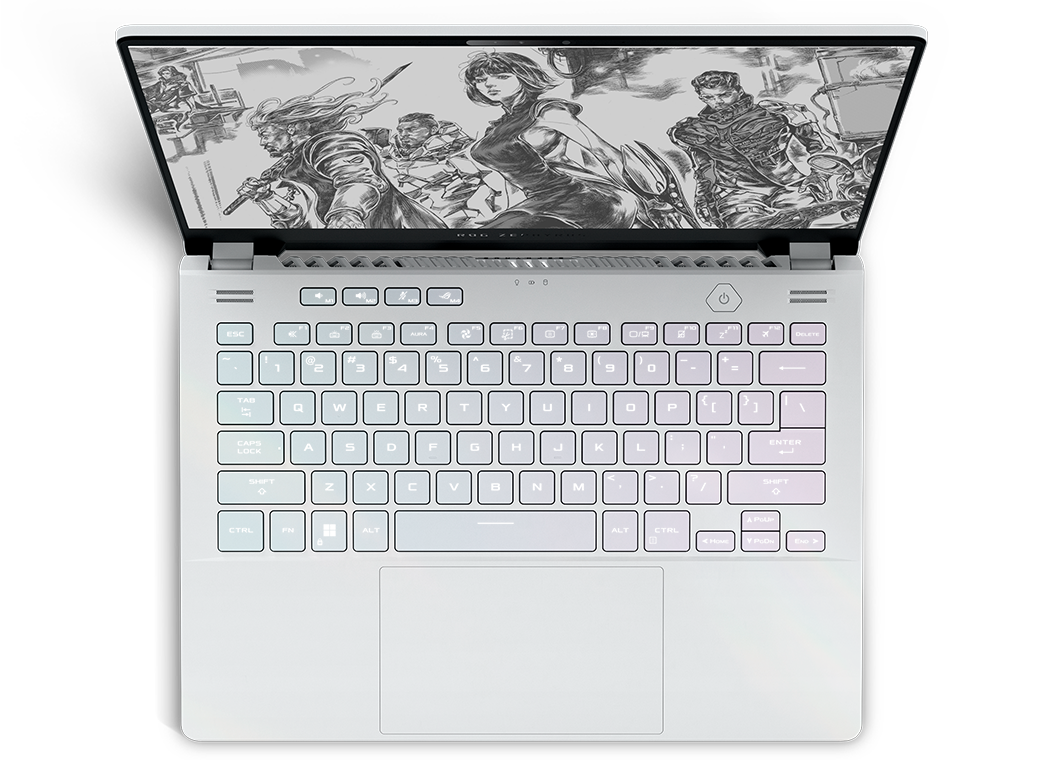 Biele svetlo
Jednozónové RGB
EŠTE LEPŠÍ
Zephyrus G14 2022 je vybavený väčším touchpadom, ktorý zodpovedá novému displeju s pomerom strán 16:10 a umožňuje rýchle ovládanie. Technológia Overstroke sa spúšťa pri každom stlačení klávesov, čo zabezpečuje rýchlejšiu odozvu. Konštrukcia ErgoLift dvíha klávesnicu do uhla, ktorý je pohodlnejší pri písaní. Klávesnica sa vyznačuje oslnivým prizmatickým leskom. Je vybavená špeciálnymi klávesmi, vďaka ktorým máte rýchly prístup k ovládaní hlasitosti, stlmeniu mikrofónu a softvéru ROG Armoury Crate. Tieto klávesy sú tiež plne programovateľné a môžete nimi spúšťať aplikácie, nastaviť ich ako funkčné klávesy alebo použiť ako makro.
Inšpirované rozložením desktopovej
klávesnice
Herné
klávesy
s funkciou Makro
#KONEKTIVITA
WI-FI NOVEJ GENERÁCIE
Aj keď je v sieti pripojených mnoho zariadení, Wi-Fi 6E vás udrží v spojení. Ak sú k dispozícii kompatibilné siete, môžete pri hraní hier a videokonferenciách využívať rýchlosti blížiace sa káblovému pripojeniu.

MOŽNOSTI PRIPOJENIA
Dva porty USB-C, jeden s podporou napájania a DisplayPort™ 1.4, a dvojica portov USB 3.2 typu A poskytujú široké možnosti pripojenia. Novinkou je slot pre Micro SD karty, čo ocenia tvorcovia, ktorí potrebujú prenášať dáta z pamäťových kariet na cestách.
#Softvér
VYLAĎTE HO K DOKONALOSTI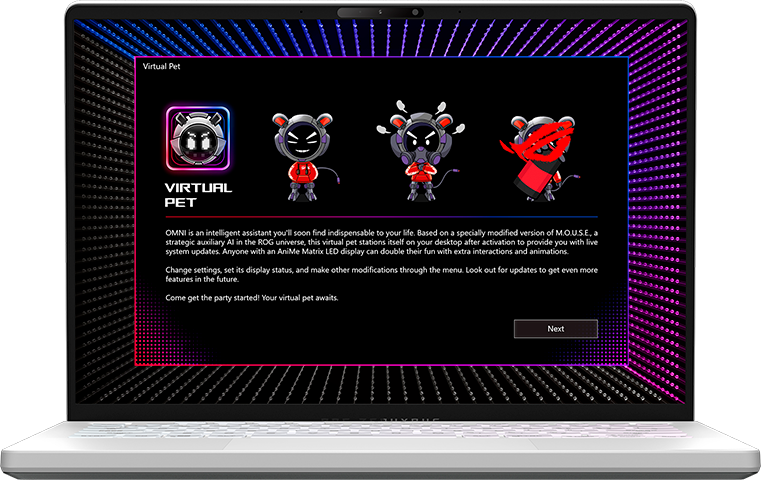 ROG maskot OMNI funguje ako zábavný pomocník, ktorý slúži ako váš interaktívny asistent. OMNI žije na ploche počítača a v reálnom čase reaguje na zmeny v zaťažení systému a stav batérie. Virtuálneho maznáčika môžete tiež nastaviť v animácii na vonkajšom displeji AniMe Matrix™ počítača Zephyrus G14.
Zahrajte si s priateľmi na počítači viac než 100 vysoko kvalitných hier, na PC, konzole, telefóne alebo tabletu za mesačné predplatné.* Neustále pribúdajú nové hry, takže vždy nájdete niečo nové.
*Podmienky sa môžu líšiť. Katalóg hier sa v priebehu času mení podľa regiónu a zariadení. Podrobnosti nájdete na xbox.com/gamepass a https://www.ea.com/eaplay/terms. Hranie hier na Xbox Cloud: Na streamovanie sa vzťahujú obmedzenia. Vyžaduje kompatibilný ovládač (predáva sa samostatne), podporované zariadenie a Xbox Game Pass; viď systémové požiadavky. Systémové požiadavky sa líšia podľa hry; výkon sa zvyšuje s vyššími systémami.
Softvér ROG GameVisual ponúka šesť odborne vyladených grafických režimov navrhnutých tak, aby optimalizovali váš vizuálny zážitok z konkrétnych herných žánrov. Napríklad režim First Person Shooter (FPS) zlepšuje viditeľnosť v tmavých prostrediach a umožňuje sa dostať k nepriateľom číhajúcim v tieňoch. Pomocou aplikácie GameVisual získate najlepší zážitok z každej hry vo svojej knižnici.
Automatické prepínanie medzi režimami Tichý, Výkon a Turbo je len začiatok. Môžete tiež definovať predvoľby špecifické pre aplikáciu a ďalšie nastavenia systému, ako je konfigurácia osvetlenia, aktivácia klávesu Windows alebo touchpadu. Zvoľte, ktorý profil GameFirst VI chcete použiť. Armoury Crate robí úpravy tak, aby čo najlepšie vyhovovali danej úlohe, a môžete si nakonfigurovať každý profil presne podľa svojich predstáv.
Vyzdvihnite si bezplatnú mobilnú aplikáciu Armoury Crate pre Android alebo iOS a majte jednoduchý prístup k svojím nastaveniam bez toho, aby ste museli prerušovať hranie! K dispozícii je teraz na Google Play™ aj v App Store.
VYZBROJTE SA
Zoberte si k notebooku ROG Zephyrus G14 rad herného príslušenstva. Užite si plynulý a presný pohyb s hernou myšou ROG Impact. Na cestách oceníte menší 100W napájací adaptér, ktorý ponúka dostatok výkonu pre vašu produktivitu. Doprajte svojmu notebooku na cestách trochu viac bezpečí vďaka praktickému textilnému puzdru.
*Periférie v balení sa môžu líšiť v závislosti na regióne. Overte si, prosím, presnú ponuku u lokálnych predajcov.
Video recenzia
2022 ROG Zephyrus G14 Product Video
The Zephyrus G14 2022 is the best gaming laptop of the year. The specs are freakin' exceptional.
This year they just took it to a whole new level.
Not only is this gaming laptop a beast in performance, but it is also a master of memes. Is the Asus ROG Zephyrus G14 the gaming laptop of the year?
The 2022 Zephyrus G14 is back and more stylish than ever
The Radeon RX6800s makes any game you play smooth and enjoyable
The Zephyrus G14 is quite compact, featuring a sturdy and premium built. Its slim and lightweight, perfect for on-the-go users. The performance of the machine is also impressive and justifies the price of the product.
The look of the ASUS ROG Zephyrus G14 is really nice. It gives you that high end feel but at the same time, it's not too much. It's super portable and can be easily carried to schools and colleges.
I'm definitely impressed by the Zephyrus G14. One of the best options available currently for editing
Looking for power or mobility? Do you want it for something other than playing? Among these ROG laptops you will find the one that suits you
We face the final stretch of the review with a magnificent taste in our mouths, and there is no area in which the Asus ROG Zephyrus G14 2022 does not stand out, offering the best on the market, with the best materials, the most cutting-edge components and a system of cooling capable of keeping temperatures at bay with a more than acceptable loudness, without neglecting other aspects such as the keyboard, the panel or the aesthetics and maintaining a price that is quite contained within its range
This gaming laptop is the best for me not because of its performance, but because in general, it gives us a complete and balanced experience. It not only allows you to play games, but also work and consume multimedia content at the same level.
ROG Zephyrus G14 (2022) Gaming Laptop Unboxing + Gameplay
ROG Zephyrus G14 (2022) Gaming Laptop Unboxing + Gameplay
ROG Zephyrus G14 (2022) Gaming Laptop Unboxing + Gameplay
The newest gaming laptop from ASUS, ROG Zephyrus G14, is small, light, and powerful! We'll show you all the data, including benchmarks!
This beautiful white gaming laptop is very powerful [ROG Zephyrus G14]
The new laptop from the best-selling gaming laptop brand in Japan has arrived.
Here's what's so great about the ASUS ROG Zephyrus G14 GA402RK!
14인치 고성능 게이밍 노트북 ASUS ROG ZEPHYRUS G14 GA402 후기
【악플러들 상대로 1대1】어느 티어까지 이길 수 있을까?
Đánh Giá Chi Tiết Laptop Gaming ASUS ROG Zephyrus G14: Mẫu Laptop Gaming Mình Thích Nhất!
4 Lý do TẠI SAO mình chọn LAPTOP GAMING để LÀM ĐỒ HỌA!!
Đánh giá ROG Zephyrus G14 (2022): Sự lợi hại của AMD?
ROG Zephyrus G14 2022 (Ryzen 6800HS + RX6700S): Tò mò nhiều thứ về Laptop Gaming AMD
If you are looking for a lightweight notebook that can work, play games, ROG Zephyrus G14 is a good choice.
(2022) Asus ROG Zephyrus G14 // AMD Ryzen 9 6900HS + RX6700S
ASUS Zephyrus G14 (2022) – Jak dobrze to gra?
The New ASUS Zephyrus G14 is WAY Better!
ASUS Zephyrus G14 (2022) Review - The Best Laptop?
Asus ROG Zephyrus G14 Review - Is it ACTUALLY Any Good? [2022]
It Actually Got BETTER 🤯 - Zephyrus G14 2022 vs G14 2021
2022 ROG Zephyrus G14 - Every game is your game
Video review from the channel MrBegėdis
The Rise of Gamers - 2022 Brand New ROG Gaming Laptops
ASUS Goes Crazy With Gaming Laptop Updates in 2022!
These NEXT-GEN Gaming Laptops will Blow Your Mind!
ASUS Is Already Killing It!
ROG Zephyrus G14 (2022) Review: Still THE Best 14" Gaming Laptop
"This 14 portable gaming laptop offers offers far better value compared to other small gaming laptops... To name a few it is lighter, has a better screen, a better battery life and a better CPU performance, all while being cheaper."" "If you want the best battery life and gaming performance... then the ASUS Zephyrus G15 is the way to go." "If you want better CPU performance and a larger 16:10 screen which just looks better while also getting better performance in creator loads."
There is a webcam, but the resolution is only HD, no RJ45 port.
The back cover of the machine is a hole making it difficult to keep clean. Fan vents come out of the front of the screen. causing heat vapor to hit your hand while in use Ports are fairly close together, no RJ45 ports.
It is a complete notebook. Comes with a light body, beautiful note page, with features with AniMe Matrix lights. The camera can be used for about one.
The power management feature is quite good, the screen is beautiful, the game can be played smoothly.
Video review from the channel Konsumer
Product Comparison
Product added to comparison. Add up to 4 products or proceed to view compare products selected.
ASUS Footer
ASUS Footer