Genel Bakış
Teknik Özellikler
Ödüller
Galeri
Nereden Satın Alabilirim?
Destek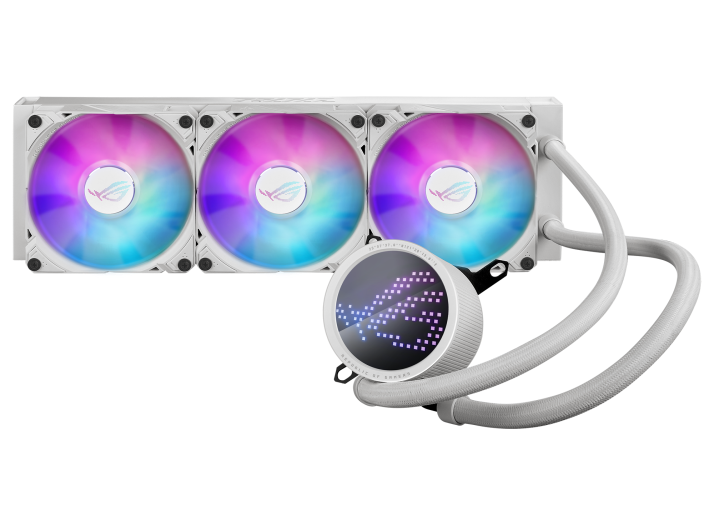 ROG RYUO III 360 ARGB WHITE EDITION
ROG Ryuo III 360 White Edition hepsi bir arada sıvı CPU soğutucusu, Asetek 8.nesil sıvı pompası çözümü, Anime Matrix™ LED Ekran ve ROG ARGB soğutma fanları
En yeni 8.nesil Asetek pompa, daha yüksek akış ve daha düşük özdirenç sunan üstün soğutma performanslı 3 fazlı bir motor ile donatıldı.
ASUS'a özgü Anime Matrix™, ROG'ye özel animasyon içerikleri, temel sistem bilgileri ve özelleştirilebilir görüntüler sunabilen mini bir LED dizilimidir.
Birinci sınıf ROG ARGB fanlar yüksek hava akışı sağlarken en uygun seviyede gürültü sunuyor.
Alüminyum bileşenler ve vakumlu kaplama yüksek dayanıklılık ve birinci sınıf estetik görünüm sunuyor.
ROG Ryuo serisi, yüksek seviyeli sistemlerin merkezini oluşturan ROG anakartları şık bir şekilde tamamlıyor.
Video İncelemeleri
ASUS' RYOU III AIOs are up there with the best AIOs that we have ever tested
ASUS ROG RYUO III 360 ARGB, a watercooling even more beautiful in white!
Build PC GAMER ROG Full White Powered by ASUS à 5000 €
In this video, we take a look at the ROG Ryuo III 360 all-in-one CPU liquid color with Asetek 8th gen pump solution, Anime Matrix™ LED Display and ROG ARGB cooling fans. We will review its features, performance, and overall value to help you decide if it's the right choice for your needs.
Brutal design and performance
【驚異の91万円】白いRTX4090を搭載した現行最強のゲーミングPCを組んでみました。
【自作PC】強すぎる白いゲーミングPC作る! RTX4080 + 13900K ROG TUF APEX 240fps【初心者向け 組み立て解説付き】
【自作PC】美しすぎるケースとオールホワイトのパーツで白いPCを組む【ASUS|i5 13600K|RTX3060】
【自作PC】美しすぎるケースとオールホワイトのパーツで白いPCを組む【ASUS|i5 13600K|RTX3060】
【自作PC】デザイン最高な真っ白のゲーミングPCを作りたい
Those who follow me know that I am a die-hard micro ATX fan, and this video is dedicated to that. The build behind me is atomic cool and beautiful, this is a total white ASUS configuration. ASUS PRIME AP201 is the absolute star of this video, it is very interesting because very few cases of this format come out and this one, while not costing a lot lends itself to builds of a certain level.
Building this PC was supposed to BE A TOY...
We're building a new high end PC into ROG Hyperion!
Full collection from Asus 2023
Design, quality of materials, ease of installation, performance, AniMe Matrix screen, warranty.
Ürün Karşılaştırma
Ürün karşılaştırmaya eklendi. 4 ürüne kadar ekleyin veya seçilen ürünleri karşılaştırmaya devam edin.
KARŞILAŞTIRMAYI GÖRÜNTÜLE
ASUS Footer