Genel Bakış
Teknik Özellikler
Ödüller
Galeri
Nereden Satın Alabilirim?
Destek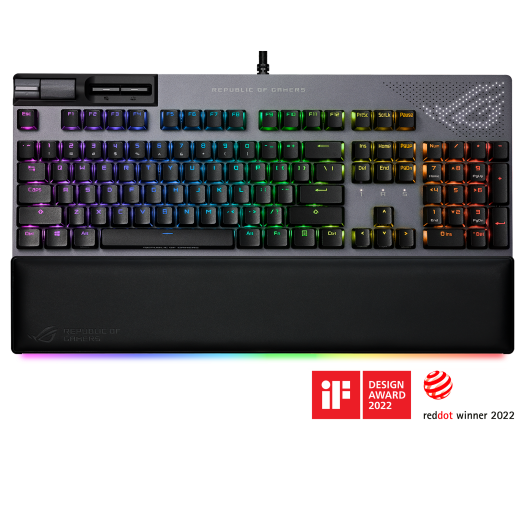 ROG Strix Flare II Animate
AniMe Matrix™ LED Ekran, 8000 Hz polling rate, ROG NX mekanik ya da Cherry MX anahtarlar, değiştirilebilir anahtarlar, metal medya kontrol tuşları, ve aydınlatmalı bilek desteği gibi özelliklerle donatılmış ROG Strix Flare II Animate mekanik oyuncu klavyesi
AniMe Matrix™ LED Ekran: Özelleştirilebilir görsel ve animasyonlarla kendinizi benzersiz şekilde yansıtın.
Şık ve ergonomik: Aydınlatmalı çıkarılabilir bilek desteği.
Sezgisel denetimler: Özel medya ve ses düzeyi kontrol tuşları klavyenin sol üst köşesine yerleştirilmiştir.
Neredeyse anında tepki: 8000 Hz polling rate, 0.125 ms tepki süresi sağlıyor ― sektöre liderlik eden diğer klavyelerden 8 kat daha hızlı.
ROG NX veya Cherry MX mekanik anahtarlar arasında seçim yapabilirsiniz. Benzersiz kullanım hissi için farklı anahtarlarla uyumludur.
ROG NX Mekanik Anahtarlar hakkında daha fazla bilgi edinin
Değiştirilebilir anahtarlar: Özelleştirilmiş ve benzersiz bir his için tercih ettiğiniz anahtar türünü kullanın.
ABS tuş başlıkları
ROG anahtar sabitleyici: Akıcı tuş vuruşları ve tuşların sabit olduğunu garantilemek için özel olarak tasarlandı.
İyileştirilmiş akustik: Yerleşik ses sönümleyici köpük, klavyedeki vuruş seslerini ve yankıları sönümlemeye yardımcı olur.
Kullanışlı bağlantı seçenekleri: USB geçişi cihazlarla kolay bağlantı sağlar.
Video İncelemeleri
Video review from the Konsumer channel
0.125 MS tepki süresine sahip bu tuşlar rekabetçi arenalarda aranan özelliklerden biri olabilir. Bizim kullanıcı deneyiminde de kalite hissiyatı üst düzeydeydi. Klavyenin tepkiselliği gerçekten iyiydi, uzun süreli kullanımlarda da bilek desteği sayesinde bileğinizdeki baskıyı minimuma indiriyor.
Tasarımsal açıdan oldukça iyi, performansına zaten diyebilecek hiç lafım yok.
WE REMAKE YOUR GAMING ROOM ! (ft. Guillaume)
I build a 5000€ Gaming PC !
I'M DOING AN €8500 SETUP CONTEST!!! 😱 (incredible)
Asus ROG Strix Flare II Animate Keyboard Hot-swappable Full Review | I Need This!
A marriage between mass appeal features (RGB and LED display) and modder basics (hot swappable switches) the Rog Strix Flare II Animate does a good job of satisfying both crowds.
3万円越えの超高級キーボードの打鍵感がやばい.....wwww【レビュー】 |ROG STRIX FLARE II ANIMATE
新発売されたおしゃれ過ぎるゲーミングキーボード【ROG STRIX FLAREⅡANIMATE】【自作PC/ゲーミングPC/デバイス】
Review ROG Strix Flare II Animate moving lights! Custom can remove the switch! Gaming Keyboard of the Year 2022
Review Gaming Keyboard with ROG NX
In gaming it is obviously very good, the switches are very good and perfect for this area. Normally I prefer smaller keyboards because I need a lot of space on my workstation but I really liked its design and ergonomics. Spectacular switches, the animated animation is very nice and makes a nice impression on the keyboard. For writing spectacular. The price is not exaggerated for all the functions it offers.
PBT keycaps, hotswap, stylish design, lubricated switches, lubricated stabilizers and noise-absorbing foam. These are all signs of a good keyboard in 2022. However, ROG went further. They added a screen and an 8000Hz refresh rate to their keyboard
I tested a high-end keyboard from ASUS. It's the ROG STRIX Flare II Animate high profile wired gaming keyboard designed for precision gaming.
how to change keyboard switches
ASUS ROG Flare II Animate
Very high quality stabilizers, LEDs in the corner, multimedia buttons and scroll wheel - that's what I would want in every keyboard. I liked the Claymore a bit more, but the price point is more for the connoisseur. I liked the ROG Strix Scope RX the most, which also has water spill resistance and again, solid stabilizers and very good workmanship as well as a price to match.
The surprise is the ROG Delta S Core, probably the best microphone I've experienced with Asus. I'm also excited about the ROG Strix Flare II Animate keyboard, I'll definitely be back to that one.
Maherco Assembly #1: New Game 2022
Video review from FunFaceTV channel
Review from the channel ASUS ROG Baltics
At the end, a top-notch keyboard that has our warm recommendation.
103 / 5.000 Резултати превода This is one of the few keyboards that ended up with two awards from my test! See why
As such, the ROG Strix Flare II Animate keyboard earned AX Advanced as well as AX Diamond recognition.
The wrist rest comes with the keyboard, is easily detachable and is of great importance, especially during long-term use of the keyboard.
The review from the channel Pakapak
The video review from the channel Pakapak
Ürün Karşılaştırma
Ürün karşılaştırmaya eklendi. 4 ürüne kadar ekleyin veya seçilen ürünleri karşılaştırmaya devam edin.
KARŞILAŞTIRMAYI GÖRÜNTÜLE
ASUS Footer