Genel Bakış
Teknik Özellikler
Ödüller
Galeri
Nereden Satın Alabilirim?
Destek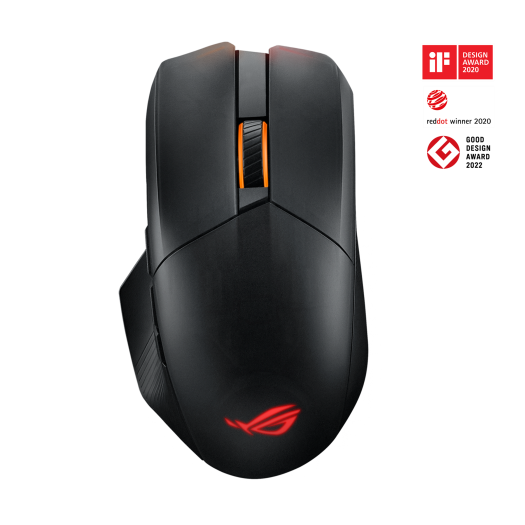 ROG Chakram X
Yeni nesil 36,000 dpi ROG AimPoint optik sensöre sahip ROG Chakram X kablosuz RGB oyuncu faresi, 8000 Hz sorgu oranı, düşük gecikmeli üç modlu bağlantı (RF 2.4 GHz/Bluetooth/kablolu) 11 adet programlanabilir düğme, bir adet analog joystick ve hızlıca değiştirilebilen anahtar soketi (mekanik/optik).
ROG AimPoint Optik Sensör: Üst düzey hassasiyet için 8000 Hz sorgu oranı ve oyuncular için yeni nesil 36,000 dpi optik sensör
Üç Modlu Bağlantı: Kablolu USB, düşük gecikmeli 2.4 GHz RF ve Bluetooth® modu ile üç adet cihaz bağlama esnekliği
Programlanabilir Joystick: Farklı boyutlardaki çıkarılabilir joystick yeni kullanım olanakları sağlıyor.
Daha Fazla Kontrol Parmaklarınızın Ucunda: Yedi adet düğme ve dört yönlü joystick dahil olmak üzere 11 adet programlanabilir düğme kullanım çeşitliliği sağlıyor.
Üstün Tıklama Hissi: Eğimli buton mekanizması, hızlı tepki, net ve dokunsal bir tıklama hissi sunuyor.
Anında DPI Ayarlaması: Kaydırma tekerleğinden DPI ayarıyla zahmetsiz şekilde hassas ayarlama
Push-Fit Anahtar Soketi II: Hızlıca değiştirilebilen 3 pimli mekanik anahtarlar ve 5 pimli optik mikro anahtarlar, değişken tıklama kuvveti ve fare için uzun kullanım ömrü sağlıyor.
Akıcı ve Hızlı Hareketler: ROG Paracord ve %100 PTFE fare ayakları
Kullanışlı şarj özelliği: Kabloyla veya kablosuz Qi şarj özelliği ile 114 saatlik kesintisiz oyun deneyiminin tadını çıkarın
Zahmetsiz Özelleştirmeler: Vidasız manyetik düğmeler, kapak ve özelleştirilebilir rozet ile tarzınızı yansıtın.
NVIDIA® Reflex: Mouse'un yanıt hızını gözlemlemenize olanak sağlayan NVIDIA Reflex Latency Analyzer için resmi olarak doğrulandı Daha fazla bilgi edinin
Video İncelemeleri
Today we had the opportunity to test the ROG Chakram X. We have already tested the original ROG Chakram mouse at AX, which became part of Dulet's ROG setup.
Ultimate $5000 Gaming Setup 2022! [ASUS PG48UQ, RTX 3090, Peripherals & More!]
The Most Excessive Gaming Setup... Ever.
ASUS ROG: I tested the ultimate keyboard/mouse kit for gamers
I'm TRYING TO MAKE TOP 1 MIRROR KEYBOARD AFTER 5 YEARS OF PLAYING HANDSET!
Wireless gaming peripherals terbaru dari ROG! Jom kita tengok
The latest 2022 ROG gaming gear designed for gamers!
【デバイスチート!?】まさかのジョイスティック付きゲーミングマウス!?が発売されてしまいました…
Asus Chakram X - super virtual gaming mouse!
This mouse has everything you don't need! | Review Asus Rog Chakram X
Review Gaming Mouse with Joystick
Review Gaming Mouse with Joystick
Review Gaming Mouse with Joystick
I'm excited because I've been dreaming of doing a collaboration with Asus for years and we're finally here! Today we will assemble my new computer for the one million special. I can't wait then to try this ORG Wingwall, I think I'm one of the first to try it and it looks super cool.
The surprise is the ROG Delta S Core, probably the best microphone I've experienced with Asus. I'm also excited about the ROG Strix Flare II Animate keyboard, I'll definitely be back to that one.
Maherco Assembly #1: New Game 2022
Creativity of Asus Rog Chakram X
Asus ROG Smart Game Products from
Best Wireless gaming peripherals set-up
The Chakram X is one of the best mice I've had the chance to test so far on the channel.
The review from the channel Texnoplov
Ürün Karşılaştırma
Ürün karşılaştırmaya eklendi. 4 ürüne kadar ekleyin veya seçilen ürünleri karşılaştırmaya devam edin.
KARŞILAŞTIRMAYI GÖRÜNTÜLE
ASUS Footer