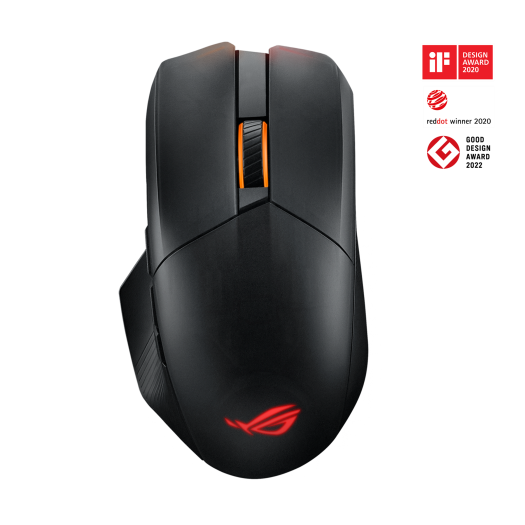 ROG Chakram X
ROG Chakram X 無線 RGB 電競滑鼠搭載 36,000 dpi ROG AimPoint 光學感測器、8000 Hz 輪詢率、三模連線 (2.4 GHz / 藍牙 / 有線)、11 顆可編程按鍵、類比搖桿,以及第二代可更換微動插槽,適用 3-pin 機械式與 5-pin 光學微動開關
ROG AimPoint 光學感測器: 全新 36,000 dpi 感測器具備 8000 Hz 輪詢率,提供極致精準度
三模連接能力: 有線USB、2.4 GHz RF、藍牙 (可配對至多三個裝置)
可編程搖桿: 全新可拆卸搖桿設計,提供不同尺寸選擇,可用類比或數位模式提供線性操控能力
觸手可及的控制選項: 七顆按鍵與四個方向的搖桿,共計 11 個可編程選項提供玩家自訂
優異的點擊手感: 樞軸按鍵結構可提供快速反應以及清晰優異的點擊手感
DPI 快速調整: DPI On-the-Scroll 可讓玩家在遊戲中輕鬆進行DPI值調整
第二代獨家可更換微動插槽: 可快速替換 3-pin 機械式微動開關以及 5-pin 光學微動開關,提供不同的點擊阻力並延長滑鼠使用壽命
流暢敏捷的滑動: ROG Paracord 連接線以及 100% PTFE 圓邊滑鼠腳確保靈活的滑動體驗
便利充電: 可透過有線或 Qi 無線充電,享受高達 114 小時的遊戲時間
輕鬆客製選項: 免螺絲磁吸式按鍵與上蓋、可客製化銘版,讓玩家能打造喜好的點擊手感與外觀
NVIDIA®Reflex: 經官方認證NVIDIA Reflex Latency Analyzer 相容產品,隨時掌握滑鼠反應速度深入瞭解NVIDIA Reflex
影片評論
Creativity of Asus Rog Chakram X
Today we had the opportunity to test the ROG Chakram X. We have already tested the original ROG Chakram mouse at AX, which became part of Dulet's ROG setup.
Ultimate $5000 Gaming Setup 2022! [ASUS PG48UQ, RTX 3090, Peripherals & More!]
The Most Excessive Gaming Setup... Ever.
I'm TRYING TO MAKE TOP 1 MIRROR KEYBOARD AFTER 5 YEARS OF PLAYING HANDSET!
ASUS ROG: I tested the ultimate keyboard/mouse kit for gamers
The latest 2022 ROG gaming gear designed for gamers!
Wireless gaming peripherals terbaru dari ROG! Jom kita tengok
【デバイスチート!?】まさかのジョイスティック付きゲーミングマウス!?が発売されてしまいました…
Review Gaming Mouse with Joystick
Review Gaming Mouse with Joystick
Review Gaming Mouse with Joystick
I'm excited because I've been dreaming of doing a collaboration with Asus for years and we're finally here! Today we will assemble my new computer for the one million special. I can't wait then to try this ORG Wingwall, I think I'm one of the first to try it and it looks super cool.
The surprise is the ROG Delta S Core, probably the best microphone I've experienced with Asus. I'm also excited about the ROG Strix Flare II Animate keyboard, I'll definitely be back to that one.
Asus ROG Smart Game Products from
Maherco Assembly #1: New Game 2022
Best Wireless gaming peripherals set-up
The Chakram X is one of the best mice I've had the chance to test so far on the channel.
The review from the channel Texnoplov
產品比較
產品已新增至比較列表中, 至多可選擇四個產品,或重新選擇想比較的產品。
ASUS Footer