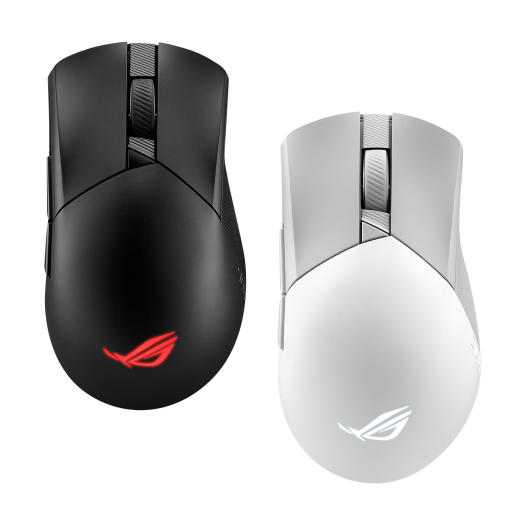 ROG Gladius III Wireless AimPoint
79g 輕量的無線 RGB 電競滑鼠,配備 36,000-dpi ROG AimPoint 光學感測器、具備三模連線(2.4 GHz、藍牙、有線 USB 2.0)、ROG SpeedNova 無線技術、新一代獨家可更換微動開關插槽 II、ROG 微動開關、0 毫秒點擊延遲樞軸按鈕機構、人體工學設計、ROG Paracord、100% PTFE 滑鼠腳、六個可編程按鈕和滑鼠防滑貼。
完美精準:36,000‑dpi ROG AimPoint 光學感測器具備 650 ips 和 50 g 加速度速率,以及 1000 Hz 輪詢率
更輕盈的經典設計:Gladius 系列著名的非對稱美學,重量降至僅 79 公克
三模連線功能:使用低延遲 2.4 GHz RF 進行長達 119 小時的遊戲,透過藍牙®模式配對最多三個裝置,或使用有線 USB 進行充電及遊戲
ROG SpeedNova 無線技術:在 2.4 GHz 射頻模式下提供低延遲、可靠的無線效能和優異的電量
全新一代獨家可更換微動開關插槽 II 設計:微動開關設計易於DIY ;Gladius III Wireless AimPoint 搭載的ROG 微動開關,相容於其他 3-pin 機械和 5-pin 光學微動開關
ROG 圖騰防滑貼:提供使用者更完善的操控力並增添特色風格
靈活移動:ROG Paracord 連接線和 100% PTFE 滑鼠腳
亦提供月光白款式
影片評論
I also like the fact that the mouse comes with user-replaceable switches, as well as extensive set of accessories
To sum up, the ROG Gladius III Wireless AimPoint is deserving of its status as a premium wireless gaming mouse, where it sports an industry-leading 36000 DPI optical sensor in a well-built package. Throw in an extensive set of accessories, and user-replaceable mouse switches, and you have a package that is hard to beat.
If you are not someone that really cares too much about having the lightest mouse, then defnitely consider the ROG Gladius III Wireless Aimpoint and ROG Keris Wireless Aimpoint.
Everyone defines the perfect gaming setup differently - this combo is definitely pretty cool!
ASUS ROG: I tested the ultimate keyboard/mouse kit for gamers
I'M DOING AN €8500 SETUP CONTEST!!! 😱 (incredible)
Gaming Mouse upgrade Accurate response with ROG Aimpoint 36,000 dpi
Personally, I think the updates in these mice are very timely and necessary. If you have a larger hand and you hold the mouse with your entire palm, take Gladius.
In the first place I have convenience and ergonomics, and I am sure that in this parameter it will suit a lot of people.
Preview 3 professional giming mouse
ROG GAMING MICE - 3 Ultimate
Reear development in Rog Gladius III WIRELESS AIMPOINT games
Both mice earned our highest accolade – AXetraordinary.
產品比較
產品已新增至比較列表中, 至多可選擇四個產品,或重新選擇想比較的產品。
ASUS Footer