Features
Tech Specs
Awards
Gallery
Where to Buy
Support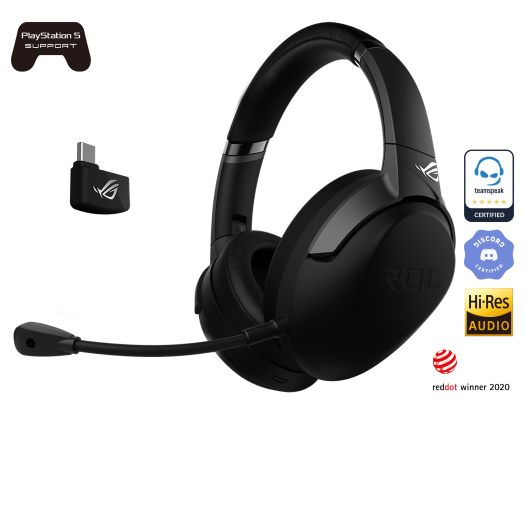 ROG Strix Go 2.4
USB-C 2.4 GHz wireless gaming headset with AI noise-cancelling microphone and low-latency performance for compatibility with PC, Mac, Nintendo Switch, smart devices and PS4
Low-latency 2.4 GHz wireless connection via a USB-C adapter hat's compatible with Nintendo Switch in handheld mode, smart devices, PC, Mac and PS4, plus a 3.5 mm connector for Xbox One and other 3.5 mm devices
Extremely lightweight design, with included carry bag for on-the-go use and protection
Industry-leading AI noise-cancelling microphone enables crystal-clear in-game voice communication
Impressively fast charging provides three hours' use with just a 15-minute charge, plus up to 25-hour total battery life for nonstop gaming
Exclusive airtight chambers and 40 mm ASUS Essence drivers deliver incredibly rich, pure sound with optimised deep bass for an immersive audio experience
ROG Strix Go 2.4 ditches Bluetooth to become the world's first USB-C 2.4 GHz headset, enabling ultra-stable cordless connections for multi-platform on-the-go gaming. Enjoy lag-free audio on PC, PlayStation, Xbox or smart devices, and roam anywhere with a Nintendo Switch in handheld mode. Strix Go 2.4 is lightweight, charges fast and has a long-lasting battery for nonstop gaming sessions. It even boasts AI-powered noise-cancelling microphones for crystal-clear communications anywhere.
Perfect Wireless Audio, Anywhere
Bluetooth connections often impart distracting lag. That's not a problem for ROG Strix Go 2.4 because it features USB-C 2.4 GHz RF technology with dual antennas for instant audio transmission — a combination that makes it the leading headset for mobile gaming* or handheld Nintendo Switch play. It's also perfect for at-home console or PC gaming, with a range of up to 20 metres – freeing you to dash to the bathroom or kitchen without losing your connection!
*Smart devices require USB-C socket for full compatibility.
Extreme Lightweight Comfort
At just 290 g, ROG Strix Go 2.4 is an exceptionally lightweight wireless gaming headset, giving unbeatable comfort that's perfect for long gaming sessions. The foldable design is ideal for on-the-go gaming, making it a cinch to carry Strix Go 2.4 anywhere.
AI-Powered Noise-Cancelling Microphone
ROG Strix Go 2.4 is engineered with industry-leading, AI-powered noise-cancelling technology for crystal-clear in-game voice communication. The algorithm draws on a massive, deep-learning database to accurately identify and counteract environmental noises. The upshot is that everything from keyboard clatter to background human chatter is virtually eliminated – ensuring crystal-clear in-game voice communication with your teammates. This main boom mic is bidirectional, detachable, and certified by leading communication providers, including Discord and TeamSpeak.
Hear the difference
Passive Noise Cancellation

Enviromental Noise Cancellation

AI-Powered Noise Cancellation
Hidden Microphone for
On-the-Go Communication
ROG Strix Go 2.4 also features a hidden integrated mic for convenient communications anywhere, no boom mic required. This discrete built-in mic is still powered by the AI-powered noise-cancellation technology, so you'll enjoy fantastically clear communications on the go.
True-to-Life Gaming Audio
Exclusive ASUS Essence driver and airtight-chamber design
Exclusive airtight chambers and 40 mm ASUS Essence drivers deliver incredibly rich, pure sound with optimised deep bass for immersive audio experiences.
*Hi-res audio is available only via 3.5 mm cable connection.
Fast Charging and Long Battery Life
Fast charge for just 15 minutes for up to three hours of play, or juice up all the way for up to 25 hours of battery life for nonstop gaming, from morning through night.
*USB 3.0 or USB-C cable required for fast charging.
Up to

25

HOURS

Battery Life

Last

3

HOURS

15 Min Fast Charging
Volume adjustment
Push to mute or unmute microphone

Press once for play or pause
Press twice for next track
Press three times for previous track

Select Wireless mode or Wired mode

Wired mode for 3.5 mm connector

Power-charging port
Instant Control at Your Fingertips
Intuitive control buttons and a durable rocker switch on the ear cup let you control volume and power, or mute the microphone instantly during gameplay.
ROG Strix Go 2.4 comes with multiple adapters, including a USB-C to USB 2.0 dongle and a 3.5 mm connector – so it's easy to connect to compatible Xbox controllers or other devices.
Protective Pouch for Easy Travel
The included convenient compact carry bag helps protect and organise your headset and other related accessories with ease.
ASUS Armoury II's extensive controls and intuitive UI lets you easily tune ROG Strix Go 2.4 to play your way, from EQ to 7.1 virtual surround sound, and level-balancing. It takes just a moment to create and apply audio profiles for different games, such as first-person shooters or racing. You can even use Armoury II to check the headset's battery level or to set a PC-controlled sleep timer.
Download Now
Recommended Products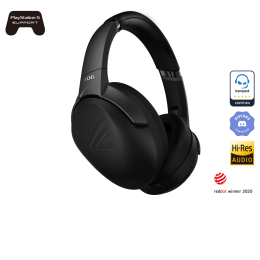 Bluetooth® wireless gaming headset with Qualcomm® aptX™ Adaptive audio technology, Active Noise cancelation (ANC) technology, ASUS AI Noise-Canceling Microphone, low-latency performance and compatibility with PCs, Nintendo Switch™, smart devices and PS5™
Disclaimer
Products certified by the Federal Communications Commission and Industry Canada will be distributed in the United States and Canada. Please visit the ASUS USA and ASUS Canada websites for information about locally available products.
For pricing information, ASUS is only entitled to set a recommendation resale price. All resellers are free to set their own price as they wish.
Price may not include extra fee, including tax、shipping、handling、recycling fee.
Product Comparison
Product added to comparison. Add up to 4 products or proceed to view compare products selected.
ASUS Footer