Features
Tech Specs
Awards
Gallery
Where to Buy
Support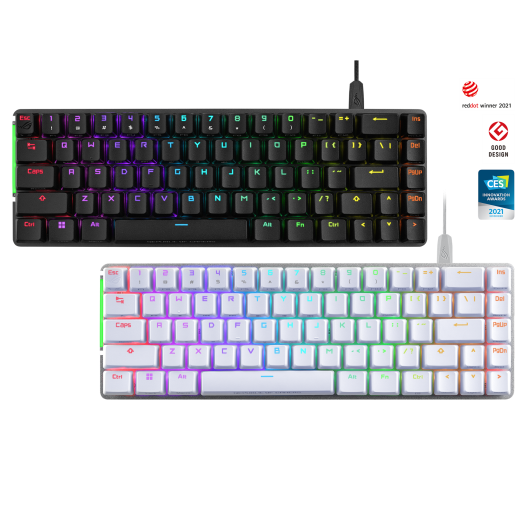 ROG Falchion Ace
ROG Falchion Ace 65% compact gaming keyboard with pre-lubed ROG NX mechanical switches with ROG switch stabilizer, PBT doubleshot keycaps, sound-dampening foam, interactive touch panel, dual Type-C ports, three keyboard tilt angles, and cover case
Compact design: 65% keyboard in a 60% frame masterfully incorporates arrow and navigation keys
ROG NX mechanical switches: Lubricated stem and housing for smoother clicks and to eliminate bouncing noise respectively, fast actuation and ROG-tuned force curves for great, consistent keystrokes
Learn more about ROG NX mechanical switches
Better typing experience: Specially designed ROG switch stabilizer to ensure smooth keystrokes and stability for longer keys, plus ROG PBT doubleshot keycaps and built-in sound-dampening foam for improved acoustics
Intuitive control: Interactive touch panel for easy adjustments and customization
Dual USB-C®: Flexible port placement for a neater setup, and enable users to quick-toggle switch between two PCs
Ergonomic design: Three keyboard tilt angles for comfort and control
Portable protection: Innovative keyboard cover case provides on-the-go protection
COMPACT &
COMBAT READY COMPACT &
COMBAT READY
Get ready for combat with the ROG Falchion Ace keyboard. This compact 65% form-factor gaming keyboard boasts an interactive touch panel and innovative two-way cover case, and features pre-lubed ROG NX mechanical switches, ROG stabilizers and durable ROG PBT doubleshot keycaps for smooth and precise keystrokes. Two USB-C® ports on either side of the keyboard allow for a neat and flexible setup, while three keyboard tilt angles ensure comfortable gaming.
Product Video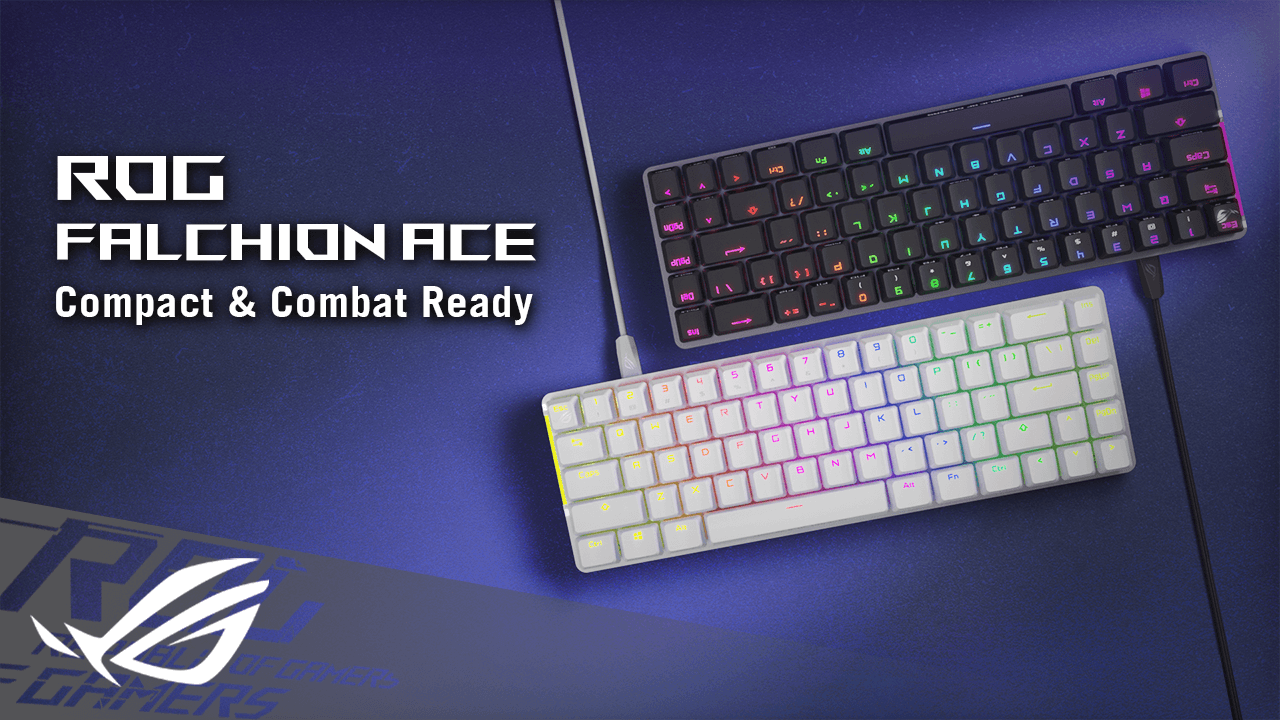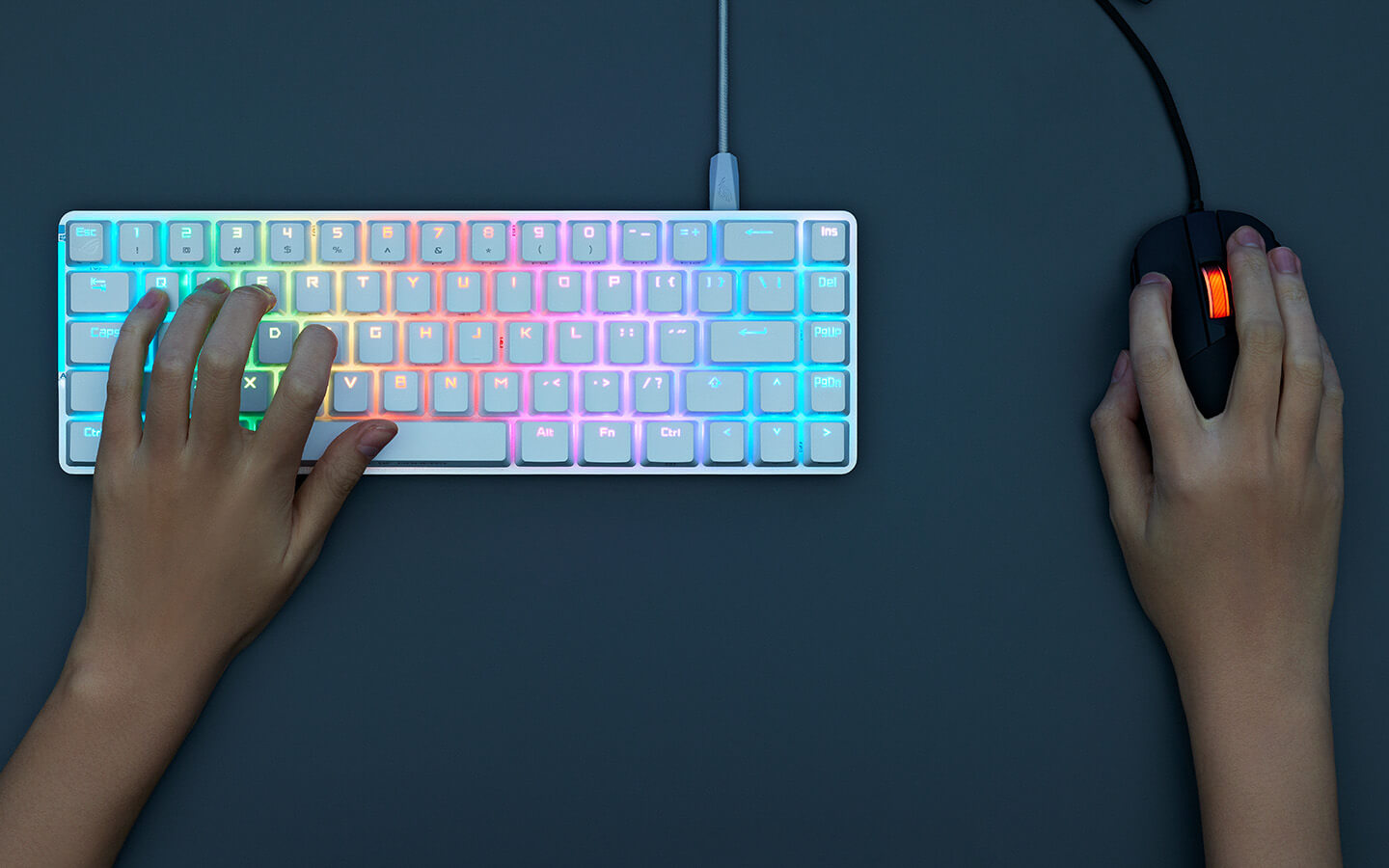 Compact 65% Form Factor
The ROG team aimed to provide a compact keyboard without compromise, masterfully incorporating arrow and navigation keys into a 65% keyboard layout. And at just 306 mm in length, the ROG Falchion Ace is almost the same size as a 60% keyboard. It gives you all the functions of a normal keyboard without taking up much desktop space.
ROG NX Mechanical Switch
ROG-exclusive gaming switch -
Tuned for great keystroke feel and consistency with fast actuation.
The switches have lubricated stems and base housings that offer a smoother click feel and eliminate spring bouncing noises respectively.
LINEAR & SWIFT

ROG NX Red Mechanical Switches provide a 1.8mm actuation point for fast input. Initial actuation force of 40gf helps prevent accidental keystrokes, and it extends to 55gf for perfect rebound feedback. As a result, keystrokes are instantaneous and have a smooth and linear feel.

1.8mm

Actuation Point

40gf

Initial Force

55gf

Total Force

ULTRA TACTILE

ROG NX Brown Mechanical Switches have a 2mm actuation point, as preferred by traditional brown switch users. The tactile force of 58gf combined with a click ratio of 33% gives every keystroke an obvious, more pronounced tactile response.

2.0mm

Actuation Point

58gf

Tactile Force

33%

Click Ratio

CLICKY & TACTILE

ROG NX Blue Mechanical Switches feature a 2.3mm actuation point, standard 16% click ratio, and an enthusiast-preferred 65gf tactile force — all to provide firm and superb feedback with each keystroke.

2.3mm

Actuation Point

65gf

Tactile Force

16%

Click Ratio
Better Typing Experience
ROG PBT Doubleshot Keycaps

ROG PBT doubleshot keycaps* provide a unique and premium feel, as well as offer long-lasting durability. Key design has been optimized with mid-height keycaps and a shorter stem to reduce key wobble for a more comfortable user experience.

* Keycap material may vary by region.

ROG Switch Stabilizer

Compared to standard key stabilizer mechanisms, the Falchion Ace has specially tuned, lubricated switch stabilizers that greatly reduce keystroke friction to provide smooth and stable keystrokes for longer keys such as the Spacebar, Shift and Enter keys.

Sound-Dampening Foam

Integrated foam absorbs pinging noises and echoes for improved acoustics.
Interactive
Touch Panel
An innovative touch panel on the left side of the Falchion Ace lets you conveniently adjust volume, or create shortcuts for switching apps, or copying and pasting. It can also be programmed for use as a macro key for more intuitive controls for gaming.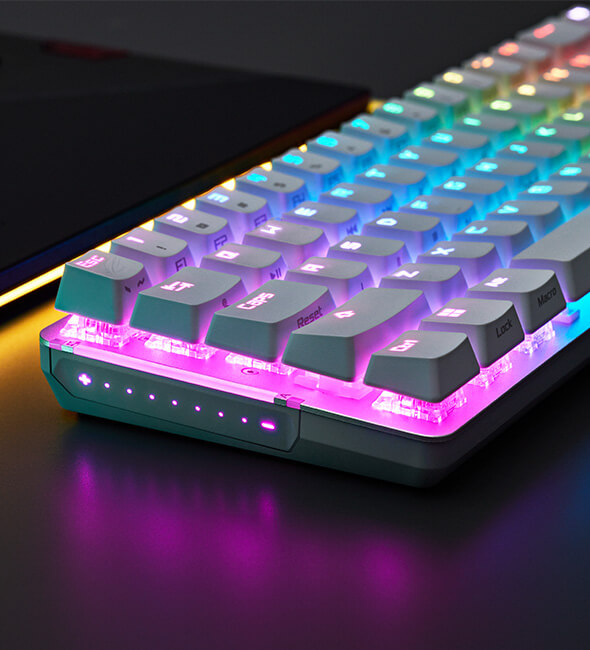 PENDING
Dual Port Flexibility

Versatile Angles

Polycarbonate Keyboard Cover

Aura Sync

Armoury Crate
The Falchion Ace features two USB-C ports on either side of the rear edge for a much neater setup, allowing you to connect up to two PCs simultaneously and quick-toggle switch between the two.

P.S. Only one cable is included

The Falchion Ace has two pairs of keyboard feet of different heights, giving it three ergonomic tilt angles to suit your preference.

Animation demonstrating the three tilt angles on the ROG Falchion Ace

The transparent polycarbonate keyboard cover provides superb protection when you're storing or taking ROG Falchion Ace to LAN parties and competitions. The cover can also be placed under the keyboard when in use, to give the underside RGB lighting a diffused look.

With Aura Sync RGB, the entire color spectrum and a range of dynamic lighting effects are at your command. Individually lit keys allow you to create a keyboard that's uniquely yours.

Armoury Crate unifies system and lighting controls. Easily create, define and customize scenario profiles, map keys, and record macros.
Touch Panel &
Windows lock key

Disable the touch panel and Windows key with a single press for undisturbed gaming.

Onboard memory

Save up to six profiles, including up to five custom schemes, and use them anytime, anywhere.

100% anti-ghosting & N-key rollover

Every keystroke is registered accurately, no matter how many keys are pressed.

Function lock key

Toggle between Media or Function (Fn) key input to easily switch modes for work or play.

On-the-fly macro recordings

Record macros on the fly and map them to fully programmable keys.
Recommended Products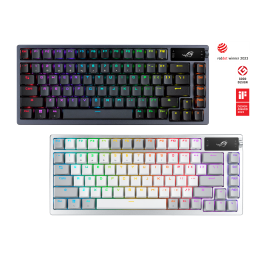 ROG Azoth gaming custom keyboard with 75 keyboard form factor, gasket mount, three-layer dampening foam and metal top cover, highly customizable with hot-swappable pre-lubed ROG NX mechanical switches, ROG keyboard stabilizers, PBT doubleshot keycaps and lube kit, tri-mode connection with 2.4 GHz SpeedNova technology, OLED display, three-way control knob, three tilt angles, and Mac support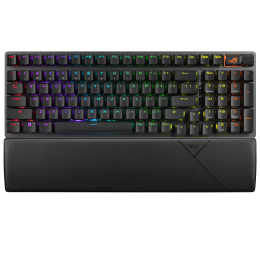 ROG Strix Scope II 96 Wireless
ROG Strix Scope II 96 Wireless gaming keyboard with tri-mode connection, streamer hotkeys, multifunction controls, hot-swappable pre-lubed ROG NX Snow & Storm mechanical switches, ROG keyboard stabilizers, PBT doubleshot keycaps and silicone dampening foam, three tilt angles, and wrist rest
Disclaimer
Products certified by the Federal Communications Commission and Industry Canada will be distributed in the United States and Canada. Please visit the ASUS USA and ASUS Canada websites for information about locally available products.
For pricing information, ASUS is only entitled to set a recommendation resale price. All resellers are free to set their own price as they wish.
Price may not include extra fee, including tax、shipping、handling、recycling fee.
Product Comparison
Product added to comparison. Add up to 4 products or proceed to view compare products selected.
ASUS Footer