Bạn không có sản phẩm nào trong giỏ hàng
Tính năng
Thông số kỹ thuật
Giải thưởng
Thư viện
Hỗ trợ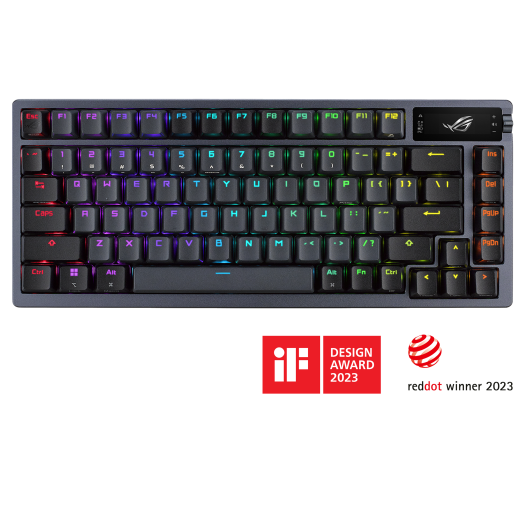 ROG Azoth
Bàn phím cơ chơi game ROG Azoth với 75 phím, gasket mount, ba lớp bọt giảm chấn và vỏ trên bằng kim loại, có thể tùy chỉnh với các switch cơ học ROG NX độc quyền dễ dàng thay thế, đệm phím ROG, keycap PBT doubleshot và bộ lub cùng tính năng tri-mode kết nối với công nghệ SpeedNova 2.4 GHz, màn hình OLED, nút điều khiển ba chiều, ba góc nghiêng và hỗ trợ cho Mac.
Thiết kế gasket mount độc đáo: Kết hợp gasket mount silicone với ba lớp bọt giảm chấn tạo ra trải nghiệm gõ phím tuyệt vời.
Kết nối tri-mode: Sử dụng Bluetooth® để kết nối và chuyển đổi giữa ba thiết bị cùng lúc, công nghệ không dây ROG SpeedNova cung cấp hơn 2.000 giờ chơi game độ trễ thấp trong chế độ không dây RF 2,4 GHz (tắt OLED và RGB) hoặc sử dụng kết nối chuẩn USB.
Màn hình OLED và điều khiển trực quan: Xem thông tin hệ thống và cài đặt bàn phím một cách dễ dàng; nút xoay tích hợp cho phép điều chỉnh cài đặt nhanh chóng.
Switch cơ học ROG NX có thể thay thế (Hot-swappable): Switch được bôi trơn sẵn giúp các lần nhấn phím trở nên mượt mà hơn và loại bỏ tiếng ồn; khả năng kích hoạt nhanh và đường cong lực được điều chỉnh bởi ROG mang lại cảm giác và độ nhất quán tốt cho các phím.
Trải nghiệm gõ phím được cải thiện: Đệm phím được bôi trơn trước đó giảm ma sát để nhấn phím trở nên mượt mà hơn và ổn định hơn cho các phím dài hơn; các keycap PBT doubleshot ROG bền chắc cho trải nghiệm cao cấp.
Bộ kit dầu bôi trơn Switch: Bao gồm các sản phẩm dầu bôi trơn Krytox™ GPL-205-GD0 hỗ trợ cho người mới bắt đầu DIY bàn phím.
Thiết kế tiện dụng: Hai cặp chân bàn phím với độ cao khác nhau cung cấp đến ba vị trí nghiêng khác nhau.
Hỗ trợ MacOS: Dễ dàng chuyển đổi giữa chế độ Windows và MacOS.
Video review
75% Keyboard with OLED Display!
ROG Azoth Unboxing (ASMR) #shorts
This is one hell of a keyboard!
ROG Azoth Review - 2,000 Hours Of Battery Life?!
This Might Be Our Favorite 75% Keyboard Yet #shorts
I Made The New ASUS Keyboard Better.
With the ROG Azoth mechanical custom gaming keyboard, customising your keyboard has never been easier. Decide for yourself which switches you want to use and how "Thock" your keyboard will be.
Kabellose Custom Gaming-Tastatur: Asus ROG Azoth im Hands-On #ces2023
I WAS CHALLENGED to PLAY Mouse Keyboard again after 5 years and a half of playing with a controller! ⌨️🖱️
Asus ROG is entering the world of custom mechanical keyboards for the first time with their Asus ROG Azoth which is a customizable gaming keyboard in 75% format and wireless! For a brand specialized in gaming that decides to venture into an unknown territory, a bold move!
This is our take on the newly launched ASUS ROG Azoth 75% Mechanical Keyboard which is hot swappable, wireless and luxurious. There are sound tests at the end of the video, the Oil Kings are further modded with the tempest tape mod besides being filmed and lubed.
Very surprised that ROG took this approach to enter the customizable mechanical keyboard market.
The Asus ROG Azoth could just be Asus' most refined pre-built keyboard yet. Packed with some features typically found on custom keyboards, the Azoth even has an OLED display on the top right corner.
異常な拘り。狂気に満ちたキーボード、ROG Azothを紹介するぞ!静音性・打鍵感への追及も最高レベル。しかも分解できるキーボード!?やりたい事全部セットキーボード、誕生。
【潜入】ASUS ROG 初のE-Sportsコレクション「ACE SERIES」発表会に行ってきた【自作PC】
【競合不在】最近はピカピカ光るキーボードよりもこういうデバイスに惹かれるようになってきました。|ASUS ROG Azoth
【分解する】便利な機能も全部盛り!DIYツール付き75%キーボード【ROG Azoth】
公式が分解推奨?分解が最高に楽しそうなキーボード ASUS ROG AZOTH を買ってみたので開封分解配信をやってみる!【新製品】【商品レビュー】
Here is the ROG Azoth, a keyboard that went beyond my expectations. It takes a lot from the world of custom keyboards and adds a lot of gaming features like the small monitor and wireless connectivity. I look at this keyboard from a gamer's perspective, it has its flaws but I consider it a good keyboard and a cool one. The price is a bit high but justified for the performance and build.
ASUS accessories just keep getting better - and the company has decided to offer us the ultimate gaming keyboard. That means not only the best materials, but a fully modular design and a mountain of accessories that let you tweak your keyboard literally down to the last switch!
ROG Azoth detachable keyboard | Ryzen 7 7800X3D in action!
An incredible gaming keyboard.
ASUS ROG Azoth Review | ASUS Flagship. TOP 75% Gaming Wireless Mechanical Keyboard
Video review from the channel ASUS ROG CIS
So sánh sản phẩm
Sản phẩm được thêm vào để so sánh. Thêm tối đa 4 sản phẩm hoặc tiến hành so sánh các sản phẩm đã chọn.
ASUS Footer