Features
Tech Specs
Awards
Gallery
Where to buy
Support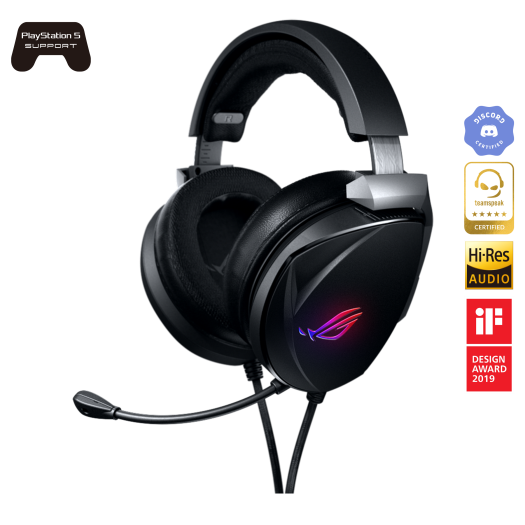 ROG Theta 7.1
USB-C gaming headset with 7.1 surround sound, AI noise-cancelling microphone, ROG home-theater-grade 7.1 DAC, ESS quad-drivers for PC, PS4, Nintendo Switch and smart devices
7.1 surround sound with eight ASUS Essence drivers and virtual subwoofers for incredibly immersive gaming audio and powerful bass
AI noise-cancelling microphone offers crystal-clear in-game voice communication
Four ESS 9601 headphone drivers and exclusively customized ROG home-theater-grade 7.1 DAC provide exceptional lossless audio
USB-C connector for compatibility with PC, Mac, PS4, Nintendo Switch and smart devices
ROG Hybrid Ear Cushions with specialized fast-cooling fabric and eyewear-friendly design provide uncompromised comfort
Armoury II software enables tuning of virtual bass and other audio profiles
Video Reviews
This headset is awesome !
ROG BIKIN HEADSET GAMING MAHAL BIKIN JATUH CINTA | Review ROG Theta 7.1 | Lazy Tech
Aku cinta Headset Gaming ini (Kalo dikasih)
One of the best gaming headset
ASUS ROG Theta 7.1; It can be a powerful alternative for users who want to make a difference in competitive games and want to have their home theater in their ears.
A gaming headset with the beautiful name ROG Theta 7.1 - by the way, the word Theta in Greek means the number 8 and it is not used accidentally, since these headphones are equipped with 8 speakers - 4 in each cup.
Designed primarily to replace your multi-channel home system - and they do it.
The ideal headphone for those who want to boost their game sound, want to be totally immersed and have fun at distinguishing all sounds and practicing positioning.
Artificial Intelligence in ASUS headsets
When we talk about the quality of workmanship, the first ball shows that it is a premium headset that is mostly made of metal with the contours of high quality plastic so as not to increase weight unnecessarily.
This Headset is a GAME CHANGER! I was blown away by how much my game awareness went up. One of the comfiest headsets I have ever worn
Product Comparison
Product added to comparison. Add up to 4 products or proceed to view compare products selected.
ASUS Footer