Features
Tech Specs
Awards
Gallery
Where to buy
Support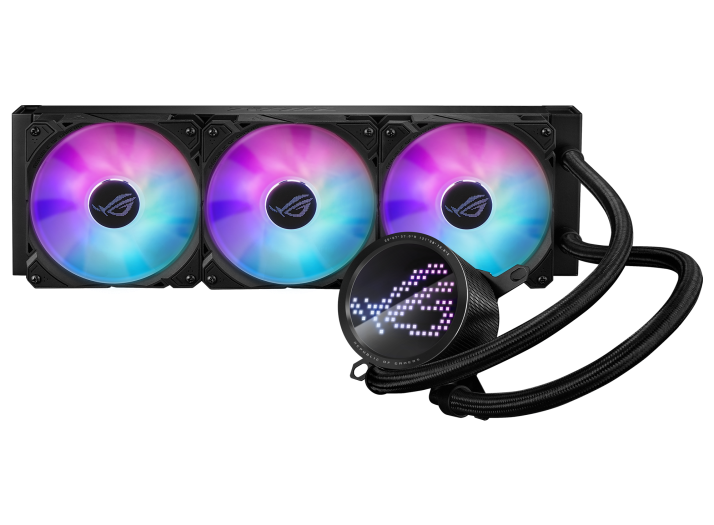 ROG RYUO III 360 ARGB
ROG Ryuo III 360 all-in-one CPU liquid color with Asetek 8th gen pump solution, Anime Matrix™ LED Display and ROG ARGB cooling fans
The latest 8th gen Asetek pump is armed with a 3-phase motor that delivers ultimate cooling performance with higher flow and lower impedance
The ASUS-exclusive Anime Matrix™ is a mini LED array that can display ROG-exclusive anime content, core system stats, and customized animations
Premium ROG ARGB fans offer high airflow and optimized noise levels
Aluminum components and vacuum coating provide high durability and flagship aesthetics
The ROG Ryuo series is styled to complement the ROG motherboards at the heart of a high-end build
Video Reviews
Goodbye O11-D?! | ASUS TUF GT502 Gaming PC Build | ROG RYUO III | Ryzen 9 7950X | RX 6800 XT
Which will YOU choose?! | ASUS TUF Gaming PC Build | GT501, GT502 & Prime AP201 | Intel i5 i7 i9
Benchmarking a BEAST of a PC! Intel 13900K + DDR5 7200 + RTX 4090 OC
The 8th gen Astek pump in ROG Ryuo III is so quiet and has no problem keeping the Ryzen 9 7950X above 5GHz for sustained period.
This new AIO Cooler from ROG impressed me
ASUS ROG Ryuo III - AniMe Matrix & Armoury Crate
I BUILD the ULTIMATE AMD PC at 3500€ !
GAMING PC CONFIG 3000€ : Build & FULL Test
This is the 'coolest' AMD-based system
To assemble my pc, I used the TUF Gaming AX6000 WiFi Router, TUF GT 502 case, ROG Ryuo III heatsink, TUF Gaming VG28UQL1A monitor, TUF Gaming TF120 ARGB fans, graphics card GeForce RTX 4080 TUF O16G, TUF Gaming 1000W Gold power supply, TUF Gaming AX3000 router
Assembling a Custom PC in 2023 is easier than ever. Here is the ultimate guide to assemble your Gaming PC or work PC with all the tips on how to assemble an Intel, AMD and NVIDIA PC. For the guide I decided to use several products including the Asus ROG Crosshair X670E motherboard and Asus ROG Strix Z790 as well as an Asus ROG Ryuo 3 360mm heatsink
I was not fully satisfied with my PC workstation and decided to make an investment and build my own build. Such a machine is definitely a step forward in terms of performance for handling video editing and streaming. I used an Asus rog strix b760 g gaming WiFi D4 motherboard, Asus TUF Gaming rtx 4070 ti gpu, Asus rog loki 850w power supply, Asus rog ryou 3 heatsink and Asus prime case ap201.
ROG RYUO III liquid cooling is really successful in gaming, the reasons for this are the 8th gen Asetek pump, the large copper surface of the sub cooler and the addition of two more liquid channels in the radiator.
Tuff Gaming PC 🫵🤩 A group at the end of the year and the experience of Nafidia technologies
The most powerful group ROG!
Do this piece reduce the temperature of the 13900 processor and the rhizen 9, or laugh at people ???
Design, quality of materials, ease of installation, performance, AniMe Matrix screen, warranty.
Video review from the channel TheTanelChannel. Rating 6.5/10
Video review from the channel HDTanel. Rating 6.5/10
Video review from the channel StupidmadWorld
Product Comparison
Product added to comparison. Add up to 4 products or proceed to view compare products selected.
ASUS Footer