Caractéristiques
Caractéristiques techniques
Galerie
Où acheter
Support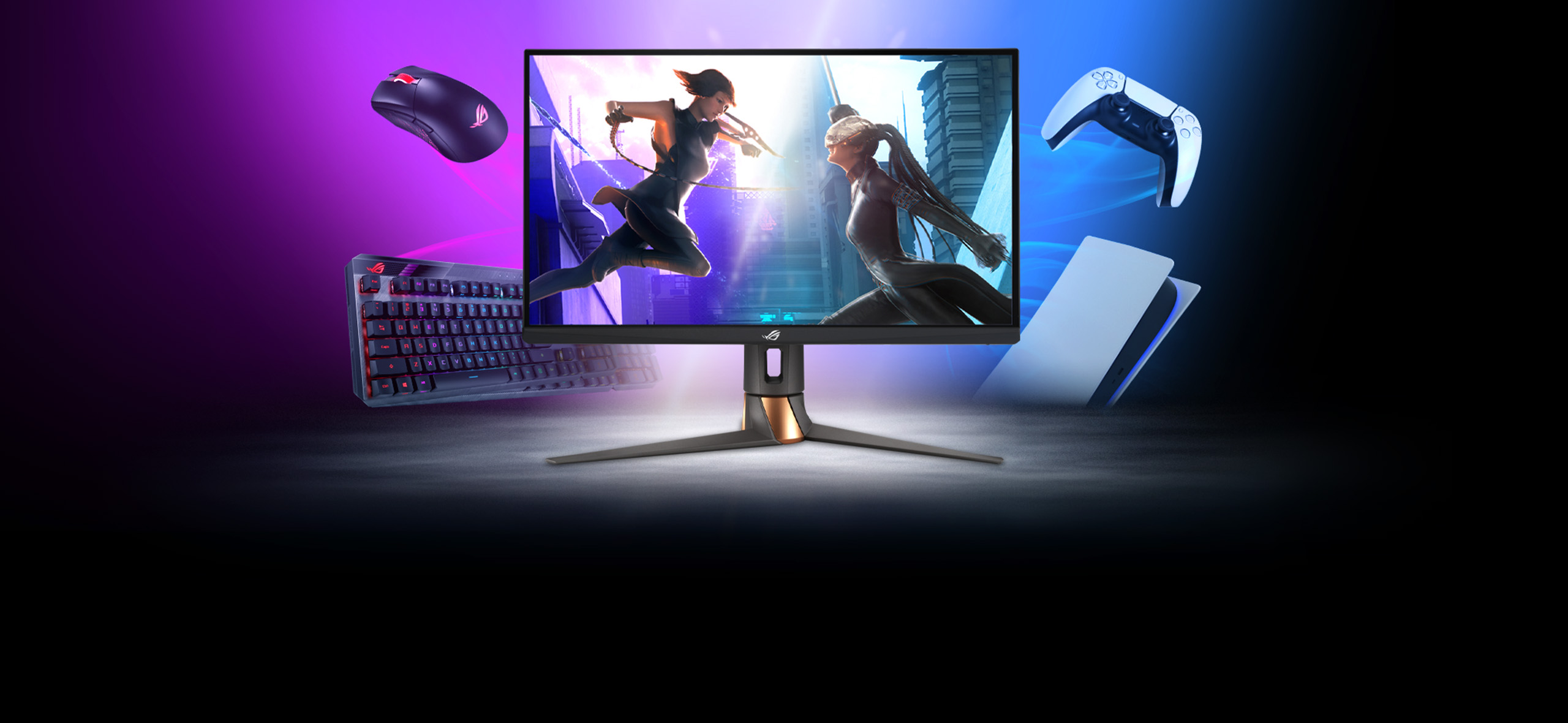 BATTLE READY FOR
NEXT-GEN GAMING
The ROG Swift PG27UQR is a 27 inch 4K UHD IPS professional gaming monitor designed for 160 Hz gaming. It features the latest HDMI® 2.1 standard to support up to native 4K 120 Hz visuals on the latest consoles without subsampling, and Display Stream Compression (DSC) technology and NVIDIA® G-SYNC® Compatible with 1ms GTG enable supersmooth experiences on PCs. A 95% DCI P3 color gamut and DisplayHDR™ 600 certification complete the package, ensuring exceptional colors for incredibly immersive, lifelike gaming.
NEXT-GEN GAMING WITH HDMI 2.1
Native 4K @120Hz refresh rate on the latest consoles
HDMI 2.1 with full 48 Gbps bandwidth (Learn More)
Variable Refresh Rate (VRR)
Auto Low Latency
SUPERFAST 4K GAMING ON PC
4K @ 144 Hz on PCs with the latest graphics cards
DSC technology supports 4K visuals via a single DisplayPort 1.4 connection
ULTRAFAST REFRESH RATE AND RESPONSE TIME
Complementing the lightning-fast 160 Hz refresh rate, the Swift PG27UQR offers near instantaneous 1 ms GTG response time for buttery smooth visuals without smearing and motion blur.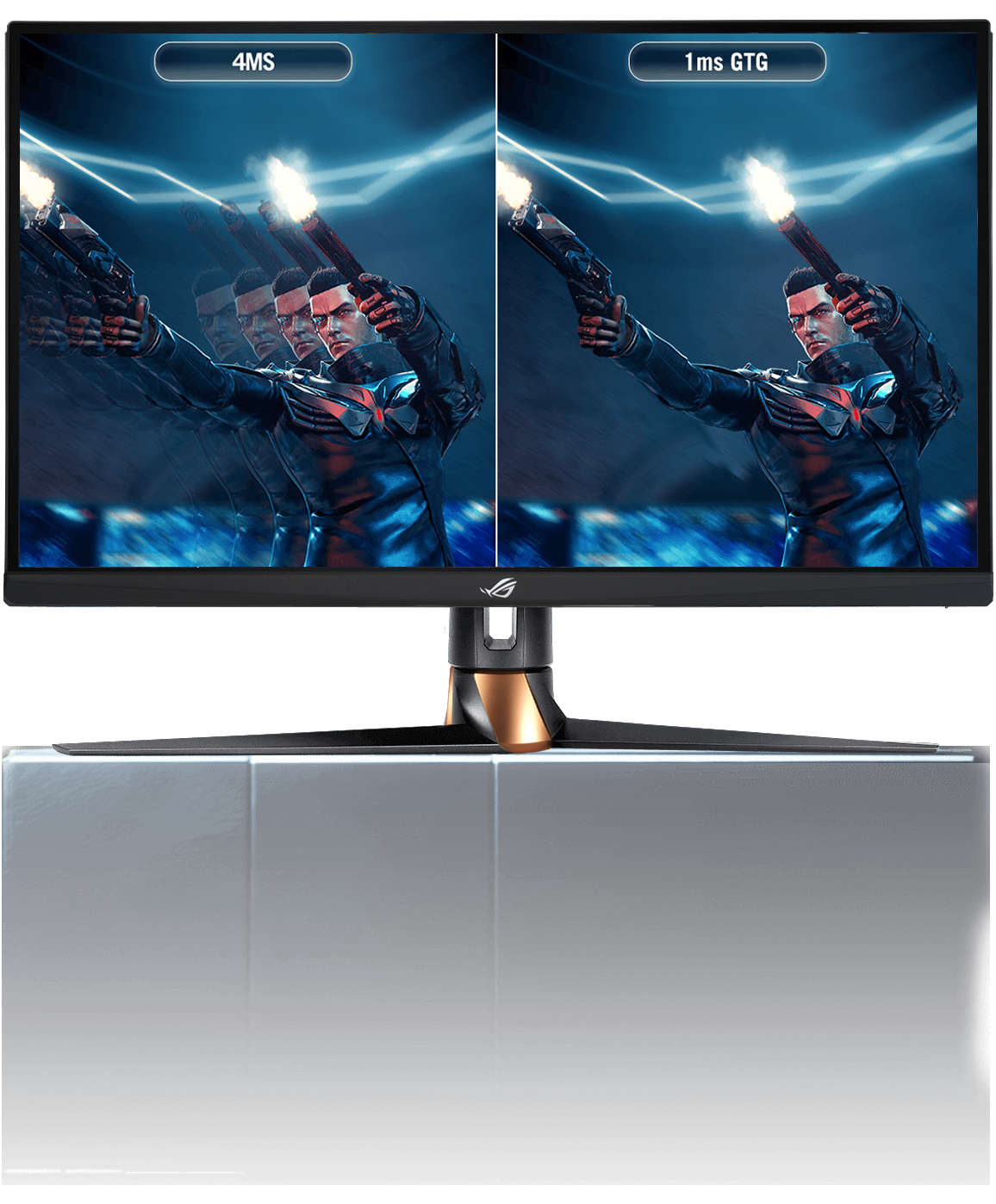 FreeSync technology
The Swift PG27UQR comes smooth gaming combined with the brilliant pixel quality high dynamic range (HDR) rendering.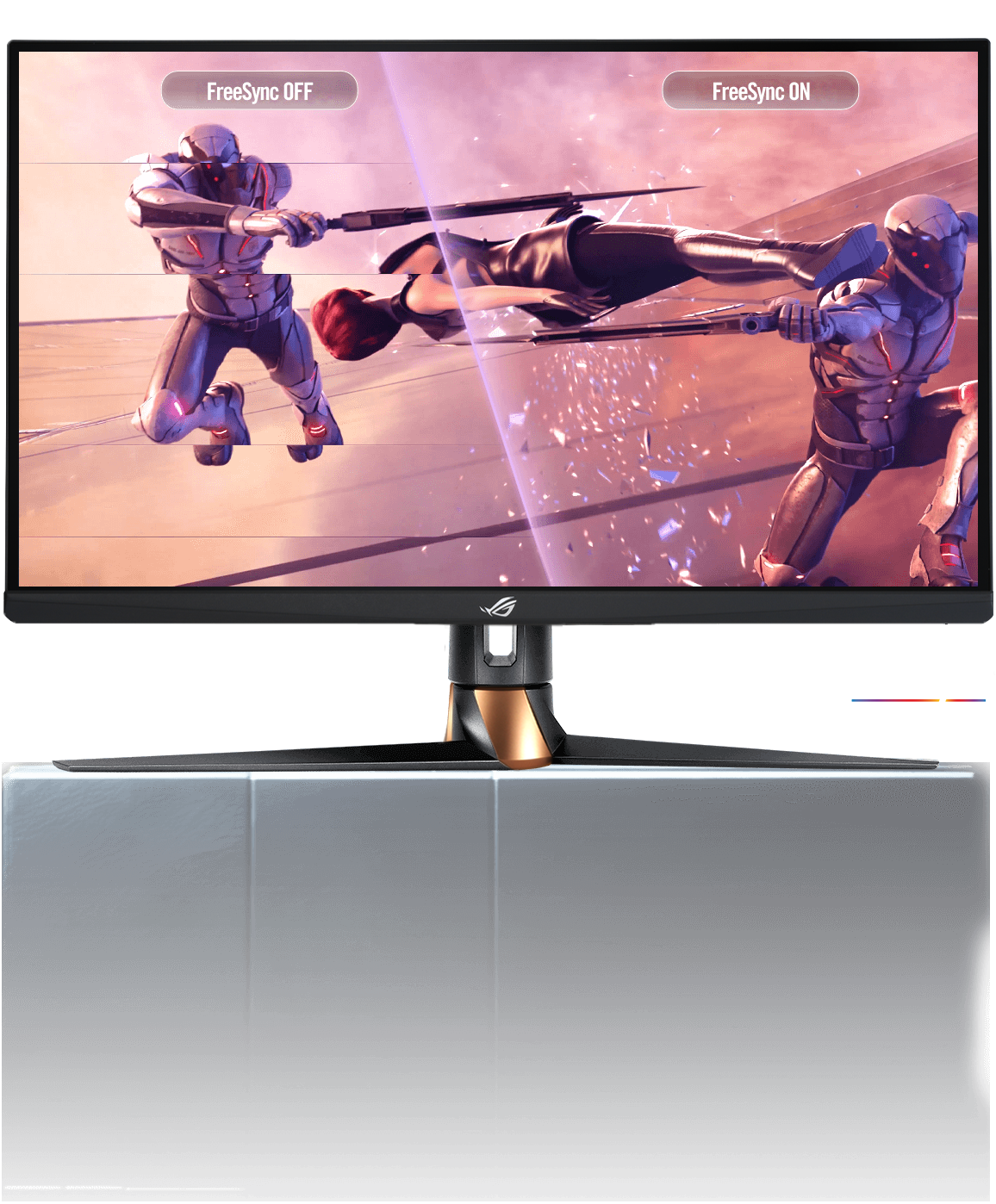 HDR
AMAZING CINEMA-GRADE COLORS
HDR enable the Swift PG27UQR to deliver a wider color range and higher contrast levels than traditional monitors, offering the brightest whites and darkest blacks.
DisplayHDR™ 600

95% DCI P3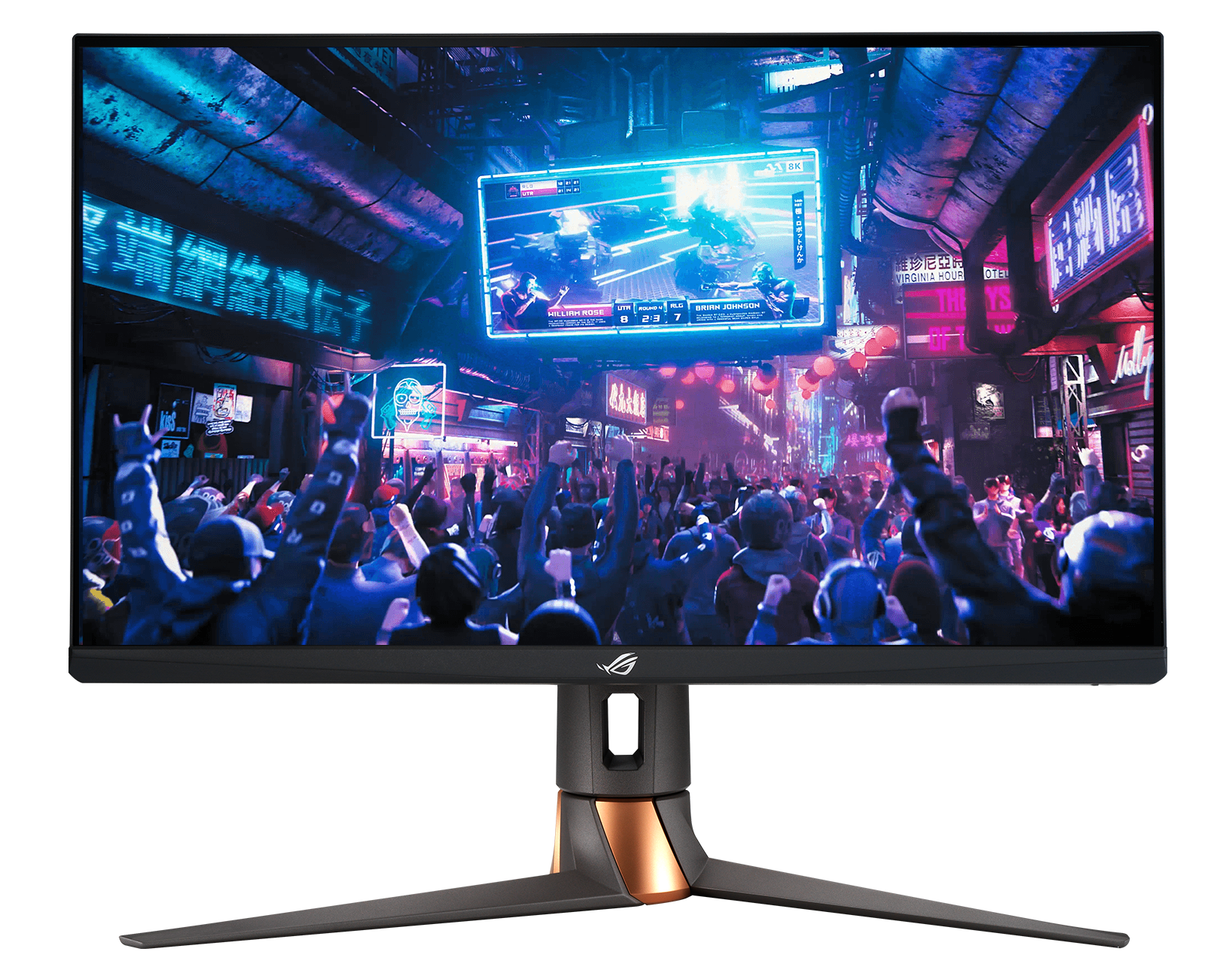 Extreme Low Motion Blur Sync Technology
VESA® Adaptive-Sync technology delivers breathtakingly smooth and fast gaming visuals by eliminating screen tearing and choppy frame rates while minimizing display stutter and input lag.

Meanwhile, ASUS Extreme Low Motion Blur technology helps eliminate smearing and motion blur. It also makes moving objects appear even sharper, so gameplay is more fluid.

With ELMB Sync*, you can enable ELMB (low-motion-blur technology) and Adaptive-Sync at the same time, eliminating ghosting and tearing for sharp visuals and high frame rates while gaming.

* Ideal for fast-paced games, works better over 85Hz.





ASUS Variable Overdrive
The Swift PG27UQR includes six pre-set Variable Overdrive modes that dynamically adjust overdrive settings as frame rates fluctuate, eliminating ghosting for exceptionally smooth visuals.
IN-GAME ENHANCEMENTS
GAMEPLUS

GAMEVISUAL

FLICKER-FREE
TECHNOLOGY

ULTRA-LOW BLUE
LIGHT TECHNOLOGY
The ASUS-exclusive, integrated GamePlus hotkey offers in-game enhancements that help you get more out of the game. Co-developed with input from pro gamers, GamePlus functionality allows you to practice and improve gaming skills.
Stopwatch

Crosshair

Timer

FPS Counter

Display Alignment
ASUS GameVisual technology has seven pre-set display modes to optimize visuals for different types of content. This unique feature can be easily accessed through a hotkey or the on-screen display settings menu.
Racing

MOBA

Cinema

RTS/RPG

FPS mode

sRGB

Scenery
Reduces input lag, making it ideal for racing games when G-SYNC technology is on.

Enhances the color of your opponents' health/mana bars, so that you can simultaneously respond and be the first to destroy the opposing team's main.

Cools and saturates colors for more immersive movies.

Enhances color saturation and contrast sharpness to give you better, brighter colors and detailed visuals for real-time strategy (RTS) or RPG games.

High contrast brightens up darker areas and shadows onscreen to help gamers spot hidden enemies.

Perfect for surfing the web or editing photos.

Provide more contrast gradations makes grass greener and skies bluer so it's ideal for slide shows.
Flicker-Free technology reduces flicker to minimize eyestrain for improved comfort when you're embroiled in long gaming sessions.
ASUS Ultra-Low Blue Light technology reduces the amount of potentially harmful blue light emitted by the display. Four different filter settings are available to control the amount of blue light reduction.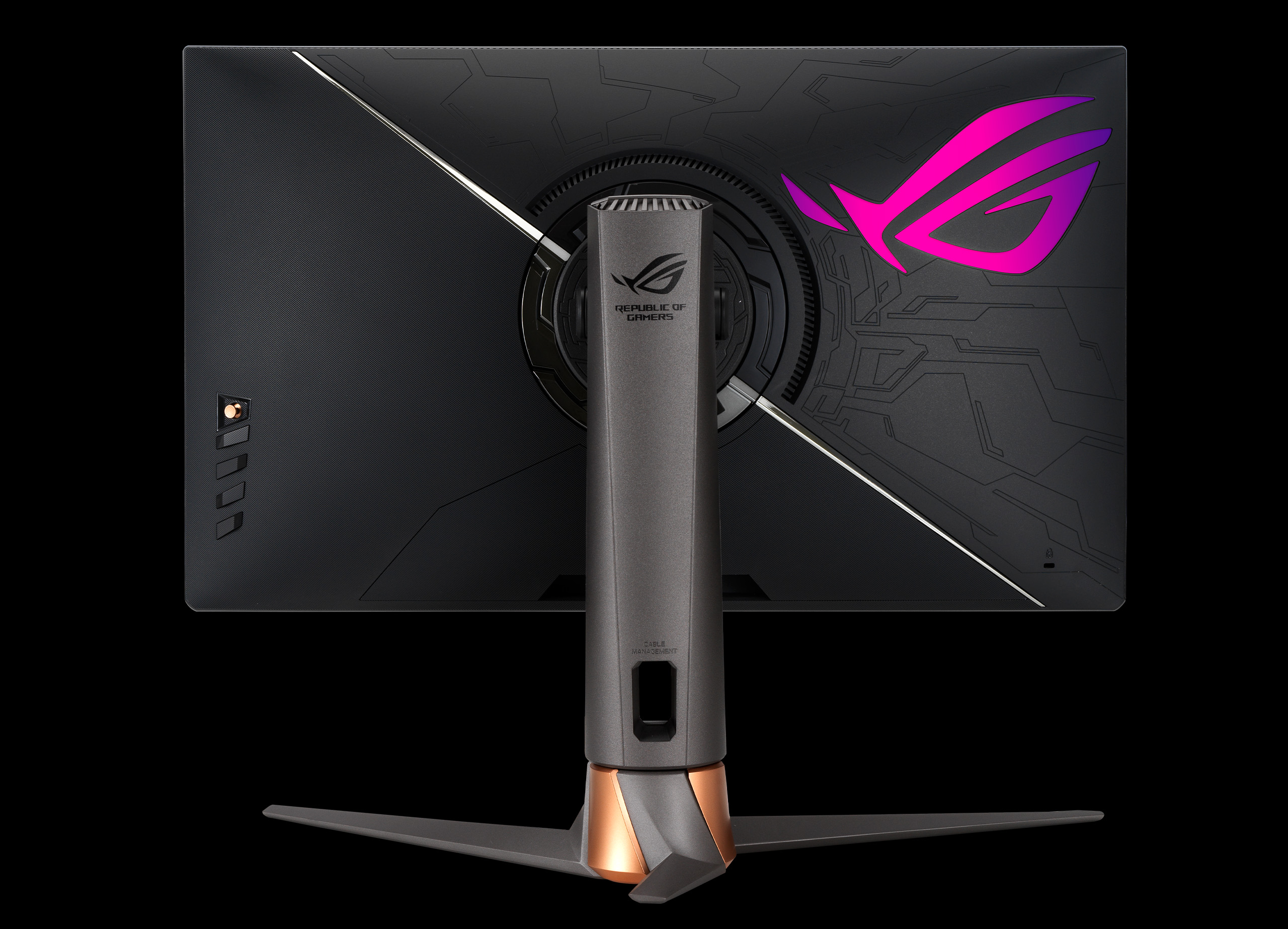 EXTENSIVE CONNECTIVITY
A multitude of connectivity options, including HDMI 2.1, USB 3.2 Gen 1 Type-A, and DisplayPort 1.4 (DSC), ensures wide Compatible with a variety of input sources.
USB 3.2 Gen 1 Type-A

USB 3.2 Gen 1 Type-A

HDMI 2.1

HDMI 2.1

DisplayPort 1.4
(DSC)

DisplayPort 1.4
(DSC)

3.5mm
Earphone Jack
ERGONOMIC DESIGN
Designed for your comfort, the stand offers tilt, swivel, pivot and height adjustments to allow you to find the ideal viewing position. In addition, Swift PG27UQR is also VESA wall mount-compatible for more flexible placement options.
HEIGHT ADJUSTMENT

0~100MM

TILT

+20° ~ -5°

SWIVEL

+25°~-25°

Pivot

0°~90°(Clockwise)
Produits recommandés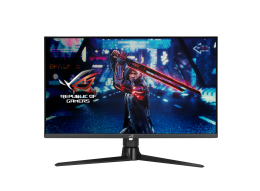 ROG Strix XG32UQ HDMI 2.1 Gaming Monitor — 32", 4K UHD (3840 x 2160),Fast IPS, 160 Hz (OC), 1 ms GTG, NVIDIA G-SYNC compatible, FreeSync Premium Pro, Variable Overdrive, DisplayHDR 600, 96% DCI-P3, DisplayPort 1.4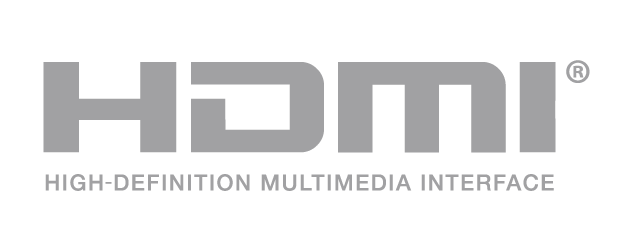 Disclaimer
Les vitesses de transferts actuelles des ports USB 3.0, 3.1 (Gén. 1 et 2), et/ou Type-C sont susceptibles de varier en fonction de plusieurs facteurs tels que les vitesses de traitement de l'ordinateur hôte, les attributs de fichiers et d'autres facteurs liés à la configuration du système et de son environnement d'exploitation.
Les termes HDMI, HDMI High-Definition Multimedia Interface, la présentation commerciale HDMI et les logos HDMI sont des marques ou des marques déposées de HDMI Licensing Administrator, Inc.
Les produits certifiés par la Commission fédérale des communications et de l'Industrie du Canada seront distribués aux États-Unis et au Canada. Veuillez visiter sites Web ASUS des États-Unis et du Canada pour obtenir des informations sur les produits disponibles localement.
Toutes les spécifications sont sujettes à changement sans notification préalable. Consultez votre revendeur pour connaitre les spécifications exactes des offres. Les produits peuvent ne pas être disponibles dans tous les marchés.
Les spécifications et les caractéristiques peuvent varier selon le modèle, et toutes les images sont des exemples. Veuillez consulter les pages de spécification pour obtenir les détails complets.
La couleur de la carte et les versions des logiciels sont sujettes à modification sans préavis.
Tous les noms de marques de commerce, de marques et de produits sont la propriété de leurs sociétés respectives.
For pricing information, ASUS is only entitled to set a recommendation resale price. All resellers are free to set their own price as they wish.
Price may not include extra fee, including tax、shipping、handling、recycling fee.
Comparaison de produits
Produit ajouté pour la comparaison. Vous pouvez ajouter jusqu'à quatre produits supplémentaires ou directement commencer à comparer les produits sélectionnés.
ASUS Footer