Übersicht
Technische Daten
Auszeichnungen
Galerie
Wo kaufen
Support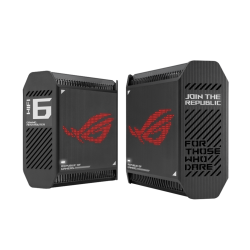 Netzwerkstandard
Backwards compatible with 802.11a/b/g/n/ac Wi-Fi
Produktsegment
AX10000 ultimate AX performance
Datenrate
2.4GHz AX: 2x2 (Tx/Rx) 1024 QAM 20/40MHz, up to 574Mbps
5G-1Hz AX: 4x4 (Tx/Rx) 1024 QAM 20/40/80/160MHz, up to 4804Mbps
5G-2Hz AX: 4x4 (Tx/Rx) 1024 QAM 20/40/80/160MHz, up to 4804Mbps
Prozessor
1.7GHz tri-core processor
Arbeitsspeicher
256MB Flash 512MB DDR4 RAM
Wi-Fi-Technologie
OFDMA (Orthogonal Frequency Division Multiple Access) Beamforming: standard-based and universal 1024-QAM high data rate 20/40/80/160 MHz bandwidth * The 160MHz bandwidth may be unavailable in the 5GHz band in some regions / countries due to regulatory restrictions.
Operating Mode
Wireless router mode Access point mode
Anschlüsse
1 x 2.5 Gigabit WAN Port 3 x Gigabit LAN Ports 1 x USB 3.2 Gen 1x1 Port
Taste
WPS Button Reset Button Power Switch
Stromversorgung
AC Input : 110V~240V(50~60Hz) DC Output : 19 V with max. 2.37 A current / 19.5 V with max. 2.31 A current
Paketinhalt
ROG Rapture GT6 RJ-45 Cable Power Adapter Quick Start Guide Warranty Card
Guest Network
Guest Network Connection time limit
Security
WiFi Encryption :
WPA3 Personal, WPA2 Personal, WPA Personal, WPA Enterprise, WPA2 Enterprise, Open System
• Maximum Firewall Keyword Filter :
Max 64 rules
• Maximum Firewall Network Service Filter :
Max 32 rules
• Maximum Firewall URL Filter :
Max 64 rules
Verkehrskontrolle
• Traffic Analysis Period :
Daily, Weekly, Monthly
WAN
• Maximum Port Forwarding Rule :
64
• Maximum Port Triggering Rule :
32
NAT Passthrough :
PPTP, L2TP, IPSec, RTSP, H.323, SIP Passthrough, PPPoE relay
Drahtlos
• Maximum MAC Filters :
64
USB-Anwendung
File System :
HFS+, NTFS, vFAT, ext2, ext3, ext4
Verwaltung
New Device Connect Notification
ROG Rapture GT6
Produktvergleich
Produkt zum Vergleich hinzugefügt. Füge bis zu 4 Produkte hinzu oder lass dir deine Auswahl anzeigen.
Disclaimer
Der tatsächliche Datendurchsatz und die WLAN-Abdeckung können je nach Netzwerkbedingungen und Umgebungsfaktoren, Volumens des Netzwerkverkehrs, des Baumaterials, der Konstruktion, und der Netzwerkauslastung variieren. Dies kann zu einem geringeren tatsächlichen Datendurchsatz oder einer verringerten drahtlosen Abdeckung führen.
Angegebene Netzwerkgeschwindigkeiten und Bandbreiten basierend auf den aktuellen IEEE 802.11ac Spezifikationen. Die tatsächliche Leistung kann durch Netzwerk- und Dienstanbieterfaktoren, Schnittstellentyp und andere Bedingungen beeinflusst werden. Angeschlossene Geräte müssen 802.11ac-kompatibel sein, um beste Ergebnisse zu erzielen.
WPA/WPA2 enterprise is only available on single router, is not available under AiMesh mode.
Von der Federal Communications Commission und Industry Canada zertifizierte Produkte werden in den Vereinigten Staaten und Kanada vertrieben. Bitte besuchen Sie die Websites von ASUS USA und ASUS Kanada, um Informationen über lokal verfügbare Produkte zu erhalten.
Alle Spezifikationen können ohne vorherige Ankündigung geändert werden. Bitte erkundigen Sie sich bei Ihrem Händler nach den genauen Angeboten. Die Produkte sind möglicherweise nicht in allen Märkten erhältlich.
Die Spezifikationen und Merkmale variieren je nach Modell, und alle Abbildungen dienen der Veranschaulichung. Ausführliche Informationen finden Sie unter "Spezifikationen" auf den Produktseiten.
PCB-Farb- und mitgelieferte Software-Versionen können ohne vorherige Ankündigung geändert werden.
Die genannten Marken- und Produktnamen sind Warenzeichen ihrer jeweiligen Unternehmen.
Sofern nicht anders angegeben, basieren alle Leistungsangaben auf theoretisch erreichbaren Werten. Tatsächliche Messwerte können unter realen Bedingungen abweichen.
Die tatsächliche Übertragungsgeschwindigkeit von USB 3.0, 3.1, 3.2 und/oder Typ-C hängt von vielen Faktoren ab, einschliesslich der Verarbeitungsgeschwindigkeit des Hostgeräts, Dateieigenschaften und anderen Faktoren im Zusammenhang mit der Systemkonfiguration und Ihrer Betriebssystemumgebung.
For pricing information, ASUS is only entitled to set a recommendation resale price. All resellers are free to set their own price as they wish.
Price may not include extra fee, including tax、shipping、handling、recycling fee.
ASUS Footer