Sie haben keine Artikel in Ihrem Warenkorb.
Übersicht
Technische Daten
Awards
Galerie
Jetzt Kaufen
Support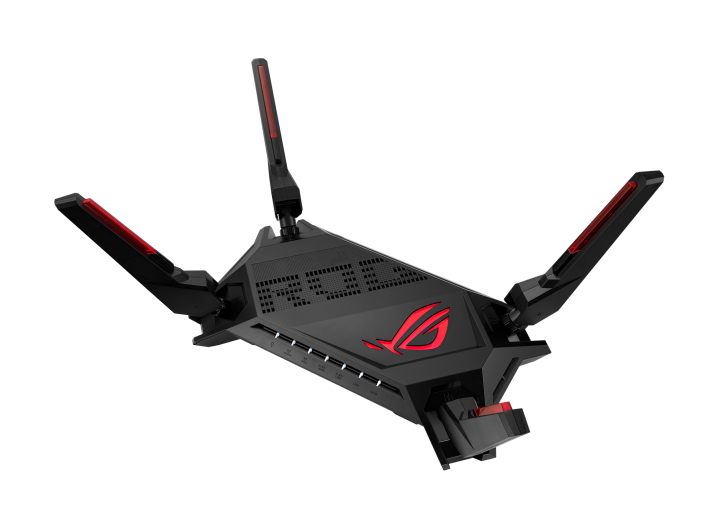 ROG Rapture GT-AX6000
GT-AX6000 Dual-Band WiFi 6 (802.11ax) Gaming Router, Dual 2.5G Ports, verbesserte Hardware, WAN Aggregation, VPN Fusion, Triple-Level Game Acceleration, kostenlose Netzwerksicherheit und AiMesh Unterstützung
Hocheffizientes WiFi 6 - Der ultraschnelle WiFi 6 Dualband-Router steigert die Geschwindigkeit auf bis zu 6000 Mbit/s, mit 160 MHz-Kanälen für mehr Effizienz und Durchsatz.
Duale 2,5G-Ports - Der Verkehr über die 2,5G-Ports hat höchste Priorität; flexible WAN/LAN-Netzwerkanschlusskonfigurationen.
Extreme Quad-Core-CPU-Leistung - Die leistungsstarke 2,0-GHz-Quad-Core-64-Bit-CPU bringt die Rechenleistung auf die nächste Stufe.
Erweiterte Abdeckung - Das exklusive ASUS RangeBoost Plus verbessert die Signalreichweite und die Gesamtabdeckung.
Triple-Level Game Acceleration - Optimiere den Spielverkehr in jedem Schritt, vom Gerät bis zum Spielserver.
Video Reviews
WLAN-Performance auf einem TOP-Niveau, ohne Frage ein High-End-Level. Mit 802.11ax wave2 ist das System state-of-the-art. 2,5 GBit-Schnittstellen auf WAN und LAN-Seite ist ein Novum und zukunftssicher.
WE REMAKE YOUR GAMING ROOM ! (ft. Guillaume)
I build a 5000€ Gaming PC !
Enjoy ultra-wide coverage and fast transfer rate with 150 Mbps from 15m away. Up to 650 Mbps on the same floor from the wireless router. Double if you are using 4×4 connection devices. And enjoy lovely and attractive RGB lighting effects. Yes, this is what Asus ROG Rapture GT-AX6000 can do. The best WiFi 6 dual-band gaming router from Asus yet…
Still craving for heavenly speeds?😉 How about allowing Momoko to introduce you to the ASUS ROG Rapture GT-AX6000 😍
One of the best wifi routers that I personally tested.
Upgrading my Wi-Fi to ROG Rapture GT-AX6000
【WiFIルーター】2.5GbEポート搭載の高速ゲーミングWiFiルーター ASUS ROG RAPTURE GT-AX6000
【280fps】最新デバイスを揃えたのでまとめて紹介します!【フォートナイト/Fortnite】
【ラグ解消!880MゲーミングWi-Fiルーター】ROG Rapture GT-AX6000 レビュー 【ゲーム・投資にWi-Fiルーターおすすめ】
ROG Rapture GT-AX6000 is great both in terms of design and performance. Also it performs great when it comes to eliminate the internet problems of household, business and e-sports players.
Satellite rifles from Asus
Building a smart games room - Part #1
RT-Ax6000 is the best router for professional games
Video review from the channel ASUS ROG BALTICS
Video review from the channel ASUS ROG BALTICS
Produkt-Vergleich
Produkt wurde zum Vergleich hinzugefügt. Fügen Sie bis zu 4 Produkte hinzu oder lassen Sie sich die ausgewählten Produkte zum Vergleichen anzeigen.
ASUS Footer