Aucun produit dans le panier.
Caractéristiques
Caractéristiques techniques
Récompenses
Galerie
Où acheter
Support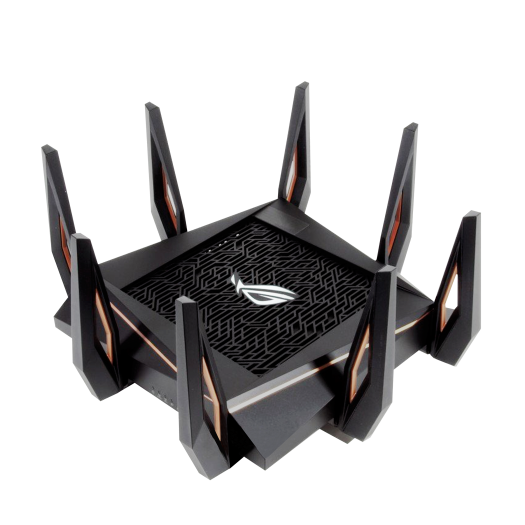 ROG Rapture GT-AX11000
Routeur gaming Wi-Fi 6 (802.11ax) triple bande AX11000 - 10 Gigabit, processeur 4 coeurs, port gaming 2,5G, bande DFS, WTFast, Adaptive QoS, AiMesh pour un réseau Wi-Fi maillé et sécurité réseau AiProtection Pro, compatible PS5
Norme Wi-Fi nouvelle génération – Wi-Fi 802.11ax pour une meilleure efficacité, des débits plus rapides et une portée plus grande
Débit Wi-Fi ultra-rapide – jusqu'à 11 000 Mb/s Wifi pour gérer les trafics les plus saturés en toute simplicité
Triple accélérateur de jeux – Accélère le trafic de vos jeux que ce soit sur votre appareil ou votre serveur de jeux
Matériel prêt au combat – processeur 4 cœurs de 1,8 GHz et port Base -T 2,5G pour des performances optimales
Sécurité réseau de premier choix – Neutralise les cyber-menaces avant qu'elles n'atteignent votre réseau
Compatible PS5
Revues vidéo
If you are on the lookout for a router, look no further.
World's first 10 Gigabit Tri-band WiFi Gaming Router
🤖🤖 ROUTER GAMING CANGGIH DARI MASA DEPAN🤖🤖 - Review Router ASUS ROG Rapture AX11000
If you need one of the most steroid-rich gaming routers on the market, I think you will find for him a place on the shelf and money in the stash.
Comparaison de produits
Produit ajouté pour la comparaison. Vous pouvez ajouter jusqu'à quatre produits supplémentaires ou directement commencer à comparer les produits sélectionnés.
ASUS Footer