Features
Tech Specs
Awards
Gallery
Where to buy
Support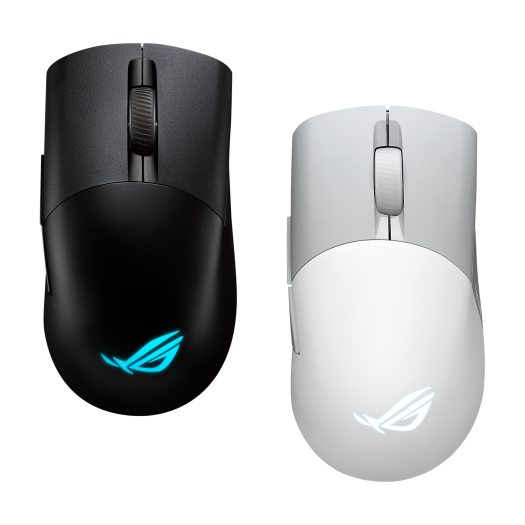 ROG Keris Wireless AimPoint
The ROG Keris Wireless AimPoint lightweight 75-gram wireless RGB gaming mouse features a 36,000 dpi ROG AimPoint optical sensor, tri-mode connectivity, ROG SpeedNova wireless technology, swappable mouse switches, ROG Micro Switches, PBT buttons, ROG Paracord, 100% PTFE mouse feet, five programmable buttons, ROG mouse grip tape.
Perfect precision: 36,000 dpi ROG AimPoint optical sensor with 650 ips and 50 g acceleration rate, plus 1000 Hz polling rate
Tri-mode connectivity: Game with RGB on for up to 119 hours with low-latency 2.4 GHz RF, pair up to three devices via Bluetooth® mode, or charge and play with wired USB
ROG SpeedNova wireless technology: Delivering low-latency, reliable wireless performance and an optimized power solution in the 2.4 GHz RF mode
Lightweight structure: Updated design with durable inner structure keeps mouse weight down to just 75 grams
Push-Fit Switch Socket II: Swappable switch design for easy customization; Keris AimPoint includes ROG Micro Switches and is compatible with other 3-pin mechanical and 5-pin optical micro switches
PBT L/R buttons: Feature a durable nonslip surface that resists wear or shine to ensure a consistent feel
Anti-slip ROG patterned mouse grip tape: Provides users with a more secure grip and an added bit of flair
Smooth and fast movements: ROG Paracord and 100% PTFE mouse feet
Also available in Moonlight White
Video Reviews
If you are not someone that really cares too much about having the lightest mouse, then defnitely consider the ROG Gladius III Wireless Aimpoint and ROG Keris Wireless Aimpoint.
Build PC GAMER ROG Full White Powered by ASUS à 5000 €
In this video, I take a look at the best wireless ROG gaming setup! The ROG Cetra True Wireless, ROG Keris Wireless Aimpoint, and the ROG Strix Scope RX TKL Wireless Deluxe
The ROG Keris Wireless AimPoint gaming mouse has the same ROG design but is updated and feels more refined. The Aimpoint sensor is exciting and a step in the right direction too!
Is one of the most complete mice that has ever passed through the editorial staff.
【ガチ勢発狂w】ASUSの最新ゲーミングキーボードとゲーミングマウスがヤバすぎてワロタw
あの名作ゲーミングマウス&キーボードの新作が登場しました。
【ガチ勢発狂w】ASUSの最新ゲーミングキーボードとゲーミングマウスがヤバすぎてワロタw
Playing good games need to buy "expensive mouse"?
Review ROG Gladius III Wireless & Keris Wireless Upgrade ROG AimPoint OPTICAL SENSOR
Gaming Mouse upgrade Accurate response with ROG Aimpoint 36,000 dpi
This is an excellent mouse whose attractive design, precision and light weight have rightfully earned it a more than deserved place of honor in its price range.
Personally, I think the updates in these mice are very timely and necessary. If you need a smaller size and more versatility - Keris is for you.
In fact, when we reviewed the previous version of the mouse, I was already looking at it, but it has significantly better characteristics. This mouse was "sold" to me not by some killer feature, but by a combination of all sorts of interesting things.
Asus ROG Keris AimPoint has many good additional features that can be used even without installing additional software. This makes using the mouse difficult and makes it ideal for both amateurs and professionals.
Rog Strix IIII III and Keris Wireless Aimpointgames
ROG GAMING MICE - 3 Ultimate
Preview 3 professional giming mouse
The review from the channel HDTanel (score 8/10)
There are even three-mode connections, ROG SpeedNova wireless technology, replaceable switches, ROG micro switches (switches), PBT buttons, ROG Paracord, 100% FE feet, five programmable keys, as well as a ROG mouse strap.
Product Comparison
Product added to comparison. Add up to 4 products or proceed to view compare products selected.
ASUS Footer