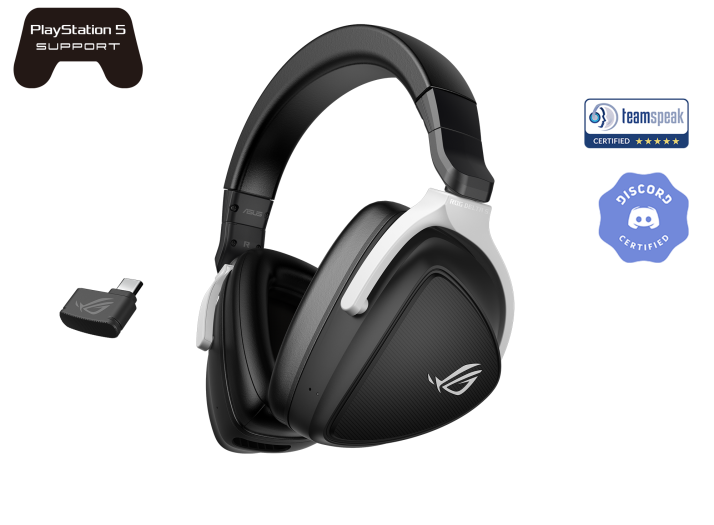 ROG Delta S Wireless
50mm ASUS Essenceドライバー、AIノイズキャンセリング搭載のROG AIビームマイク、 PC、Mac、PlayStation® 5、Nintendo Switch™と互換性のある2.4 GHzとBluetoothで接続可能な軽量ワイヤレスゲーミングヘッドセット
使い方自由自在:低遅延2.4GHzとBluetooth®によるデュアルモードワイヤレス接続対応
独自の50mmASUSEssenceドライバーと気密チャンバー設計が臨場感あふれるサウンドを提供
AIノイズキャンセリング機能付きAIビームフォーミングマイクが卓越した収音と約5億種類の周囲の雑音を低減し、ゲーム中でのクリアな音声通信を実現
ノンストップでゲームを楽しむ:15分の充電で3時間使用可能な急速充電に加え、最大25時間のバッテリー駆動時間
人間工学に基づいたD字型のイヤークッションを備えた軽量デザインで長時間でも快適に
PC、Mac、PlayStation® 5、Nintendo Switch™、モバイル機器などとの幅広い互換性
レビュー動画
クセが強いハイテクヘッドセット..君に使いこなせるか? ROG Delta S Wireless
The Most Excessive Gaming Setup... Ever.
Ultimate $5000 Gaming Setup 2022! [ASUS PG48UQ, RTX 3090, Peripherals & More!]
The Delta S Wireless is one of the latest additions to Asus' ROG range of peripherals. It's packed full of features like AI noise cancellation, fast charging, multiple connectivity options and 50mm drivers.
In conclusion, the ASUS ROG Delta S Wireless is a gaming headset that delivers good audio quality in a solidly-built wireless package.
The latest 2022 ROG gaming gear designed for gamers!
Wireless gaming peripherals terbaru dari ROG! Jom kita tengok
Saya uji keberkesanan Asus AI Noise Cancellation samada Gimik Marketing atau Betul-Betul Berfungsi. Guna Kipas gred industri untuk hasilkan bunyi bising!
ROG Delta S Wireless, a headset with crystal-clear sound and unbeatable connectivity
Super compatible with any gaming platform, they can also be connected to the phone thanks to Bluetooth. The design is super ergonomic and the headset is really comfortable. The battery life is around 25 hours, perfect for long gaming sessions.
Asus ROG Smart Game Products from
Delta S Wireless, as a model with a very small mass, has an excellent autonomy of 25 hours, and a fast charge option is also supported, where for e.g. 15 minutes of charging gives you 3 hours of normal use.
製品比較
比較対象製品を加えてください。最大で4製品までを比較することが可能です。
ASUS Footer