Caracteristicas
Especificaciones Técnicas
Premios
Galería
Soporte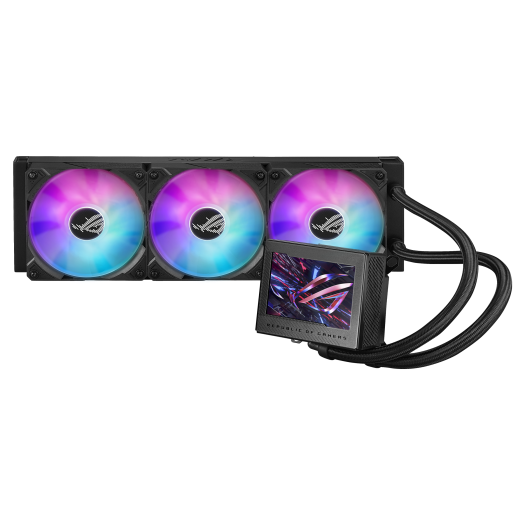 ROG RYUJIN III 360 ARGB
Enfriamiento líquido de CPU todo en uno ASUS ROG Ryujin III 360 ARGB; Ventiladores ARGB magnéticos conectables en cadena; LCD de 3.5" para monitoreo de hardware y GIF personalizados
La pantalla LCD de 3.5" proporciona monitoreo instantáneo de información del hardware y animaciones GIF personalizables, ahora con el doble de espacio de almacenamiento.
La última bomba Asetek de 8.ª generación con motor trifásico ofrece el máximo rendimiento de refrigeración, mayor flujo y menor impedancia, además de reducción de ruido.
Un ventilador integrado con un nuevo diseño de marco en forma de anillo y canales de flujo de aire avanzados mejora la reducción del calor alrededor del área VRM.
Los ventiladores magnéticos ROG ARGB de primera calidad conectables en cadena con LED Gen 2 permiten a los usuarios personalizar los efectos de iluminación.
Armoury Crate ofrece control completo de las velocidades de la bomba, el ventilador integrado y el ventilador del radiador, y permite mostrar animaciones personalizadas y estadísticas del sistema en la pantalla LCD.
También se proporciona una licencia AIDA 64 gratuita de un año para el monitoreo avanzado del sistema.
Video Reseñas
https://www.youtube.com/watch?v=DYkH7VHTvGM&t=332s
THE BEST, BUT THERE'S A CATCH... ASUS ROG Ryujin III CPU AIO - Overview, Screen Demo & Benchmarks!
Could This Be The Future? | ASUS A21 mATX Gaming PC Build
There are also a lot of you out there that just want the most high-end, the most RGB, and most over-the-top hardware.
ROG Ryujin III 360 ARGB - Installation Guide & Performance Test
Such a processor should be cooled with something no less modern and efficient, with a radiator of at least 300 mm.
The most interesting thing in this LC system is the water block, it has been slightly improved and modified here.
A bunch of coolers for your processors! A 96 mechanical keyboard ROG Strix Scope II 96 Wireless
In addition to the unpacking itself, in the video you can also see how we mount the cooler on the AM5 socket, which we will discuss in more detail later in the text. Besides AM5, it also supports AM4, LGA1700, 1200 and 115x sockets. A very important fact is that Asus gives a 6-year warranty on the cooler.
Another trick that ASUS throws in on this ARGB version of the RYUJIN is the luminous magnetized fans with very nice specs, as much as 70CFM on 12s.
VALORACIÓN DE LOS CLIENTES
Comparación de productos
Producto agregado para comparación. Agregue hasta 4 productos o proceda a ver los productos seleccionados.
Footer ASUS