Features
Tech Specs
Awards
Gallery
Support
ROG CROSSHAIR VIII EXTREME
AMD X570 EATX gaming motherboard with 18+2 power stages, five M.2 slots, USB 3.2 Gen 2x2 front-panel connector with PD 3.0 60 W support, USB 3.2 Gen 2 front-panel connector, dual Thunderbolt™ 4, Marvell® AQtion 10 Gb Ethernet, Intel® 2.5 Gb Ethernet, PCIe® 4.0, onboard WiFi 6E and Aura Sync RGB lighting
AMD AM4 socket: Ready for AMD Ryzen™ 5000 Series, 5000 G-Series, 4000 G-Series, 3000 Series, 3000 G-Series, 2000 Series and 2000 G-Series desktop processors; also supports up to two M.2 drives and features USB 3.2 Gen 2 and AMD StoreMI to maximize connectivity and speed
Comprehensive thermal design: Enlarged VRM heatsinks plus integrated aluminum I/O cover, high-conductivity thermal pad, five M.2 heatsinks with embedded backplates and ROG Water-Cooling Zone.
Robust power delivery: 18+2 power stages rated for 90 A, ProCool II power connectors, microfine alloy chokes and 10K Japanese-made black metallic capacitors
High-performance connectivity: USB 3.2 Gen 2x2 front-panel with PD3.0 60W fast charging, onboard WiFi 6E, Marvell® AQtion 10 Gb Ethernet, Intel® 2.5 Gb Ethernet, and ASUS LANGuard.
Industry-leading gaming audio: ROG SupremeFX ALC4082 with ESS® ES9018Q2C DAC and the bundled ROG Clavis USB digital-to-analog converter for high-fidelity sound.
Unmatched personalization: 2ʺ LiveDash OLED, ASUS-exclusive Aura Sync RGB lighting, including one RGB header and three addressable Gen 2 RGB headers
DIY-friendly design: Bundled ROG Fan Controller, pre-mounted I/O shield, V_Latch switch, BIOS FlashBack™, M.2 Q-Latch, Q-Code, FlexKey, Q-Connector, SafeSlot and Graphics Card Holder
Renowned software: Bundled 1-year AIDA64 Extreme subscription
Video Reviews
Video review from the channel HDTanel. Rating 9/10
AMD最後のラスボス!Zen3最強ゲーミングCPU? 強いのはFPSだけじゃない!Ryzen 7 5800X3D [超猫拳]
Unboxing Motherboard 15 juta | ASUS ROG Crosshair VIII Extreme
Mobo Ryzen TERBAIK. - ROG Crosshair VIII Extreme
The whole back is covered by a very nice aluminium cover, which has to be removed during installation. The back is very complete on the connectivity side which I really appreciated. In conclusion this is a very complete card aimed at those who already know what they are looking for and what to expect, finding the top of the top and the most complete possible on the market. It is in fact, in my opinion, one of the most complete X570 boards on the market.
AN SSD IN THE PLACE OF A RAM? THAT'S WHAT IT LOOKS LIKE ON THIS MOTHERBOARD
Video review from the channel TheTanelChannel. Rating 9/10
This board is a real surprise for me too, because I really did not expect something like this from ASUS in this existing generation of Zen3 processors, I thought that AMD would get this treatment only with the next ZEN4.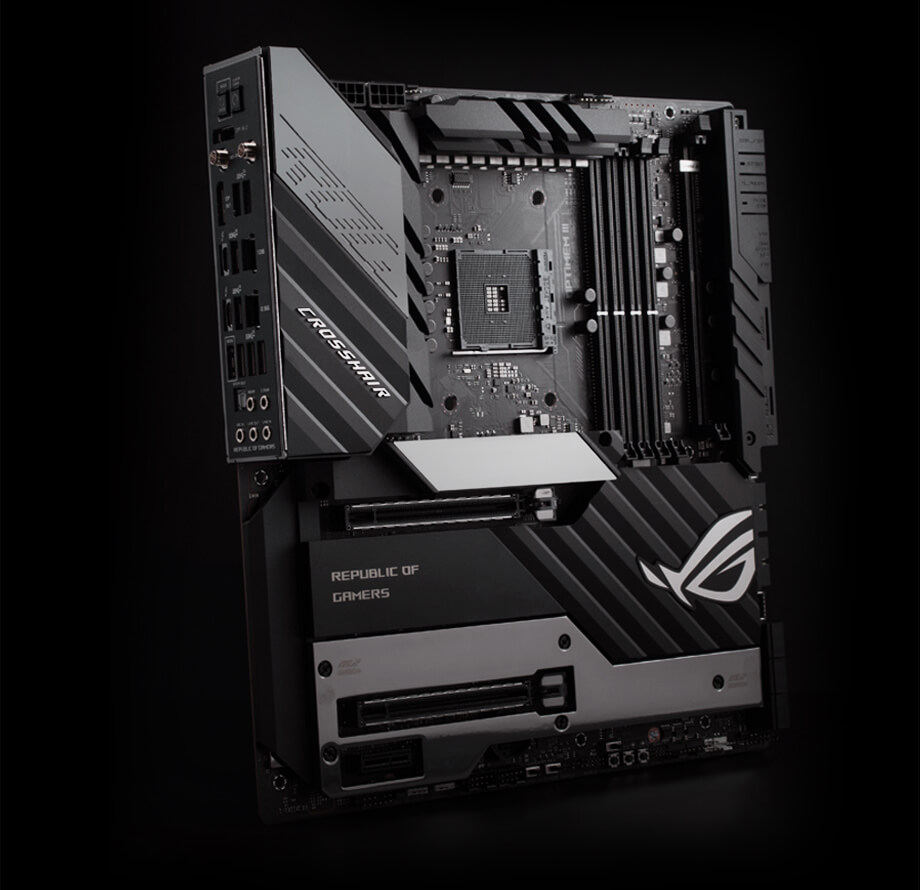 ROG Crosshair
VIII Extreme
The ROG Crosshair VIII Extreme combines the best elements of the renowned ROG X570 motherboard lineup into a single beastly package amped to elevate Ryzen-based builds beyond all boundaries.

SPEC OVERVIEW
Performance
Cooling
Gaming Immersion
Connectivity
DIY friendly
Extreme Power & Performance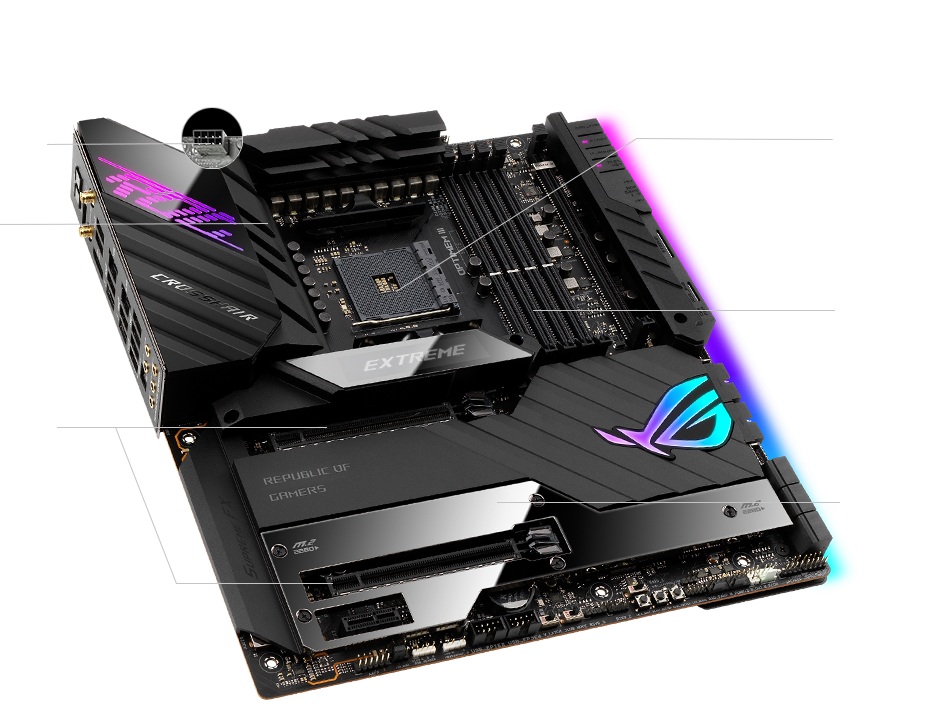 * The specifications depend on different CPU types. The listed specifications are based on AMD Ryzen™ 5000 Series and 3000 Series Desktop Processors.​
Comprehensive Cooling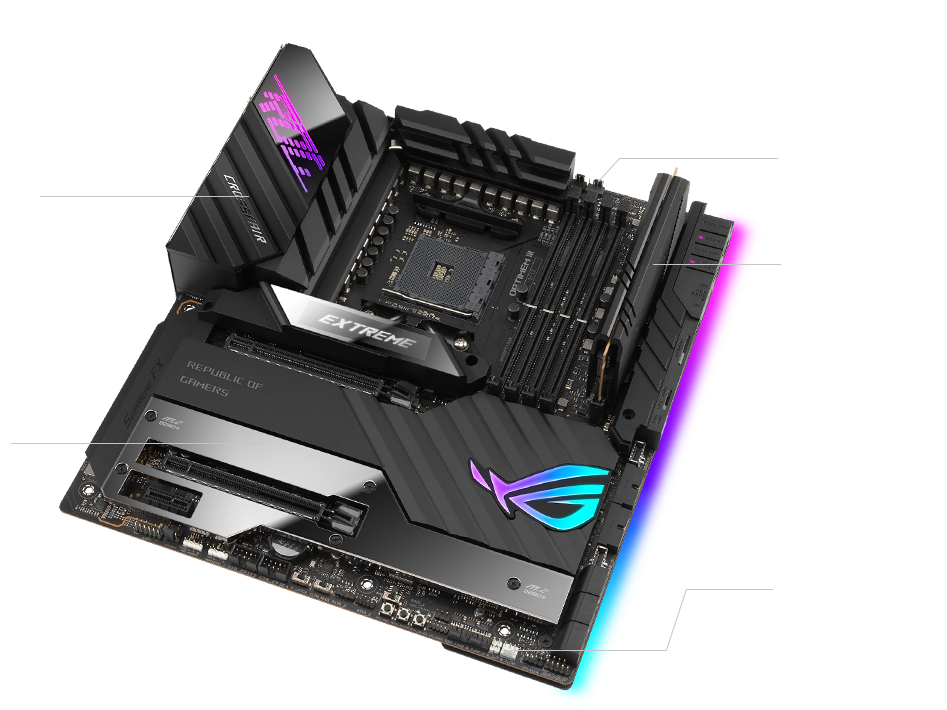 Total Gaming Immersion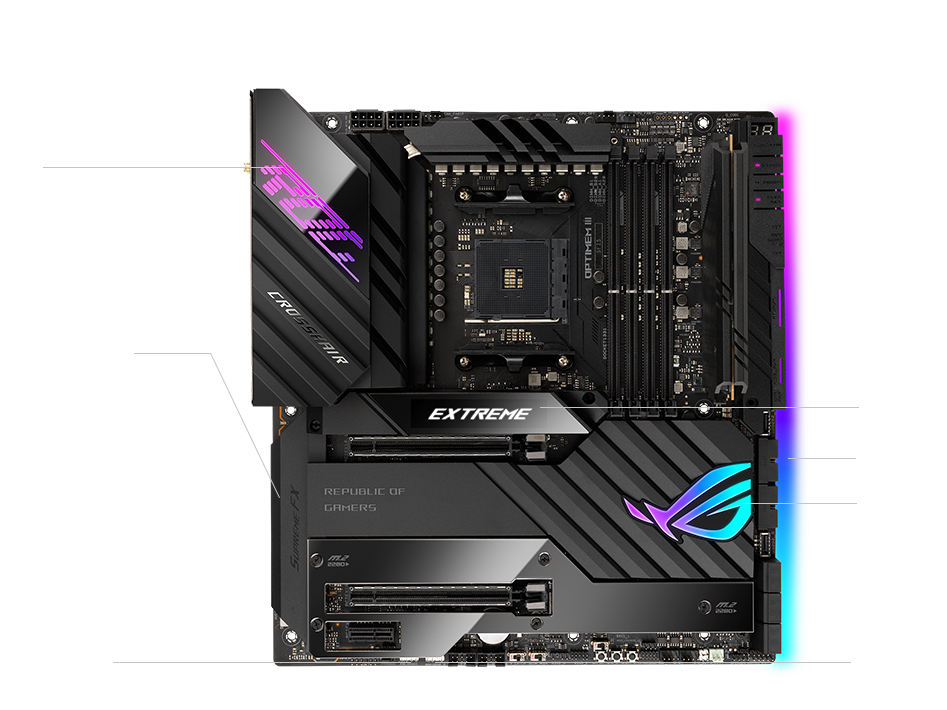 Full Connectivity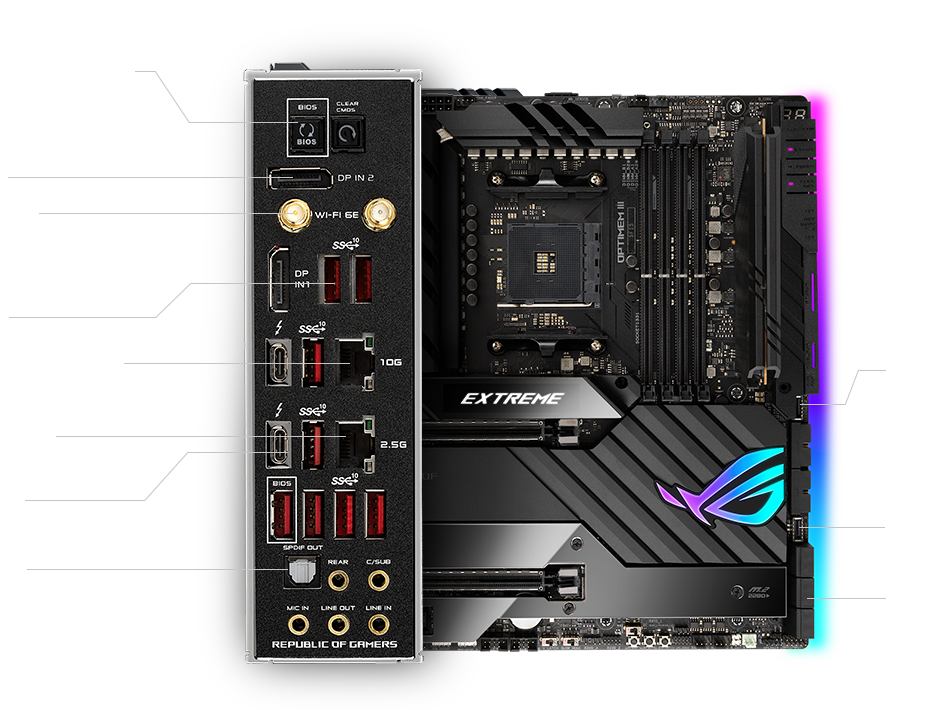 DIY Friendly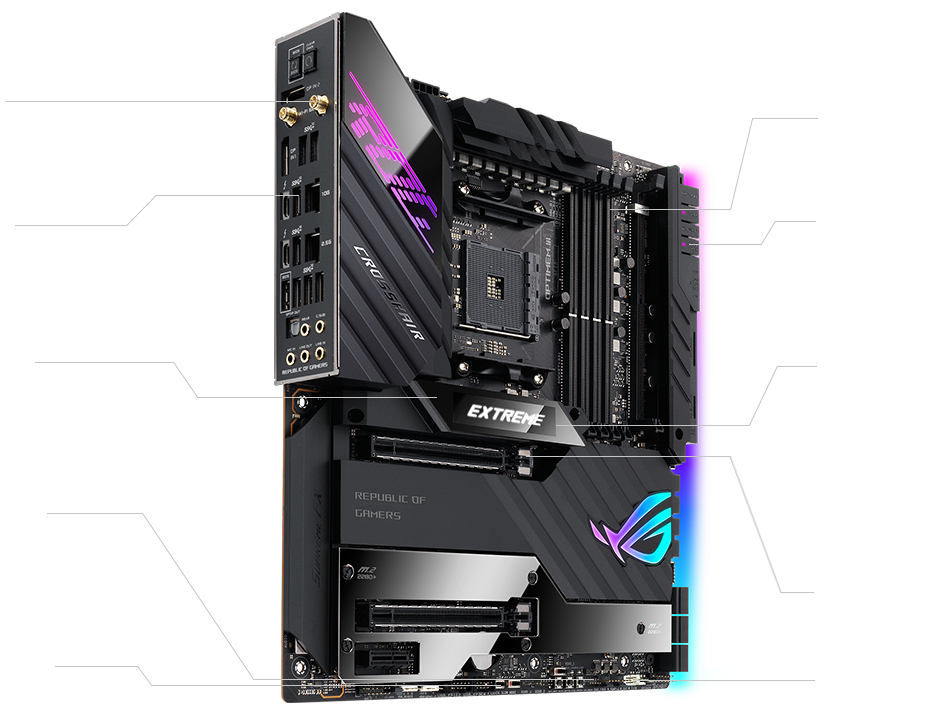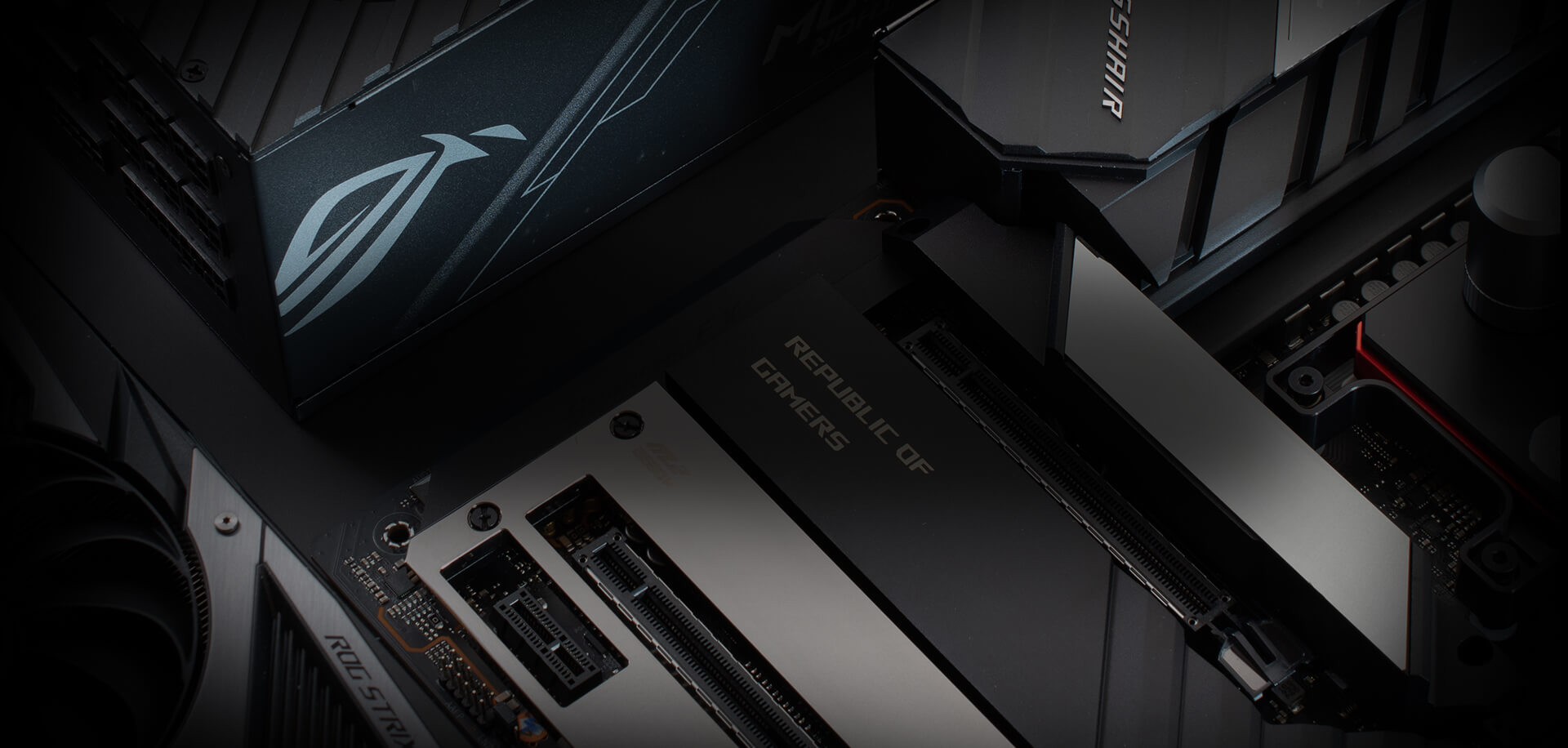 PERFORMANCE
Advanced engineering and menacing power lay the foundation for the ROG Crosshair VIII Extreme to thrive where others choke.
Power Solution
Memory
Dynamic OC Switcher​
Teamed Power Architecture
Modern CPU architectures up the ante for motherboard power design by transitioning from deep power saving modes to full load almost instantaneously. The latest ROG VRM architecture rises to the challenge by utilizing teamed power stages to rapidly swing current, while maintaining exemplary thermal performance.
A Brief History
A Shift in CPU Demands
Bucking the trend
Thermal Performance
High quality components

While doublers help extend the number of effective phases, they do so at the cost of a processing delay. The teamed architecture allows two power stages to work in tandem to provide more power to the CPU. The MOSFETs within the power stages generate the most heat as they are responsible for voltage conversion and delivery to the CPU from the 12-volt EPS connector.

ASUS became the first manufacturer to implement phase doublers in the A8N32-SLI Deluxe motherboard back in 2005. The board's VRM was lauded for elegantly overcoming the power-handling capabilities of components that were available at the time while also reducing voltage ripple. Those benefits lead to phase doublers becoming universally accepted in the industry, and they are still used for similar purposes today.

Today's CPUs pack more cores than their predecessors, and the latest instruction sets allow them to crunch computationally dense workloads at an incredible pace. As an added bonus, these processors also consume less power at idle and can transition between loads states much more quickly. These improvements necessitated a re-evaluation of power design priorities, because phase doublers add a propagation delay that hampers transient response.

The latest integrated power components can handle higher currents than the devices of yesteryear, making it possible to implement a simple circuit topology that isn't hamstrung by the processing lag of phase doublers. That's why the ROG Crosshair VIII Extreme utilizes teamed power stages to deliver higher burst-current per phase, while maintaining the thermal performance of phase-doubled designs.

Each VRM component serves a specific purpose. PWM controllers control the circuit, and the power stages do the heavy lifting from an electrical and thermal standpoint. That's why ROG Crosshair VIII Extreme utilizes 20 power stages. The high-end power stages feature a low RDSON to reduce switching and conduction losses, helping to improve overall thermal headroom.
ASUS OptiMem III
With proprietary memory trace layout tweaks that improve signal integrity and mitigate noise, OptiMem III allows memory kits to run at lower latencies and reduced voltages while operating at higher frequencies. Stack the ROG Crosshair VIII Extreme with your favorite modules and maximize AMD Zen 3 processor throughput for applications that demand massive bandwidth, or balance infinity fabric and memory performance for a diverse range of workloads.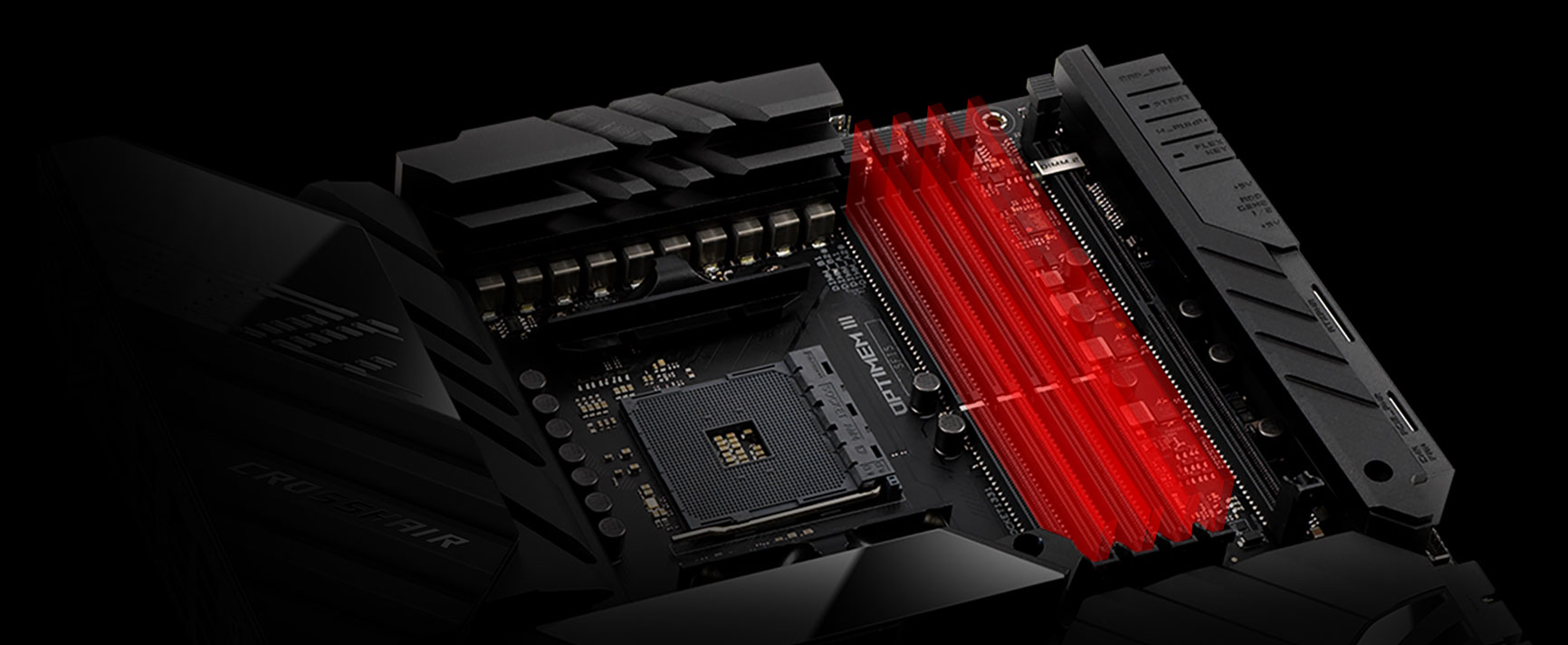 DYNAMIC OC SWITCHER
Dynamic OC Switcher gives Ryzen processors newfound agility to crush multi-threaded workloads and slice through single-threaded apps. Simply configure a manual overclock for heavy tasks and then select a current threshold for Dynamic OC Switcher to automatically flip between your profile and AMD Precision Boost Overdrive (PBO).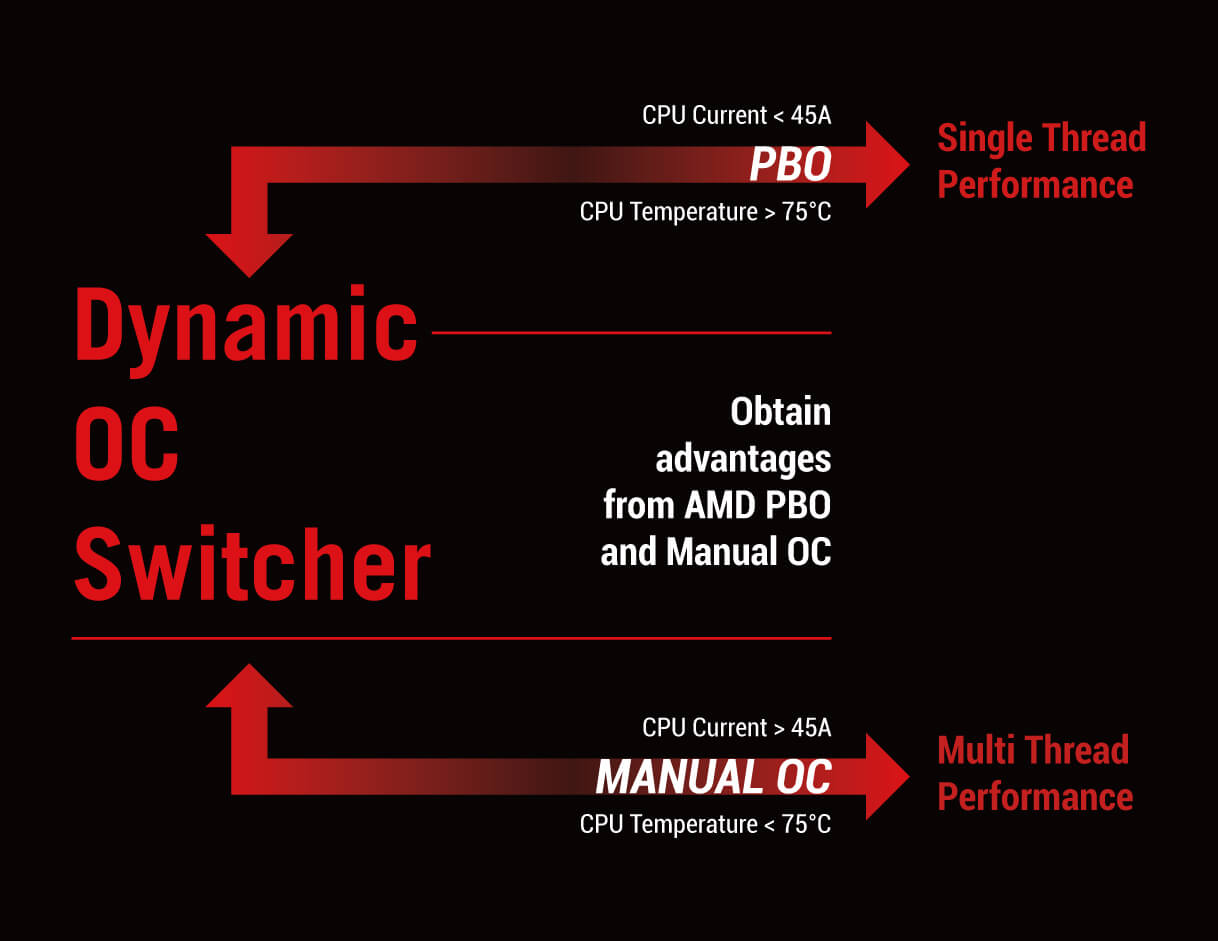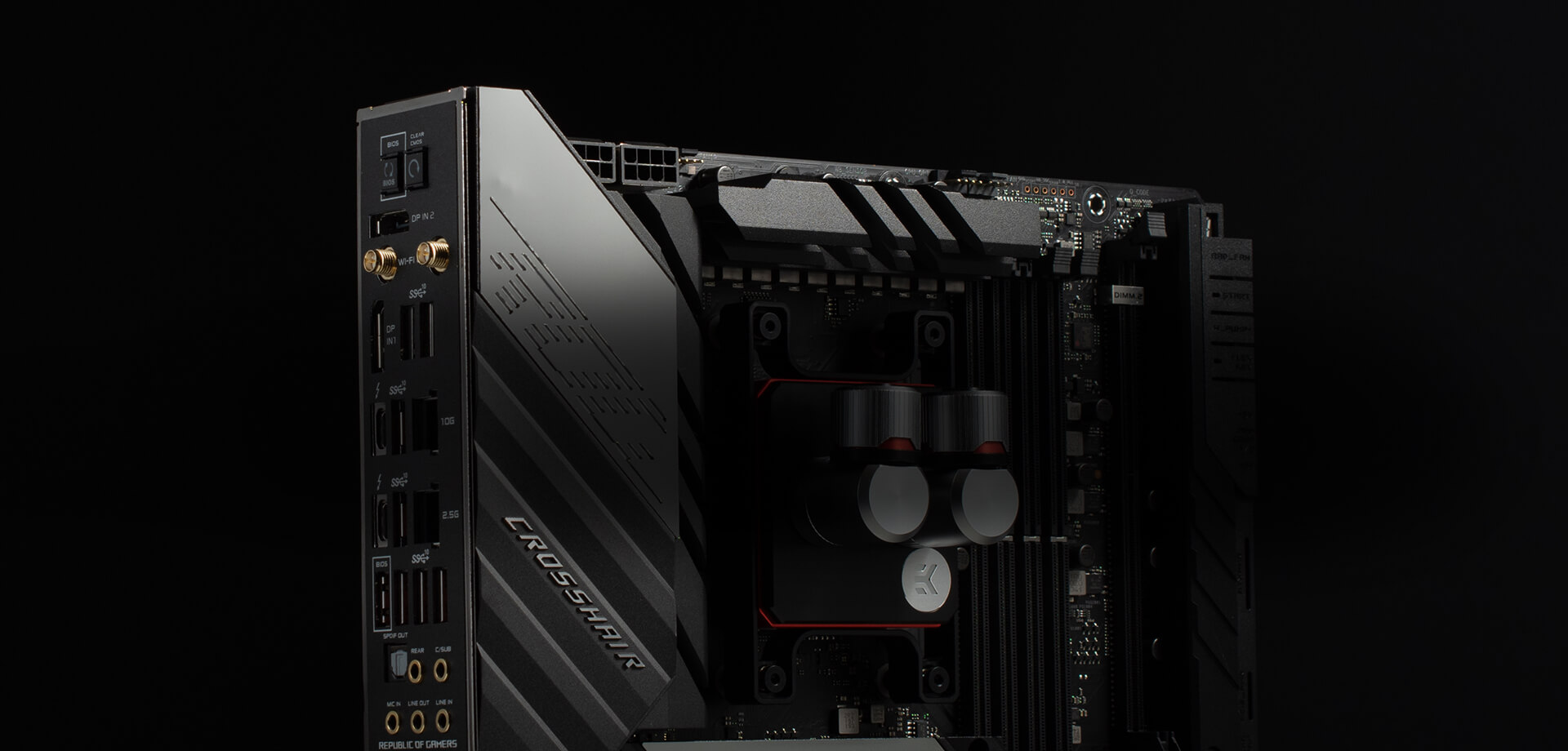 COOLING
Heavyweight cooling keeps onboard components and high-performance M.2 drives chilled without requiring direct airflow to deal with the thermal onslaught.​
Heatsinks
Headers
ROG Fan Controller
Cooling Heatsinks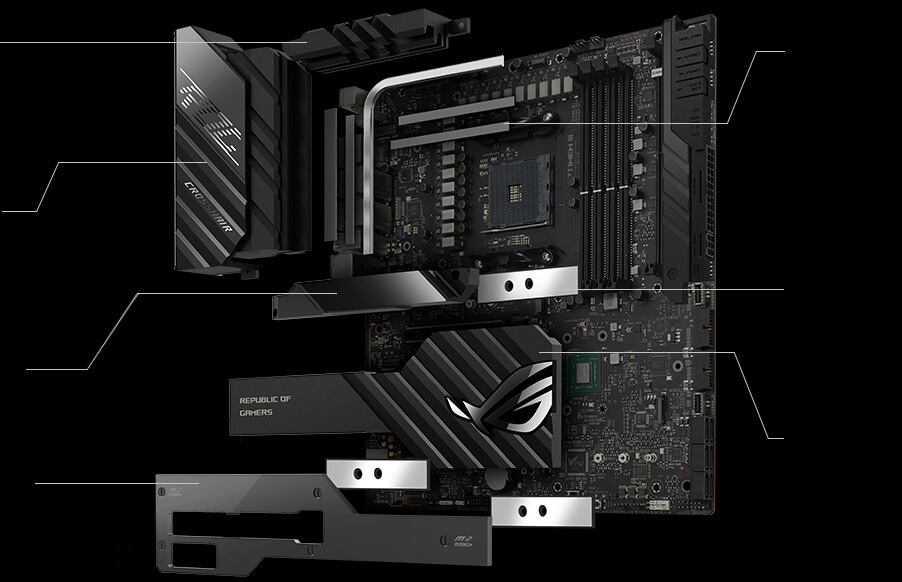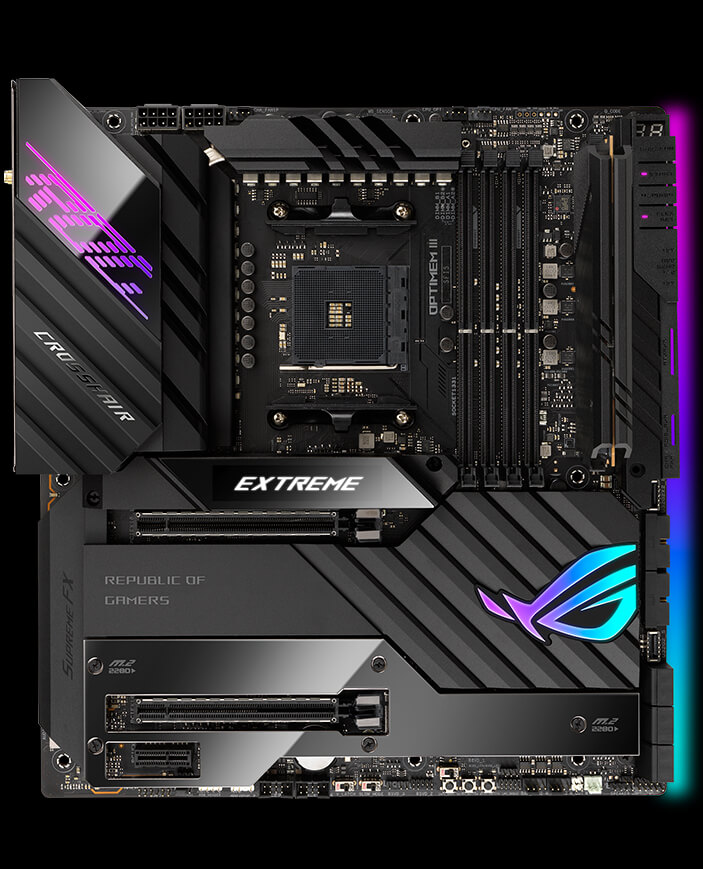 Cooler by Design
The ROG Crosshair VIII Extreme features comprehensive cooling options that are configurable via Fan Xpert 4 or the UEFI BIOS.
Multiple Temperature Sources

Each header can be set to monitor and react to three user-configurable thermal sensors for workload-based cooling, and all settings can be easily managed by Fan Xpert 4 or via the UEFI.

4-Pin PWM/DC Fan Headers and ASUS HYDRANODE

Every onboard header auto-detects any PWM or DC fan, and three chassis fan headers offer ASUS HYDRANODE support.

Bundled ROG Fan Controller

A bundled fan controller card includes six additional DC and PWM fan headers, plus two thermal-probe headers.
ROG Water-Cooling Zone
Dual water-temperature headers and a flow-rate header feed information straight into the AI Suite utility, allowing you to track coolant temperatures and the flow rate of the entire loop.
Water Pump+

A dedicated header can supply over 3 amps to a high-performance PWM or DC water pumps.

Water In/Out

A dedicated header enables monitoring of temperatures at the input/output points of any component.

Water Flow

A dedicated header enables constant monitoring of flow rate throughout the entire loop.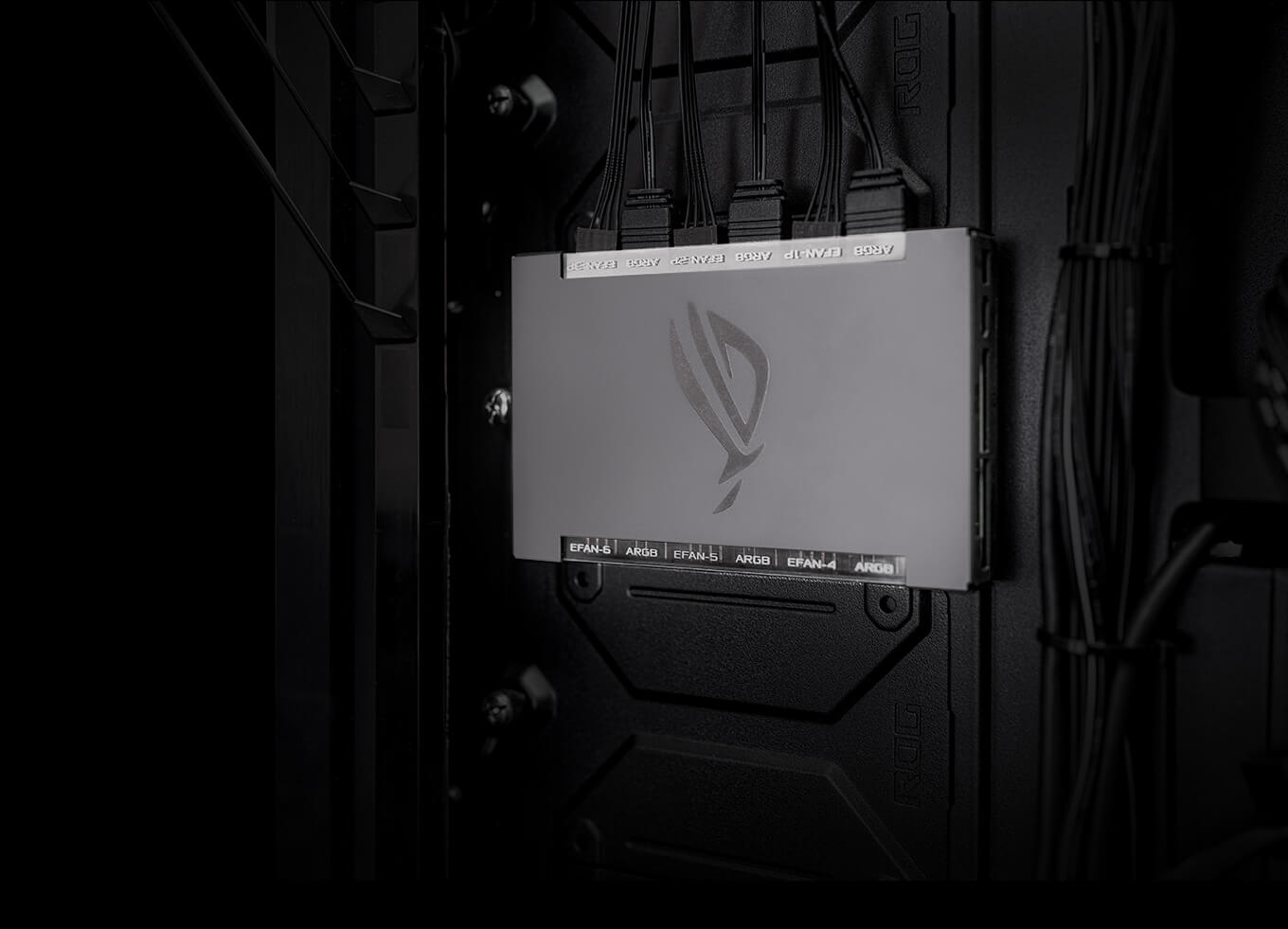 ROG Fan Controller
The ROG Fan Controller offers six additional headers that can be controlled via FanXpert 4. The card features two temperature-sensor headers, along with two thermistors that can be attached to various components. There are also six ARGB headers to illuminate compatible fans and addressable strips.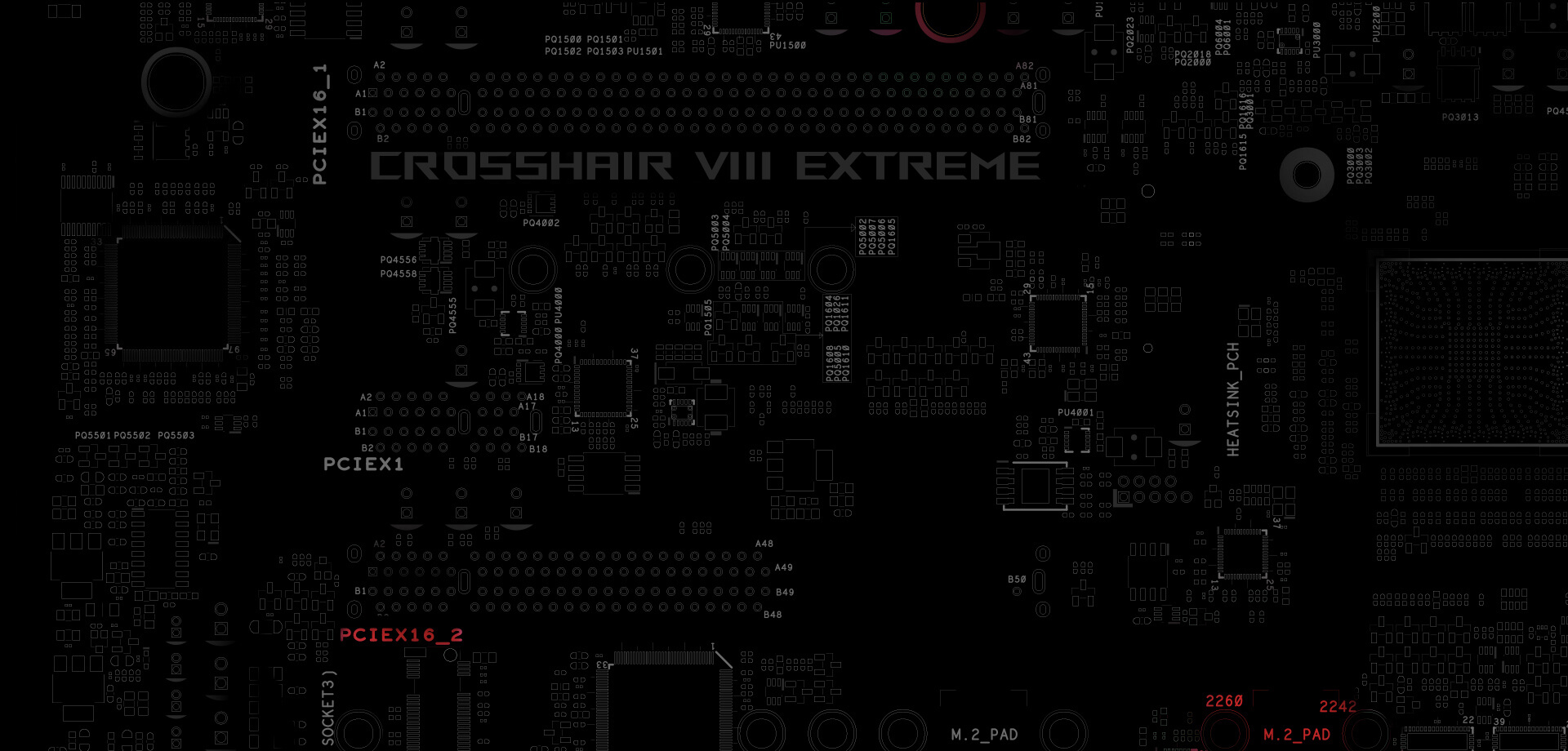 CONNECTIVITY
Advanced connectivity features including WiFi 6E and two Ethernet ports provide all the bandwidth needed for smooth online and LAN gameplay. File transfers and load times get a boost as well, thanks to a front-panel USB 3.2 2x2 header. The header also supports PD 3.0 60-watt power deliver for charging devices. Additionally, there's onboard SupremeFX audio for rich, premium sound.
Networking
USB Ports
Storage
Audio
WiFi 6E

Onboard WiFi 6E technology takes advantage of the newly available radio spectrum in the 6 GHz band, providing up to three times the bandwidth of the 5 GHz band and up to seven 160 MHz bands to deliver ultrafast wireless networking speeds along with improved capacity and better performance in dense wireless environments.

Marvell® AQtion 10 Gbps Ethernet

Designed to meet the demanding requirements of power users and content creators, 10 Gbps onboard Ethernet provides a new level of home networking. With up to 10 times the bandwidth of standard gigabit Ethernet, uncompressed 4K UHD video streaming is perfectly smooth and system backups and file transfers are faster than ever before.

Intel® 2.5 Gb Ethernet

Onboard 2.5 Gb Ethernet gives wired connections a boost, providing up to a 250% improvement over standard Ethernet connections for faster file transfers, smoother lag-free gaming and high-res video streaming.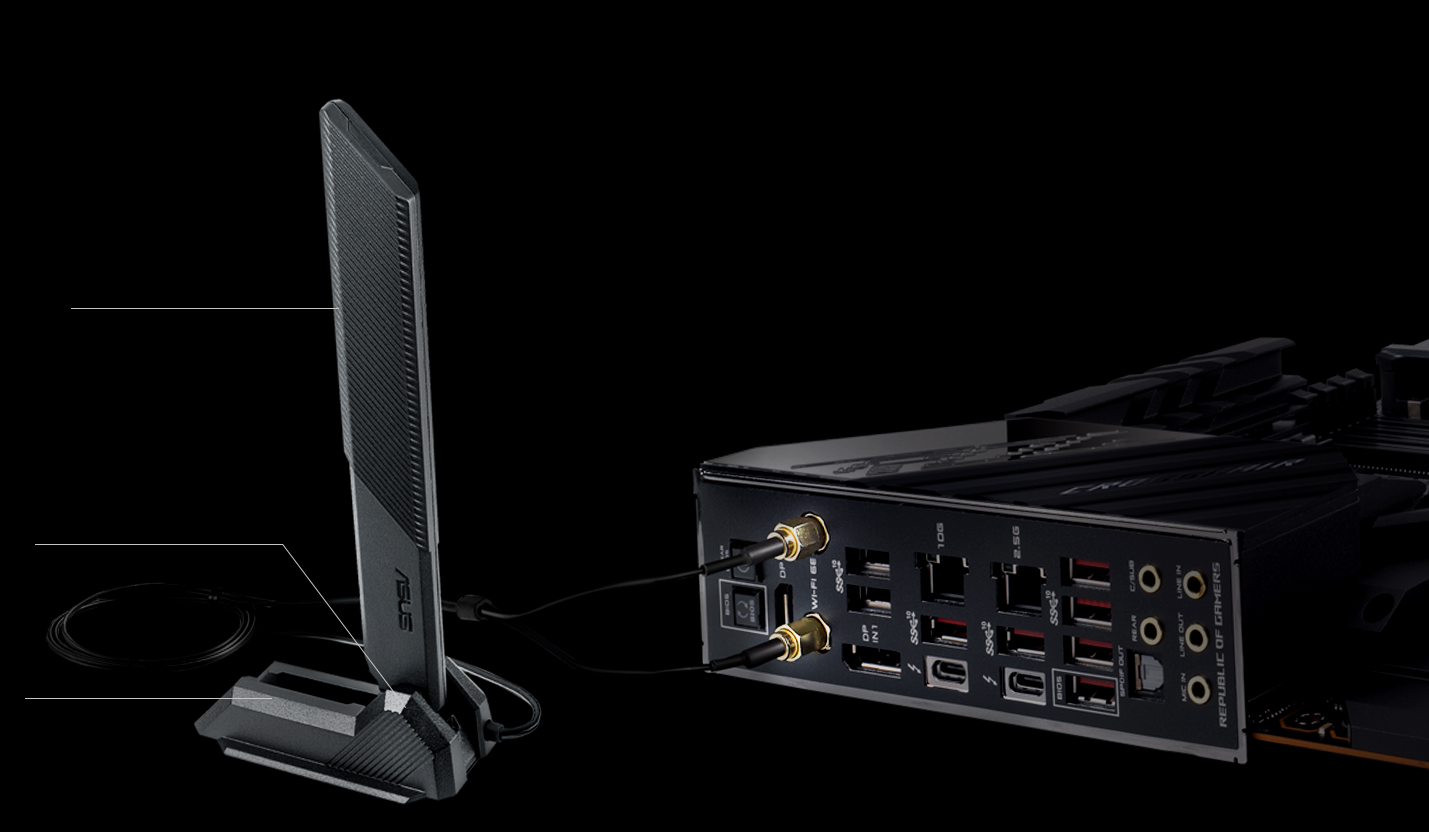 *WiFi 6E availability and features are dependent on regulatory limitations and co-existence with 5 GHz WiFi. To learn more about the ASUS WiFi 6 ecosystem, please visit:
asus.com/content/WiFi6/#WIFI-6E
.
USB 3.2 Gen 2 Front-Panel Connectors

The front-panel USB 3.2 connectors are ready to accommodate a wide variety of devices.

USB 3.2 Gen 2x2 Front-Panel Connector

The latest USB standard opens another USB 3.2 Gen 2 lane for a maximum data transfer throughput of up to 20 Gbps. There's also PD 3.0 60 W to quick-charge devices, delivering up to 3-times faster charging speeds compared to 5-watt / 5-volt 1 A charging.

Two Onboard Thunderbolt 4 USB-C Ports

Each port delivers up to 40 Gbps of bidirectional bandwidth for the latest high-speed devices and drives. Thunderbolt 4 also supports up to two external 4K displays and extends PCIe bandwidth to up to 32 Gbps.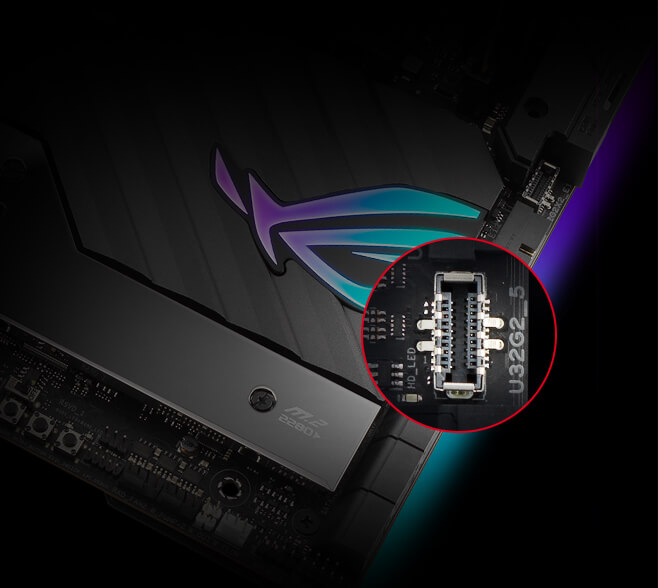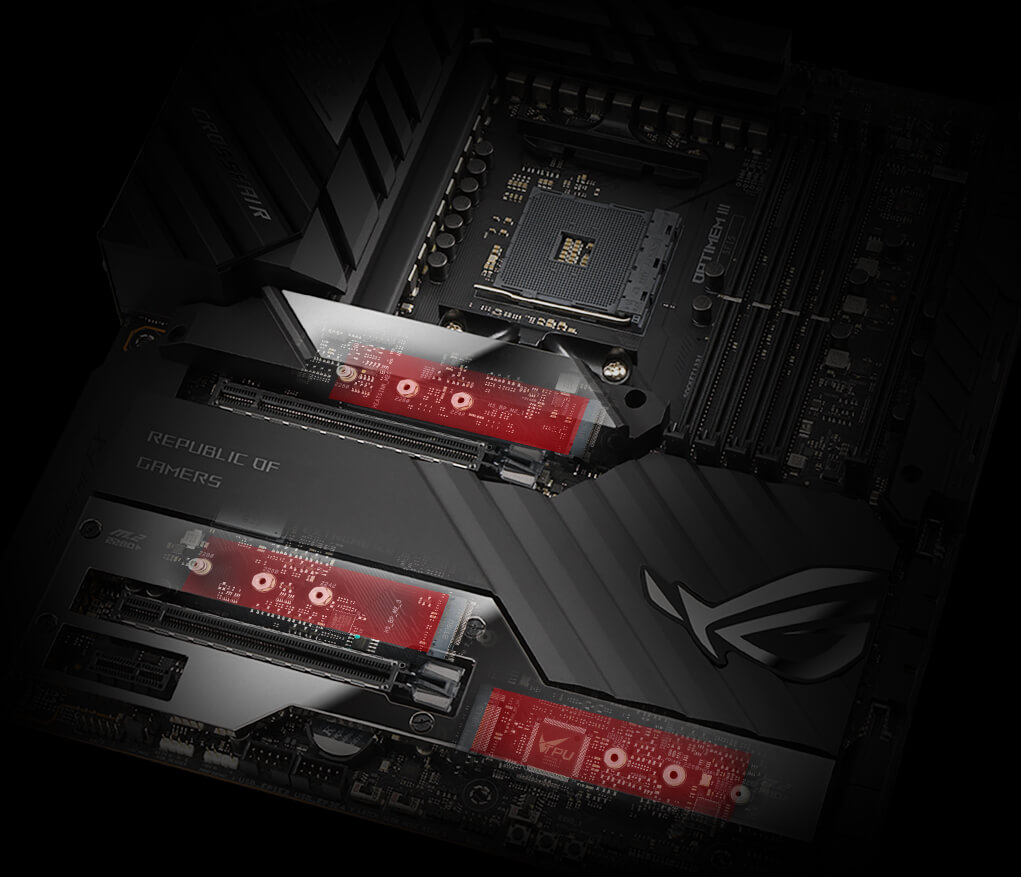 PCIe 4.0-Ready
The ROG Crosshair VIII Extreme provides five M.2 slots, which offer PCIe 4.0 support for the latest GPUs and high-speed SSDs.
ROG DIMM.2
The ROG DIMM.2 module is an innovative expansion card that allows two M.2 drives* to be connected via a DDR4 interface. The option of adding a metal heatsink helps to control thermals for maximum performance while elevating aesthetics.
*DIMM.2 accommodates M.2 drives up to 22110 (110 mm) in length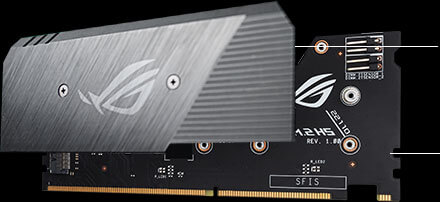 ROG DIMM.2 heatsink
ROG DIMM.2 dual M.2 expansion card
SupremeFX
ROG SupremeFX audio technology delivers an exceptional 113 dB signal-to-noise ratio on the line-in connection to provide best-ever recording quality. There's also a low-dropout regulator for clean power delivery to the SupremeFX ALC4082 codec, plus an ESS® 9018Q2C integrated DAC.
>Learn more about ROG audio technology
Audio Line Shielding
ESS® SABRE9018Q2C
ALC 4082 Codec
Switching MOSFETS
Nichicon® Capacitors
Special shielding blocks electromagnetic interference from the motherboard or add-ons, providing clear audio.

The ESS® SABRE9018Q2C integrated DAC amplifier is capable of providing -115 dB total harmonic distortion (THD+N) for playback that conveys all the subtlety and nuances of the audio track. In addition, the 121 dB dynamic range (DNR) provides an extremely low noise-floor, further accentuating dynamics and punch.

The ALC4082 codec uses USB instead of the conventional high-definition audio (HDA) interface and improves playback audio resolution from 192 to 384 kHz.

A unique design allows the codec's impedance-sensing function to be ported with either the front or rear headphone outputs.

Integrated high-quality Japanese-made components help produce warm, natural-sounding audio with exceptional clarity.


Unlock a premium audio experience
The pocket-sized ROG Clavis USB digital-to-analog converter delivers a host of features to give any compatible headset a big upgrade. Its ESS 9281 QUAD DAC™ with a built-in amplifier and Master Quality Authenticated (MQA) rendering technology treats you to hi-fi-grad audio, while AI noise-canceling technology enhances headset microphones for crystal-clear voice communication.
Learn more
OPTIMIZATION
The ROG Crosshair VIII Extreme provides all the tools needed for quickly and easily optimizing any system.
5-Way Optimization
BIOS
Differential Sensing
Level Up Performance
The dashboard-style control panel of AI Suite 3 makes it easy to fine-tune almost every aspect of the ROG Crosshair VIII Extreme. Get the best balance between performance, cooling, stability, and efficiency via one simple and intuitive interface.
TPU
EPU
Fan Xpert 4
Digital Power Controls
Turbo App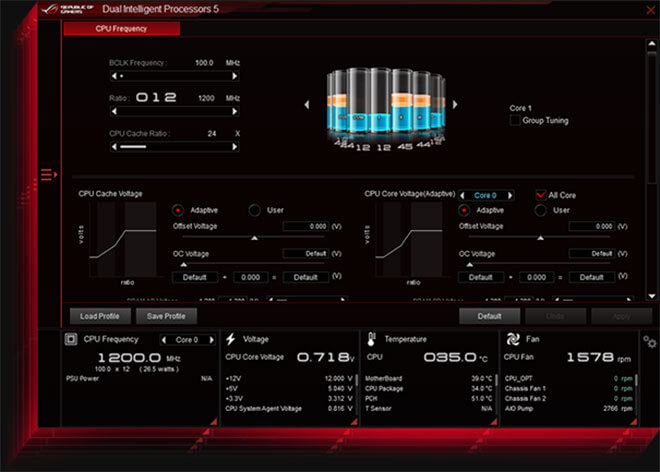 CPU-Performance Boost
The TurboV Processing Unit (TPU) is an intelligent onboard micro-controller that provides an array of system-tuning features, including the ability to fine-tune voltages, monitor system stats and adjust overclocking parameters.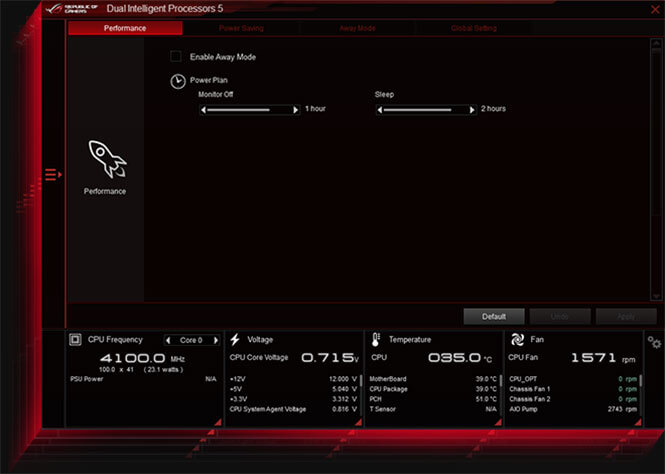 All-Around Energy Efficiency
The Energy Processing Unit (EPU) automatically optimizes power consumption and maximizes savings with Away mode.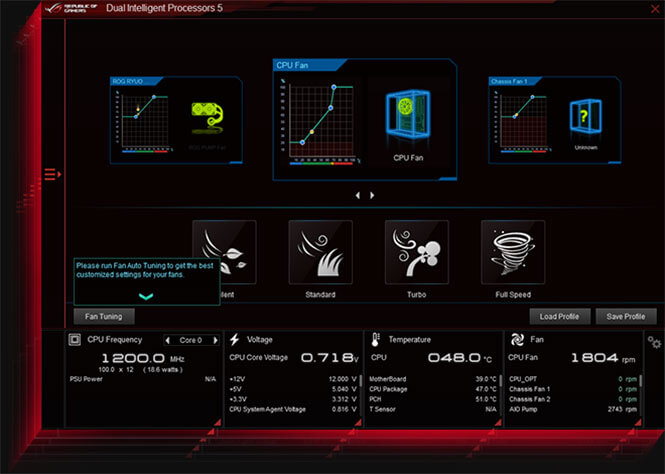 Flexible Cooling Controls for Air or Liquid
Enjoy comprehensive control over fans, water pumps and all-in-one (AIO) coolers via either Fan Expert 4 or the ASUS UEFI. Whether cooling with air or water, Auto-Tuning mode intelligently configures all parameters with a single click. There's also an Extreme Quiet mode, which reduces all fan speeds to below the default minimum — keeping your system whisper-quiet when performing light tasks.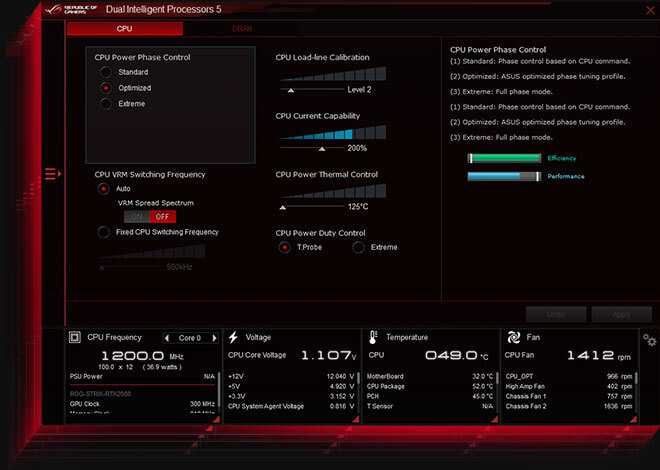 Precise Digital Power Control
The Digi+ voltage-regulator module (VRM) delivers real-time control over voltage droop, switching frequency and power-efficiency settings, allowing you to fine-tune CPU voltage regulation for ultimate stability and performance.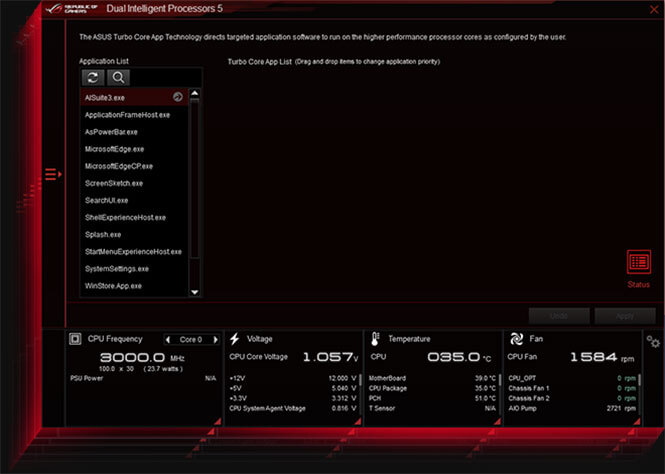 Turbo App
This intuitive tool allows you to define CPU overclocking, apply fan profiles, prioritize network data and optimize audio settings at app level – so your system is perfectly optimized for whatever you're doing.
UEFI BIOS
The renowned ROG UEFI (BIOS) provides everything needed to configure, tweak, and tune your rig. It offers intelligently simplified options for newcomers to PC DIY, as well as comprehensive features for seasoned veterans.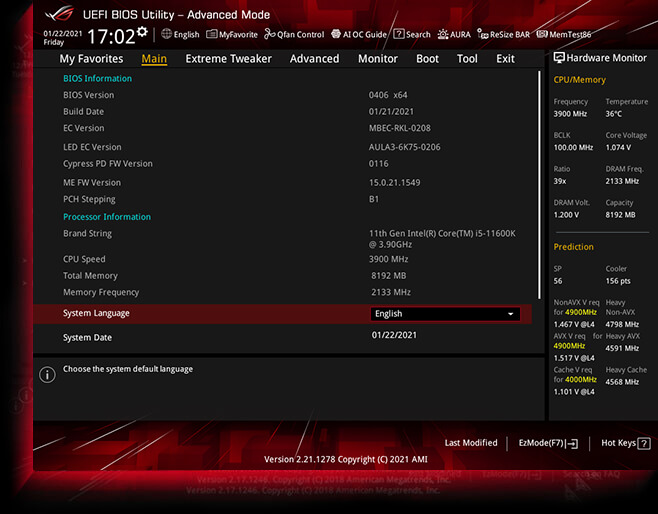 When you're ready for a deeper dive, delve into the UEFI's Advanced mode and take complete control. This mode enables full control over every aspect of the motherboard, and a built-in search function helps you quickly find the setting you need.
Advanced Mode
My Favorites

Quickly locate tuning options and add preferred tools to your favorites list.

EZ Flash 3

Flash the latest BIOS via the internet from within the BIOS.

S.M.A.R.T.

Check your storage device Self-Monitoring, Analysis, and Reporting Technology (S.M.A.R.T.) logs to gauge reliability or to identify potential failures.

GPU POST

Automatically detect selected ASUS graphics cards and view detailed information.

Secure Erase

Restore your SSDs and NVMe storage to factory settings.

Last Modified Log

Track the last change and save preferred profiles to a USB drive.

SATA Port Renaming

Rename SATA ports for easy identification.

ASUS User Profile

Port configuration settings between different BIOS versions or share them with friends.

Q-Fan Control

Configure the fan's operating speed manually or use pre-configured Standard, Silent, Turbo or Full Speed modes. By default, system fans will automatically switch to full speed if the temperature reaches 75° C.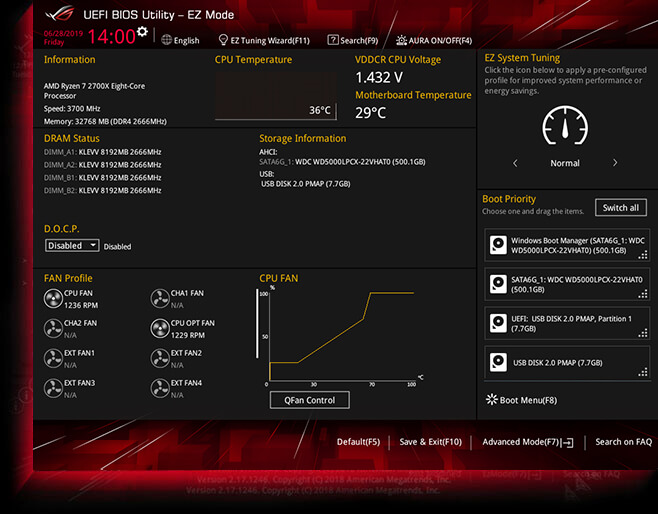 Designed to simplify setup, EZ mode presents vital settings and stats on a single page. With guided wizards, drag-and-drop functionality, and one-click application of important settings, your rig will be up and running in no time.
EZ Mode
Intuitive Graphical Fan Controls

Fine-tune individual fans simply by dragging a curve with the mouse.

Storage Information

View SATA port details for easy device recognition.

Fast and Easy Clock Adjustment

Use the mouse to quickly change time and date settings.

Aura On/Off Mode (Stealth)

Easily enable or disable Aura RGB lighting or every onboard LED for a more subdued aesthetic.
Accurate Voltage Monitoring
Conventional motherboards use single-ended sensing circuits that are susceptible to noise and have to tap voltage rails from a location that isn't ideal for accurate monitoring. These issues lead to a large disparity between the voltage fed to components and the values reported to software. The ROG Crosshair VIII Extreme features a differential-sensing circuit that rejects noise and takes readings directly from the CPU and the end point of major voltage rails. This simplifies overclocking and tuning by allowing you to track voltages more accurately.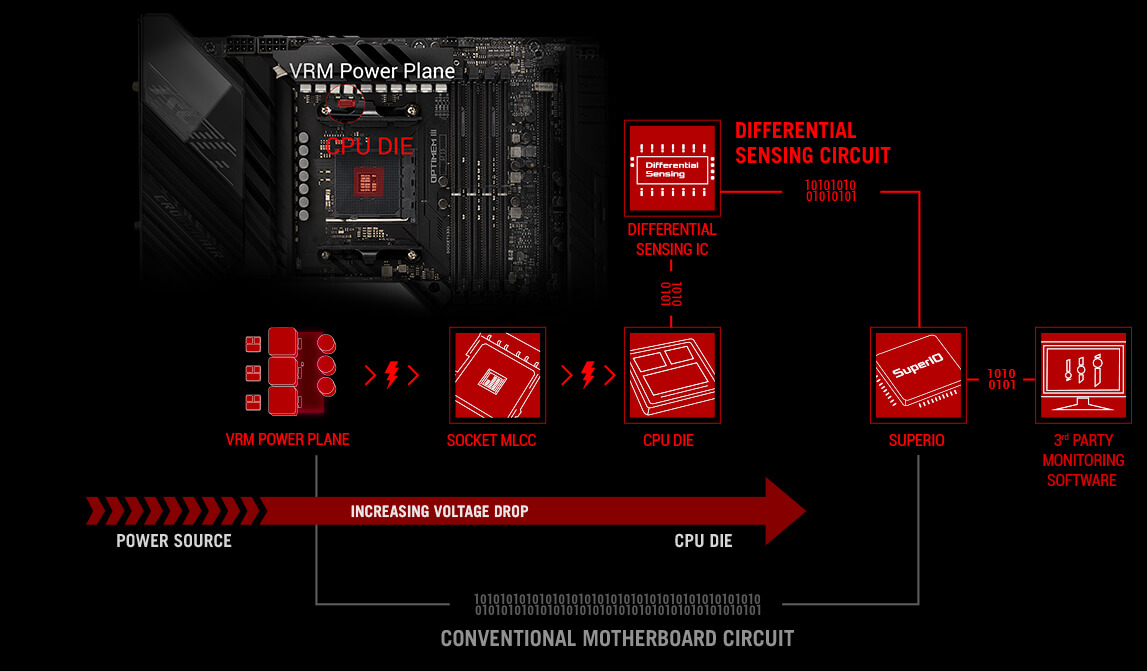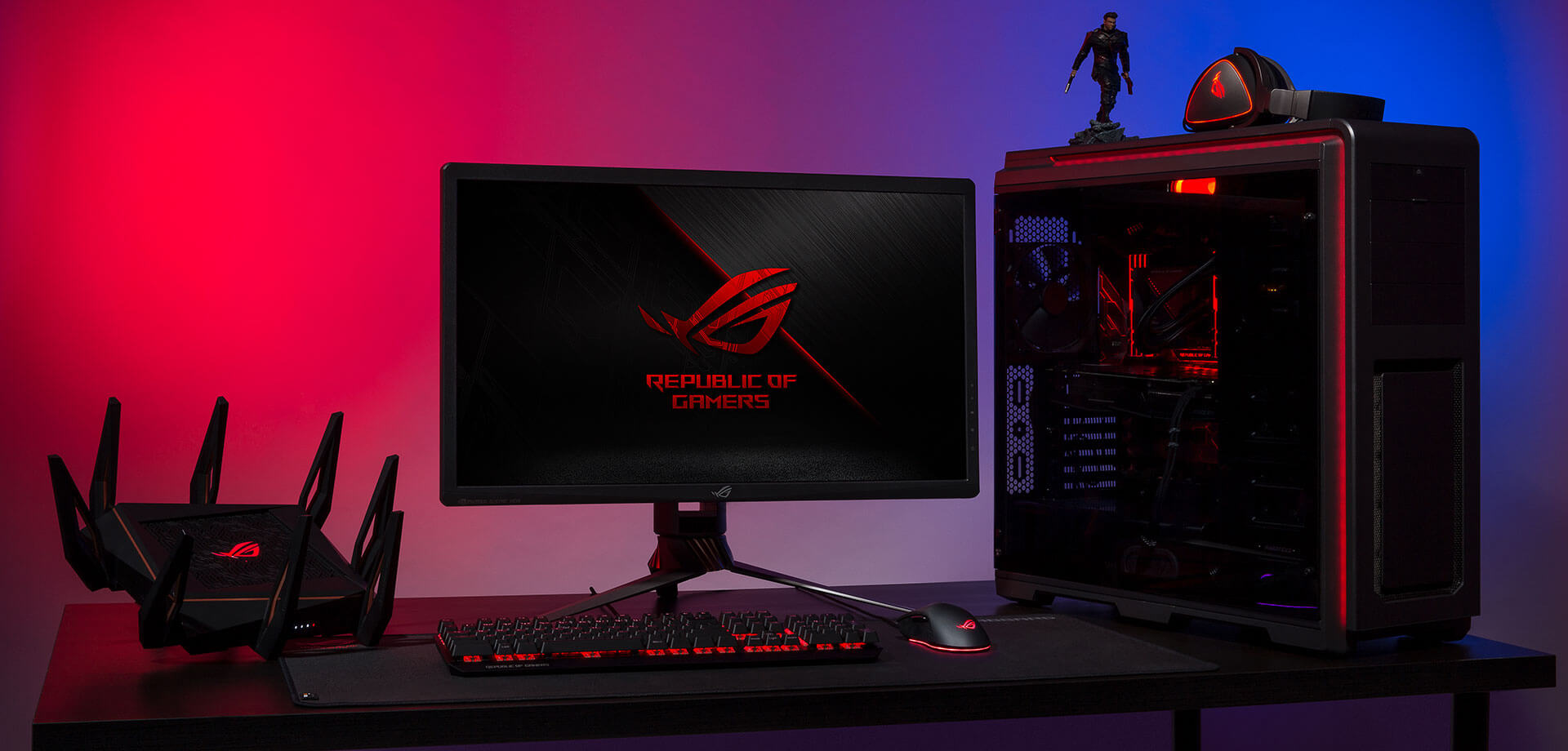 PERSONALIZE
In addition to extraordinary performance, the ROG Crosshair VIII Extreme provides extensive styling and customization options to let you build a system that truly stands apart.
Aura Sync
LiveDash OLED
RAMCache III
Immerse Audio
Armoury Crate
AIDA64 Extreme
Graphics Card Holder
Grow Your Gaming World with Aura Sync
Up your game with complementary Aura Syncenhanced aesthetics, featuring preset lighting effects that can be easily synchronized across compatible ROG graphics cards, monitors, mice and keyboards to give your setup a unified look.
Static
Breathing
Strobing
Rainbow
Color cycle
Starry night
Music effect
Smart
AAddressable Gen 2 RGB Header

BRGB Header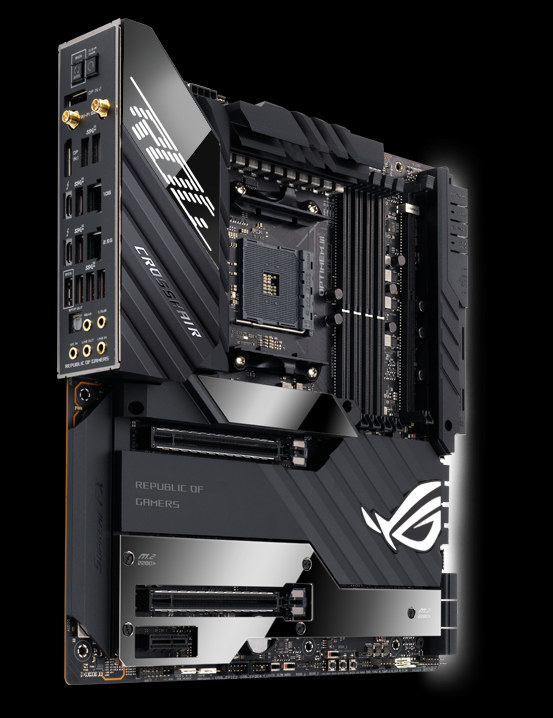 Addressable Gen 2 RGB Header
The addressable Gen 2 RGB headers can be controlled with Aura software, which automatically tailors your preferred lighting effects to the number of LEDs present in the connected gear or strip. The new headers also offer backward-compatibility with existing Aura RGB components.
LiveDash OLED
The ROG Crosshair VIII Extreme includes LiveDash, a built-in 2-inch OLED panel that shows useful information and features customizable graphics. During the power-on, self-test (POST) phase, the OLED shows key stats in simple language using traditional POST codes. In normal operation, the panel can be programmed to show CPU frequency, device temperatures, fan speeds or water-cooling information. You can also personalize the default OLED GIF with a preferred image or animation.
Hardware Monitor
Extreme Exclusive
BIOS Update
Customization Content

RAMCache III
RAMCache III software utility turns milliseconds into microseconds to boost game-load times. Fully compatible with the latest NVM Express® storage options, RAMCache III utilizes uniquely intelligent technology to effectively cache any storage device, so favorite games and apps launch at breakneck speeds.
Smart Mode
Real-Time Information
Health Check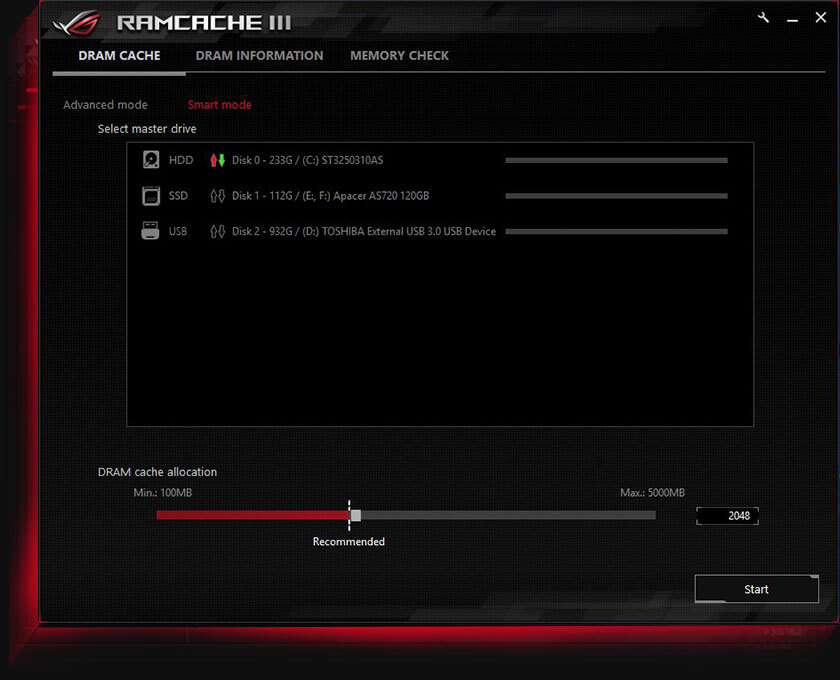 Automatically cache all your storage devices to maximize your system's resources.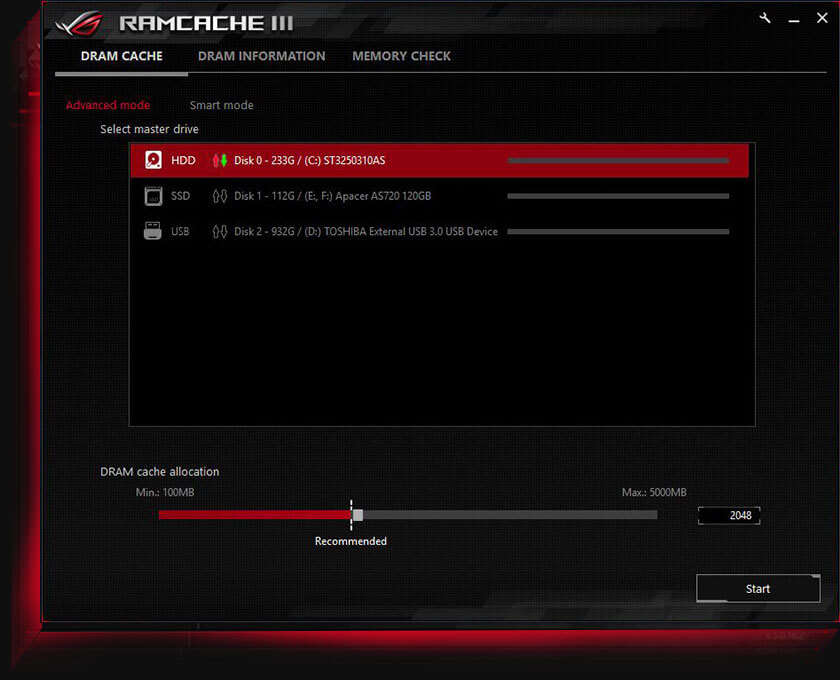 An intuitive interface displays real-time drive information such as current read/write speeds.
Quickly check for corrupt sectors of installed memory modules.
Sonic Studio III
Sonic Studio supports HRTF-based (head-related transfer function*) virtual surround for headsets, casting an immersive aural landscape that draws you deeper into the action. The intuitive Sonic Studio interface also offers a range of EQ options and one-click presets, allowing you to tailor acoustics to suit personal preferences or the characteristics of your headset.
Learn more about Sonic Studio III
*A head-related transfer function is an audio algorithm derived from sound data recorded through a dummy head. Test tones are played from a spherical grid around the dummy head to obtain subtle changes in sounds that come from different directions. The results are combined into an algorithm that allows Sonic Studio's virtual surround to process sound that's true to life.
Learn more
Sonic Studio Link
App-specific profiles
Sonic Studio virtual mixer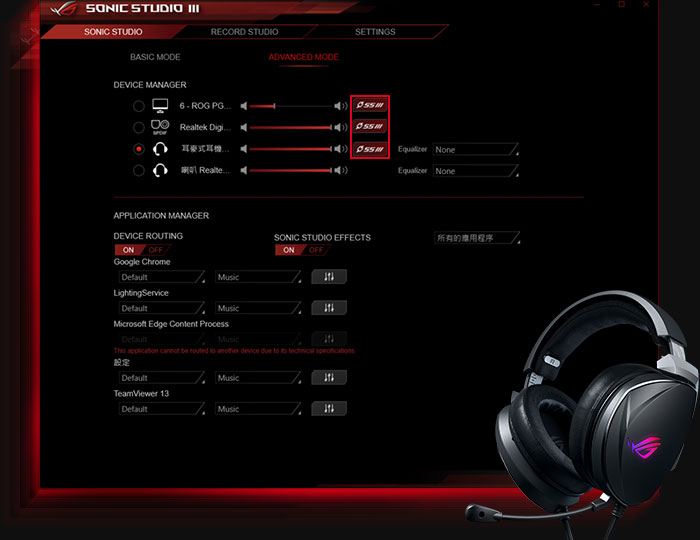 Sonic Studio Link
Easily apply Sonic Studio effects on all playback devices. Simply press the Sonic Studio Link button to enjoy the effect on any playback device.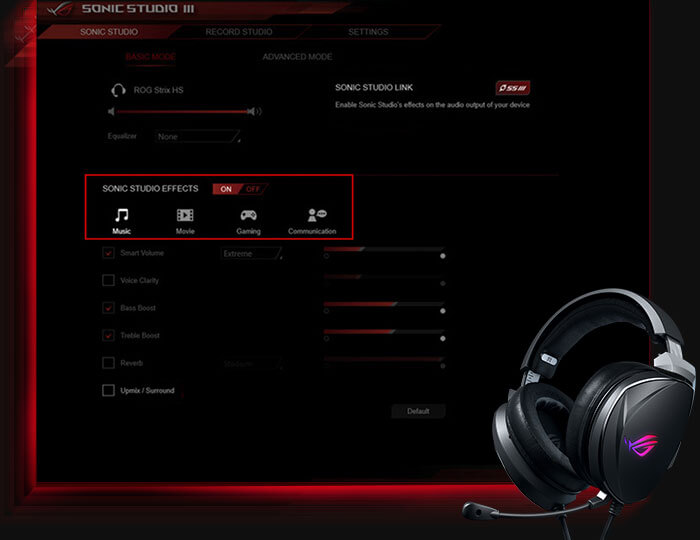 App-Specific profiles
Apply customized audio settings to different applications, so everything you do is perfectly tuned to the way you want to listen.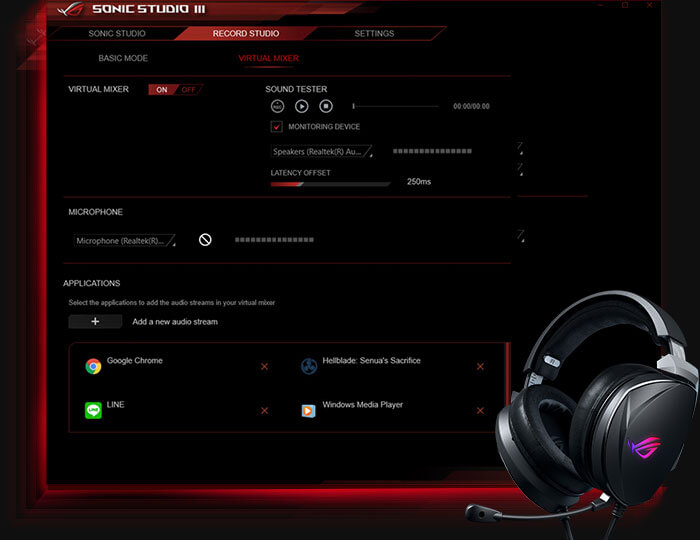 Sonic Studio Virtual Mixer
Combine audio output from selected apps with audio from the microphone input and stream the compiled mix.
DTS Sound Unbound*
The ROG Crosshair VIII Extreme includes a pre-loaded DTS® Sound Unbound™ app that envelops you in audio as never before, conjuring whole new levels of immersion for extraordinary gaming and entertainment experiences. By exploiting Windows Sonic spatial technology, DTS Sound Unbound delivers audio in a virtual 3D space — putting you right in the middle of the soundscape, where you can sense the location and direction of every gunshot, footstep or other sound in your virtual environment.
* DTS Sound Unbound requires in-game support. Check with developers for titles that offer support.

Stereo Sound
Surround Sound
Spatial Sound
Armoury Crate
Armoury Crate is a software utility designed to provide centralized control of supported ROG gaming products. From a single intuitive interface, Armoury Crate puts command of all your Aura gear at your fingertips with the new Aura Creator suite. The software also provides control of settings for a growing number of ROG products, making it easier to tune the look and feel of your system. Armoury Crate even offers dedicated product registration and ROG news feeds to help you stay in touch with the ROG gaming community.
Download Link>
Hardware Dashboard
AURA SYNC
Device Configuration
Driver & Manual Download
Gaming Highlight
Account Management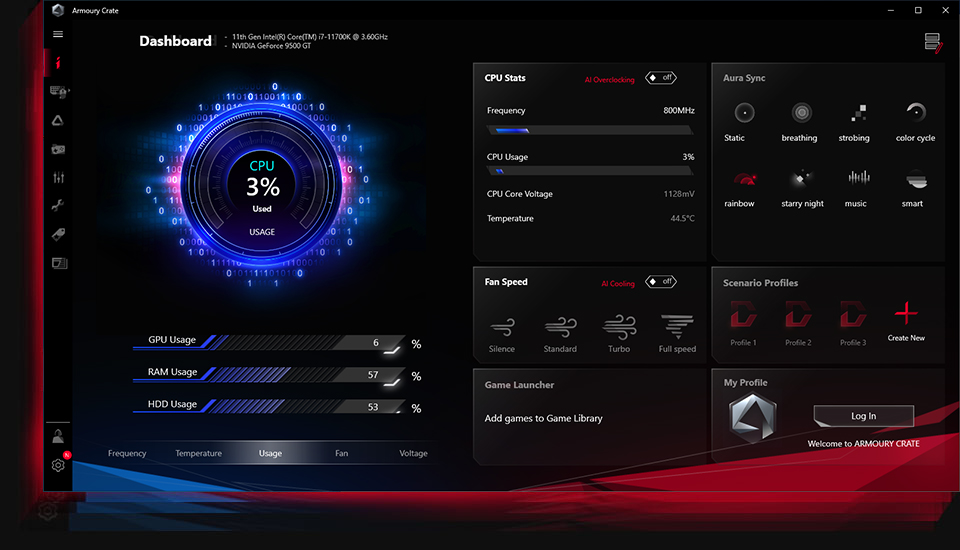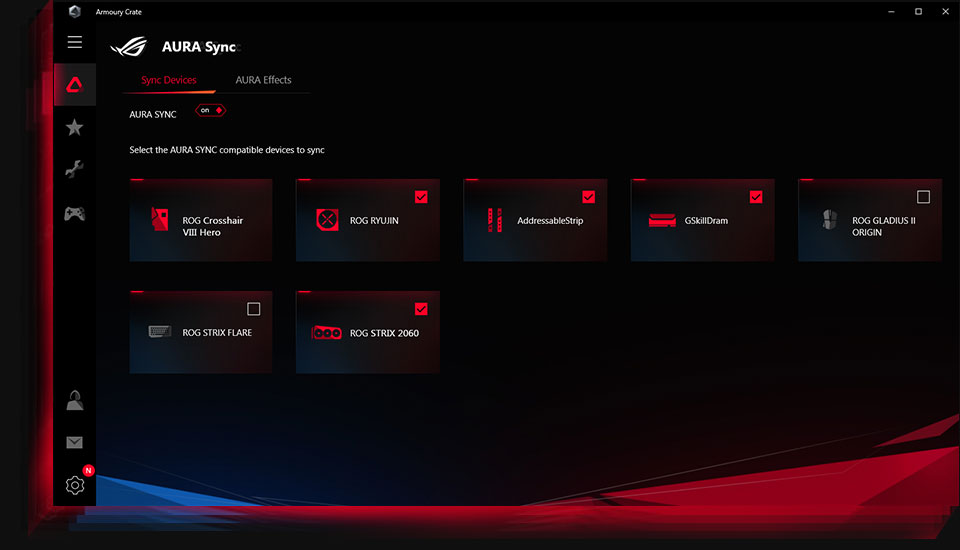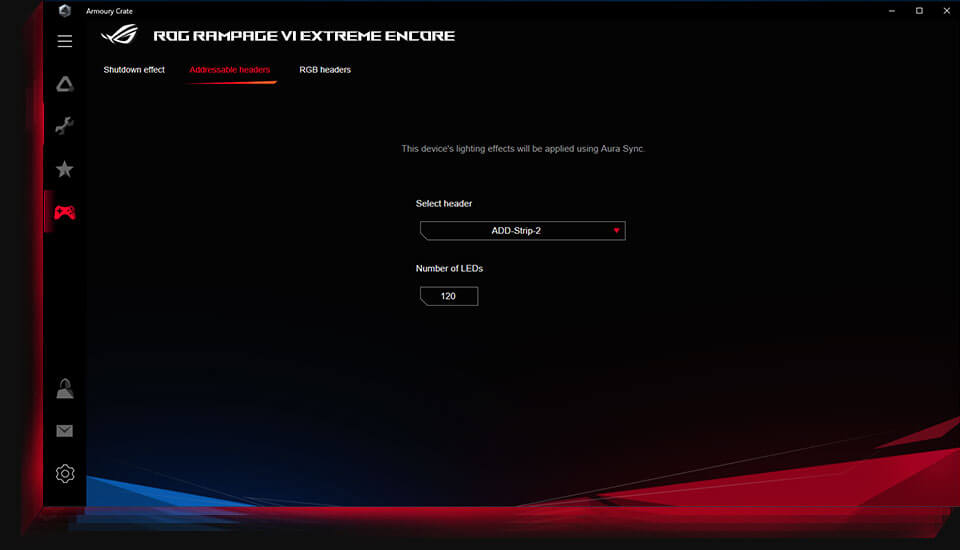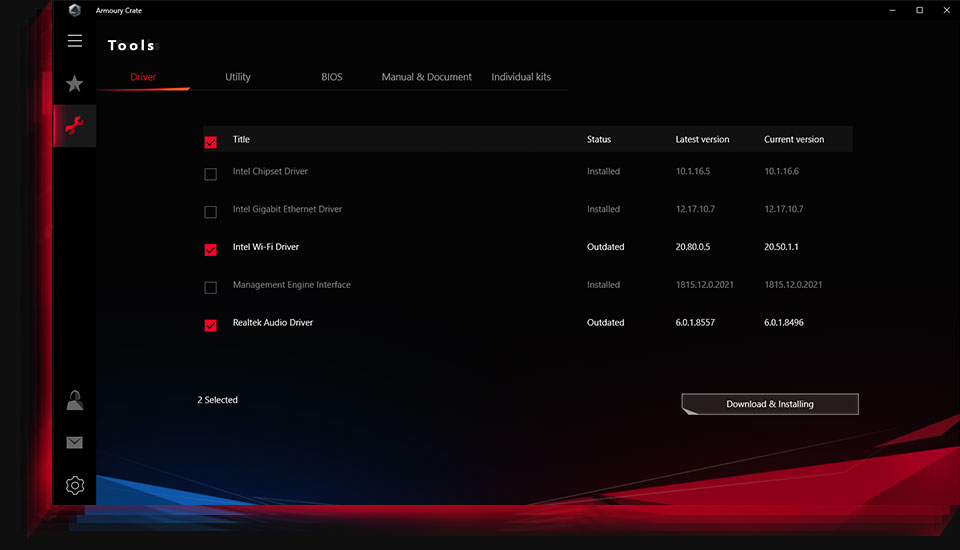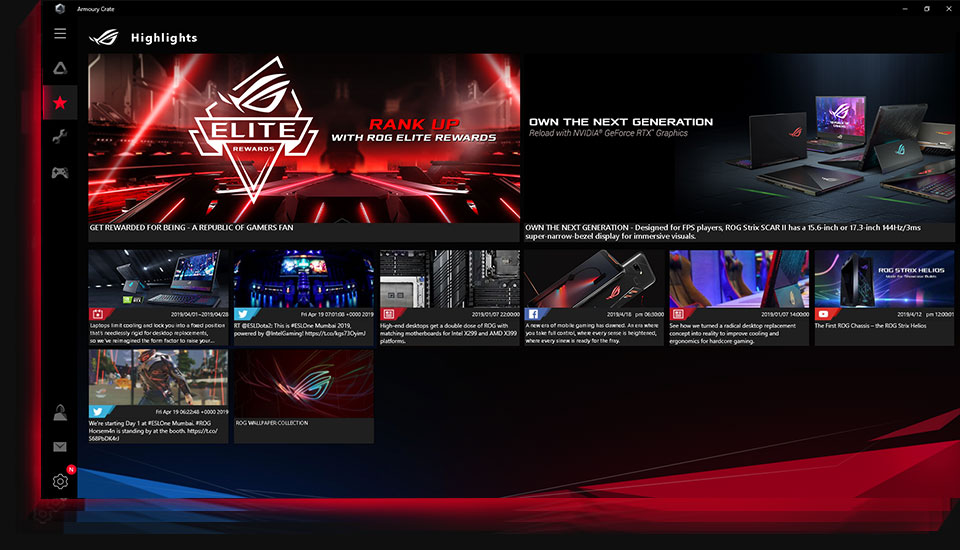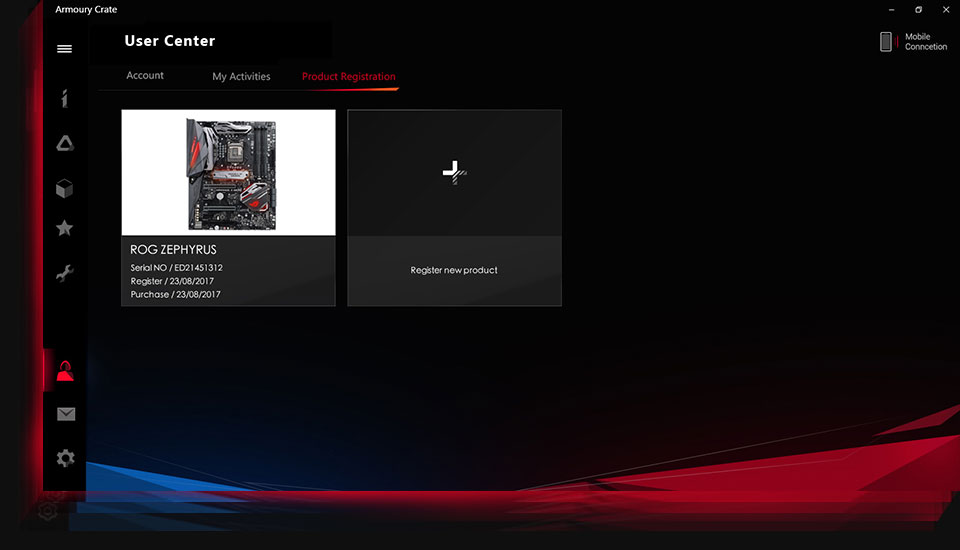 AIDA64 Extreme
The ROG Crosshair VIII series includes a one-year AIDA64 Extreme subscription. This industry-leading system information tool provides detailed information about installed hardware and software, and it also provides benchmarks for measuring performance of the entire system or individual components. AIDA64 Extreme includes a monitoring and diagnostics feature to detect and prevent hardware issues. All vital system sensors can be tracked in real time, allowing voltage readings, fan speeds, and temperature information to be viewed on the desktop, sent to dedicated displays, or the OLED panels of ROG AIO liquid coolers*.
*Support available for ROG Ryujin II and later models.
Learn More About AIDA64 >
ROG x AIDA64 Extreme
Hardware Monitor Display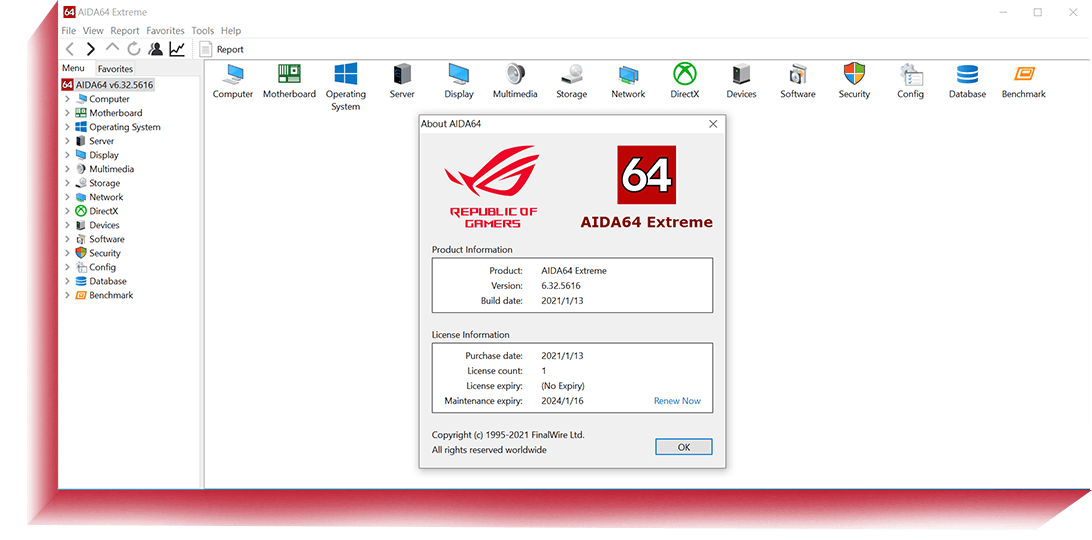 Graphics Card Holder
Featuring a magnetic base, adjustable slider and hinge, the ROG Graphics Card Holder banishes sag and provides support where it's needed most.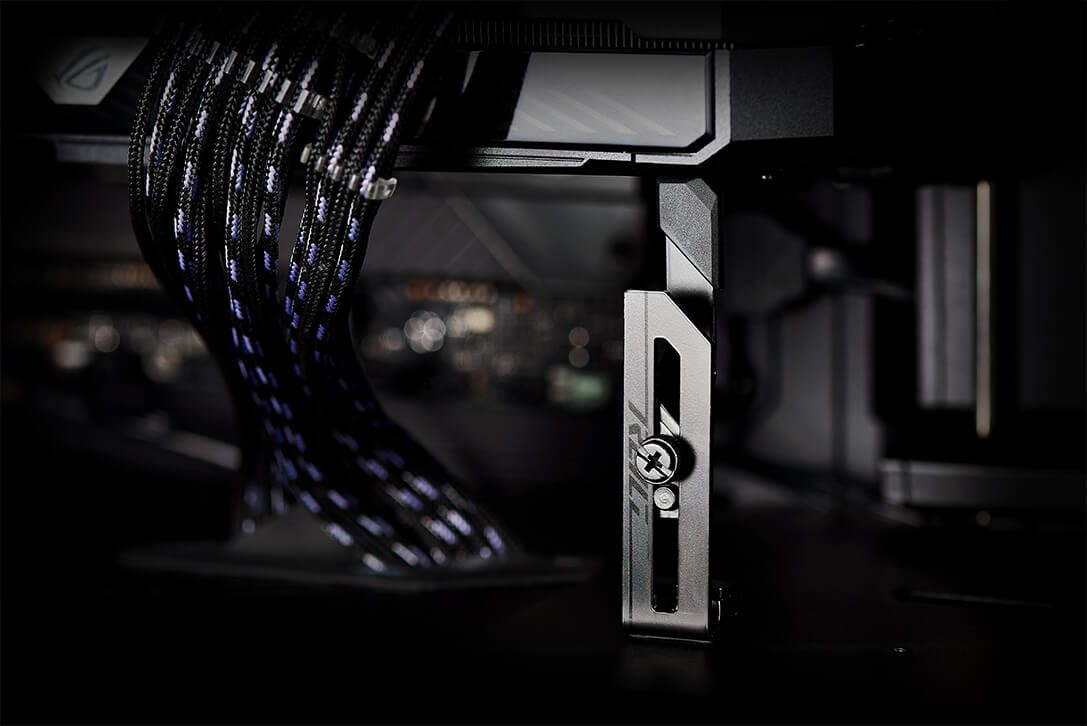 Disclaimer
The product (electrical , electronic equipment, Mercury-containing button cell battery) should not be placed in municipal waste. Check local regulations for disposal of electronic products.
The use of trademark symbol (TM, ®) appears on this website means that the word text, trademarks, logos or slogans, is being used as trademark under common laws protection and/or registered as Trademark in U.S. and/or other country/region.
The terms HDMI, HDMI High-Definition Multimedia Interface, HDMI Trade dress and the HDMI Logos are trademarks or registered trademarks of HDMI Licensing Administrator, Inc.
Products certified by the Federal Communications Commission and Industry Canada will be distributed in the United States and Canada. Please visit the ASUS USA and ASUS Canada websites for information about locally available products.
All specifications are subject to change without notice. Please check with your supplier for exact offers. Products may not be available in all markets.
Specifications and features vary by model, and all images are illustrative. Please refer to specification pages for full details.
PCB color and bundled software versions are subject to change without notice.
Brand and product names mentioned are trademarks of their respective companies.
Unless otherwise stated, all performance claims are based on theoretical performance. Actual figures may vary in real-world situations.
The actual transfer speed of USB 3.0, 3.1, 3.2, and/or Type-C will vary depending on many factors including the processing speed of the host device, file attributes and other factors related to system configuration and your operating environment.
For pricing information, ASUS is only entitled to set a recommendation resale price. All resellers are free to set their own price as they wish.
Price may not include extra fee, including tax、shipping、handling、recycling fee.
Product Comparison
Product added to comparison. Add up to 4 products or proceed to view compare products selected.
ASUS Footer