Features
Tech Specs
Awards
Gallery
Support
Reinvent the standard.
Elevate your game.
performance
The pinnacle of gaming
Game or create on the cutting edge with up to an AMD Ryzen™ 9 7945HX processor and up to an NVIDIA®GeForce RTX™ 4090 Laptop GPU. The Ryzen™ 9 7945HX CPU offers incredible gaming and multitasking performance, letting you stream and render even the most intensive projects, while the powerful RTX™ 4090 Laptop GPU guarantees incredible in-game framerates and content creation acceleration. A 1080p IR webcam offers seamless video capture and security with Windows Hello support. With up to 4TB of blazing fast PCIe®4.0 SSD storage in RAID 0 and 64GB of 4800MHz DDR5 RAM, the 2023 Zephyrus Duo 16 is a multitasking monster and offers rapid load times for all your games and applications.
NVIDIA® GeForce
RTX™ 4090
7th Gen AMD
Ryzen™ 9 7945HX
9% average
MUX Switch
gaming performance uplift
High power processing
When you need to render large video files or perform other intensive tasks, you can rely on the latest AMD Ryzen™ 9 7945HX processor. This flagship CPU offers exceptional multithreaded performance, while also maintaining best-in-class gaming ability. With more than double the performance in Cinebench R23 compared to the previous generation, AMD's Dragon Range architecture combined with ROG's overclocking expertise delivers incredible power.
Supercharged graphics
Powered by NVIDIA's ultra-efficient Ada Lovelace architecture, the NVIDIA®GeForce RTX™ 4090 is the most powerful GPU we've put into a laptop. Access near-desktop class gaming and content creation performance on this truly next generation GPU. With a maximum TGP of 175W and access to the latest technology like DLSS 3, ray tracing, and Max-Q Technologies, the RTX™ 4090 can deliver both high resolution and high frame rates in the latest AAA games.
*175W only available on Manual mode with Dynamic Boost
GeForce RTX 40 Series Laptops
Beyond Fast for Gamers and Creators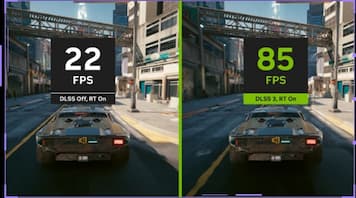 AI-Powered Performance and Lifelike Graphics*
Get a quantum leap in performance in games and creative apps with AI-powered DLSS 3 and enable lifelike virtual worlds with full ray tracing.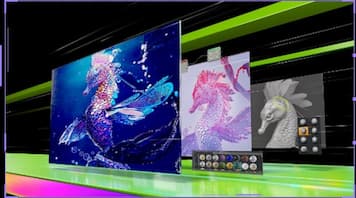 Accelerate Your Ideas
NVIDIA Studio takes your creative projects to the next level. Unlock RTX and AI acceleration in top creative apps, NVIDIA Studio drivers for max stability, and a suite of exclusive tools to fast-track your creativity.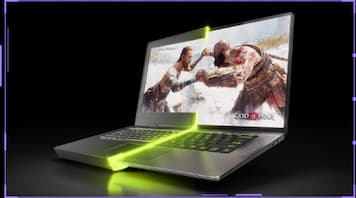 Optimized Power
and

performance

NVIDIA Max-Q is an advanced suite of AI-powered technologies that optimize your system for peak efficiency. This enables blazing-fast laptops that are thin, quiet, and have amazing battery life.
*Cyberpunk 2077 image captured on a desktop with new Ray Tracing: Overdrive Mode ON, shown for illustrative purposes only. Actual performance varies by system.
Get more with MUX
With a dedicated MUX Switch, the Zephyrus Duo can automatically route frames from the discrete GPU directly to the display, bypassing the integrated graphics. This pathing improves performance by 5-10% compared to machines without a MUX Switch, making sure you always get the absolute best gaming experience.
Lightning fast load times with Gen 4 SSD
Up to 2 NVM Express®(NVMe® PCIe®Gen 4x4 SSDs running in RAID 0 bring incredible speed and responsiveness to your system. Stocked with up to 4TB of storage, this PCI Express®array is spacious enough for your most massive multimedia projects and modern games. Quicker load times with PCIe®Gen 4 across your entire catalogue of apps and programs means less idle time waiting and more quality time for work and play.
Next gen multitasking with DDR5 RAM
Multitasking is fast and efficient with up to 64GB of DDR5 4800 memory. Gamers and content creators can easily stream, chat, and play at the same time, while power users can run every program they need for maximum productivity. Both SO-DIMMs are easily accessible for future upgrades.

Game. Stream. Create.
The Zephyrus Duo 16 is built from the ground up for gamers — and, of course, game developers. The Zephyrus Duo 16 can run all of the latest game engines like Unity and Autodesk, enabling you to unlock your creativity and try your hand at making something new. Whether you're a digital artist, streamer, video editor, or dabble with animation and game development, the Zephyrus Duo 16 has all the horsepower you need to take your creations to the next level.
Display
Mini LED. Maximum vibrance.
Whether you're gaming, catching up on your favorite content, or just browsing the web, the 16-inch 16:10 main display is absolutely gorgeous. For fast paced gaming, the QHD 240Hz panel with 3ms response time is the perfect blend of high refresh and high resolution for crisp and detailed images. Mini LED allows for deeper contrast and higher brightness than traditional LED displays, allowing for an image that pops off the screen with VESA DisplayHDR™ 1000 certification. The panel is also certified by TÜV Rheinland for low blue light, keeping your eyes comfortable all day. Prepare to be dazzled by vivid colors with 100% DCI-P3 coverage, 1100 nits peak brightness, and 1024 dimming zones.
*Pantone® Validated colors only available in SDR mode.






The Zephyrus Duo 16's iconic second screen has also been improved, with the brand new Corning® Gorilla Glass DXC, paired with a new anti-fingerprint coating. Gorilla Glass DXC reduces surface reflections while increasing hardness by over 40% for better scratch resistance. Less reflections mean you can set the brightness lower, even when used in outdoor and bright environments.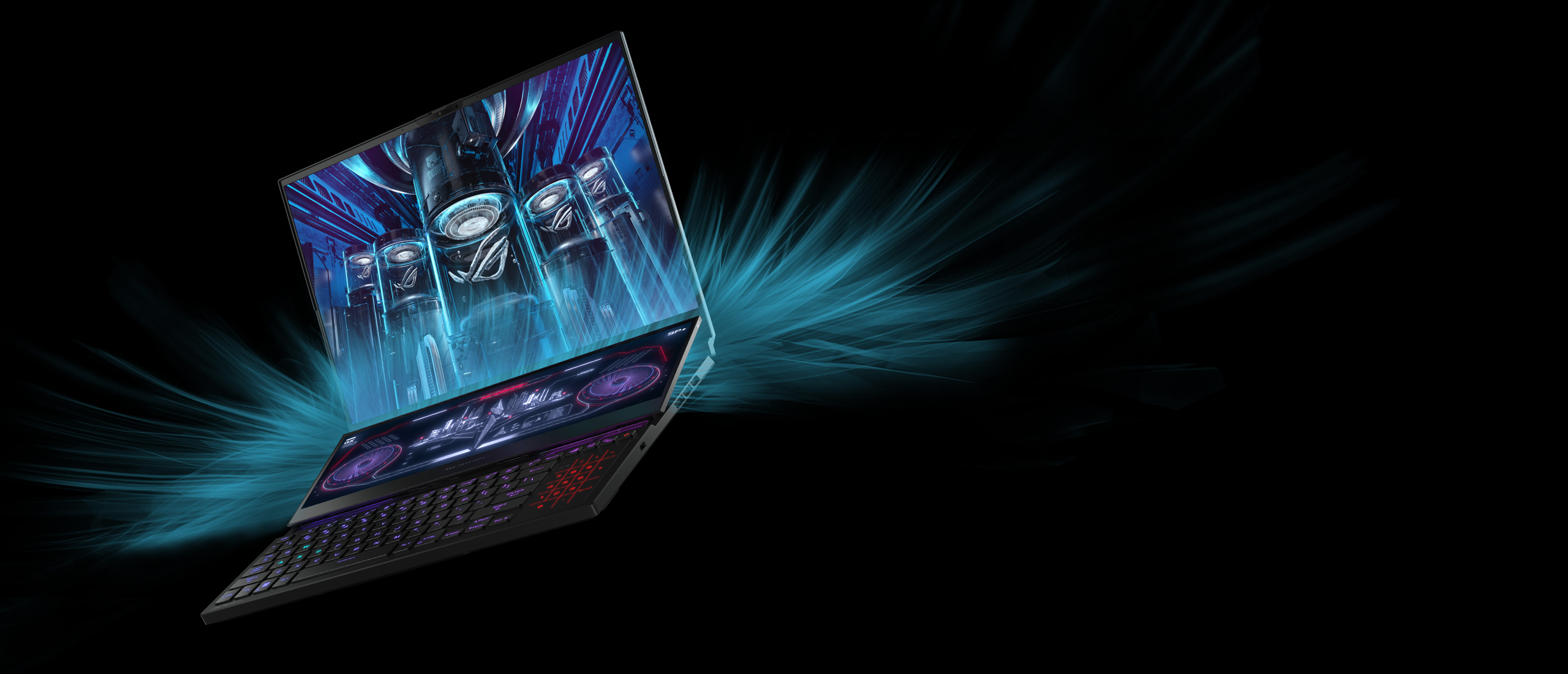 Breathe easy with

AAS Plus 2.0

Upgraded Conductonaut Extreme Liquid Metal
Powerful components like the CPU need a thermal interface material to transfer their heat to the cooling system. Thermal Grizzly's Conductonaut Extreme improves upon standard thermal pastes with 17X higher thermal conductivity, resulting in up to 15°C cooler CPU temperatures. Used exclusively by ROG, this indium and galium compound offers the highest thermal transfer available on a laptop. And unlike typical pastes, liquid metal will also never dry out, improving long term stability.
0dB Ambient Cooling, zero distractions
Enjoy truly silent cooling under light workloads with 0dB Ambient Cooling. In the Silent operating mode, the cooling system switches off all fans during everyday tasks to dissipate heat passively. This lets you concentrate on your work and immerse yourself in movies with less distraction. If CPU or GPU temperatures increase, the fans automatically switch on again.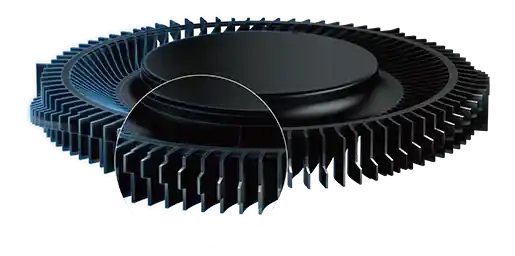 Arc Flow Fans™
move more air with less noise
Slim chassis leave little room for cooling, so we enhance every aspect of our Arc Flow fans. Traditional fan blades have a single thickness from base to tip. Our 84-blade Arc Flow Fans™ have a variable thickness design, down to 0.1mm at the tip. This approach reduces resonance and turbulence, moving up to 13% more air.*
*Compared to previous 83-blade ROG fan design, as tested internally by ASUS.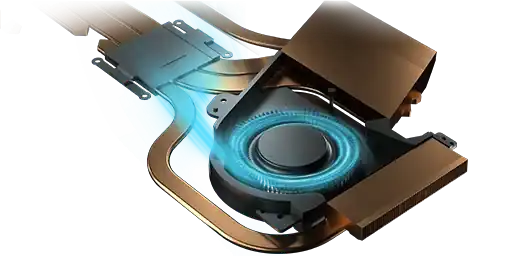 Targeted Internal Airflow
Precisely calculated cutouts inside the chassis direct airflow toward internal components. When compared to more traditional designs, this allows for more efficient cooling, reducing CPU and GPU temperatures by up to 6°C. Lower temperatures mean higher sustained boost clocks during intense gaming sessions.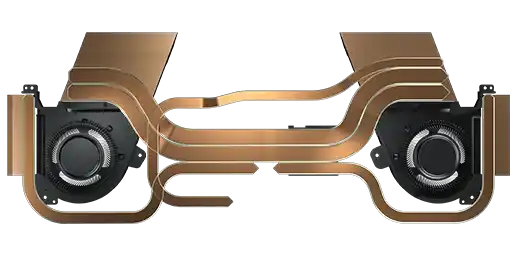 Up to 5 comprehensive heatpipes have you covered
Our comprehensive solution uses up to five heatpipes and quad heatsinks for efficient dissipation across all internal components. More heatpipes means more efficient heat transfer, and unlike simpler designs which only cover the CPU and GPU, this layout also draws heat away from the video RAM and voltage regulation modules for better system stability.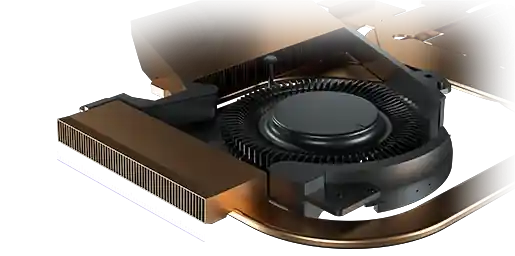 0.1mm ultra thin fin
for
the

win

Thermal energy is dissipated by four heatsinks, each lined with ultrathin copper fins as slim as 0.1mm. These fins are half the size of typical solutions, allowing for higher heat dissipation with lower air resistance. There are up to 252 heatsink fins totaling 110,328mm² of surface area.

Up to

69%

faster thermal conductivity
Design
Sleek style
From the inside out, the Zephyrus Duo 16 is designed to emphasize the perfect blend of power and refined style. For those who need a gaming flagship that can blend in anywhere, the Duo 16 is the ideal machine.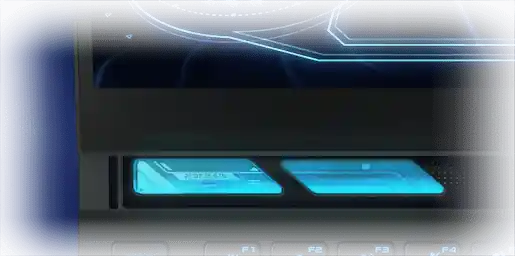 Peek inside
When the lid is opened and the secondary display raises up, a small window is revealed above the keyboard. This portal provides a sneak peek directly at the motherboard of the machine, along with tasteful RGB accents.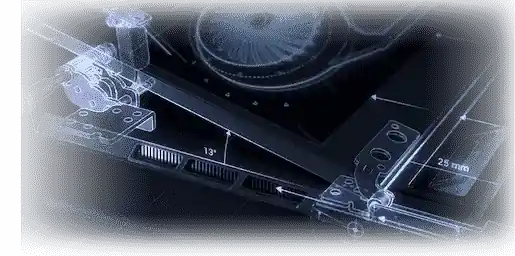 Rise to the occasion
The built-in second screen is what makes the Zephyrus Duo 16 truly unique, so of course we engineered the hinge to perfection. Thanks to a specially geared hinge, it slides back to sit flush with the main display in one motion and when the lid is opened. The screen stops at a 13° angle, perfect for ergonomics no matter what you're watching on the secondary display.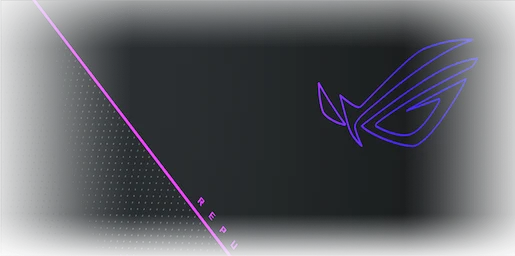 Strike from the shadows
Zephyrus is all about sleek power, so the Duo 16 is shrouded in an Off-Black color. This coating keeps the machine looking its best in all light conditions. By keeping fingerprint smudges to a minimum, the Zephyrus Duo 16 will factory new longer than ever.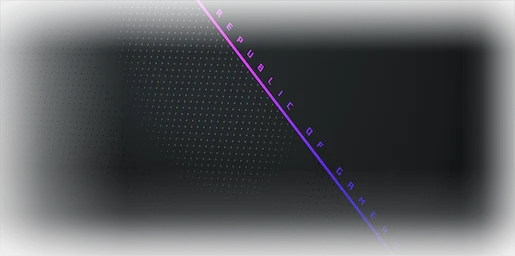 Classic ROG design
A large iridescent slash across the lid bisects the chassis, representing the dual personality of the Duo 16. The Republic of Gamers "Fearless Eye" logo sits proudly on the lid as well, reminding the world that this machine was built for gamers.
Portability
Dual displays. One device.
The Zephyrus Duo 16 really shows its versatility when you take it on the go. The built-in secondary display means that you always have a second screen available, while the 90Wh battery and USB Type-C™ charging can keep you powering through work all day long. An IR camera with Windows Hello support makes unlocking the machine a breeze.
50% in 30 mins
Fast Charging

Infrared Camera
An infrared camera ensures seamless unlocking with Windows Hello support, even in low light conditions.
Wi-Fi 6E
Wi-Fi 6E provides a rock solid connection even in congested networks with multiple devices.
audio
Studio quality audio
Enjoy studio quality audio from the six speaker soundstage with dual force-canceling woofers. With Dolby Atmos® support, the system can recreate a virtual 5.1.2 channel surround soundstage for incredibly immersive content. Three microphones give you incredible flexibility when joining calls or recording audio, bolstered by Two-Way AI Noise Cancelation that filters incoming and outgoing audio. Enjoy crystal clear voice chat even in noisy environments.
Two-Way AI
Noise-Cancelation

keyboard
The key
to

victory

The Zephyrus Duo 16 sacrifices nothing. Utilizing NumberPad technology, the trackpad doubles as a full number pad to maximize space on the keyboard deck. N-key rollover ensures that each keypress is independently registered, giving you flexibility in game for complicated combos or accuracy for quick typing. A long 1.7mm key travel makes the Zephyrus Duo 16 very comfortable to type on, minimizing accidental keypresses as well. Per-key RGB and Aura Sync integration allows for robust preset and custom lighting patterns via Armoury Crate.
Support hotkey
Macro Function
upgradeability
Replace. Refit. Rearm.
Upgradeability is key to keeping your machine running well for years to come—and the Zephyrus Duo allows you to upgrade both the RAM and storage to extend its lifespan. A special pop-open screw pushes the bottom of the chassis away from the laptop as it's loosened. The hooks holding those edges together are smaller and stronger than before to make lifting off the panel easy. The Zephyrus Duo has dual SO-DIMMs and allows for future RAM upgrades. Both M.2 SSD slots are also accessible and expandable.

io port
Endless connectivity
Connect to all of your devices with a robust selection of I/O. A pair of USB 3.2 Gen 2 Type-C™ ports offer DisplayPort™ 1.4a, with power delivery support on one and G-Sync on the other. Two additional USB 3.2 Gen 2 round out connectivity for your peripherals. Enjoy HDMI 2.1 support for an external display, as well as a 2.5G ethernet port, dedicated microSD card reader, and an audio combo jack. Dongles begone!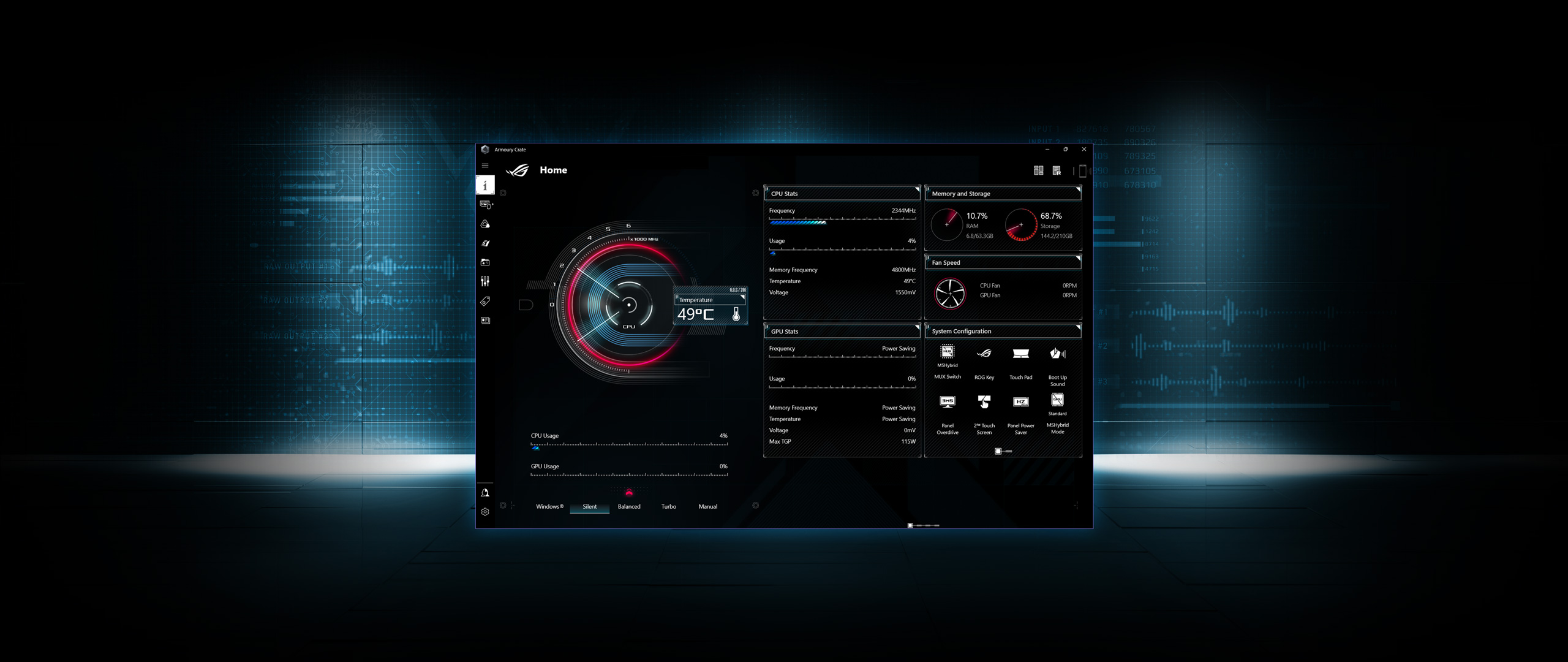 Armoury Crate
ROG Armoury Crate unifies system and lighting controls to put essential settings at your fingertips in a single utility. You can easily define and customize Scenario Profiles that automatically make adjustments when you launch your favorite titles.

*Interface may vary by version.
Screen Xpert
Screen Xpert software allows for seamless navigation between your primary display and ScreenPad Plus™ secondary display. It enables drag and drop, touchscreen controls, and a bevy of other intuitive tools to optimize your experience. Personalize your ScreenPad Plus™ experience with Task Groups that show up to 5 selected apps on command, Quick Keys to create custom keyboard shortcuts, and more.
Aura Creator
Aura Creator is a powerful lighting editor that lets you craft complex RGB effects from the ground up. An easy-to-use interface allows you to personalize preloaded lighting effects, layer and transition them to perfection, and activate them across a full array of Aura Sync devices. Create custom RGB lighting and let your personality shine.
Scenario Profiles
Scenario Profiles automatically change operating modes to optimize performance and acoustics for different games and applications. Turbo mode uses the highest fan speed and clocks to sustain maximum speed, Performance mode adjusts the clocks and cooling to lower noise levels for gaming, and Silent mode runs even quieter for lighter work and entertainment. You can customize Scenario Profiles to seamlessly switch modes based on your preferences, or use a keyboard shortcut to change modes manually.
Xbox Game Pass
Play over 100 high-quality games with friends on your PC, console, phone or tablet for one low monthly price.* With games added all the time, there's always something new to play.
*Terms and exclusions apply. Game catalog varies over time, by region, and by device. See xbox.com/gamepass and https://www.ea.com/eaplay/terms, for details. Xbox Cloud Gaming: Streaming limits apply. Requires compatible controller (sold separately), supported device and Xbox Game Pass app; see system requirements. System requirements vary by game; performance scales with higher-end systems.

**The EA logo and Battlefield are trademarks of Electronic Arts Inc. © FIFA is a copyright and/or trademark of FIFA. All rights reserved.
Manufactured under license by Electronic Arts Inc. STAR WARS © & TM 2019 Lucasfilm Ltd. All rights reserved.
Bundle up
Don't leave home without some ROG gaming accessories. Keep superior precision and control close at hand with the Aura Sync-compatible ROG Chakram Core or ROG Strix Impact mice. Enhance your audio experience with the cushy and comfortable ROG Delta headset, perfect for immersing yourself in rich, high-fidelity sound. Keep your battery topped up with the slim and light ROG 100W USB-C adapter. To get all this gear to your destination, make sure to bring a durable and water-resistant ROG Ranger backpack.
*Bundled peripherals may vary according to regions. Please check with local vendors for exact offers.


Disclaimer
The terms HDMI, HDMI High-Definition Multimedia Interface, HDMI Trade dress and the HDMI Logos are trademarks or registered trademarks of HDMI Licensing Administrator, Inc.
The actual version of HDMI 2.1 should be checked in the specifications page.
HDMI 2.0 was revised to HDMI 2.1 TMDS, and HDMI 2.1 was revised to HDMI 2.1 FRL effective from May 3, 2022.
Product Comparison
Product added to comparison. Add up to 4 products or proceed to view compare products selected.
ASUS Footer