No tienes productos en tu cesta.
Visión general
Especificaciones técnicas
Premios
Galería
Dónde comprar
Soporte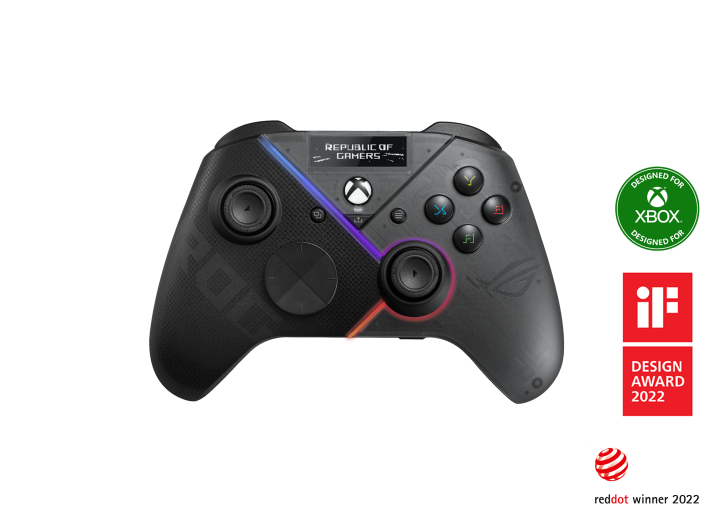 ROG Raikiri Pro
El control para PC ROG Raikiri Pro cuenta con una pantalla OLED incorporada, conectividad triple, cuatro botones traseros, gatillos de paso seleccionables, un ESS DAC, además de sensibilidad y curvas de respuesta de joystick ajustables. El ROG Raikiri Pro es ideal para juegos de PC y consolas Xbox Next-Gen
Pantalla OLED integrada: Crea un aspecto único con animaciones personalizables, visualiza indicadores de estado y cambia de perfil sobre la marcha.
Conectividad triple: Flexibilidad versátil con USB-C® con cable, RF de baja latencia de 2.4 GHz, además de Bluetooth®.
Controles traseros intuitivos: Se pueden programar cuatro botones izquierdo y derecho para comandos en el juego o para cambios de sensibilidad de joystick sobre la marcha.
Gatillos de paso seleccionables: Los gatillos izquierdo y derecho se pueden configurar en modos de rango corto o completo, con zonas muertas personalizables en Armory Crate.
Sonido premium: ESS DAC integrado para audio inmersivo; además de un puerto para audífonos de 3.5 mm y un botón de silencio.
Amplia personalización: Reasignar botones, cambiar la sensibilidad del joystick o realizar otros ajustes a través de Armory Crate.
Video Reseñas
This EXCLUSIVE CONTROLLER IS INCREDIBLE! 😲 The ROG RAIKIRI PRO
ROG RAIKIRI PRO - Controller with RGB Led, OLED screen, 48H Battery (Xbox & PC)
The ASUS ROG Raikiri Pro is definitely a controller full of personality, which gives the eye its famous and ever-popular side. All in all we are talking about a valid controller, with an extraordinary build quality, but one that is very limited on consoles (where it only works wired) and that, while abounding in customisation possibilities on the software side, lacks some features that can be found, even on the official Xbox controllers, in the same price range.
ASUS has truly made the best gamepad made by third-party developers that can be purchased for the computer.
This is a cool gamepad - it's really comfortable, it has a cool vibe and it's fun to play with. The question is that all the advantages it guarantees work only in wired mode, which significantly limits the possibilities.
Asus ROG Raikiri Review | Will these cyberpunk drivers beat the competition?
A good wireless controller for a select clientele.
CALIFICACIONES DE CLIENTES
Comparación de productos
Producto agregado a la comparación. Agregue hasta 4 productos o continúe para ver los productos seleccionados.
ASUS Footer