Visión general
Especificaciones técnicas
Premios
Galería
Soporte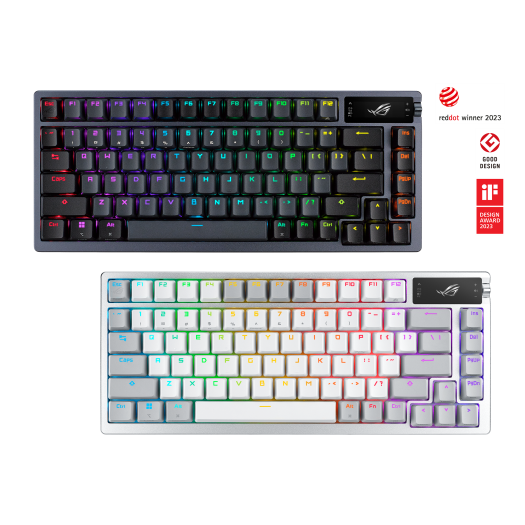 ROG Azoth
Teclado gamer personalizable ROG Azoth con factor de forma de teclado de 75%, espuma amortiguadora de tres capas y cubierta superior de metal, altamente personalizable con switches mecánicos ROG NX prelubricados e intercambiables, estabilizadores de teclado ROG, teclas PBT de doble disparo y kit de lubricación, triple conexión con tecnología SpeedNova de 2.4 GHz, pantalla OLED, perilla de control de tres vías, tres ángulos de inclinación y compatibilidad con Mac
Diseño único de montura con empaque: La montura con empaque de silicon con tres capas de espumas amortiguadoras se combinan para brindar una experiencia de escritura inigualable.
Conexión triple: Utiliza Bluetooth® para conectar y alternar entre tres dispositivos a la vez, la tecnología inalámbrica ROG SpeedNova proporciona hasta más de 2,000 horas de juego de baja latencia en modo inalámbrico RF de 2.4 GHz (OLED y RGB desactivados) o utiliza USB con cable estándar.
Pantalla OLED y controles intuitivos: Mira la información del sistema y la configuración del teclado de un vistazo; la perilla de tres vías incorporada permite un ajuste rápido de la configuración.
Switches mecánicos ROG NX intercambiables: Switches prelubricados para hacer clic más suaves y eliminar los ruidos de rebote, respectivamente; la actuación rápida y las curvas de fuerza ajustadas por ROG brindan una excelente sensación y consistencia al presionar las teclas.
Experiencia de escritura mejorada: El estabilizador de teclado prelubricado produce menos fricción para pulsaciones de teclas más suaves y estabilidad para teclas más largas; Las duraderas teclas de doble disparo ROG PBT ofrecen una sensación premium.
Kit de lubricante para switches: Incluye Lubricante Krytox™ GPL-205-GD0 para que los principiantes se inicien en el DIY de teclados.
Diseño ergonómico: Dos pares de pies de teclado de diferentes alturas proporcionan hasta tres posiciones de inclinación.
Compatibilidad con MacOS: Cambia fácilmente entre los modos Windows y MacOS.
Video Reseñas
75% Keyboard with OLED Display!
ROG Azoth Review - 2,000 Hours Of Battery Life?!
This Might Be Our Favorite 75% Keyboard Yet #shorts
This is one hell of a keyboard!
ROG Azoth Unboxing (ASMR) #shorts
I Made The New ASUS Keyboard Better.
With the ROG Azoth mechanical custom gaming keyboard, customising your keyboard has never been easier. Decide for yourself which switches you want to use and how "Thock" your keyboard will be.
Kabellose Custom Gaming-Tastatur: Asus ROG Azoth im Hands-On #ces2023
This gaming keyboard is crazy good.
Discover Inoxtag's incredible JUNGLE Gaming PC mod for €10,000, a piece of art!
ASUS ROG: I tested the ultimate keyboard/mouse kit for gamers
I WAS CHALLENGED to PLAY Mouse Keyboard again after 5 years and a half of playing with a controller! ⌨️🖱️
Asus ROG is entering the world of custom mechanical keyboards for the first time with their Asus ROG Azoth which is a customizable gaming keyboard in 75% format and wireless! For a brand specialized in gaming that decides to venture into an unknown territory, a bold move!
Very surprised that ROG took this approach to enter the customizable mechanical keyboard market.
The Asus ROG Azoth could just be Asus' most refined pre-built keyboard yet. Packed with some features typically found on custom keyboards, the Azoth even has an OLED display on the top right corner.
This is our take on the newly launched ASUS ROG Azoth 75% Mechanical Keyboard which is hot swappable, wireless and luxurious. There are sound tests at the end of the video, the Oil Kings are further modded with the tempest tape mod besides being filmed and lubed.
My keyboard modding experience using the new ASUS ROG AZOTH WIRELESS MECHANICAL KEYBOARD.
This gaming keyboard can THOCC! | ROG Azoth Wireless Gaming Keyboard Unboxing
This is the lightest mouse I have reviewed with amazing performance while gaming and doing productivity tasks
異常な拘り。狂気に満ちたキーボード、ROG Azothを紹介するぞ!静音性・打鍵感への追及も最高レベル。しかも分解できるキーボード!?やりたい事全部セットキーボード、誕生。
【競合不在】最近はピカピカ光るキーボードよりもこういうデバイスに惹かれるようになってきました。|ASUS ROG Azoth
【分解する】便利な機能も全部盛り!DIYツール付き75%キーボード【ROG Azoth】
【潜入】ASUS ROG 初のE-Sportsコレクション「ACE SERIES」発表会に行ってきた【自作PC】
公式が分解推奨?分解が最高に楽しそうなキーボード ASUS ROG AZOTH を買ってみたので開封分解配信をやってみる!【新製品】【商品レビュー】
Gaming Keyboard Freedom to Custom Accurate response with ROG NX
Gaming Keyboard Freedom to Custom Accurate response with ROG NX
The New ROG Gaming Gear Good design and Accurate response
How to DIY Custom Keyboard with ROG AZOTH
Here is the ROG Azoth, a keyboard that went beyond my expectations. It takes a lot from the world of custom keyboards and adds a lot of gaming features like the small monitor and wireless connectivity. I look at this keyboard from a gamer's perspective, it has its flaws but I consider it a good keyboard and a cool one. The price is a bit high but justified for the performance and build.
The ROG SWIFT PG259QN 360HZ is a top-of-the-line monitor with excellent performance. In fact, what is excellent is not only the image quality but the monitor also passed the color texture test.
This is a gaming keyboard. Overall, it is a good keyboard, targeting a specific audience, ROG enthusiasts. The switch sound is not bad for commercial use, but the stabilizers are unconvincing in both sound and tactile feedback. Strengths include the triple connectivity and the Oled screen, which provides a good experience. An additional strength is the accompanying keyboard kit for its care and customization.
Overall, it's a stylish, durable mechanical keyboard with plenty of useful and extra features.
ASUS made their best keyboard ever. And it's not just the best keyboard they've made. This is the best keyboard I have ever used in my entire life!
An incredible gaming keyboard.
ROG Azoth detachable keyboard | Ryzen 7 7800X3D in action!
ASUS accessories just keep getting better - and the company has decided to offer us the ultimate gaming keyboard. That means not only the best materials, but a fully modular design and a mountain of accessories that let you tweak your keyboard literally down to the last switch!
ASUS ROG Azoth Review | ASUS Flagship. TOP 75% Gaming Wireless Mechanical Keyboard
Crime Boss 💰🚔 Gang game experience
The most powerful keyboard in the world + fastest mouse / Rog Harpe Ace + Rog Azoth
The strongest modification and dye keyboard and the result is shocking !! Rog Azote
Video review from the channel Starlinecomp
Video review from the channel ASUS ROG CIS
Video review from the channel Warkey
After about 2 weeks of use and the impressions you can see in the video above, my final rating is a GOLD award.
CALIFICACIONES DE CLIENTES
Comparación de productos
Producto agregado a la comparación. Agregue hasta 4 productos o continúe para ver los productos seleccionados.
ASUS Footer