Characteristics
Techn. specs
Onderscheidingen
Galerij
Ondersteuning
ROG-STRIX-LC-RX6800XT-O16G-GAMING
De ROG Strix LC Radeon™ RX 6800 XT is een vloeistofgekoeld episch zeewezen
Dekoelplaat met volledige dekking brengt vloeibare koeling naar de GPU-matrijs en het geheugen.
Deon-board koeling voor de vermogensafgifte wordt verzorgd door een ventilator in blowerstijl en een laag-profiel koellichaam.
De 240mm radiator zorgt voor een balans tussen compatibiliteit en prestaties.
600mm-buizen bieden compatibiliteit met EATX-behuizingen en alternatieve bevestigingen
Super Alloy Power II omvat hoogwaardige lichtmetalen spoelen, massief polymeer condensatoren en een array van krachtstroom vermogensfasen.
ASUS FanConnect II biedt een hybride-gestuurde ventilatorheader, voor optimale systeemkoeling.
GPU Tweak II biedt intuïtieve tweaking van prestaties, thermische regelaars en systeembewaking.
Video Reviews
Deze kaart laat over het algemeen een veel betere prestatie zien terwijl hij koel en stil blijft.
With manual overclocking, even if we are not specialist, we managed to reach up to 2700MHz !
This liquid graphic card is awesome!
This card can go up to much higher clock speeds than a similar air-cooled model and can operate stably. However, we observed that the temperature ranged between 50 and 55 degrees and did not exceed this.
6800XT was already an excellent card and I think it came to an another level with the touch of ASUS engineers liquid cooling.
ASUS RX 6800 XT Strix LC Review – Hybrid Cooling Design Enabled an Absurd Overclocking!
WATER COOLER IN THE GRAPHIC CARD, IT DOESN'T GET HOT EVEN IF YOU WANT IT! ROG STRIX RX 6800 XT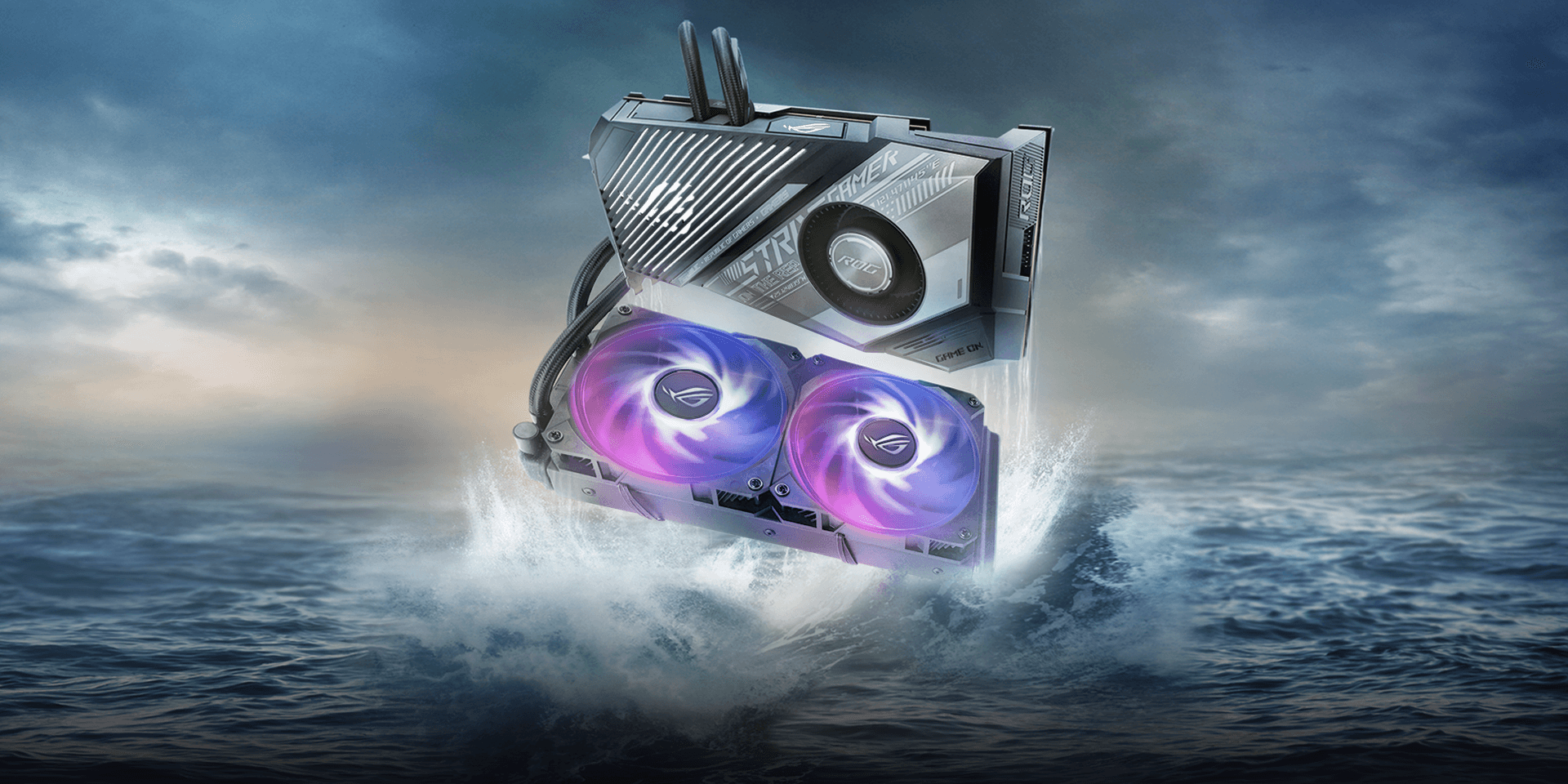 ROG STRIX LC
Radeon™ RX 6800 XT
ROG STRIX LC
Radeon™ RX 6800 XT
LIQUID-COOLED LEVIATHAN
Diep in de ASUS R&D-laboratoria ontwikkelden technici de theorie voor een optimale thermische oplossing voor AMD's nieuwste RDNA™ 2 architectuur. Hieruit kwam een vloeistofgekoeld gevaarte tevoorschijn dat in staat is om maximale prestaties uit de nieuwe chips te halen, terwijl hij volledig koel en stil blijft. Liefhebbers van prestaties die op zoek zijn naar de meest heftige RX 6800 XT-kaart hebben hun doelwit gevonden.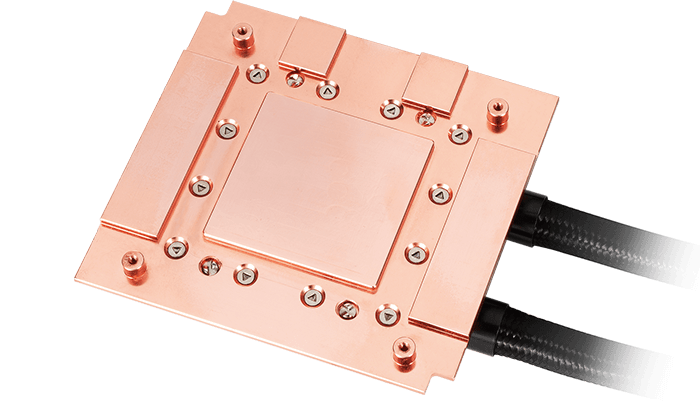 Een op maat ontworpen koelplaat strekt zich uit over de GPU-matrijs en het on-board GDDR6-geheugen, waardoor de componenten die het meest verantwoordelijk zijn voor de rauwe prestaties volop kunnen profiteren van de voordelen van vloeistofkoeling.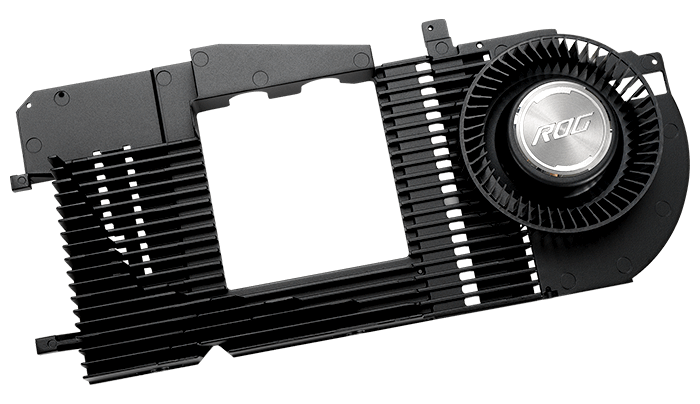 In de buik van het beest wordt de door de vermogensafgiftecomponenten geproduceerd warmte afgevoerd door een ventilator in blower-stijl en een laag-profiel koellichaam onder het omhulsel. De combo zorgt voor een rustige en efficiënte uitlaat van warme lucht.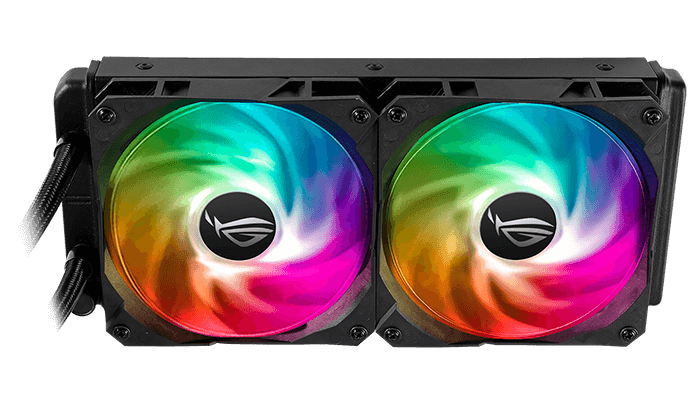 De 240mm radiator wordt gekoeld door twee krachtige 120mm ARGB-ventilatoren die geoptimaliseerd zijn voor hoge CFM's en statische druk.
Koelplaat met volledige dekking

On-board koeling

Radiatorventilatoren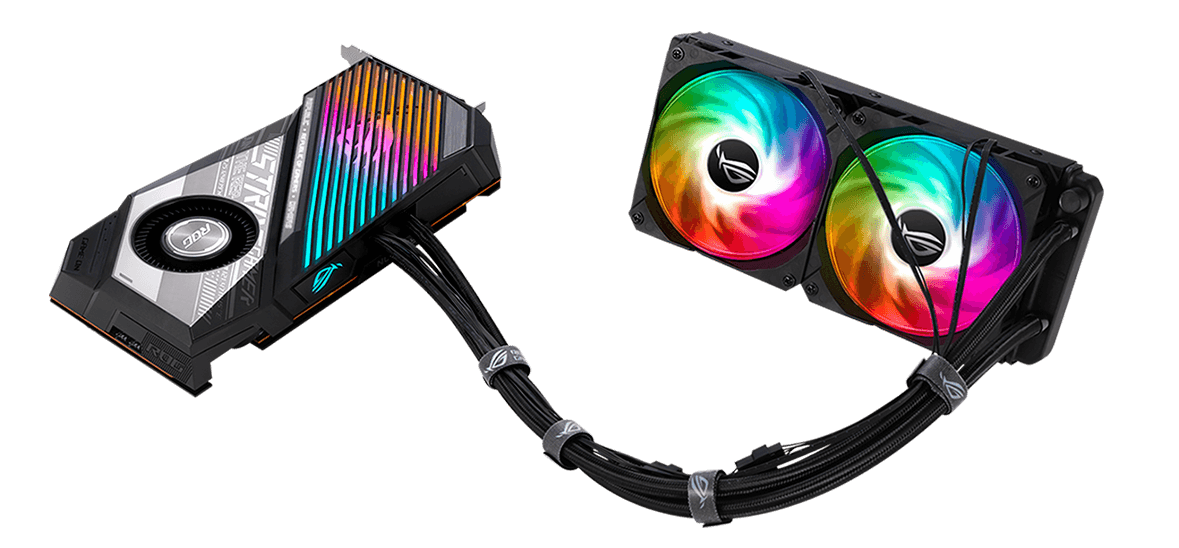 Slimme compatibiliteit
De LC maakt gebruik van 600mm buizen om compatibiliteit met grote behuizingen of builds met een AIO CPU-koeler mogelijk te maken. De radiatorventilatorkabels kunnen direct op de kaart worden aangesloten en met de bijgeleverde kabelbinders worden vastgezet om alles overzichtelijk te houden.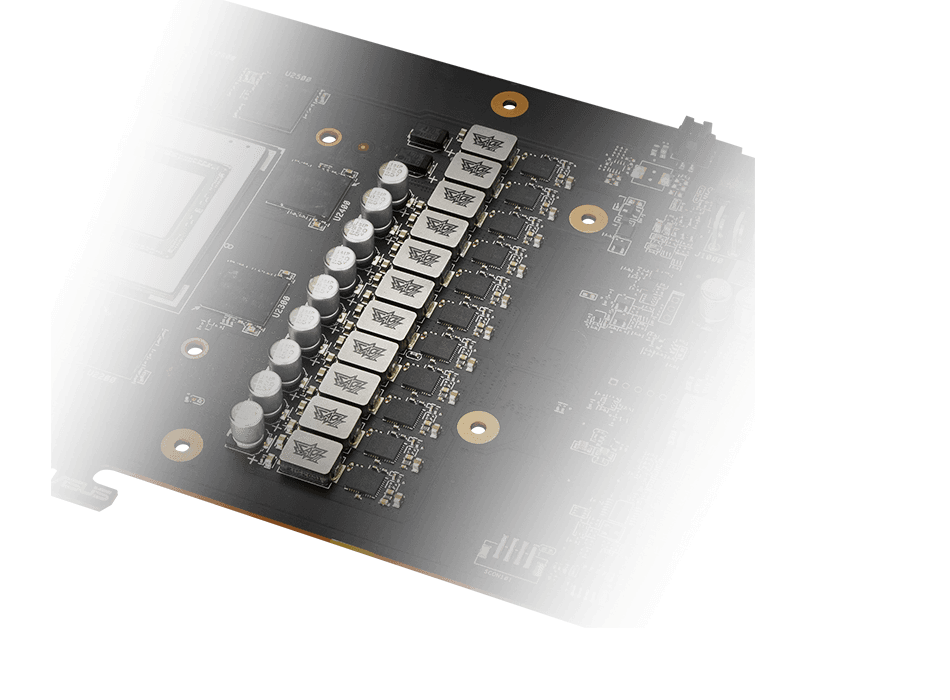 Hoogwaardige componenten
Condensatoren, spoelen en MOSFET's van de bovenste plank zijn geselecteerd om binnen een milliseconde moeiteloos honderden watts te leveren. De Super Alloy Power II-onderdelen worden aan het PCB vastgesoldeerd met behulp van ons geavanceerde geautomatiseerde Auto-Extreme productieproces. Precisie-verbindingen en de eliminatie van menselijke fouten zorgen ervoor dat elke videokaart voldoet aan onze strenge specificaties.
FanConnect II
De achterkant van de kaart is voorzien van twee PWM FanConnect-headers die zorgen voor extra DHZ-flexibiliteit. Behuizingventilatoren kunnen direct aan de GPU worden bevestigd en worden afgesteld met een curve die is gebaseerd op de CPU- en GPU-temperatuur, wat zorgt voor extra aanzuiging of afzuiging voor veeleisende 3D-taken.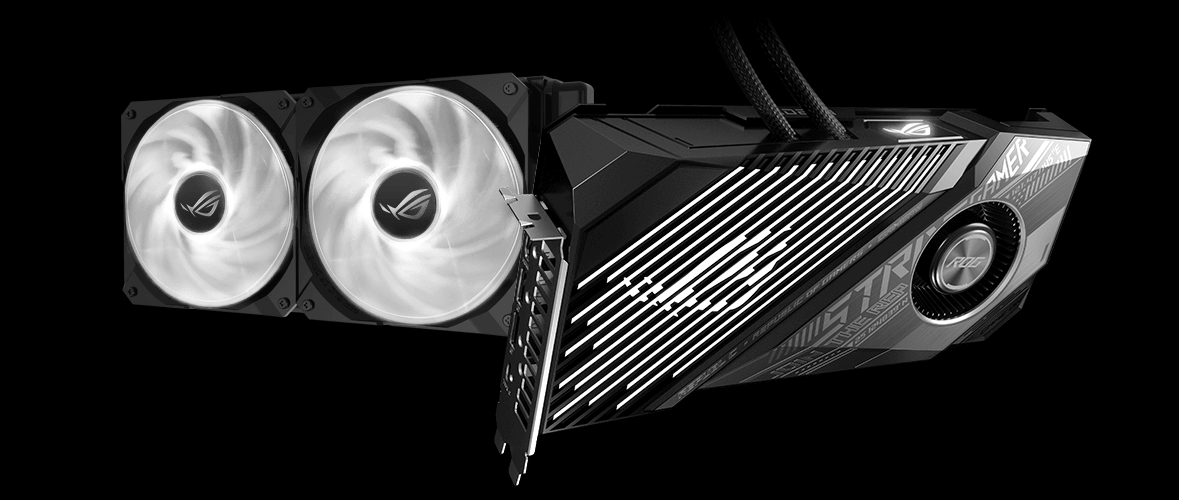 Aura Sync
De Strix LC houdt er niet van om zich te verstoppen. In plaats daarvan pronkt dit beest met zijn power via adresseerbare RGB-verlichting die door de strepen in het omhulsel schijnen, een verlicht ROG-logo en twee ARGB-radiatorventilatoren.
Kies een kleur
Op GPU
temperatuur
Laag punt: ℃

Hoog punt: ℃
Selecteer
modus
Statisch

Ademend

Strobe

Regenboog

Kleurencyclus

Sterrennacht

Slim

Muziek
GPU Tweak II
Het ASUS GPU Tweak II-hulpprogramma tilt tuning van de videokaart naar het volgende niveau. Het laat je cruciale parameters aanpassen, waaronder GPU core kloksnelheden, geheugenfrequentie en voltage-instellingen, met de optie om alles in real-time te bewaken via een aanpasbaar on-screen display. Geavanceerde ventilatorregeling is ook inbegrepen, samen met nog veel meer functies om het beste uit de videokaart te helpen halen.
Radeon-software
De nieuwste Radeon™ Software Adrenalin 2020 Edition ontgrendelt het volledige potentieel van de GPU met day-0 drivers die zijn geoptimaliseerd voor nieuwe game-releases en een zeer aanpasbare gaming-ervaring.
We zijn de samenwerking aangegaan met wtfast, om je te helpen gamen zonder lag, latentieproblemen en verloren pakketten. Profiteer via een 6-maanden abonnement op het wtfast Gamers Private Network van een lagere ping, voor een soepelere, vloeiendere online gaming-ervaring. Koop een ASUS-videokaart - en het wachten is voorbij!

Meer info over wtfast

XSplit biedt een hoogwaardige streaming-ervaring met in-game annotaties en andere geavanceerde functies. Profiteer van een gratis licentie bij aankoop van geselecteerde ASUS-videokaarten. Tot ziens online!

Meer info over XSplit

Quantumcloud is een eenvoudige en veilige service die je moeiteloos extra geld laat verdienen door een inactieve GPU aan het werk te zetten. Inkomsten worden automatisch overgeboekt naar een WeChat- of PayPal-account, en de privacy blijft intact omdat Quantumcloud geen persoonlijke gegevens online opslaat. Begin vandaag nog met geld verdienen!

Meer info over Quantumcloud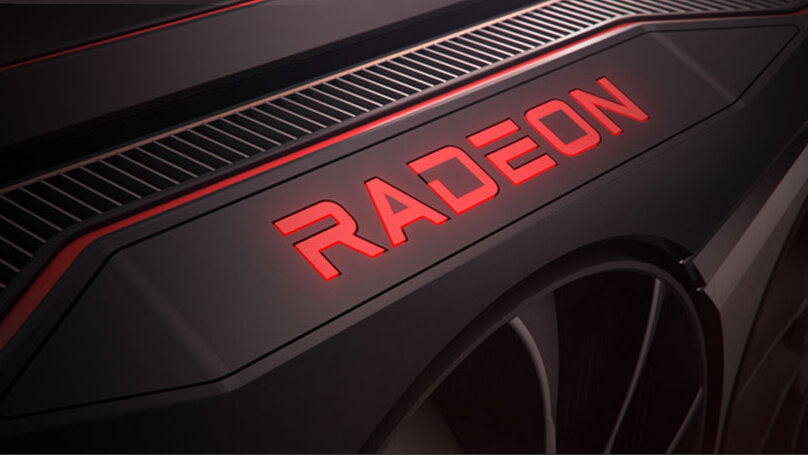 Krachtpatser-prestaties
AMD Radeon™ RX 6800-serie videokaarten leveren ultrahoge frame rates en serieuze 4K-beelden. Bereik adembenemende gaming-ervaringen met krachtige nieuwe rekeneenheden, baanbrekende AMD Infinity Cache en tot 16GB eigen GDDR6-geheugen. Indien gekoppeld aan een AMD Ryzen™ 5000-serie desktop-processor biedt AMD Smart Access Memory-technologie bovendien nieuwe niveaus qua gaming-prestaties.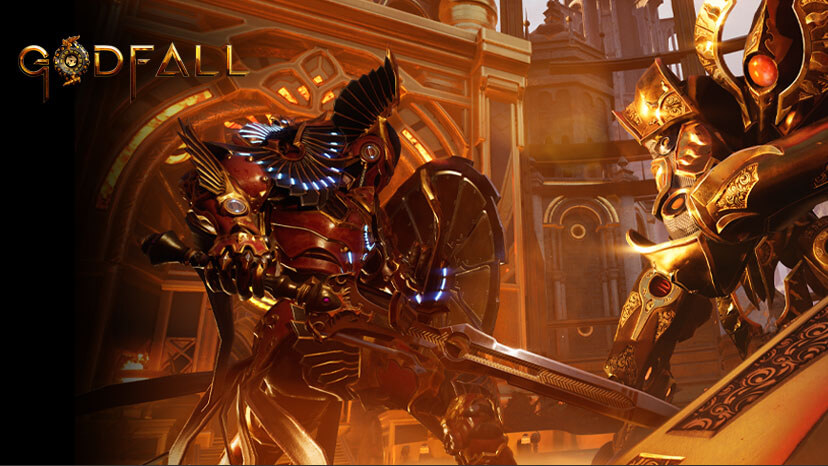 Levendige beelden
AMD Radeon™ RX 6800-serie videokaarten trekken je in de actie met meeslepende gaming-technologieën en ondersteuning voor DirectX® 12 Ultimate. Ervaar realistische verlichting, schaduwen en reflecties samen met rijke details dankzij DirectX® Raytracing (DXR), variable rate shading (VRS) en AMD FidelityFX-functies, geoptimaliseerd voor de AMD RDNA™ 2 architectuur.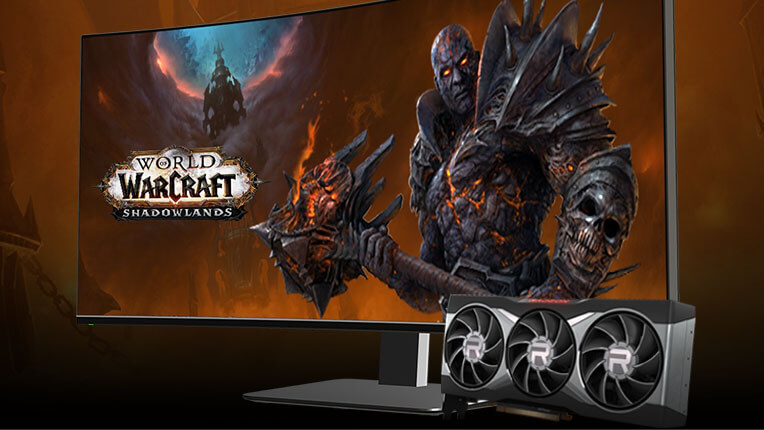 Betere beleving
Directe responsiviteit en vloeiende gaming worden nog beter dankzij de lage latentietechnologie van AMD Radeon Anti-Lag1 en AMD Radeon Boost2. Geef een boost aan je gaming-ervaring met de nieuwste HDMI™ 2.1 VRR-technologie, USB-C™-geschikte VR-headsets of meer dan 1250 AMD FreeSync™-technologie-geschikte gaming-schermen3.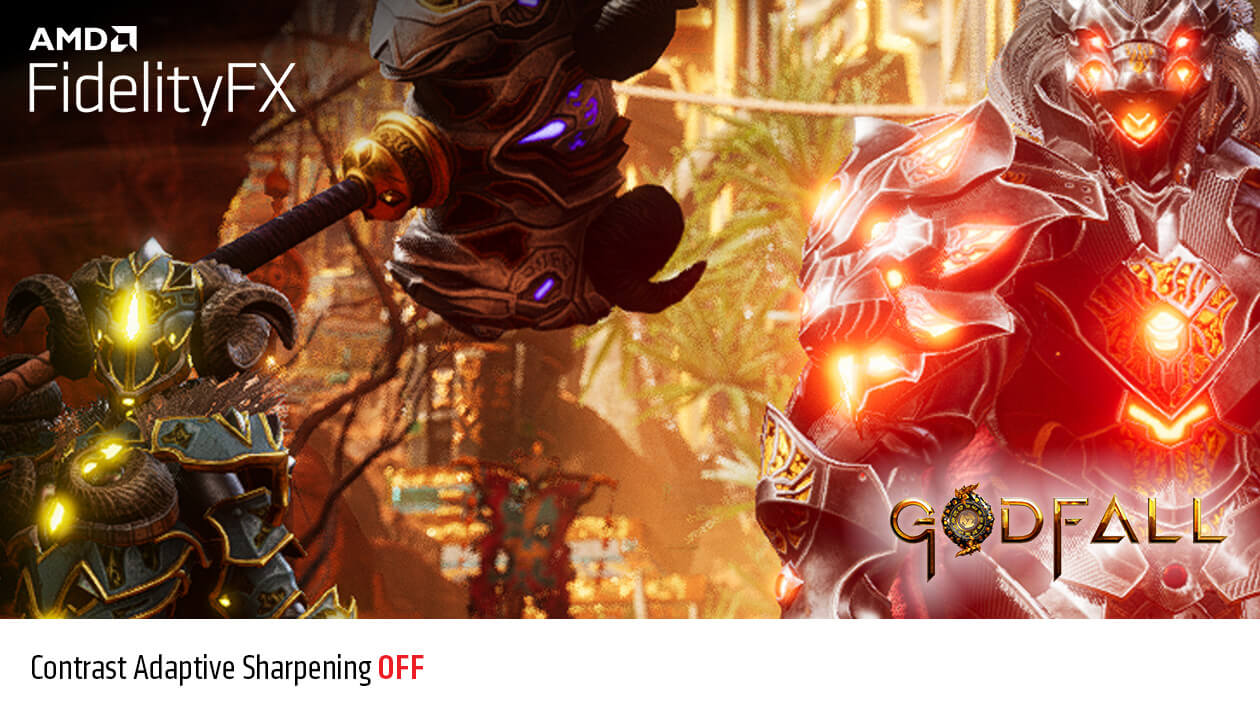 FidelityFX Contrast Adaptive Sharpening
Contrast Adaptive Sharpening (CAS) helpt de visuele kwaliteit te verhogen via optionele opschaling die details herstelt die verloren zijn gegaan nadat Temporal Anti-Aliasing (TAA) is toegepast.

Voor games die FidelityFX CAS ondersteunen, wordt aanbevolen om Radeon™ Image Sharpening in de Radeon™ software uit te schakelen om overmatige verscherping te voorkomen.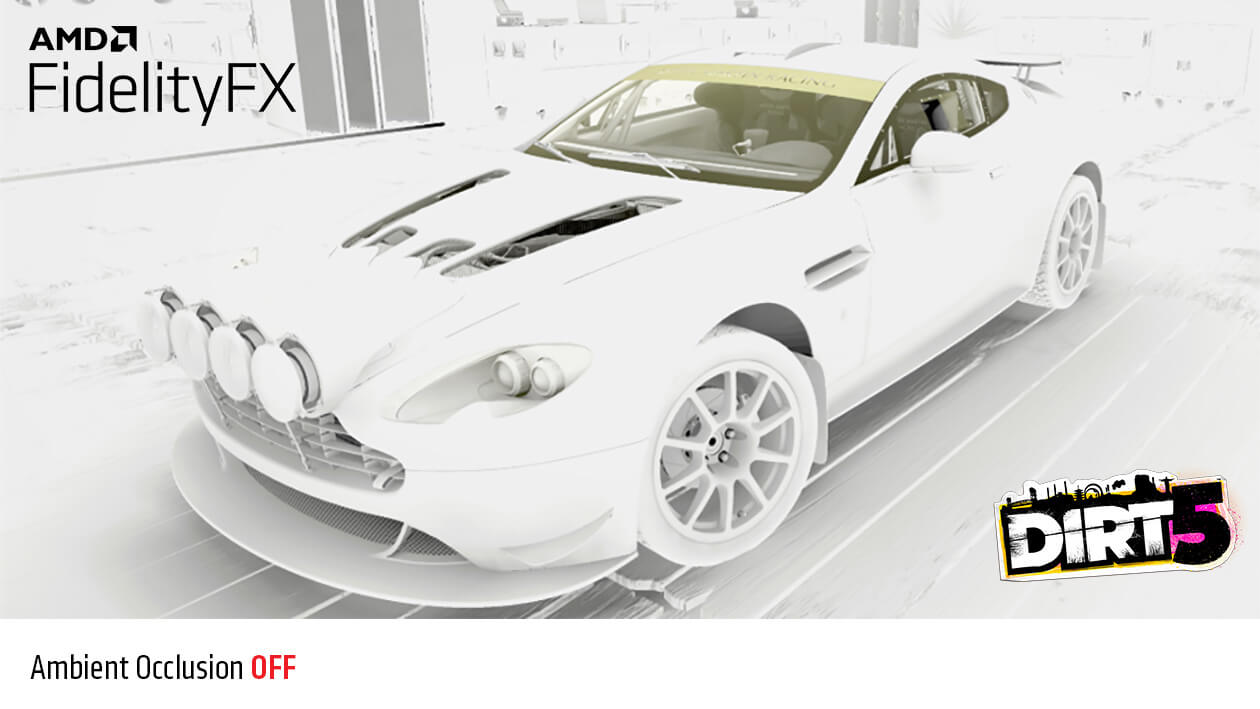 FidelityFX Ambient Occlusion
AMD RDNA™ architectuur-geoptimaliseerde Combined Adaptive Compute Ambient Occlusion (CACAO) helpt het uiterlijk van objecten dynamisch en efficiënt te verbeteren op basis van hun blootstelling aan omgevingslicht.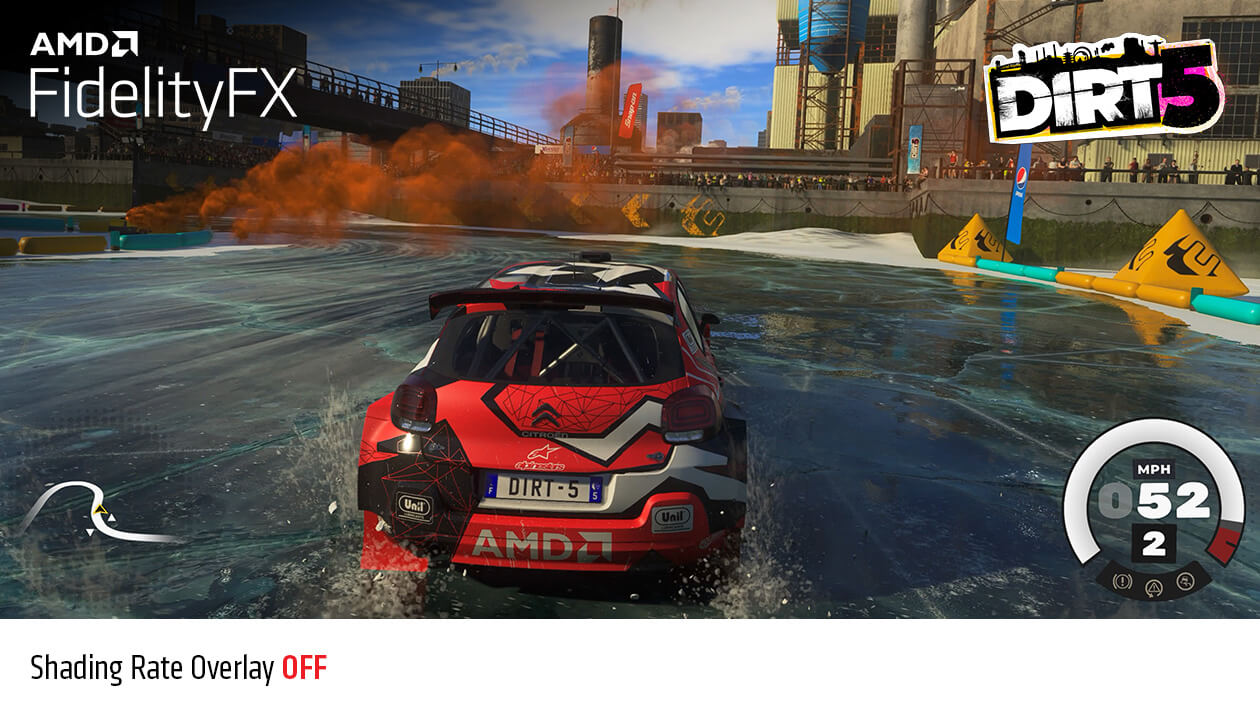 FidelityFX Variable Shading
De AMD RDNA™ 2 architectuur ondersteunt variable rate shading (VRS) om de luminantie en framebeweging te analyseren en zo de weergave te helpen optimaliseren, voor betere prestaties zonder de beeldkwaliteit te verlagen.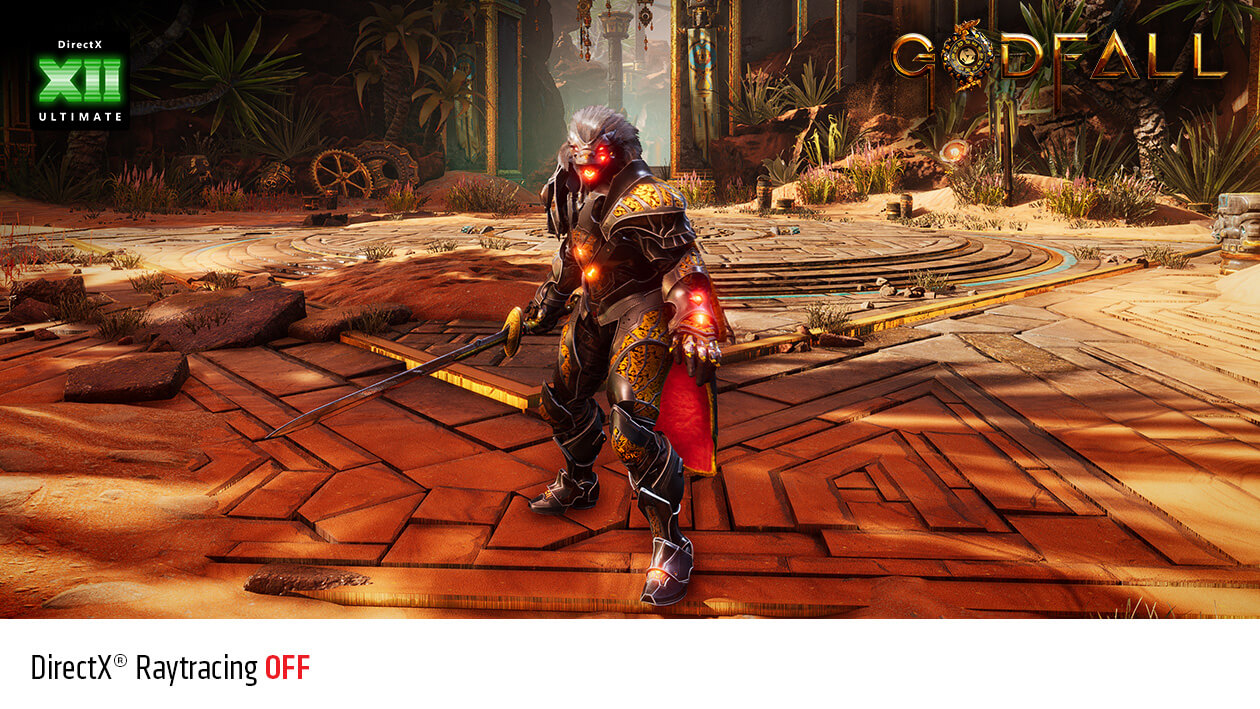 DirectX® Raytracing
DirectX Raytracing (DXR) voegt een nieuw niveau van grafisch realisme toe aan games door middel van effecten zoals reflecties, schaduwen en globale verlichting met real-time frame rates op AMD Radeon™ RX 6000-serie graphics, dankzij de ondersteuning van AMD RDNA™ 2 architectuur voor hardwareversnelde raytracing.
Radeon™ Anti-Lag is compatibel met DirectX 9 en DirectX 11 API's, Windows 7 en 10. De hardwarecompatibiliteit omvat GCN en nieuwere consumenten-DGPU's, Ryzen 2000 en nieuwere APU's, inclusief hybride en afneembare graphics-configuraties. Geen mGPU-ondersteuning. GD-157
Radeon™ Boost is alleen compatibel met Windows 7 en 10 in geselecteerde titels. De hardwarecompatibiliteit omvat RX 400 en nieuwere consumenten-DGPU's, Ryzen 2000 en nieuwere APU's, inclusief hybride en afneembare graphics-configuraties. Geen mGPU-ondersteuning. Voor een lijst van compatibele titels zie https://www.amd.com/en/technologies/radeon-boost. GD-158
AMD FreeSync™-technologie vereist AMD Radeon™ graphics en een scherm dat FreeSync-technologie ondersteunt zoals gecertificeerd door AMD. AMD FreeSync™ Premium-technologie voegt eisen toe van verplichte compensatie voor lage frame rates en een verversingssnelheid van ten minste 120Hz bij minimale FHD. AMD FreeSync™ Premium Pro-technologie voegt eisen toe voor het scherm, dat moet voldoen aan AMD FreeSync Premium Pro compliancetesten. Zie www.amd.com/freesync voor volledige details. Controleer vóór aankoop bij je systeemfabrikant of het systeem geschikt is. GD-127
© 2021 Ubisoft Entertainment. Alle rechten voorbehouden. Far Cry, Ubisoft en het Ubisoft-logo zijn geregistreerde of ongeregistreerde handelsmerken van Ubisoft Entertainment in de VS en/of andere landen. Gebaseerd op Crytek's originele Far Cry geregisseerd door Cevat Yerli.
World of Warcraft®: Shadowlands ©2020 Blizzard Entertainment, Inc. World of Warcraft en Blizzard Entertainment zijn handelsmerken of geregistreerde handelsmerken van Blizzard Entertainment, Inc. in de VS en andere landen.
GODFALL™ Gepubliceerd en gedistribueerd door Gearbox Publishing. Gearbox en het Gearbox Software-logo zijn geregistreerde handelsmerken, en het Gearbox Publishing-logo is een handelsmerk van Gearbox Enterprises, LLC. ©2020 Counterplay Games Inc. Alle rechten voorbehouden.
© 2020 Advanced Micro Devices, Inc. Alle rechten voorbehouden. AMD, het AMD Arrow-logo, FreeSync, Radeon, RDNA, Ryzen en combinaties daarvan zijn handelsmerken van Advanced Micro Devices, Inc. HDMI, het HDMI-logo en High-Definition Multimedia Interface zijn handelsmerken of geregistreerde handelsmerken van HDMI Licensing, LLC in de Verenigde Staten en/of andere landen. USB Type-C® en USB-C® zijn geregistreerde handelsmerken van USB Implementers Forum. Andere hierin gebruikte productnamen dienen alleen ter identificatie en kunnen handelsmerken zijn van hun respectievelijke bedrijven.
Productvergelijking
Product toegevoegd aan vergelijking. Voeg maximaal 4 producten toe of ga verder met het vergelijken van de geselecteerde producten.
ASUS Footer