Nie masz żadnych produktów w koszyku.
Funkcje
Specyfikacja
Nagrody
Galeria
Wsparcie klienta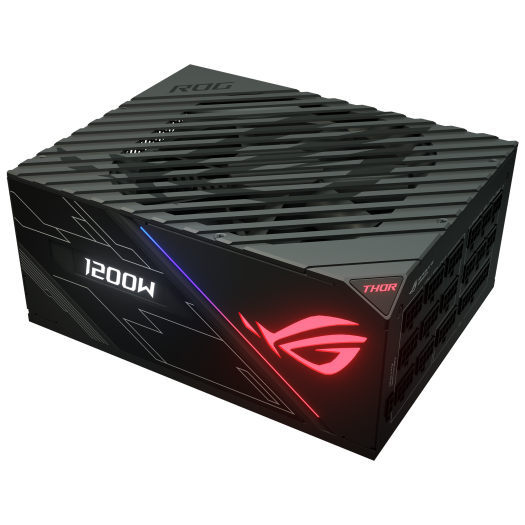 ROG-THOR-1200P
Jednostka zasilająca ROG Thor 1200 W Platinum wyróżnia się dzięki zastosowaniu technologii Aura Sync oraz wyświetlacza OLED
Aura Sync: Zaawansowane możliwości personalizacji dzięki zastosowaniu adresowalnych diod LED RGB oraz kompatybilności z Aura Sync
Wyświetlacz zasilania OLED: Monitorowanie poboru mocy w czasie rzeczywistym na wyświetlaczu zasilania OLED
Rozwiązanie termiczne ROG: Chodzenie przy 0 db dzięki zastosowaniu wentylatorów Wing-Blade, które są pyłoszczelne w klasie IP5X, oraz specjalnej konstrukcji radiatorów ROG
Kable z oplotem: Dla łatwego składania systemu i doskonałego wyglądu
Recenzje wideo
You've GOTTA check out the 1.77" LiveDash OLED display on this motherboard! Let Summerr take you on a quick tour ;)
Must be a strong build cause it's got both a Hero AND the Avengers in it, right? 🤭 Anyway, let Xiaoting Miaomiao tell you more about this super-powered build with the ASUS Republic of Gamers Z590 Maximus XIII Hero!
Have you checked out Zizan Razak 's latest all ROG PC build lately!? 🤩 If you haven't, click on the link and admire this absolute beauty of a build!
First RTX 3090 Ti in India... BAAP of all GPUs
This motherboard is quite interesting that comes in an all-black theme with a premounted I/O shield, lots of USB ports and other features
Turun dari langit di anter Dewa ASGARD! PSU ROG THOR 1200W | Indonesia
Perakitan ini dibantu channel Denny PC. Kalian bisa subscribe Denny PC di end screen belakang
This project was a bit tiring and time consuming, but the result was invaluable. We have assembled a special liquid-cooled system for the first time in the world with this motherboard.
Porównanie produktów
Produkt został dodany do porównania. Dodaj maks. 4 produkty lub wyświetl porównanie wybranych produktów.
ASUS Footer