Características
Especificações
Prémios
Galeria
Onde Comprar
Suporte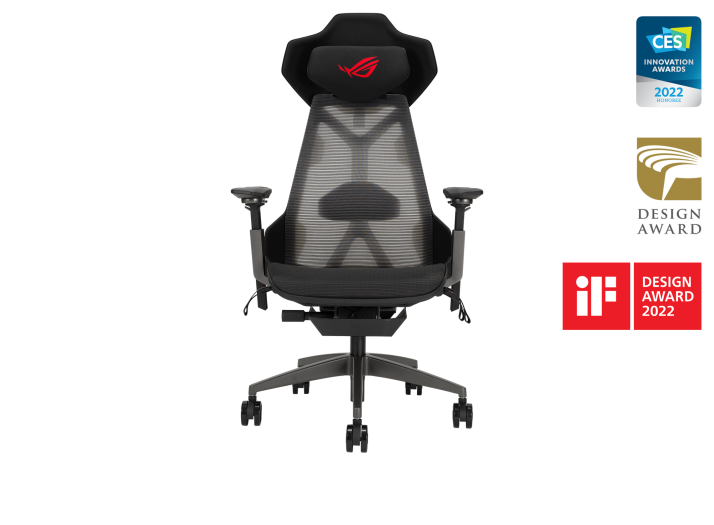 ROG Destrier Ergo Gaming Chair
Cadeira Gaming ROG Destrier Ergo com uma estética cyborg futurista, ajustes versáteis do assento para uma postura perfeita, modo de suporte do braço para mobile gaming (jogos móveis) e painel acústico para menos distrações e uma experiência gaming mais envolvente.
Design inspirado em cyborgs: O design do exoesqueleto confere um estilo futurista a qualquer configuração gaming.
Adaptação perfeita: Ajusta-se ao máximo para garantir o melhor suporte e conforto possível para gaming e muito mais.
Concebido para mobile gaming: O modo especial eleva os apoios de braços até 14 cm para elevar os braços à posição ideal para mobile gaming; além disso, os apoios de braços podem ser rodados em 360º.
Menos ruído, envolvência mais profunda: O painel acústico amovível reduz a distração para uma envolvência gaming mais profunda
Fabricada com materiais de primeira qualidade: Construída com uma estrutura de alumínio forte, malha respirável e espuma de PU confortável, proporciona um apoio e conforto sublimes.
Video Reviews
ASUS ROG DESTRIER, Gamer and Ergo seat, it does BOTH
Review Ergonomic Gaming Chair ROG DESTRIER SL400 ERGO with futuristic cyborg aesthetic for Mobile Gaming
The chair is a very expensive product, but I tried to justify the price by evaluating the features with alternatives on the market. The ergonomic features of this chair are outstanding and are not found on the market at this price.
This is an expensive accessory for gamers who are immersed in this industry. In any case, the chair definitely adds comfort.
This is a premium quality gaming chair with a super vibrant design. And because of the functional armrests, this is an extremely interesting chair for fans of mobile gaming.
Very unusual, really a lot of settings, but directly for very rich gamers.
Comparação de Produtos
Product added to comparison. Add up to 4 products or proceed to view compare products selected. Produto adicionado para comparação. Adiciona até 4 produtos ou continua para comparares os produtos selecionados.
ASUS Footer