Características
Especificações
Prémios
Galeria
Onde Comprar
Suporte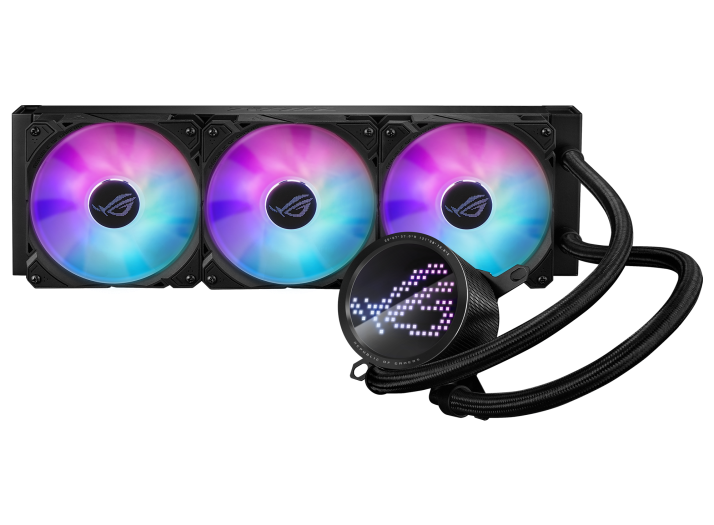 ROG RYUO III 360 ARGB
Dissipador de CPU All-In-One ROG Ryuo III 360 com solução de bomba Asetek de 8ª geração, ecrã AniMe Matrix™ LED e ventoinhas de arrefecimento ROG ARGB
A mais recente bomba Asetek de 8ª geração está equipada com um motor trifásico que proporciona o máximo rendimento de arrefecimento com maior caudal e menor impedância.
O ecrã AniMe Matrix™ exclusivo da ASUS é uma mini matriz de LEDs que pode exibir conteúdo anime exclusivo da ROG, estatísticas do sistema, e animações personalizadas
As ventoinhas ROG ARGB oferecem um fluxo de ar elevado e níveis de ruído otimizados
Componentes de alumínio e revestimento a vácuo proporcionam uma elevada durabilidade e estética de topo
A série ROG Ryuo é desenhada para complementar as motherboards da ROG no coração de uma construção topo de gama
Video Reviews
Do this piece reduce the temperature of the 13900 processor and the rhizen 9, or laugh at people ???
Video review from the channel HDTanel. Rating 6.5/10
Goodbye O11-D?! | ASUS TUF GT502 Gaming PC Build | ROG RYUO III | Ryzen 9 7950X | RX 6800 XT
ASUS TUF GT502 Case BUILD - TUF Enuf?!
Which will YOU choose?! | ASUS TUF Gaming PC Build | GT501, GT502 & Prime AP201 | Intel i5 i7 i9
Ultimate RTX 4090 Gaming PC Build!
Benchmarking a BEAST of a PC! Intel 13900K + DDR5 7200 + RTX 4090 OC
The 8th gen Astek pump in ROG Ryuo III is so quiet and has no problem keeping the Ryzen 9 7950X above 5GHz for sustained period.
This new AIO Cooler from ROG impressed me
ASUS ROG Ryuo III - AniMe Matrix & Armoury Crate
I BUILD the ULTIMATE AMD PC at 3500€ !
GAMING PC CONFIG 3000€ : Build & FULL Test
It simply exceeds my expectations.
This is the 'coolest' AMD-based system
Mainboard is smart and convenient now! - In the hands of ROG Strix Z790-E Gaming Wifi + i5 13600k
The ROG Ryuo III ARGB is a heatsink that boasts excellent aesthetics and design. The fans that reach a maximum speed of 2200 rpm have excellent build quality and are not noisy at all. Performance side, it is noticeable that it is a high-end and quality product. In fact, it fully passed the stress test. In conclusion, we are looking at a top-of-the-line product from first-class performance.
The ROG SWIFT PG259QN 360HZ is a top-of-the-line monitor with excellent performance. In fact, what is excellent is not only the image quality but the monitor also passed the color texture test.
To assemble my pc, I used the TUF Gaming AX6000 WiFi Router, TUF GT 502 case, ROG Ryuo III heatsink, TUF Gaming VG28UQL1A monitor, TUF Gaming TF120 ARGB fans, graphics card GeForce RTX 4080 TUF O16G, TUF Gaming 1000W Gold power supply, TUF Gaming AX3000 router
Assembling a Custom PC in 2023 is easier than ever. Here is the ultimate guide to assemble your Gaming PC or work PC with all the tips on how to assemble an Intel, AMD and NVIDIA PC. For the guide I decided to use several products including the Asus ROG Crosshair X670E motherboard and Asus ROG Strix Z790 as well as an Asus ROG Ryuo 3 360mm heatsink
I was not fully satisfied with my PC workstation and decided to make an investment and build my own build. Such a machine is definitely a step forward in terms of performance for handling video editing and streaming. I used an Asus rog strix b760 g gaming WiFi D4 motherboard, Asus TUF Gaming rtx 4070 ti gpu, Asus rog loki 850w power supply, Asus rog ryou 3 heatsink and Asus prime case ap201.
Used for Diablo pc assembly
ROG RYUO III liquid cooling is really successful in gaming, the reasons for this are the 8th gen Asetek pump, the large copper surface of the sub cooler and the addition of two more liquid channels in the radiator.
Asus ROG RYUO III 360 ARGB liquid cooling system will fit perfectly into a powerful game PC. It is difficult to argue with its high productivity. Therefore, compared to other three-section solutions, we either have an advantage of 1-7 ° C or similar efficiency at much lower noise level.
NEW GENERATION OF ASUS RYUO SERIES WATER COOLING | ASUS ROG RYUO III 360mm
Tuff Gaming PC 🫵🤩 A group at the end of the year and the experience of Nafidia technologies
The most powerful group ROG!
Tuff Gaming PC 🫵🤩 A group at the end of the year and the experience of Nafidia technologies
Do this piece reduce the temperature of the 13900 processor and the rhizen 9, or laugh at people ???
The Assus B760 -f and the 13th generation Etell I7 processor
Installation and construction of ASUS collection from A to Z with the testing of Gaming PC Build 2023
The performance of the Set App 2023 !! (Rog Strix RTX 4080)
Design, quality of materials, ease of installation, performance, AniMe Matrix screen, warranty.
Video review from the channel TheTanelChannel. Rating 6.5/10
Video review from the channel StupidmadWorld
Comparação de Produtos
Product added to comparison. Add up to 4 products or proceed to view compare products selected. Produto adicionado para comparação. Adiciona até 4 produtos ou continua para comparares os produtos selecionados.
ASUS Footer