Обзор
Характеристики
Награды
Галерея
Поддержка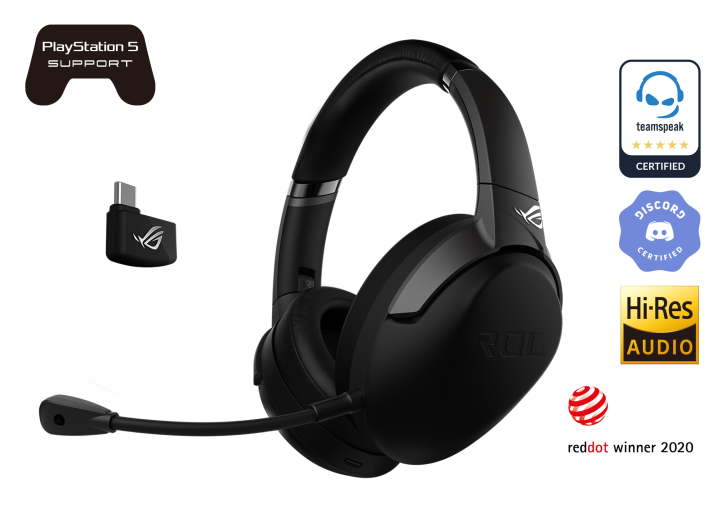 ROG Strix Go 2.4
Геймерская гарнитура для Nintendo Switch, смартфонов, ПК, Mac и PS4: микрофоны с интеллектуальным шумоподавлением и беспроводной интерфейс 2,4 ГГц с низкой латентностью
Беспроводной интерфейс 2,4 ГГц (через адаптер с разъемом USB-C): совместимость с Nintendo Switch, смартфонами, ПК, Mac и PS4, плюс стандартный 3,5-мм штекер для консоли Xbox One и других устройств
Мобильность: малый вес и защитный футляр для переноски
Микрофоны с интеллектуальным шумоподавлением: высококачественная голосовая связь во время игры
Ускоренная подзарядка: 3 часа автономной работы после 15 минут подзарядки и до 25 часов – при полном заряде аккумулятора
Чистый звук с глубоким басом: 40-миллиметровые динамики Essence с герметичными акустическими камерами
Видеообзоры
The best ASUS gaming headset ?
Akhirnya Headphone BAGUS Dari Asus! Review Asus ROG GO 2.4
处女秀开箱!一起来开箱看看 ASUS Republic of Gamers 最新的无线外设! Mousepad:ROG Scabbard II Mouse:ROG Keris Wireless Keyboard:ROG Falchion Headset:ROG Strix Go 2.4 Keycap:ROG PBT Doubleshoot Keycap Set
我第一次把油倒在mousepad上,有点怕怕哈哈哈哈哈 虽然这期影片有点长,但是资讯满满哦!
第一次是不是都特别害羞😳啊?丹丹第一次拍摄🎬的开箱视频就是全套ROG的Gaming Gear!你们在用着怎样的Gaming Gear呢?留言告诉我哟❤
Need somewhere to spend your duit raya? Laphel presents 4 new products in under 4 minutes - see, nice, BUY! ;)
MamaJess' gaming setup just got a brand-new makeover from ASUS Republic of Gamers! Check out her unboxing of the entire collection 😎
Do you love your gaming gear like Nyan Yan does? If not, it's time to buy ROG gear and syok together 🥳
ASUS ROG Strix Go 2.4 - Worth Buying in 2022? Lets take a look in this review!
A scientist's third-grade daughter did a free study on the World Wide Web.
HEADSET WIRELESS GAMING ANTI DELAY DARI ROG INI BISA DI SEMUA DEVICE - ROG STRIX GO WIRELESS 2.4
Kenyamanan gaming dengan komunikasi yang didukung AI (Artificial Intelligence) menjadi andalan utama produk ASUS dari lini ROG yang satu ini. Tentu saja, kualitas audio pun tetap diperhatikan. Sebuah inovasi yang menarik dihadirkan oleh ASUS melalui salah satu varian headphone gaming
Headset Gaming Wireless yang Paling KOMPLIT Fiturnya! - Asus ROG Strix Go 2.4 Review | Lazy Review
Gaming Monitor 43 " 4K with HDMI 2.1 supporrt PS5 120Hz with Gaming wireless Headset test on PS5
Review The new ROG Gaming Gear wireless Set
Artificial Intelligence in ASUS headsets
Namely, gaming headphones ASUS ROG STRIX GO 2.4 are ideal for the current times and #ostanidoma for learning and working in peace.
All in all, a very interesting All Round Headset that is very good in all respects and therefore you should not be surprised that this headset received Streberi Advance Design award.
"The Strix Go 2.4 is a great headset as both a travelling headset and just a stay-at-home gaming headset"
The Perfect Traveling Gaming Headset
Сравнение продуктов
Продукт добавлен для сравнения. Вы можете добавить до 4-х продуктов.
ASUS Footer