Features
Tech Specs
Gallery
Support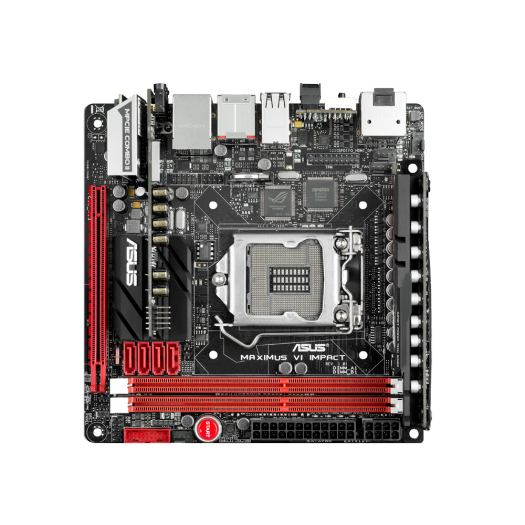 ROG MAXIMUS VI IMPACT
Mini-ITX Z87 gaming board from ROG with amazing audio, incredible power management and flexible next-generation connectivity
LGA1150 socket for 4th Generation Intel®Core™ i7/ i5/ i3/ Pentium® / Celeron® Processors
Intel® Z87 Express Chipset
Impact Power- Compact dynamo of full-scale power
SupremeFX Impact- Blade of sound adds striking game audio
Sonic Radar- Scan and detect to dominate
mPCIe Combo II + Wi-Fi 802.11ac/Bluetooth 4.0- Extra connections with new gen support
GameFirst II + Intel LAN- Put Your Frags First
RAMDisk- Double up on speed with RAM
ROG mini-ITX, accept no compromises
ROG hits the road with mini-ITX - size is no longer any indicator of performance.
They said it couldn't be done, but ROG's devoted crew of designers and engineers has finally delivered on the dream of a proper mini-ITX gaming board. Fans of LAN parties and gaming tournaments love to make a strong impression — and that's why more gamers choose Maximus VI Impact. Balancing great performance with excellent stability, power efficiency and thermal innovation, Maximus VI Impact fits in highly elegant and portable home-theater PC (HTPC) and Shuttle-style compact cases while retaining ROG's renowned cachet – so being a champion is more flexible than ever. or couch-bound living room champion becomes easier than ever.
---
---
Designed and tested for the best compatibility
Case and CPU-cooler compatibility is extremely important for mini-ITX gamers and enthusiasts. That's why ROG has performed hundreds of tests and modifications to perfect Maximus VI Impact's layout to ensure maximum compatibility with both mini-ITX chassis designs and CPU coolers.
Installation washers included*
For convenience and the widest backplate compatibility, Maximus VI Impact includes four installation washers.
* Washers required only if you encounter installation difficulties.
Zero height on backplate area
ROG designers carefully designed the Maximus VI Impact's layout to keep the CPU's blackplate area clear, allowing better support.
---
Impact Power
Compact dynamo of full-scale power
ROG engineers have reshaped Extreme Engine Digi+ III with Impact Power with a vertical design, so now you can benefit from precise power management and stable overclocking on mini-ITX – you get same best-quality components and vaunted overvolting and overclocking flexibility you expect from any ROG motherboard.
---
SupremeFX Impact
Blade of sound adds striking 115dB SNR (signal-to-noise ratio) audio
Experience outstanding 115dB signal-to-noise ratio audio on mini-ITX from the included SupremeFX Impact sound card – and keep the PCIe x16 slot free for an amazing graphics card.
Dual-differential design with four operational amplifiers
Exclusive differential circuit design plus four op-amps for the rear and front-panel headphone output sockets ensures lossless multi-channel gaming audio with exceptional clarity and fidelity, regardless of which port you choose to use. The audiophile-grade Texas Instruments LM4562 op-amp also boosts high-end headphone enjoyment with up to 600ohm impedance, finer detail and stronger bass.

Analog signals from the SupremeFX audio chip are split into two identical but opposing phases via intricate PCB logic. The high-fidelity operational amplifier (op-amp) then combines them while filtering out noise and interference, providing a clear audio stream with double the intensity.
* The test result may vary from board to board.
** The result is from a real "Audio Precision" test and may vary with different testing environment and equipment.
---
Music PnP (Plug and Play)
Amplify your audio
This brand-new, ROG-exclusive technology forwards a stereo audio stream straight to your speakers — when your PC is turned off. Just connect an audio-playing device to the mic-in jack and let the music play.*

The benefits of Music PnP:
No-hassle — hook-up with a 3.5mm jack cable
No power — power-saving with your PC off*
No waiting — your speakers will pump instantly
* Requires analog-audio front-panel (AAFP) port to be connected to the case's HDA module
---
Perfect Voice
Upgraded noise cancellation
Simple and effective technology greatly improves internet calls (VoIP) with crystal-clear communications and no additional array microphones needed.
Noise gate
Exclusive digital signal processing removes noise during pauses in speech and other periods of silence.
Noise reduction
Spectral-subtraction algorithm analyzes and determines the amount of ambient noise to be countered.
---
mPCIe Combo II
with 802.11ac/Bluetooth 4.0
Extra connections with M.2 (NGFF) support
The next evolution of the mPCIe Combo card gives you even better expandability with the latest standards in connectivity and easy install. You get mini PCI Express 2.0 plus USB 2.0 with an included dual-band 2.4GHz/5GHz Wi-Fi 802.11ac and Bluetooth 4.0 module, powered by ASUS-exclusive Wi-Fi GO! Remote and Wi-Fi Engine, which maximize performance for better experiences. It's an instant upgrade to the fastest wireless right on your desktop. All without having to sacrifice a PCI Express slot!

The compact but versatile mPCIe Combo II further future-proofs your build with M.2 (NGFF, Next Generation Form Factor) connectivity for SSDs. M.2 is a fast and power-efficient standard that aims to replace mPCIe and mSATA, designed to optimize SSD performance. mPCIe Combo II works with your high speed M.2 SSDs and makes the most of their potential, helping you reduce load times to run your OS and games even faster.
---
Dual Intelligent Processors 4 with 4-Way Optimization
One click for better performance, efficiency, digital power control, reduced noise, and improved cooling.
Starting with the Turbo Processing Unit (TPU), 4-Way Optimization performs Auto Tuning, which automatically overclocks the CPU to within ~95% of its potential, a process that typically could take up to 2 days to manually overclock. Auto Tuning is even able to overclock 2 cores at a time, and can configured to prioritize either multiplier (default) or BLCK if desired.

The process then moves to the Energy Processing Unit (EPU), which customizes power saving profiles for periods of light use or idle states. Within this module are options to set a TDP cap for low power scenarios, as well as selectively shut off SATA and USB ports when idling.

Next, DIGI+ VRM optimizes digital power settings to take full advantage of the CPU's built-in digital power delivery, creating a more precise and stable overclocking experience through OCP and LLC presets.

Finally, Fan Xpert 2 tests and calibrates each individual case fan connected to your motherboard to create selectable cooling profiles that can be further customized upon completion. The ability to assign customized fan curves and/or all-or-nothing temperature thresholds to profiles is also included.
---
Sonic Radar
In-game sound visualization overlay
Dedicated to FPS gamers, Sonic Radar is a stealthy overlay that shows you what opponents and teammates are up to. Gunshots, footsteps, and call-outs appear with precise directioning via the on-screen radar. Includes a hotkey that allows you to switch sound detection focus for specific effects within games, and intuitive settings that provide greater gaming experiences:

Four optimized game presets: three fine-tuned presets based on major FPS games, plus one general preset, all ready for your arena of engagement.

Six key sound effects detected: visualize major game sound effects to help you complete your mission every time.
---
Upgraded UEFI BIOS
Most award-winning in segment
The new ROG UEFI BIOS includes a Last Modified feature that records recent changes. And to make sure you never forget a tuning idea, the in-BIOS Quick Note is perfect for jotting down memos and system details. It sure beats easily-misplaced paper notes! There's also F4 My Favorites and Shortcuts for easy access to the BIOS features you need most, and you can even adjust boot logo size. The new BIOS also lets you name individual SATA ports so you can easily identify them to save time when defining boot sequences and other drive-related settings.

With ROG Pulse, a cool flashing ROG logo indicates system activity, and very importantly, the helpful SSD Secure Erase has been added, restoring SSD speed from inside the BIOS and with no need for less compatible third party utilities. Click the upper right tab to learn more.


---
SSD Secure Erase
Recover lost performance. Back to high speed
SSD performance degrades with time due to overwrite action. ROG is the world's first motherboard brand to integrate SSD Secure Erase into UEFI BIOS for better compatibility and easier use, offering the best removal method to completely delete all data on an SSD to recover lost performance and restore factory speeds.
---
ROG RAMDisk
Don't waste your RAM: 20X faster storage than SSD!
ROG RAMDisk easily turns RAM into superfast temporary storage to accelerate operating system performance and reduce load times. It can use up to 80% of available system memory, and accesses files without relocating them to protect data integrity and minimize accidental corruption. To do this, the utility creates junction points which serve as quick links between files and RAM storage. All files are automatically saved and restored to their specific locations on hard drives when you turn your PC off, then go back to RAM when you power on again.
---
Intel® I217 Gb LAN with GameFirst II
Less lag for more win
Combines superior hardware with intuitive software to control your gaming experience, intelligently lowering pings and prioritizing bandwidth
---
ROG – that special extra
Kaspersky® Anti-Virus
The best protection from viruses and spyware Kaspersky® Anti-Virus Personal offers premium antivirus protection for individual users and home offices. It is based on advanced antivirus technologies. The product incorporates the Kaspersky® Anti-Virus engine, which is renowned for malicious program detection rates that are among the industry's highest.

DAEMON Tools Pro Standard
The real tool for optical and virtual discs
DAEMON Tools Pro offers essential functionality to backup CD, DVD and Blu-ray discs. It converts optical media into virtual discs and emulates devices to work with the virtual copies. DAEMON Tools Pro organizes data, music, video and photo collections on a PC, notebook or netbook.
ROG CPU-Z
Whole new design of CPU-Z
ROG CPU-Z is a customized ROG version authorized by CPUID. It has the same functionality and credibility as the original version, with a unique design. Use the whole new look of ROG CPU-Z to truly report your CPU related information and your uniqueness.
Mem TweakIt
Dynamic timing adjustments, DRAM efficiency gauge
When changing DRAM settings in BIOS, it always takes time for the system to reboot. Worry no more! With Mem TweakIt, you can do DRAM tuning in real-time and view your DRAM efficiency score.
---
CPU and Chipset Features
Intel® LGA1150 4th Generation Core™ i7/Core™ i5/Core™ i3/Pentium®/Celeron® Processors Ready
This motherboard supports Intel® 4th generation Core™ i7/i5/i3/Pentium®/Celeron® processors in the LGA1150 package, with iGPU, memory and PCI Express controllers integrated to support onboard graphics output with dedicated chipsets, 2-channel (4 DIMM) DDR3 memory and 16 PCI Express 3.0/2.0 lanes. This provides great graphics performance. Intel® 4th generation Core™ i7/i5/i3/Pentium®/Celeron® processors are among the most powerful and energy efficient CPUs in the world.
Intel® Z87 Express Chipset
The Intel® Z87 Express Chipset is a single-chipset design that supports socket LGA1150 4th generation Intel® Core™ i7/i5/i3/Pentium®/Celeron® processors. It provides improved performance by utilizing serial point-to-point links, allowing increased bandwidth and stability. Additionally, Z87 provides a maximum 6 USB 3.0 ports and 6 SATA 6Gb/s ports for faster data retrieval. Moreover, the Intel® Z87 Express Chipset also supports iGPU functions, letting users enjoy the latest Intel integrated graphics performance.
Intel® Smart Response Technology
SSD speed with HDD capacity
Uses an installed fast SSD (min18.6GB available capacity required) as a cache for frequently-accessed data. Key benefits include reduced load and wait times, and lower power consumption through the elimination of unnecessary hard drive spin. This technology combines SSD performance with hard drive capacity, operating up to 6X faster than a hard drive-only system.
Intel® Smart Connect Technology
Auto application refresh and shorter wait times
Your computer can receive web updates with fresh content for selected applications, even when the system is in sleep mode. This means less time waiting for applications to update and sync with the cloud, leading to a more efficient computing experience.
Intel® Rapid Start Technology
Instantly awaken your PC from sleep mode
Allows your computer to quickly resume from a low-power hibernate state in seconds. Saving your system memory to the designated SSD, it provides your computer a faster wake-up response time, while still keeping energy use low.
Product Comparison
Product added to comparison. Add up to 4 products or proceed to view compare products selected.
ASUS Footer