คุณสมบัติ
Tech Specs
Awards
Gallery
สนับสนุน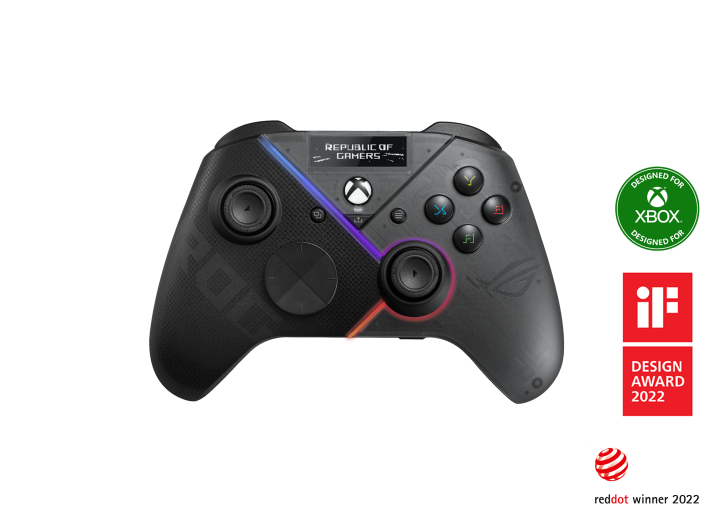 ROG Raikiri Pro
The ROG Raikiri Pro PC Controller features an OLED display, four rear buttons, selectable triggers, ESS DAC, customizable joystick sensitivity and response curves, and tri-mode connectivity. It's ideal to play in wired USB-C, 2.4GHz, or Bluetooth on PCs
Built-in OLED display: Create a unique look with customizable animations, view status indicators, and switch profile on the fly
Versatile tri-mode connectivity: Use low-latency 2.4 GHz RF, Bluetooth®, or wired USB-C® to play on PC; plus certified for Xbox via USB-C connection
Intuitive rear controls: Four left and right buttons can be programmed for in-game commands or for on-the-fly joystick sensitivity shifts
Selectable step triggers: Left and right triggers can be set to short- or full-range modes, with dead zones customizable in Armoury Crate
Premium sound: Built-in ESS DAC for immersive audio; plus 3.5 mm earphone jack, and a mute button
Extensive customization: Remap buttons, change joystick sensitivity, or make other adjustments via Armoury Crate
Extensive battery life: Up to 48-hour battery life enables nonstop gaming
วิดีโอรีวิวจากสื่อ
This EXCLUSIVE CONTROLLER IS INCREDIBLE! 😲 The ROG RAIKIRI PRO
ROG RAIKIRI PRO - Controller with RGB Led, OLED screen, 48H Battery (Xbox & PC)
The ASUS ROG Raikiri Pro is definitely a controller full of personality, which gives the eye its famous and ever-popular side. All in all we are talking about a valid controller, with an extraordinary build quality, but one that is very limited on consoles (where it only works wired) and that, while abounding in customisation possibilities on the software side, lacks some features that can be found, even on the official Xbox controllers, in the same price range.
ASUS has truly made the best gamepad made by third-party developers that can be purchased for the computer.
This is a cool gamepad - it's really comfortable, it has a cool vibe and it's fun to play with. The question is that all the advantages it guarantees work only in wired mode, which significantly limits the possibilities.
Asus ROG Raikiri Review | Will these cyberpunk drivers beat the competition?
A good wireless controller for a select clientele.
เปรียบเทียบผลิตภัณท์
สินค้าถูกเพิ่มลงในการเปรียบเทียบได้สูงสุด 4 ผลิตภัณฑ์ ดูเปรียบเทียบผลิตภัณฑ์ที่เลือก
ASUS Footer