คุณสมบัติ
Tech Specs
Awards
Gallery
สนับสนุน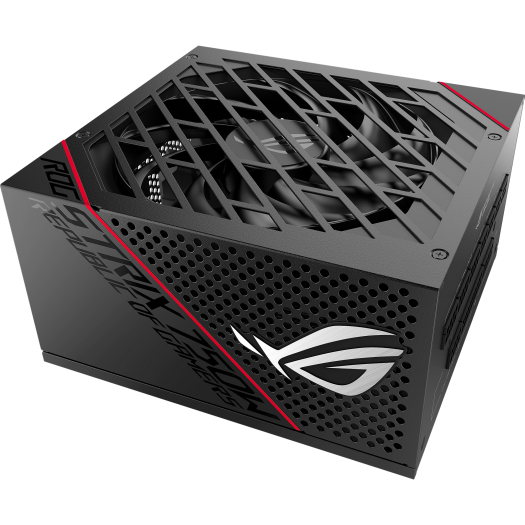 ROG-STRIX-750G
The ROG Strix 750W Gold PSU brings premium cooling performance to the mainstream
คุณสมบัติเด่น :
ROG heatsinks cover critical components : ระบบระบายความร้อนที่ดีเยี่ยมช่วยลดอุณหภูมิของการทำงานและมีอายุการใช้งานที่ยาวนาน
Axial-tech fan design : พัดลมขนาดเล็กมาพร้อมการออกแบบมาเพื่อเพิ่มองศาของใบพัดเพื่อให้สามารถ่ายเทอากาศได้ดีขึ้น
Dual ball fan bearings : ที่เลือกใช้ตลับลูกปืนเป็นศูนย์กลางของพัดลมทำให้มีอายุการใช้งานมากกว่าเดิมถึง 2 เท่า
0dB Technology : ที่จะลดการทำงานของพัดลมในขณะที่อุณหภูมิทีไม่สูงมาก เพื่อให้เสียงลดกวนที่ต่ำ
80 Plus Gold คือมาตราฐานที่ได้รับการรับรองและผ่านการทดสอบประสิทธิภาพในการจ่ายไฟ
ซึ่งเราได้เลือกใช้วัสดุคุณภาพสูงจากญี่ปุ่นเพื่อให้สามารถทำงานได้อย่างมีประสิทธิภาพ
Cosmetic customization : สนุกไปกับการปรับแต่งโลโก้ ด้วย magnetic หรือ สติกเกอร์ที่ให้คุณสามารถออกแบบและนำมาติดที่ตัว Power Supply ได้อย่างอิสระ
Fully modular cables : Power Supply ของเรานั้นออกแบบมาให้สามารถถอดสายได้ทั้งหมด เพื่อรองรับการประกอบและจัดสายไฟภายในเคสที่สวยงาม
รับประกันการใช้งานถึง 10 ปีเพื่อการันตีคุณภาพ
วิดีโอรีวิวจากสื่อ
Summary of the building of the ProArt PC for my video editor !
How to build your PC in 2022 !
My dad is building a Gaming PC for the first time !
What's the result of my video editor's ProArt PC ?
We offer him a 2600€ Gaming PC
A very good motherboard with pre-mounted I/O shield, PCIe 5.0 slot.
A scientist's third-grade daughter did a free study on the World Wide Web.
AMD最後のラスボス!Zen3最強ゲーミングCPU? 強いのはFPSだけじゃない!Ryzen 7 5800X3D [超猫拳]
The entire system is powered by a 750 W bronze PSU, the power elements in it are of high quality, and the circuitry is even closer to the gold blocks.
The video review from the channel Pakapak
เปรียบเทียบผลิตภัณท์
สินค้าถูกเพิ่มลงในการเปรียบเทียบได้สูงสุด 4 ผลิตภัณฑ์ ดูเปรียบเทียบผลิตภัณฑ์ที่เลือก
ASUS Footer