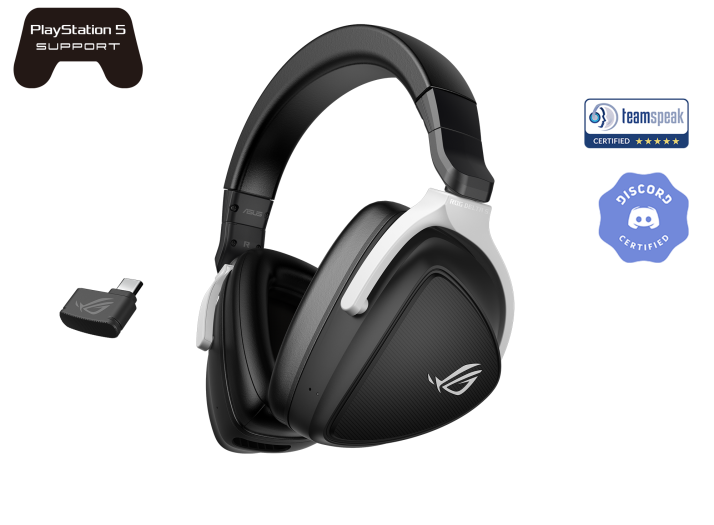 ROG Delta S Wireless
輕量Delta S Wireless具備 2.4 GHz 和藍牙連線功能、50 mm ASUS Essence 驅動單體、具備 AI 降噪功能的 AI 波束賦形麥克風,與 PC 、 Mac、任天堂 Switch、Sony PlayStation® 相容。
提供 2.4 GHz 低延遲及藍牙無線雙模連線功能
獨家 50 mm ASUS Essence 驅動單體及氣密腔體,打造沉浸音質體驗
領先業界ROG AI 波束賦形麥克風,同時搭載 AI 降噪技術,提供清晰的遊戲內語音交流
快速充電功能,充 15 分鐘即可使用 3 小時,總電量高達 25 小時
輕量化及符合人體工學的D形耳罩設計,打造極致配戴舒適感
可支援 PC、Mac、PlayStation® 5、任天堂 Switch™ 及行動裝置等多平台
In conclusion, the ASUS ROG Delta S Wireless is a gaming headset that delivers good audio quality in a solidly-built wireless package.
ROG Delta S Wireless, a headset with crystal-clear sound and unbeatable connectivity
クセが強いハイテクヘッドセット..君に使いこなせるか? ROG Delta S Wireless
Super compatible with any gaming platform, they can also be connected to the phone thanks to Bluetooth. The design is super ergonomic and the headset is really comfortable. The battery life is around 25 hours, perfect for long gaming sessions.