Features
Tech Specs
Gallery
Support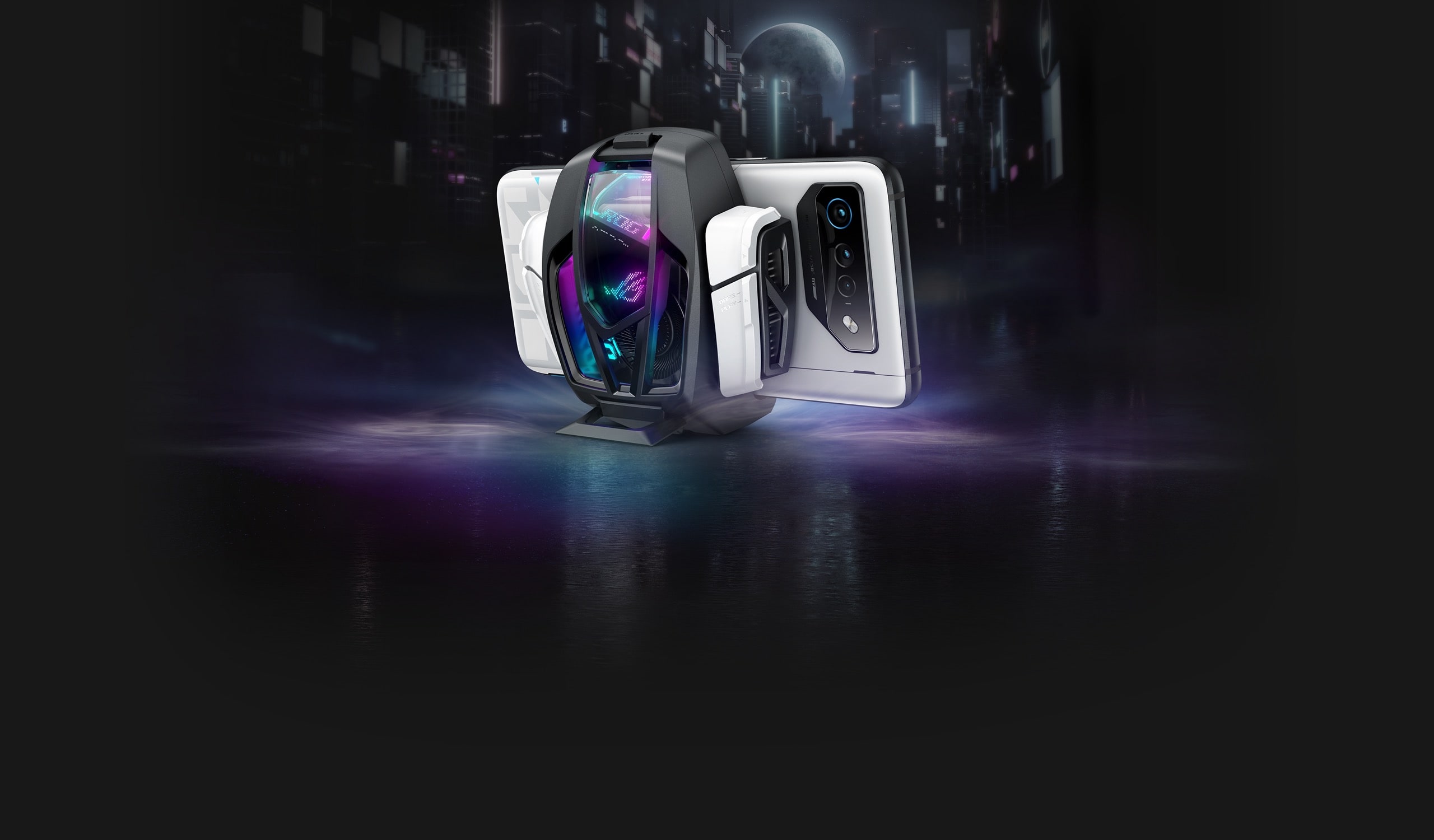 THE COOLER THAT SOUNDS AMAZING!
With more cooling power, more features, and even a built-in subwoofer, the amazing AeroActive Cooler 7 is the exclusive companion for your ROG Phone 7. Its thermoelectric AI cooling system keeps the CPU super-cool to prevent game lag, and it sounds awesome too, turning your phone into a powerful 2.1 audio system. The four ergonomic physical buttons give you console-like control for those winning combos! Get the very best gaming experience anywhere, anytime, with the AeroActive Cooler 7!
THERMAL
SUPER-COOL COOLING
Level up your gaming experience with the AeroActive Cooler 7! Its thermoelectric AI cooling system has a fan with 2.8x more fan blades for higher air pressure, and it adapts to the phone's temperature, automatically choosing the best active cooling mode to prevent lag and overheating. This also helps to preserve your battery.
For light use, Cooling mode just uses the fan, while Frosty mode fires up the thermoelectric system. For maximum cooling, Frozen mode uses external power1 via the side charging port.
The revolutionary 'DualCool' design ensures that the front of the phone is also kept at a comfortable temperature for your hands by blowing cool air in the front of the display.
SOUND
YOUR PORTABLE CONCERT HALL
AeroActive Cooler 7 also helps boost the sound from the ROG Phone 7, with a huge built-in subwoofer that adds impressive bass sound to the front-firing ROG Phone 7 speakers for an awesome 2.1-channel sound experience.
Bass performance
77% enhancement
PORT
BUILT FOR CONVENIENCE
The AeroActive Cooler 7 is equipped with a 3.5 mm headphone jack for a low-latency audio experience, conveniently located for easy access. The cooler is powered by the ROG Phone 7, so you can play cool without cables! You can still charge your ROG Phone 7 via the USB-C port on the AeroActive Cooler 7.
CONTROL
TAKE FULL CONTROL!
The AeroActive Cooler 7 is much more than just a powerful cooler. We've designed it with four physical buttons that give you ergonomic console-like control in your games. It gives you the edge for those tricky game-winning moves!
DESIGN
STAND OUT FROM THE CROWD
Grab all the attention with the enlarged Aura RGB lighting area, with customizable RGB lighting for different situations to show your style to the world! There's also a handy kickstand at the bottom of the AeroActive Cooler 7 so you can prop your ROG Phone 7 up on flat surfaces. Turn your desk into a theater!
All images are simulated for illustration purpose.
We recommend using the official ROG Phone charger to charge the AeroActive Cooler 7 to ensure a stable power supply.
Test result provided by ASUS labs, actual performance may vary depending on conditions.
Test result provided by ASUS labs, compared to the surface temperature of ROG Phone 7 without AeroActive Cooler 7.
Product Comparison
Product added to comparison. Add up to 4 products or proceed to view compare products selected.
ASUS Footer