Aucun produit dans le panier.
Caractéristiques
Caractéristiques techniques
Récompenses
Galerie
Où acheter
Support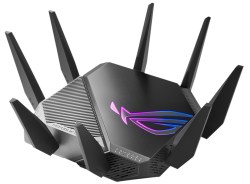 Norme de réseau
Rétrocompatible avec la norme Wifi 802.11a/b/g/n/ac
Segment de produits
AXE11000 ultimate AX/AXE performance
Taux de transfert de données
2,4 GHz AX : 4x4 (Tx/Rx) 1024 QAM 20/40 MHz, jusqu'à 1148 Mbit/s
5 GHz AX : 4x4 (Tx/Rx) 1024 QAM 20/40/80/160 MHz, jusqu'à 4804 Mbit/s
6GHz AX: 4x4 (Tx/Rx) 1024 QAM 20/40/80/160MHz, up to 4804Mbps
Processeur
1.8GHz quad-core processor
Mémoire
256MB NAND flash and 1GB DDR3 SDRAM
Technologie Wifi
OFDMA (Orthogonal Frequency Division Multiple Access) Beamforming: standard-based and universal 1024-QAM high data rate 20/40/80/160 MHz bandwidth * The 160MHz bandwidth may be unavailable in the 5GHz band in some regions / countries due to regulatory restrictions.
Fréquence de fonctionnement
Tri-band Wi-Fi: 2.4 GHz / 5 GHz / 6GHz
Ports
RJ45 for Gigabits BaseT for WAN x 1, RJ45 for Gigabits BaseT for LAN x 4, RJ45 for 2.5G BaseT for WAN/LAN x 1, USB 3.2 Gen 1 x 2
Bouton
WPS Button, Reset Button, Power Switch, WiFi on/off Button, Boost Key Button
Indicateur à DEL
Power x 1 2.4G x 1 5G x 1 6G x 1 2.5GE Port x 1 LAN x 1 WAN x 1
Bloc d'alimentation
AC Input : 110V~240V(50~60Hz) DC Output : 19 V with max. 3.42 A /19.5 V with max. 3.33 A
Contenu du paquet
GT-AXE11000 WiFi Gaming Router RJ-45 Cable Power Adapter Quick Start Guide Warranty Card
Contrôle parental
Maximum Parental Control profile :
16
Maximum Parental Control content filter rule :
16
Contrôle du trafic
Maximum Bandwidth limiter rule :
32
Maximum Traditional QoS rule :
32
Traffic analysis period :
Daily, Weekly, Monthly
Sans fil
WiFi Encryption :
WPA3 Personal, WPA2 Personal, WPA Personal, WPA Enterprise, WPA2 Enterprise, WPS support
Maximum Guest Network rule :
2.4 GHz x 3, 5 GHz x 3, 6 GHz x 3
Guest Network Connection time limit
Guest Network Encryption :
Open system, WPA/WPA2-Personal
WAN
Internet connection Type :
Automatic IP, Static IP, PPPoE (MPPE supported), PPTP, L2TP
Maximum port forwarding rule :
64
Maximum port triggering rule :
32
NAT Passthrough :
PPTP, L2TP, IPSec, RTSP, H.323, SIP Passthrough,PPPoE relay
LAN
Manually assign IP address
Maximum manually assign IP address rule :
64
Application USB
File System :
HFS+, NTFS, vFAT, ext2, ext3, ext4
Administration
Operating mode :
Router(AiMesh router), AiMesh node, Access point, Repeater, Media bridge
Operating system :
ASUSWRT
Maximum Firewall keyword filter :
32
Maximum Firewall network service filter :
32
Maximum Firewall URL filter :
64
Configuration backup and restore
New Device Connect Notification
ROG Rapture GT-AXE11000
Comparaison de produits
Produit ajouté pour la comparaison. Vous pouvez ajouter jusqu'à quatre produits supplémentaires ou directement commencer à comparer les produits sélectionnés.
ASUS Footer