Übersicht
Technische Daten
Auszeichnungen
Galerie
Wo kaufen
Support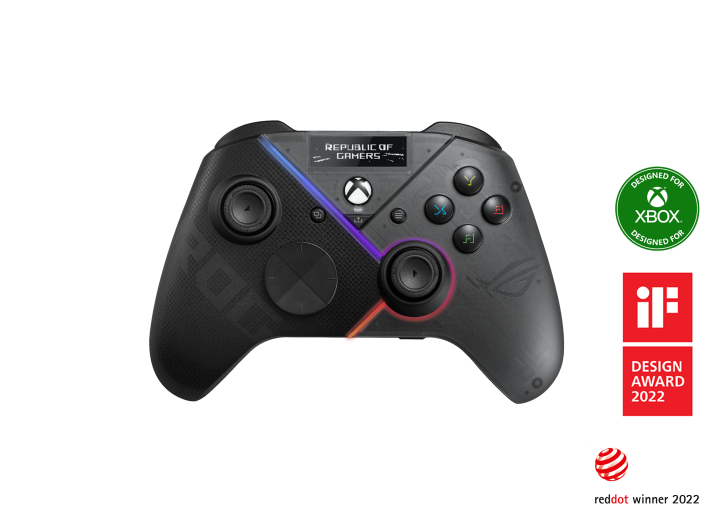 ROG Raikiri Pro
Der ROG Raikiri Pro PC-Controller verfügt über ein eingebautes OLED-Display, Tri-Mode-Konnektivität, vier Tasten auf der Rückseite, wählbare Step-Trigger, einen ESS-DAC sowie einstellbare Joystick-Empfindlichkeit und Reaktionskurven. Der ROG Raikiri Pro ist ideal für PC-Spiele und Next-Gen-Konsolen.
Eingebautes OLED-Display: Gestalte einen einzigartigen Look mit anpassbaren Animationen, sieh dir Statusanzeigen an und wechsle das Profil im Handumdrehen
Tri-Mode-Konnektivität: Vielseitige Flexibilität mit kabelgebundenem USB-C®, 2,4 GHz Funk mit niedriger Latenz und einem Bluetooth®-Modus
Intuitive Bedienelemente auf der Rückseite: Vier linke und rechte Tasten können für Befehle im Spiel oder für die on-the-fly-Änderung der Joystick-Empfindlichkeit programmiert werden
Wählbare Step-Trigger: Der linker und rechter Trigger können auf Kurz- oder Vollbereichsmodus eingestellt werden, wobei die Totzonen in Armoury Crate angepasst werden können
Premium-Sound: Eingebauter ESS DAC für Immersive Audio; plus 3,5-mm-Kopfhörerbuchse und Stummschalttaste
Umfangreiche Anpassungsmöglichkeiten: Tasten neu zuordnen, Joystick-Empfindlichkeit ändern oder andere Einstellungen über Armoury Crate vornehmen
Video Reviews
This EXCLUSIVE CONTROLLER IS INCREDIBLE! 😲 The ROG RAIKIRI PRO
ROG RAIKIRI PRO - Controller with RGB Led, OLED screen, 48H Battery (Xbox & PC)
The ASUS ROG Raikiri Pro is definitely a controller full of personality, which gives the eye its famous and ever-popular side. All in all we are talking about a valid controller, with an extraordinary build quality, but one that is very limited on consoles (where it only works wired) and that, while abounding in customisation possibilities on the software side, lacks some features that can be found, even on the official Xbox controllers, in the same price range.
ASUS has truly made the best gamepad made by third-party developers that can be purchased for the computer.
This is a cool gamepad - it's really comfortable, it has a cool vibe and it's fun to play with. The question is that all the advantages it guarantees work only in wired mode, which significantly limits the possibilities.
Asus ROG Raikiri Review | Will these cyberpunk drivers beat the competition?
A good wireless controller for a select clientele.
Produktvergleich
Produkt zum Vergleich hinzugefügt. Füge bis zu 4 Produkte hinzu oder lass dir deine Auswahl anzeigen.
ASUS Footer