Caractéristiques
Caractéristiques techniques
Récompenses
Galerie
Support
ROG-STRIX-LC-RX6800XT-O16G-GAMING
ROG Strix LC Radeon™ RX 6800 XT – Véritable léviathan du watercooling
Plaque de refroidissement : dirige le watercooling vers le GPU et la mémoire
Refroidissement de l'alimentation : fourni par un ventilateur et un radiateur au format Low Profile
Radiateur de 240 mm : l'équilibre parfait entre compatibilité et performance
Tuyau de watercooling de 600 mm : compatibilité avec les châssis eATX et setups sur-mesure
Super Alloy Power II : bobines en alliage spécial, condensateurs ultra-robustes en polymère et phases d'alimentation à courant élevé.
FanConnect II : un connecteur hybride pour ventilateur permettant d'optimiser le refroidissement du système
GPU Tweak II : réglages intuitifs des performances, contrôle des températures et suivi de l'état du système
Revues vidéo
With manual overclocking, even if we are not specialist, we managed to reach up to 2700MHz !
This card does show a much better performance overall while staying cool and quiet.
This liquid graphic card is awesome!
This card can go up to much higher clock speeds than a similar air-cooled model and can operate stably. However, we observed that the temperature ranged between 50 and 55 degrees and did not exceed this.
6800XT was already an excellent card and I think it came to an another level with the touch of ASUS engineers liquid cooling.
ASUS RX 6800 XT Strix LC Review – Hybrid Cooling Design Enabled an Absurd Overclocking!
WATER COOLER IN THE GRAPHIC CARD, IT DOESN'T GET HOT EVEN IF YOU WANT IT! ROG STRIX RX 6800 XT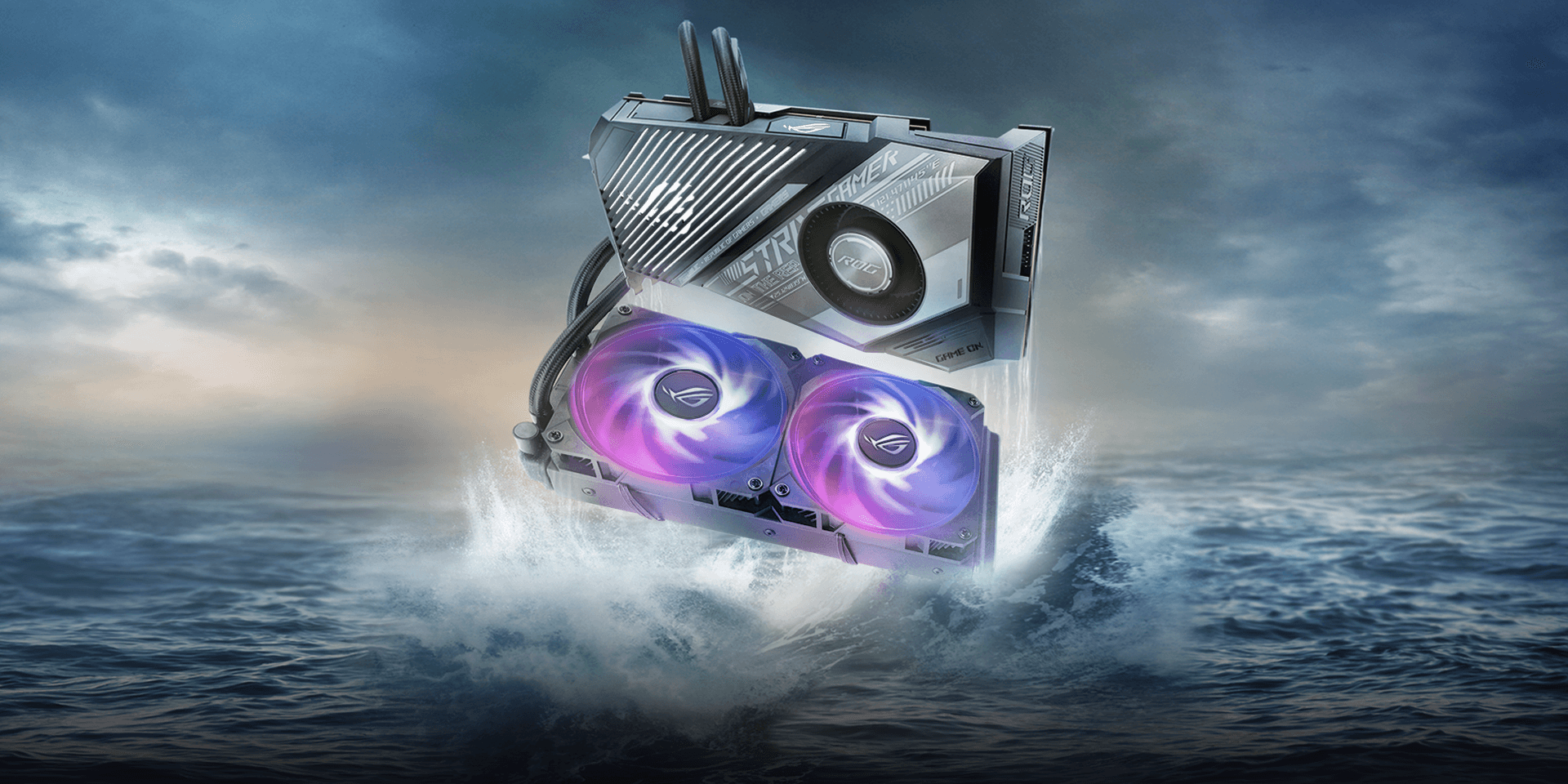 ROG STRIX LC
Radeon™ RX 6800 XT
ROG STRIX LC
Radeon™ RX 6800 XT
Un monstre au sang froid
Nos ingénieurs ont théorisé dans nos laboratoires de R&D une solution thermique spécialement conçue pour la nouvelle architecture RDNA™ 2 de AMD. Cette dernière, colossale de par sa capacité exceptionnelle de refroidissement liquide, est capable d'exploiter le maximum des performances des nouvelles puces AMD tout en restant parfaitement discrète. Les amateurs de performances en quête de la RX 6800 XT la plus féroce, peuvent sans hésiter opter pour la ROX-STRIX-LC-RX6800XT-O16G-GAMING !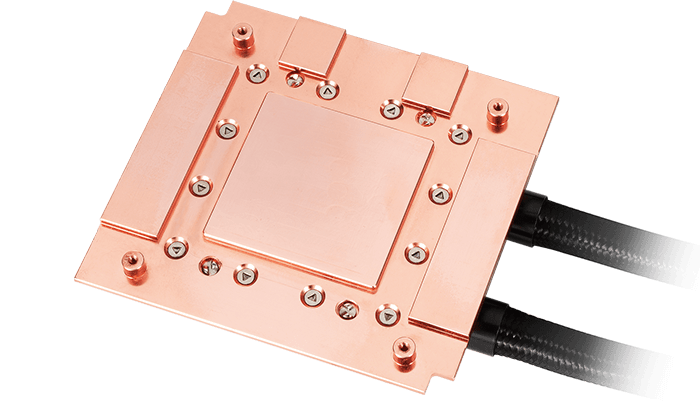 Une plaque sur-mesure pour le refroidissement placée sur la structure du GPU et la mémoire GDDR6 afin de fournir aux composants générateurs de performances brutes, un refroidissement liquide de qualité.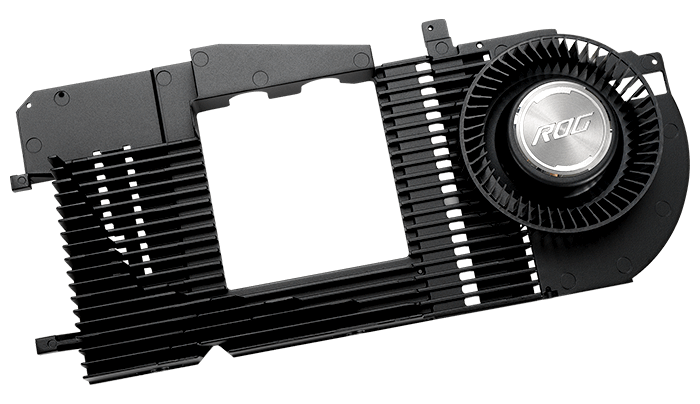 Au cœur du monstre, la chaleur produite par les composants d'alimentation est dissipée via un ventilateur et un radiateur petit format situé directement sous la surface de la carte. Ce duo imbattable éliminera l'air chaud avec efficacité ... et en silence !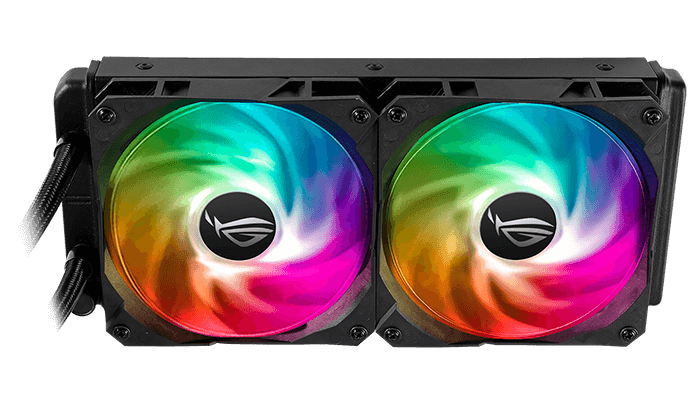 Le radiateur de 240 mm est refroidi par deux puissants ventilateurs ARGB de 120 mm optimisés pour un débit de volume d'air (calculé en pieds cube par minute) et une pression statique élevés.
Plaque de refroidissement grand format

Refroidissement embarqué

Ventilateurs du radiateur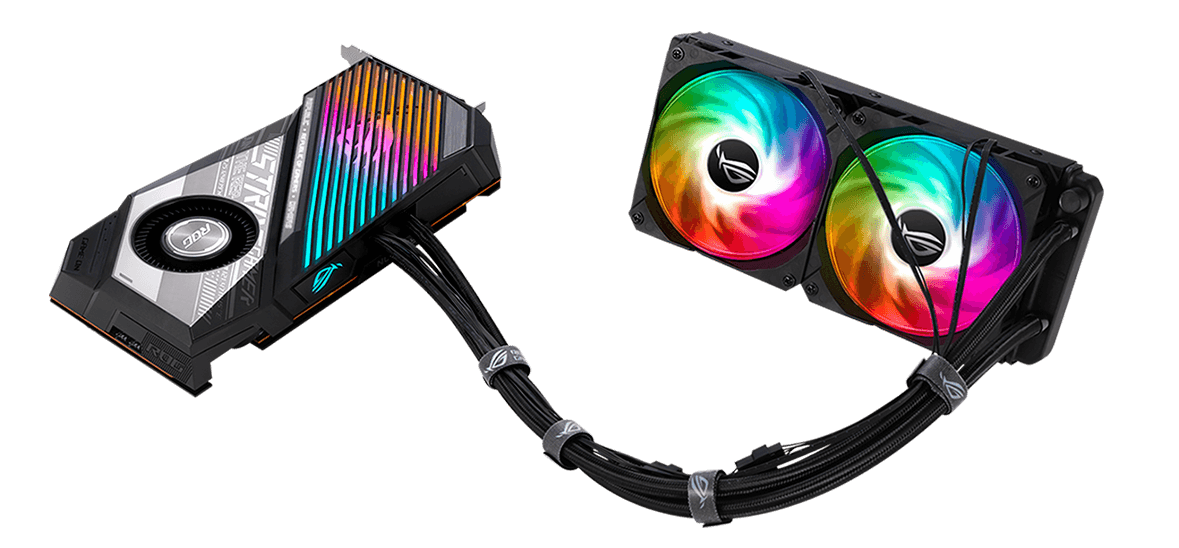 Rien n'est laissé au hasard
La carte ROG-STRIX-LC-RX6800XT-O16G-GAMING intègre un tuyau de watercooling de 600 mm de long afin qu'elle soit compatible avec les châssis grand format ou les setups dotés d'un refroidisseur CPU AiO. Les câbles du ventilateur du radiateur peuvent être branchés directement à la carte et sécurisés à l'aide des colliers de serrage fournis afin que votre setup arbore un look propre !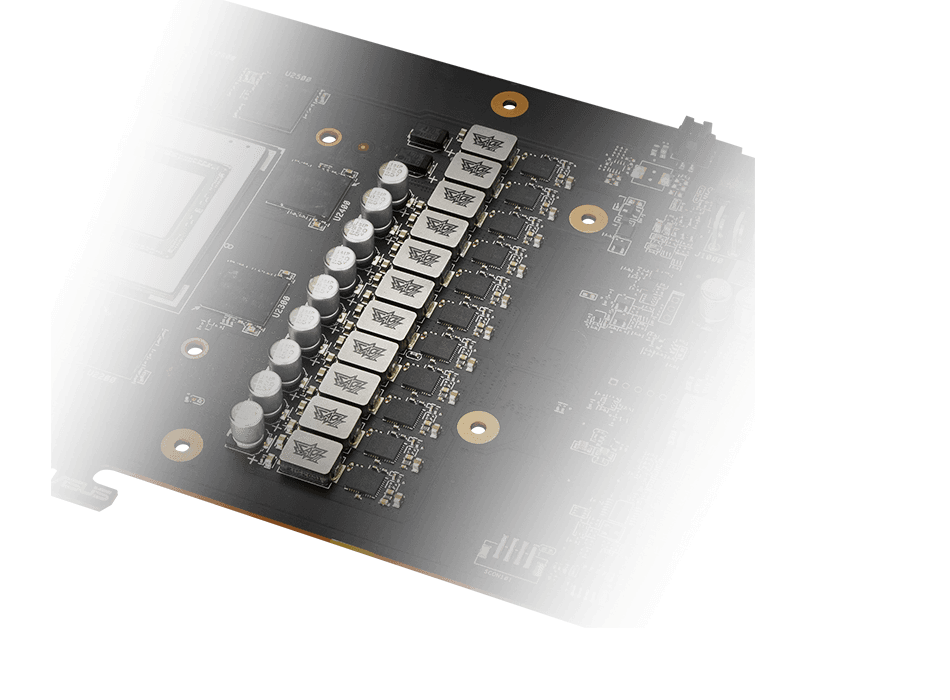 Composants premium
Nous avons sélectionné des condensateurs, bobines et MOSFET de qualité premium pour fournir des centaines de watts en une milliseconde. Les composants Super Alloy Power II sont soudés au circuit imprimé à l'aide de nos processus de fabrication automatisés sophistiqués Auto-Extreme. Les joints lisses sur l'arrière du circuit imprimé et l'absence d'erreurs humaines permettent de garantir que chaque carte graphique respecte nos spécifications.
FanConnect II
L'arrière de la carte graphique ROG Strix possède deux connecteurs PWM FanConnect, pour une flexibilité encore plus poussée. Les ventilateurs du châssis peuvent être directement connectés au processeur graphique et adaptés selon une courbe basée sur la température du processeur ou du processeur graphique, pour une meilleure circulation de l'air lors des tâches en 3D les plus exigeantes.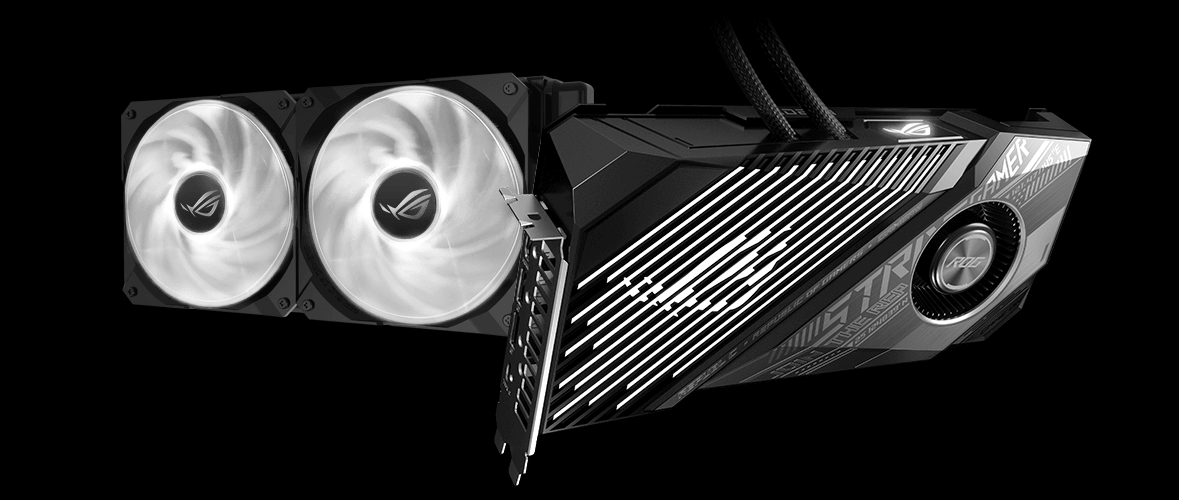 Aura Sync
La Strix LC n'est pas du genre à se cacher dans le noir. Au contraire, la bête affiche sa puissance par un éclairage RGB adressable dont l'intimidante incandescence transperce les entailles de sa structure, de même qu'elle traverse le logo ROG et les deux ventilateurs pour radiateurs ARGB.
Sélection de la couleur
En fonction de
la température GPU
Température minimale : ℃

Température maximale : ℃
Sélection du mode
Statique

Pulsation

Stroboscopique

Arc-en-ciel

Cycle de couleurs

Nuit étoilée

Intuitif

Musique
GPU Tweak II
L'utilitaire ASUS GPU Tweak II fait monter d'un cran le niveau de personnalisation des performances de votre carte graphique. Il vous aide à ajuster les principaux paramètres de votre carte tels que la fréquence d'horloge des cœurs du GPU, la fréquence mémoire et les réglages de tension. En outre vous pouvez tout contrôler en temps réel à l'aide d'une interface personnalisable affichée à l'écran. Des contrôles avancés pour ventilateurs sont inclus aux côtés de nombreuses autres fonctionnalités innovantes afin de vous aider à exploiter votre carte graphique au maximum de ses capacités.
Logiciel Radeon
Le nouveau logiciel Radeon™ Software Adrenalin 2020 Edition exploite le plein potentiel de votre carte graphique avec des pilotes ayant obtenu la certification Day Zero afin de profiter au plus vite des toutes dernières sorties de jeu et personnaliser à l'extrême son expérience gaming.
Nous avons collaboré avec WTFast pour vous proposer des jeux sans lag ni latence ou perte de paquets. En souscrivant à un abonnement de 6 mois au GPN WTFast, vous profitez d'une réduction du ping pour des jeux en ligne plus fluides. Obtenez votre carte graphique et n'attendez plus lorsque vous jouez !

En savoir plus sur WTFast

XSplit offre une expérience streaming de qualité en proposant notamment l'ajoute de notes pendant que vous jouez ou d'autres fonctionnalités avancées. Profitez d'une licence gratuite avec l'achat d'une carte graphique ASUS sélectionnée ! Rendez-vous en ligne !

En savoir plus sur XSplit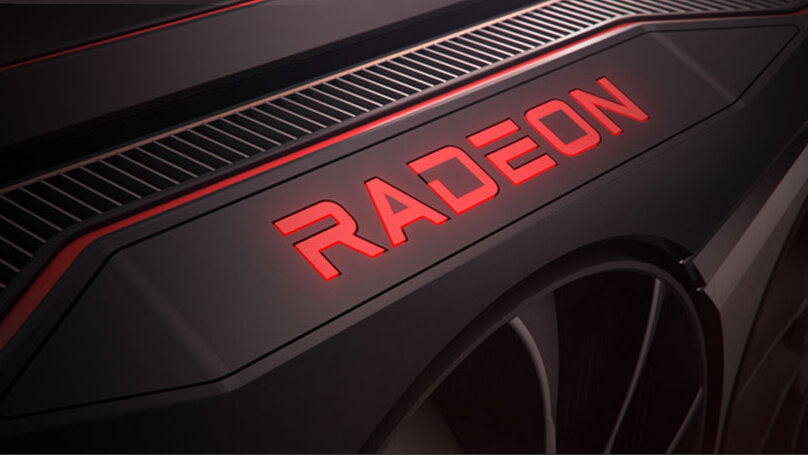 Puissance colossale
Les cartes graphiques AMD Radeon™ RX 6800 Series fournissent des fréquences de rafraîchissement ultrarapides et une résolution 4K. Vivez une expérience de jeu inoubliable avec une nouvelle unité de traitement graphique, la technologie AMD Infinity Cache et jusqu'à 16 Go de mémoire GDDR6 dédiée. Par ailleurs la technologie AMD Smart Access Memory amplifie la qualité de l'expérience lorsqu'elle est couplée au processeur AMD Ryzen™ 5000 Series.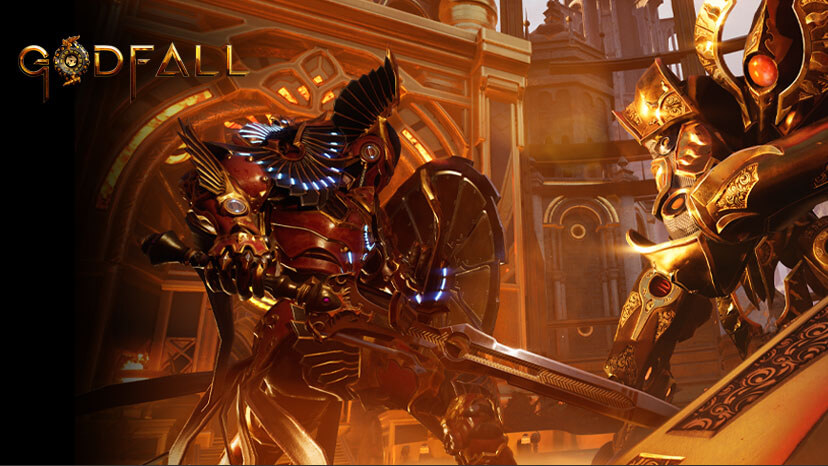 Graphismes vibrants
Les cartes graphiques AMD Radeon™ RX 6800 Series vous plongent au cœur de l'action via des technologies de pointe dont DirectX® 12 Ultimate. Faites l'expérience d'un jeu d'ombres/lumières et reflets réalistes avec de nombreux détails grâce aux technologies DirectX® Raytracing (DXR), Variable Rate Shading (VRS) et AMD FidelityFX qui ont été optimisées pour l'architecture AMD RDNA™ 2.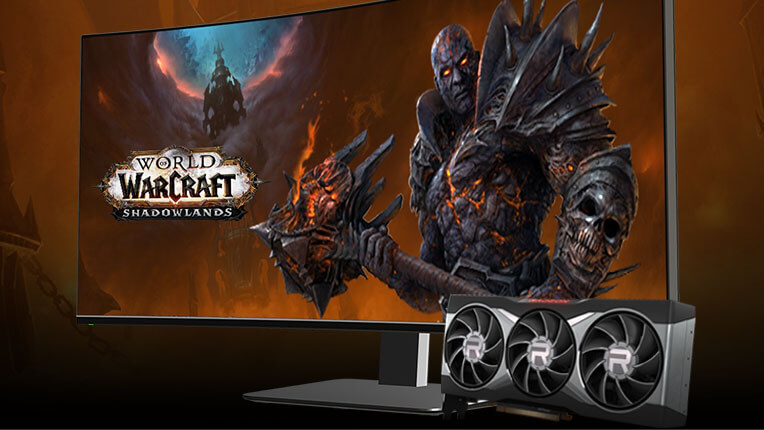 Expérience renouvelée
Réactivité instantanée et fluidité sont de mise avec les technologies AMD Radeon Anti-Lag1 et AMD Radeon Boost2. Propulsez votre jeu vers l'avant avec un nouveau casque VR USB-C™ compatible avec la dernière technologie HDMI™ 2.1 VRR ou bien avec un moniteur de jeu compatible avec la technologie 1250 AMD FreeSync™.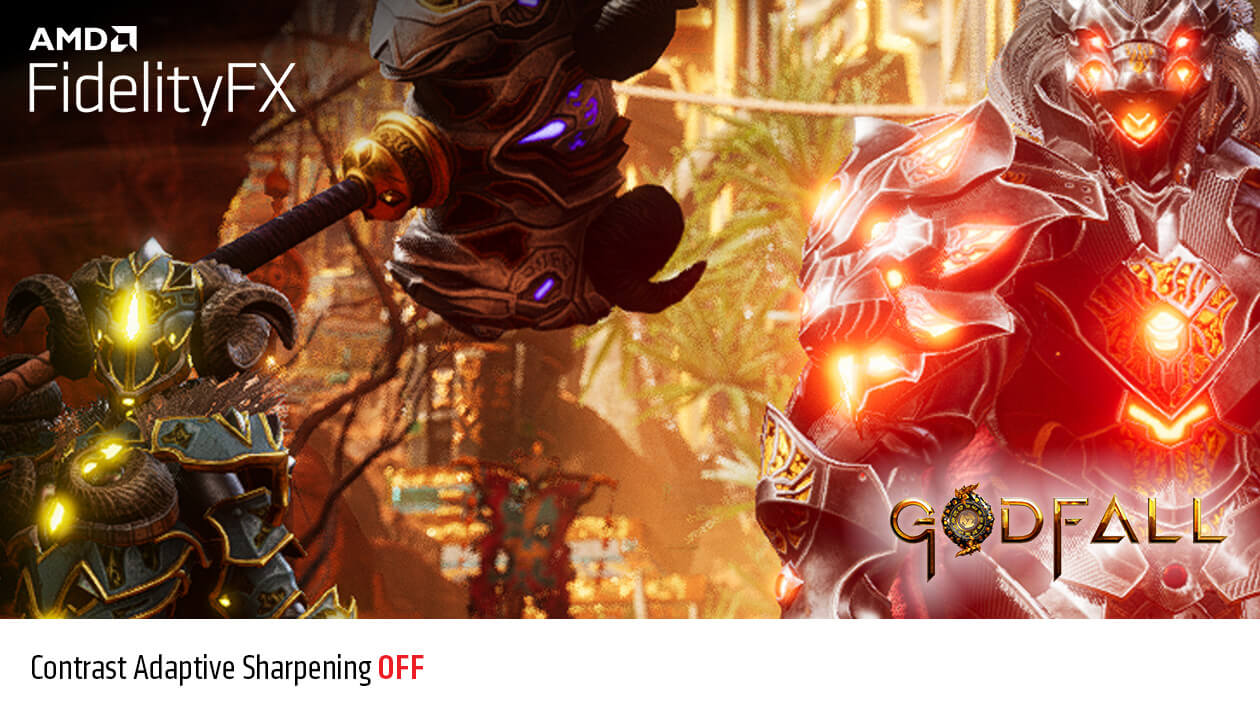 FidelityFX Contrast Adaptive Sharpening
La technologie Contrast Adaptive Sharpening (CAS) améliore la qualité d'affichage tandis que la fonctionnalité optionnelle de conversion ascendante (dite « upscaling ») restaure les détails perdus après application de la technologie Temporal Anti-Aliasing (TAA).

Pour tout jeu supportant la technologie FidelityFX CAS, il est recommandé de désactiver le logiciel Radeon™ Image Sharpening in Radeon™ afin d'éviter que les images ne soient suraccentuées.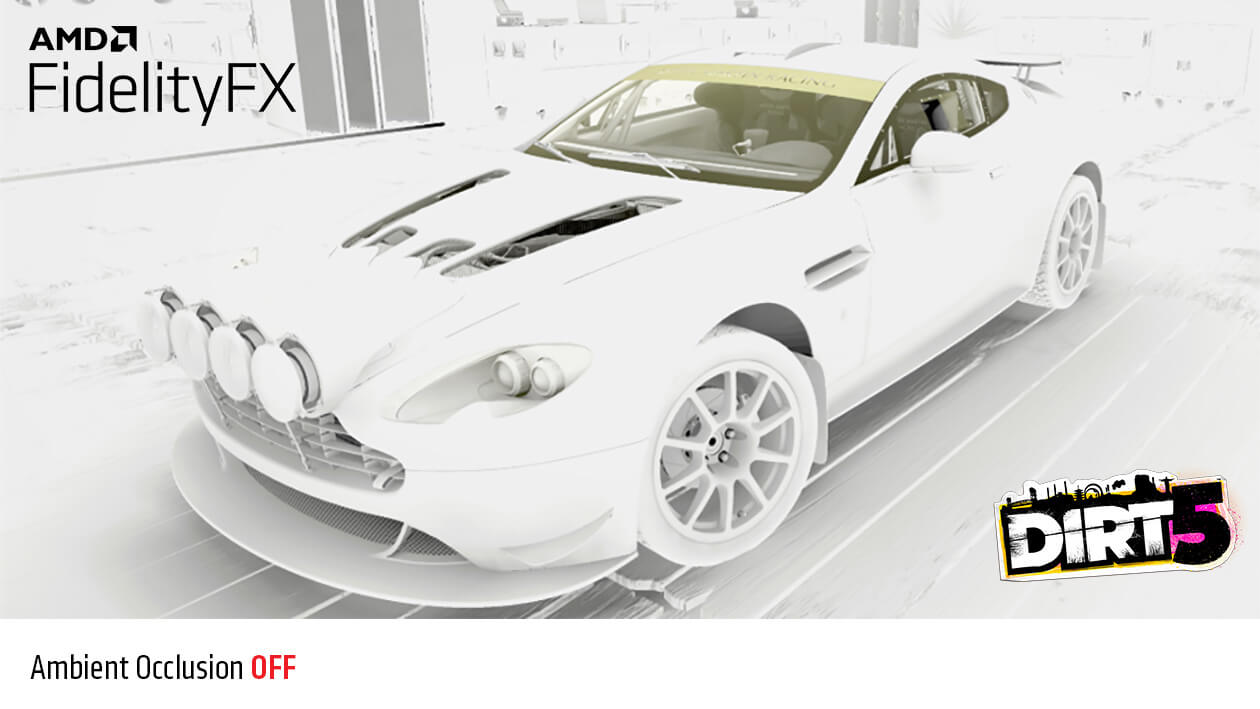 FidelityFX Ambient Occlusion
La technologie Combined Adaptive Compute Ambient Occlusion (CACAO) optimisée pour l'architecture AMD RDNA™ améliore l'apparence des objets en fonction de leur niveau d'exposition.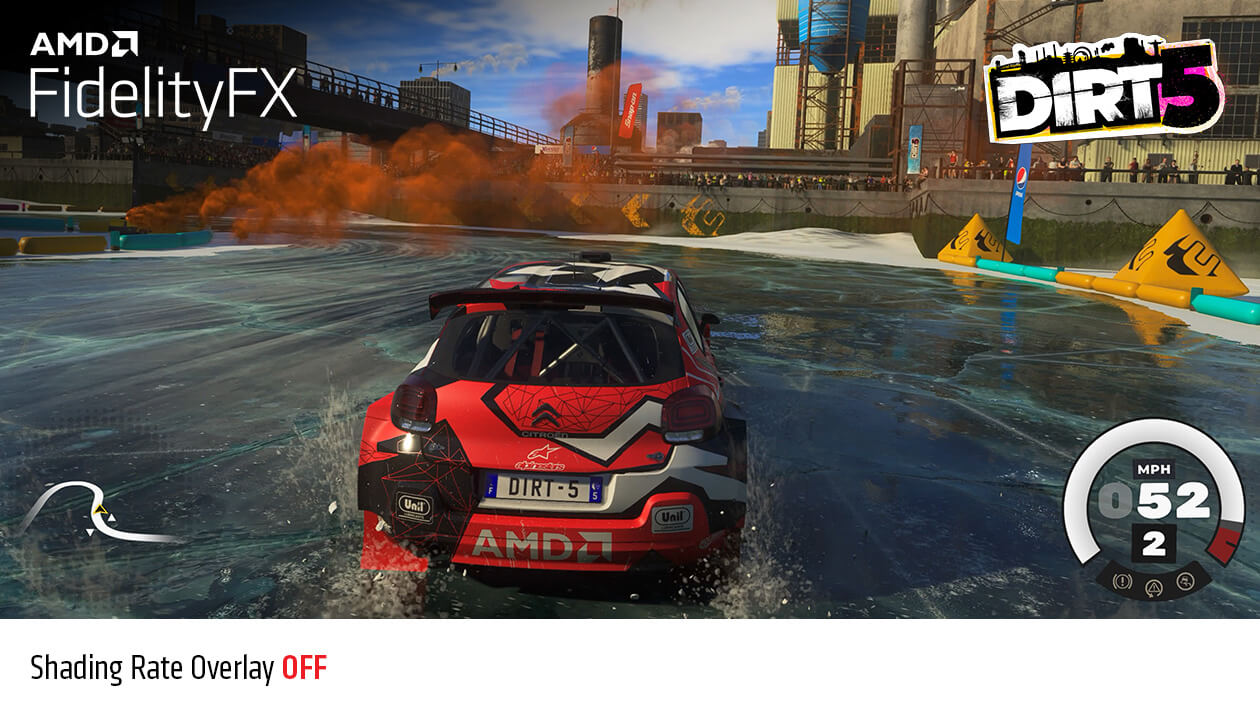 FidelityFX Variable Shading
L'architecture AMD RDNA™ 2 supporte la technologie Variable Rate Shading qui analyse la luminance et les mouvements de l'image pour optimiser le rendu et les performances d'affichage sans altérer la qualité des images.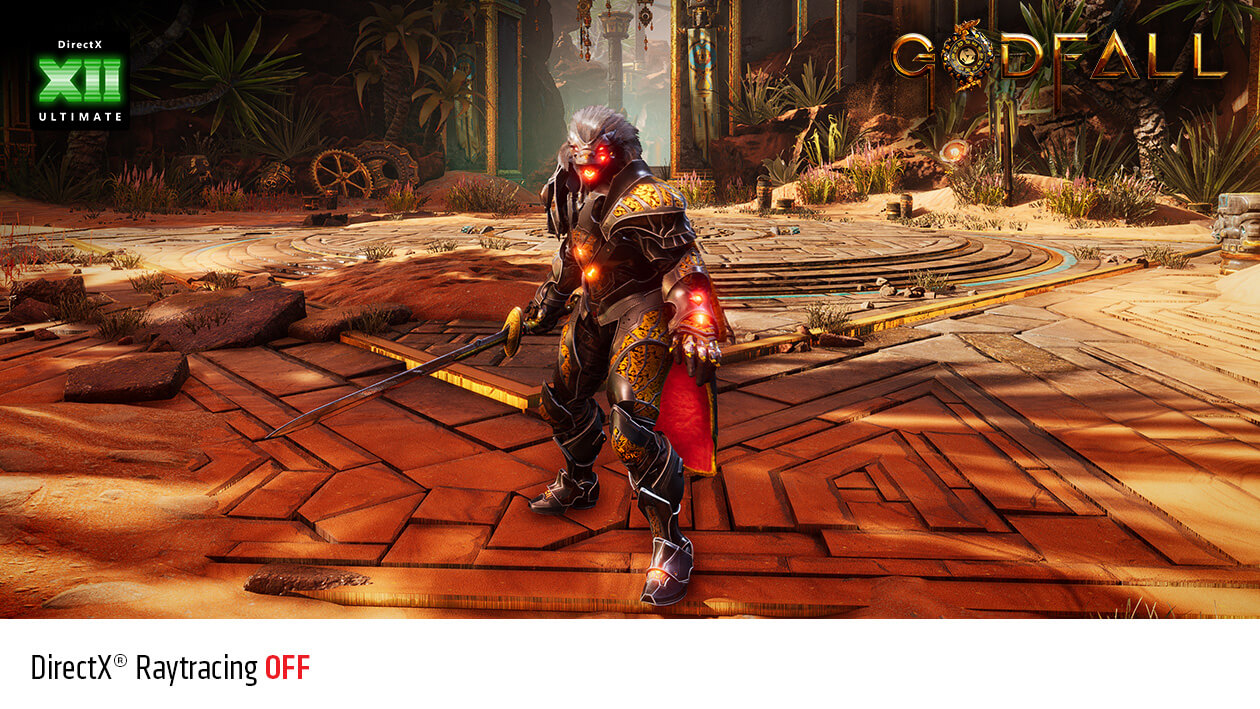 DirectX® Raytracing
La technologie DirectX Raytracing (DXR) rehausse le réalisme de vos jeux via divers effets tels que des reflets, ombres et jeux de lumière en temps réel grâce à l'architecture AMD RDNA™ 2 des cartes graphiques AMD Radeon™ RX 6000, compatible avec les fonctionnalités de Ray-Tracing accélérées.
Radeon™ Anti-Lag est compatible avec DirectX 9 et DirectX 11, ainsi qu'avec Windows 7 et 10. La compatibilité matérielle avec cette technologie inclut l'architecture GCN ainsi que les APU dGPUs Ryzen 2000 et générations suivantes qui comportent des configurations graphiques à la fois hybrides et détachables. Pas de compatibilité mGPU. GD-157
Radeon™ Boost est uniquement compatible avec Windows 7 et 10 sur une sélection de jeux. La compatibilité matérielle avec cette technologie inclut l'architecture RX 400 ainsi que les APU dGPUs Ryzen 2000 et générations suivantes qui comportent des configurations graphiques à la fois hybrides et détachables. Pas de compatibilité mGPU. Voir la liste complète des jeux compatibles : https://www.amd.com/en/technologies/radeon-boost. GD-158
La technologie AMD FreeSync™ nécessite l'utilisation d'une carte graphique AMD Radeon™ et d'un moniteur compatible certifié AMD. La technologie AMD FreeSync™ Premium s'ajoute à l'offre de base de la technologie FreeSync pour offrir des avantages supplémentaires comme la compensation de fréquence d'images faible (low framerate compensation/LFC) obligatoire et une fréquence de rafraîchissement d'au moins 120 hz en résolution FHD. Les écrans utilisés doivent être certifiés compatibles avec la technologie AMD FreeSync™ Premium Pro. Consultez la page https://www.amd.com/fr/technologies/free-sync pour plus de détails. Veuillez vérifier la compatibilité auprès de vos appareils auprès du fabricant avant l'achat. GD-127
© 2021 Ubisoft Entertainment. Tous droits réservés. Assassin's Creed, Ubisoft, et le logo Ubisoft sont des marques déposées de Ubisoft Entertainment aux États-Unis et dans d'autres pays. Basé sur le jeu Far Cry développé par Crytek.
World of Warcraft®: Shadowlands ©2020 Blizzard Entertainment, Inc. World of Warcraft et Blizzard Entertainment sont des marques déposées de Blizzard Entertainment, Inc., aux États-Unis et dans d'autres pays.
GODFALL™ est un jeu développé et diffusé par Gearbox Publishing. Gearbox et le logo Gearbox sont des marques déposées. le logo Gearbox Publishing est une marque déposée de Gearbox Enterprises, LLC. ©2020 Counterplay Games Inc. Tous droits réservés.
© 2020 Advanced Micro Devices, Inc. Tous droits réservés. AMD, le logo AMD Arrow, FreeSync, Radeon, RDNA, Ryzen et leurs déclinaisons sont des marques déposées de Advanced Micro Devices, Inc. HDMI, le logo HDMI et l'appellation High-Definition Multimedia Interface sont des marques déposées de HDMI Licensing, LLC aux ֤États-Unis et/ou dans d'autres pays. USB Type-C® et USB-C® sont des marques déposées de USB Implementers Forum. Les appellations de produits sont utilisées à des fins d'identification uniquement et sont possiblement des marques déposées issues de leurs sociétés respectives.
Comparaison de produits
Produit ajouté pour la comparaison. Vous pouvez ajouter jusqu'à quatre produits supplémentaires ou directement commencer à comparer les produits sélectionnés.
ASUS Footer