Sie haben keine Artikel in Ihrem Warenkorb.
Übersicht
Technische Daten
Awards
Galerie
Händler finden
Support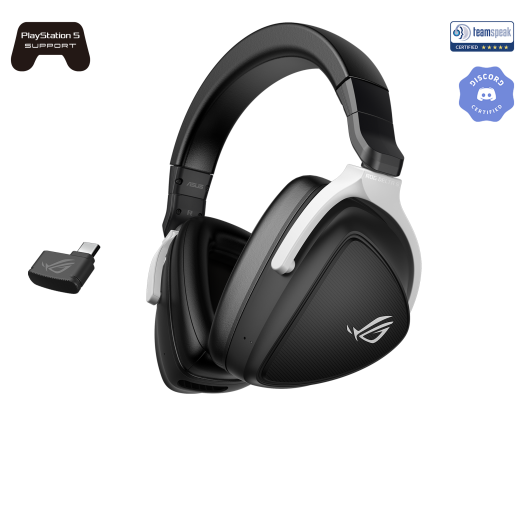 ROG Delta S Wireless
Leichtes kabelloses Gaming-Headset mit 2,4-GHz- und Bluetooth-Konnektivität, 50-mm-ASUS-Essence-Treibern, AI Beamforming-Mikrofonen mit AI Noise Cancelation, kompatibel mit PCs, Macs, PlayStation® 5, Nintendo Switch™
Drahtlose 2,4-GHz- und Bluetooth®-Verbindungen mit niedriger Latenz bieten mehr Freiheit
Exklusive 50-mm-ASUS-Essence-Treiber und ein luftdichtes Kammerdesign bieten immersiven Sound
AI Beamforming Mikrofone mit AI Noise Cancelation sorgen für eine außergewöhnliche Sprachaufnahme und reduzieren 500 Millionen Arten von Hintergrundgeräuschen für eine klare Kommunikation im Spiel
Schnelles Aufladen ermöglicht 3 Stunden Nutzung mit einer 15-minütigen Aufladung und bis zu 25 Stunden Gesamtakkulaufzeit für Nonstop-Gaming
Leichtes Design mit ergonomischen D-förmigen Ohrpolstern für lang anhaltenden Komfort
Umfassende Kompatibilität mit PCs, Macs, PlayStation®5 , Nintendo Switch™ und mobilen Geräten
Video Reviews
Ultimate $5000 Gaming Setup 2022! [ASUS PG48UQ, RTX 3090, Peripherals & More!]
The Most Excessive Gaming Setup... Ever.
The Delta S Wireless is one of the latest additions to Asus' ROG range of peripherals. It's packed full of features like AI noise cancellation, fast charging, multiple connectivity options and 50mm drivers.
In conclusion, the ASUS ROG Delta S Wireless is a gaming headset that delivers good audio quality in a solidly-built wireless package.
[Review] The new ROG Delta S Wireless!
I'm TRYING TO MAKE TOP 1 MIRROR KEYBOARD AFTER 5 YEARS OF PLAYING HANDSET!
Wireless gaming peripherals terbaru dari ROG! Jom kita tengok
Saya uji keberkesanan Asus AI Noise Cancellation samada Gimik Marketing atau Betul-Betul Berfungsi. Guna Kipas gred industri untuk hasilkan bunyi bising!
The latest 2022 ROG gaming gear designed for gamers!
ROG Delta S Wireless, a headset with crystal-clear sound and unbeatable connectivity
クセが強いハイテクヘッドセット..君に使いこなせるか? ROG Delta S Wireless
The New ROG Gaming Gear Good design and Accurate response
Super compatible with any gaming platform, they can also be connected to the phone thanks to Bluetooth. The design is super ergonomic and the headset is really comfortable. The battery life is around 25 hours, perfect for long gaming sessions.
A large over-the-head model ASUS ROG DELTA S Wireless and also True Wireless earbuds ASUS ROG CETRA TRUE WIRELESS, which will not get lost even on the street!
Asus ROG Smart Game Products from
Crime Boss 💰🚔 Gang game experience
Delta S Wireless, as a model with a very small mass, has an excellent autonomy of 25 hours, and a fast charge option is also supported, where for e.g. 15 minutes of charging gives you 3 hours of normal use.
What is very important with gaming headsets is the sound quality, of course, and the Delta S Wireless has a very strong gaming DNA, when I say that I mean a completely flat or flat basic sound profile.
Due to its performance, the ASUS ROG Delta S Wireless has earned the AX Platinum Award.
Produkt-Vergleich
Produkt wurde zum Vergleich hinzugefügt. Fügen Sie bis zu 4 Produkte hinzu oder lassen Sie sich die ausgewählten Produkte zum Vergleichen anzeigen.
ASUS Footer