Sie haben keine Artikel in Ihrem Warenkorb.
Übersicht
Technische Daten
Awards
Galerie
Jetzt Kaufen
Support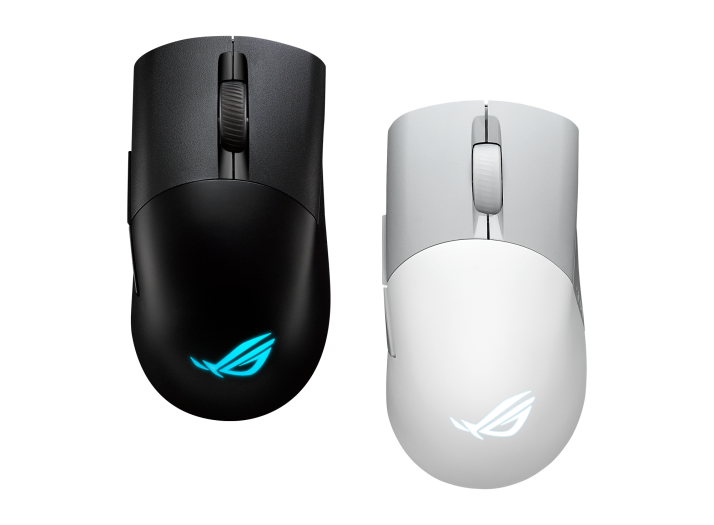 ROG Keris Wireless AimPoint
Die 75 Gramm leichte, kabellose RGB-Gaming-Maus ROG Keris Wireless AimPoint verfügt über einen optischen ROG AimPoint-Sensor mit 36.000 dpi, Tri-Mode-Konnektivität, die kabellose ROG SpeedNova-Technologie, austauschbare Mausschalter, ROG Micro Switches, PBT-Tasten, ROG Paracord, 100 % PTFE-Mausfüße, fünf programmierbare Tasten und ROG Grip Tape.
Perfekte Präzision: 36.000 dpi ROG AimPoint optischer Sensor mit 650 ips und 50 g Beschleunigung, plus 1000 Hz Polling Rate
Tri-Mode-Konnektivität: Spiele bis zu 119 Stunden lang mit eingeschalteter RGB-Beleuchtung über 2,4 GHz RF mit niedriger Latenz, kopple bis zu drei Geräte über den Bluetooth®-Modus oder lade und spiele mit kabelgebundenem USB
ROG SpeedNova Wireless-Technologie: Zuverlässige drahtlose Leistung mit niedriger Latenz und eine optimierte Energielösung im 2,4-GHz-HF-Modus
Leichte Struktur: Aktualisiertes Design mit robuster Innenstruktur hält das Gewicht der Maus auf nur 75 Gramm
Push-Fit-Schaltersockel II: Austauschbares Schalterdesign für eine einfache Anpassung; Keris AimPoint enthält ROG Micro Switches und ist mit anderen 3-poligen mechanischen und 5-poligen optischen Micro Switches kompatibel
PBT L/R-Tasten: Die langlebige, rutschfeste Oberfläche ist abriebfest und glänzt nicht, um ein gleichmäßiges Gefühl zu gewährleisten
Rutschfestes ROG Grip Tape mit Muster: Bietet den Nutzern einen sichereren Griff und ein bisschen mehr Flair
Sanfte und schnelle Bewegungen: ROG Paracord und 100 % PTFE Mausfüße
Auch in Moonlight White erhältlich
Video Reviews
The ROG Keris Wireless AimPoint gaming mouse has the same ROG design but is updated and feels more refined. The Aimpoint sensor is exciting and a step in the right direction too!
In this video, I take a look at the best wireless ROG gaming setup! The ROG Cetra True Wireless, ROG Keris Wireless Aimpoint, and the ROG Strix Scope RX TKL Wireless Deluxe
あの名作ゲーミングマウス&キーボードの新作が登場しました。
【ガチ勢発狂w】ASUSの最新ゲーミングキーボードとゲーミングマウスがヤバすぎてワロタw
Preview 3 professional giming mouse
ROG GAMING MICE - 3 Ultimate
Rog Strix IIII III and Keris Wireless Aimpointgames
The review from the channel HDTanel (score 8/10)
There are even three-mode connections, ROG SpeedNova wireless technology, replaceable switches, ROG micro switches (switches), PBT buttons, ROG Paracord, 100% FE feet, five programmable keys, as well as a ROG mouse strap.
Produkt-Vergleich
Produkt wurde zum Vergleich hinzugefügt. Fügen Sie bis zu 4 Produkte hinzu oder lassen Sie sich die ausgewählten Produkte zum Vergleichen anzeigen.
ASUS Footer