No tienes productos en tu cesta.
Características
Especificaciones técnicas
Premios
Galería
Dónde comprar
Soporte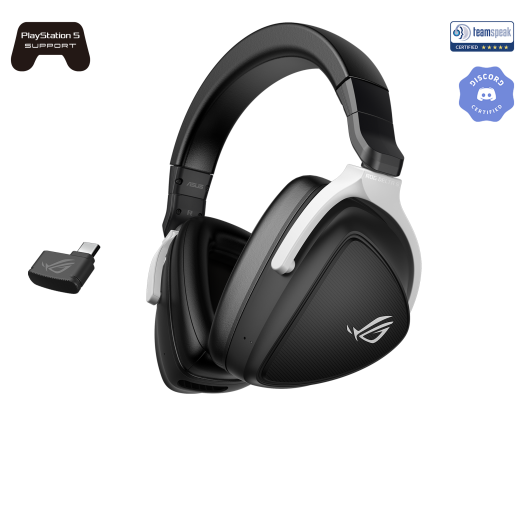 ROG Delta S Wireless
Auriculares gaming inalámbricos ligeros con conectividad de 2,4 GHz y Bluetooth, controladores ASUS Essence de 50 mm, micrófonos IA Beamforming con cancelación de ruido IA, compatibles con PC, Mac, PlayStation® 5, Nintendo Switch™.
Las conexiones inalámbricas de baja latencia a 2,4 GHz y Bluetooth® proporcionan mayor libertad
Los exclusivos controladores ASUS Essence de 50 mm y el diseño de cámara hermética ofrecen un sonido envolvente
Los micrófonos con IA Beamforming y cancelación de ruido garantizan una captación de voz excepcional y reducen 500 millones de tipos de ruidos de fondo para una comunicación clara en el juego
La carga rápida proporciona 3 horas de uso con una carga de 15 minutos, además de hasta 25 horas de duración total de la batería para jugar sin parar
Diseño ligero con almohadillas ergonómicas en forma de D que proporcionan una comodidad duradera
La amplia compatibilidad incluye PC, Mac, PlayStation® 5, Nintendo Switch™ y dispositivos móviles
Reviews en vídeo
ROG Delta S Wireless, unos auriculares con un sonido cristalino y un apartado de conectividad imbatible
Ultimate $5000 Gaming Setup 2022! [ASUS PG48UQ, RTX 3090, Peripherals & More!]
The Most Excessive Gaming Setup... Ever.
The Delta S Wireless is one of the latest additions to Asus' ROG range of peripherals. It's packed full of features like AI noise cancellation, fast charging, multiple connectivity options and 50mm drivers.
In conclusion, the ASUS ROG Delta S Wireless is a gaming headset that delivers good audio quality in a solidly-built wireless package.
[Review] The new ROG Delta S Wireless!
I'm TRYING TO MAKE TOP 1 MIRROR KEYBOARD AFTER 5 YEARS OF PLAYING HANDSET!
Wireless gaming peripherals terbaru dari ROG! Jom kita tengok
Saya uji keberkesanan Asus AI Noise Cancellation samada Gimik Marketing atau Betul-Betul Berfungsi. Guna Kipas gred industri untuk hasilkan bunyi bising!
The latest 2022 ROG gaming gear designed for gamers!
クセが強いハイテクヘッドセット..君に使いこなせるか? ROG Delta S Wireless
The New ROG Gaming Gear Good design and Accurate response
Super compatible with any gaming platform, they can also be connected to the phone thanks to Bluetooth. The design is super ergonomic and the headset is really comfortable. The battery life is around 25 hours, perfect for long gaming sessions.
A large over-the-head model ASUS ROG DELTA S Wireless and also True Wireless earbuds ASUS ROG CETRA TRUE WIRELESS, which will not get lost even on the street!
Asus ROG Smart Game Products from
Crime Boss 💰🚔 Gang game experience
Delta S Wireless, as a model with a very small mass, has an excellent autonomy of 25 hours, and a fast charge option is also supported, where for e.g. 15 minutes of charging gives you 3 hours of normal use.
What is very important with gaming headsets is the sound quality, of course, and the Delta S Wireless has a very strong gaming DNA, when I say that I mean a completely flat or flat basic sound profile.
Due to its performance, the ASUS ROG Delta S Wireless has earned the AX Platinum Award.
Comparativa de productos
Producto añadido a la comparativa. Añade hasta 4 productos o compara los productos seleccionados.
ASUS Footer