No tienes productos en tu cesta.
Características
Especificaciones técnicas
Premios
Galería
Dónde comprar
Soporte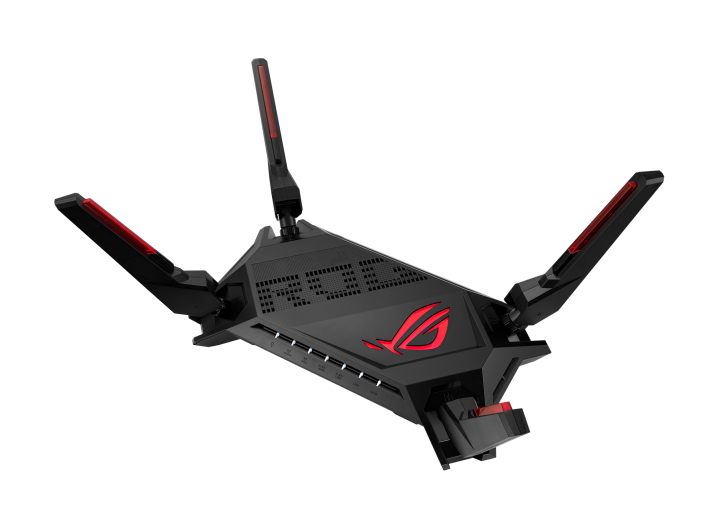 ROG Rapture GT-AX6000
Router gaming GT-AX6000 Wi-Fi 6 (802.11ax) de doble banda, dos puertos de 2.5G, hardware mejorado, agregación WAN, VPN Fusion, tres formas de acelerar los juegos, seguridad de red gratuita y soporte AiMesh
Wi-Fi 6 de alta eficiencia: Soporta velocidades de 6000 Mbps y cuenta con unos canales de 160 MHz que ofrecen más eficiencia y rendimiento.
Dos puertos de 2.5G: El tráfico de los puertos 2.5G tiene la máxima prioridad; versátiles configuraciones de puertos WAN/LAN.
CPU de alto rendimiento: la CPU a 2,0 GHz de cuatro núcleos y 64 bits eleva la capacidad de cálculo al siguiente nivel.
Tres maneras de acelerar los juegos: Acelera la transmisión de paquetes desde tu PC al servidor de juegos.
Modo gaming para móviles: Minimiza el retardo y la latencia de los juegos móviles en la aplicación ASUS Router.
Reviews en vídeo
WLAN performance on a TOP level, without question a high-end level. With 802.11ax wave2, the system is state-of-the-art. 2.5 GBit interfaces on the WAN and LAN side is a novelty and future-proof.
WE REMAKE YOUR GAMING ROOM ! (ft. Guillaume)
I build a 5000€ Gaming PC !
Enjoy ultra-wide coverage and fast transfer rate with 150 Mbps from 15m away. Up to 650 Mbps on the same floor from the wireless router. Double if you are using 4×4 connection devices. And enjoy lovely and attractive RGB lighting effects. Yes, this is what Asus ROG Rapture GT-AX6000 can do. The best WiFi 6 dual-band gaming router from Asus yet…
Still craving for heavenly speeds?😉 How about allowing Momoko to introduce you to the ASUS ROG Rapture GT-AX6000 😍
One of the best wifi routers that I personally tested.
Upgrading my Wi-Fi to ROG Rapture GT-AX6000
【WiFIルーター】2.5GbEポート搭載の高速ゲーミングWiFiルーター ASUS ROG RAPTURE GT-AX6000
【280fps】最新デバイスを揃えたのでまとめて紹介します!【フォートナイト/Fortnite】
【ラグ解消!880MゲーミングWi-Fiルーター】ROG Rapture GT-AX6000 レビュー 【ゲーム・投資にWi-Fiルーターおすすめ】
ROG Rapture GT-AX6000 is great both in terms of design and performance. Also it performs great when it comes to eliminate the internet problems of household, business and e-sports players.
Satellite rifles from Asus
Building a smart games room - Part #1
RT-Ax6000 is the best router for professional games
Video review from the channel ASUS ROG BALTICS
Video review from the channel ASUS ROG BALTICS
Comparativa de productos
Producto añadido a la comparativa. Añade hasta 4 productos o compara los productos seleccionados.
ASUS Footer