ROG Rapture GT-AX11000
AX11000 三頻 WiFi 6 (802.11ax) 10 Gigabit 電競無線路由器 –首款搭載四核心處理器,並配備 2.5G 電競連接埠,內建動態頻率選擇 (DFS) 功能、 wtfast® 遊戲加速器、可調式 QoS,AiMesh 網路系統及 AiProtection Pro 網路安全防護
新世代WiFi 6技術 - 802.11ax WiFi 標準,提供更高的網路效能、傳送效率、訊號範圍。
超快 WiFi 速度 - 11000Mbps WiFi 速度,即使網路多工下,也能輕鬆處理工作。
三段式遊戲加速 – 從裝置到遊戲伺服器都能加速遊戲流量。
蓄勢待發的硬體 – 1.8GHz 四核心處理器與 2.5G 電競連接埠提供網路效能強力奧援。
強化前線網路安全性 – AiProtection Pro 防護,讓外部攻擊與威脅危及設備之前化解。
影片評論
If you are on the lookout for a router, look no further.
World's first 10 Gigabit Tri-band WiFi Gaming Router
Wi-Fiルーターはこう選べ!高いルーターと安いルーターの違いを検証しながら解説!
🤖🤖 ROUTER GAMING CANGGIH DARI MASA DEPAN🤖🤖 - Review Router ASUS ROG Rapture AX11000
If you need one of the most steroid-rich gaming routers on the market, I think you will find for him a place on the shelf and money in the stash.
WiFi 6 (802.11ax) standard
OFDMA

One channel can transmit data of several devices* at the same time, thus improving efficiency and reducing latency.

Better Range

Wider coverage over large distances* of up to 80%1 due to the smaller sub channels.

TWT

Target Wait Time allows transmissions to be scheduled, allowing devices* to sleep for longer periods, delivering up to 7x better battery life.

Standard Compatibility

WiFi 6 (802.11ax) is compatible with current WiFi standards including WiFi 5 (802.11ac), WiFi 4 (802.11n) and more.
2.53X FASTER*5
802.11ax

11000Mbps

802.11ac

4266Mbps
2.53X


Faster

Wi-Fi Speed

80%

Wi-Fi Range

4X


Capcity

For Multi-Devices

7X


Better

Battery Life
OPTIMIZE YOUR GAMING EXPERIENCE
TEAM UP YOUR ROG GEARS FOR VICTORY
ROG PCs (motherboard, laptop, desktops) and ROG wifi routers together with Game First V network acceleration software ensure smoother online game with lower ping and less lag. No matter wire or wireless, Game First and Game Boost prioritize gaming packets and decrease so that you do not miss a bullet from the back.
*Tested with League of Legends while BitTorrent download and streaming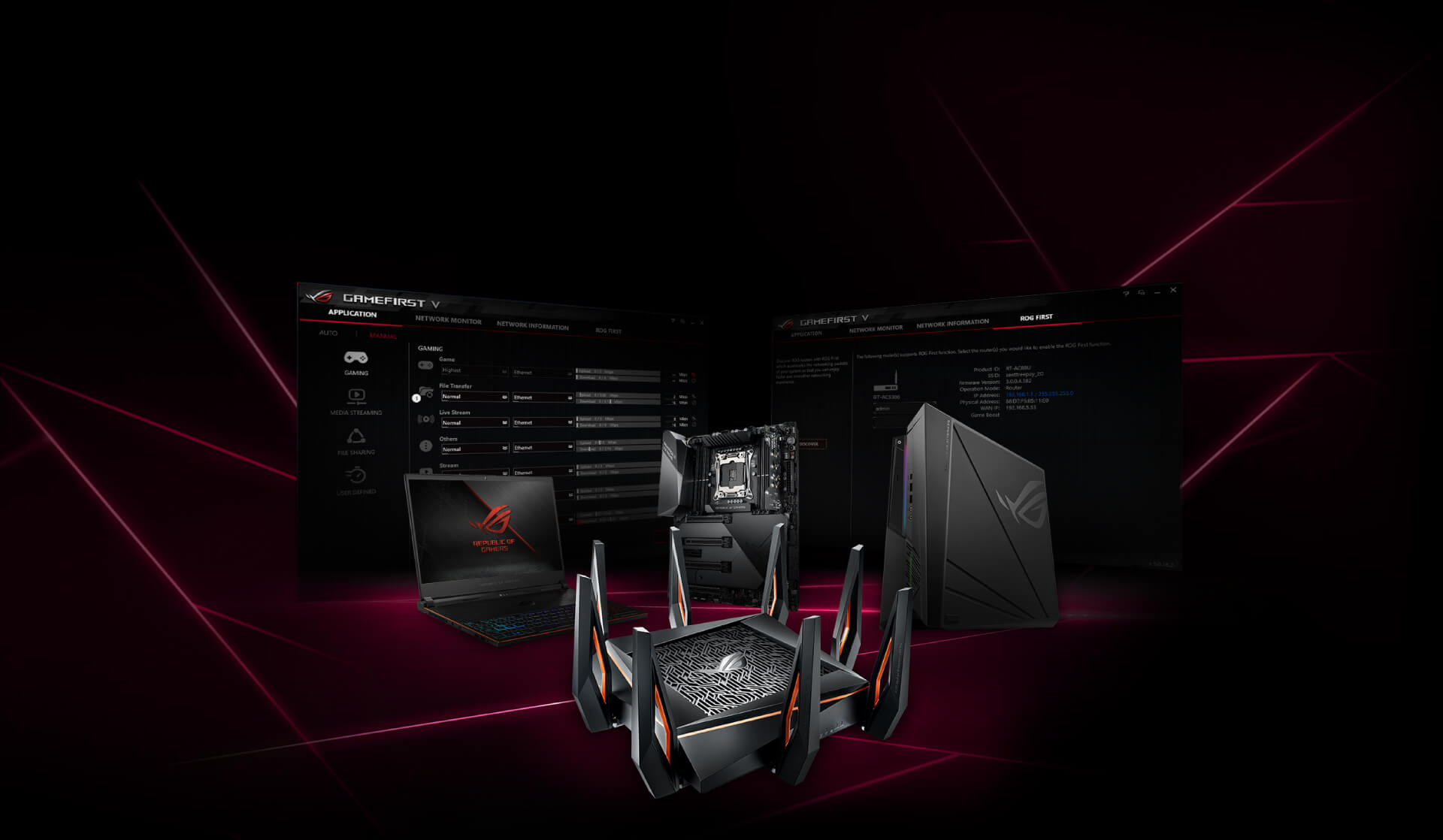 TRIPLE-LEVEL GAME ACCELERATION
GT-AX11000 provides triple-level game acceleration to boost game traffic every step of the way. This lowers ping rate and reduce game latency for better gaming experience6
ROG devices prioritization – GameFirst V

ROG Devices supporting Game First

Game packet prioritization – Game Boost

GT-AX11000

Shortest path to the game server 2 – GPN

Game Server
PORT FORWARDING IN 3 STEPS
Port forwarding is critical for gamers, to avoid the awkward situation of not being able to team up with friends.
Open NAT on GT-AX11000 cannot be easier, it only takes 3 steps. No more frustrating and complicated process needed.
Select which game to play

Select your gaming device

Activate and done
ROG GAMING CENTER:
RULE YOUR NETWORK
GT-AX11000 is designed with just one mission in mind: Make your gaming network awesome. It's packed with powerful gaming optimizations, and delivers dominating Wi-Fi performance, rock-solid stability and state-of-the-art security. The ROG-themed Gaming Center interface provides easy point-and-click control over every incredible feature.
DEPURATED GAMING
Wi-Fi BANDS
Ping 63ms

Ping 38ms

Ping 14ms
DON'T TRUST YOUR
VICTORY TO LUCK
When it comes to ranking, a great connection to your game server is critical. Game Radar lets you check ping times to different servers4 before you play, so you can choose the best one and gain the competitive edge.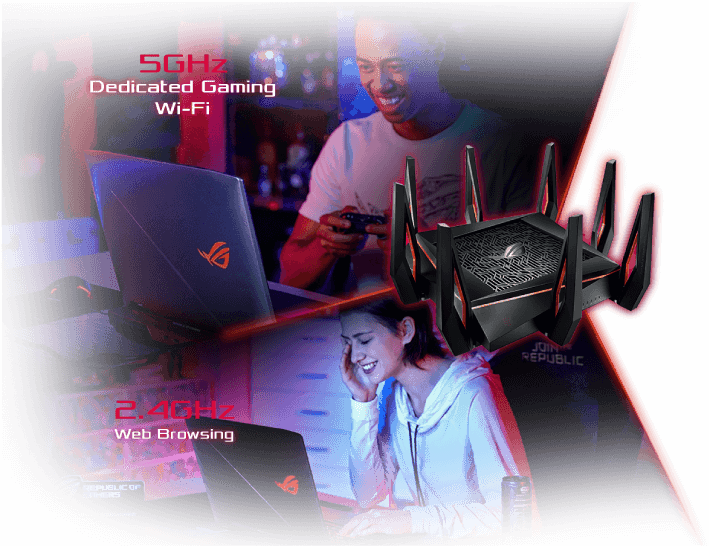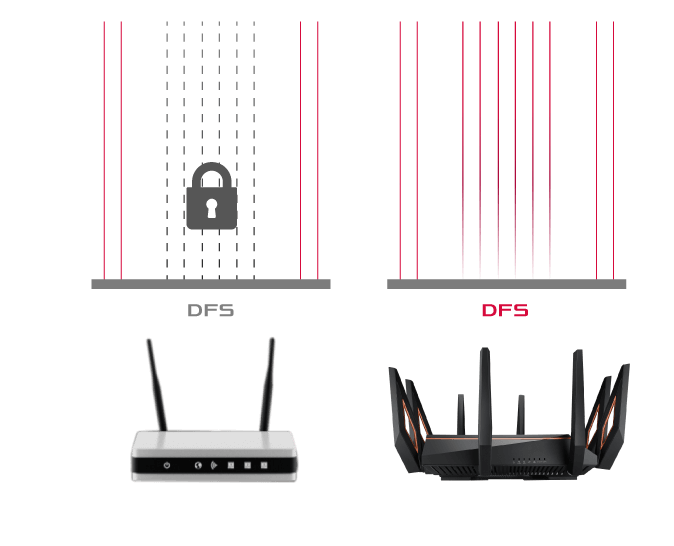 KEEP YOUR GAMING
BAND CLEAN
Tri-band networking lets you dedicate one 5GHz band to gaming only, so you can avoid competing for bandwidth with other devices on your home network. With dynamic frequency selection (DFS), ROG Rapture GT-AX11000 also unlocks 15 channels in the least-congested 5GHz bands, providing more bandwidth for all of your wireless devices.
*The 160MHz bandwidth may be unavailable in the 5GHz band in some regions / countries due to regulatory restrictions.
SIMULTANEOUS GAMING AND VPN
If you're fed up with virtual private networks dragging down game performance, ROG has the answer. ROG Rapture GT-AX11000 has a killer feature called VPN Fusion, which lets you run a VPN and an ordinary internet connection — simultaneously! So even if other network users need to use a VPN, you can still enjoy maximum gaming speeds.

Light Up and Win
ROG Rapture GT-AX11000 is the first ROG router with Aura RGB lighting, which can display hundreds of colors and multiple effects for a stylish vibe that matches their other Aura-enabled gaming gear.
Static
Breathing
Color cycle
Comet
Flash & dash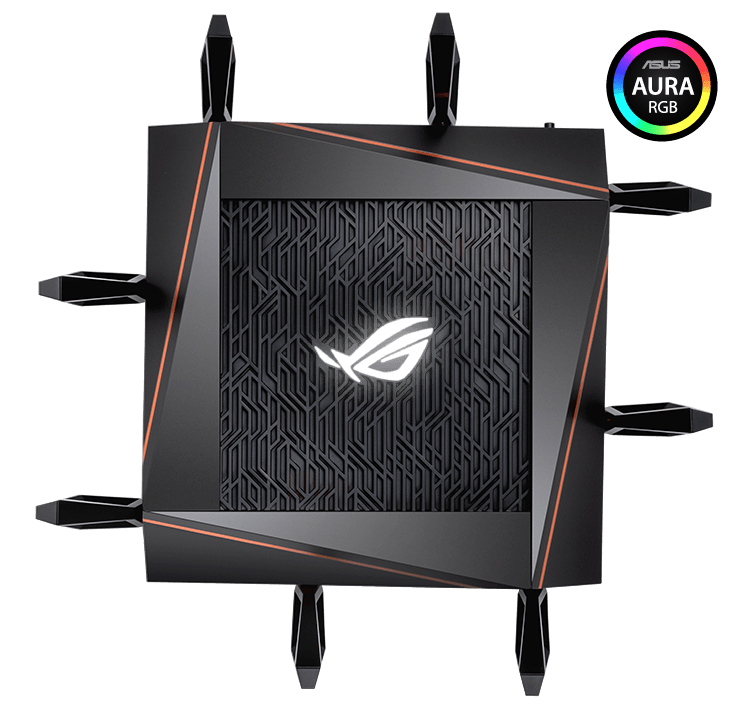 FORTIFIED FRONTLINE NETWORK SECURITY
ROG Rapture GT-AX11000 features AiProtection Pro powered by Trend Micro™ to defend your network from external attacks and threats by neutralizing them before they can reach your devices. Even if your PC's security software isn't turned on,  AiProtection Pro still protects your network from attacks and intrusions, giving you added peace of mind.
learn more
BATTLE READY HARDWARE
In addition to incredible wireless  performance, GT-AX11000 comes with a 2.5G WAN/LAN port for up to 2.5X faster data transfers than regular Ethernet. The router is powered by a 1.8GHz 64-bit quad-core CPU to easily handle online gaming, supercharge USB data transfers and power LAN parties. For added convenience, a customizable button on the front of the router lets you instantly control a function of your choice, such as Aura RGB lighting, Game Boost or the DFS bands.
Disclaimer: *To benefit from WiFi 6 features, the Wi-Fi client needs to be WiFi 6 capable.
The data refers to uplink-OFDMA
The free router edition supports one selectable device on your network at a time with GPN traffic limits, and includes wtfast® technical support. Users can pay to upgrade to the advanced version for simultaneous acceleration of multiple devices with more GPN traffic and advanced features. You may check supported game list here.
ROG Devices supporting Game First V
Supporting game list includes League of Legends, Overwatch, Dota 2, Hearthstone, Diablo III, Hero of the Storm, Garena LoL, StarCraft II, World of Warcraft, World of Tanks, World of Warplanes
ac data refers to: 40MHz / 256QAM on 2.4GHz band and 80MHz / 256QAM on 5GHz bands. ax data refers to: 40MHz / 1024QAM on 2.4GHz band and 160MHz / 1024QAM on 5GHz bands
ROG reduces peak ping by up to 90% calculated from the reduction of peak ping rate from 80 milliseconds (ms) to 8 ms when using the GameFirst V on ROG gaming devices, Game Boost mode on ROG router and GPN from wtfast® using a 10 megabits per second (Mbps) down/2Mbps up internet connection that has multiple devices BitTorrent and video streaming simultaneously.
免責條款
經由美國聯邦通信委員會及加拿大工業部認證的產品會於美國及加拿大販售。請造訪 ASUS USA 及 ASUS Canada 以獲得當地產品的資訊。
產品規格及資訊會隨時更新,恕不另行通知,請與供應商聯繫以獲得確切資訊。各地區所販售的產品可能不同。
產品規格及特色會因機型而有所差異,所有圖片也皆為說明用途,完整細節詳見產品規格頁面。
PCB 顏色及軟體版本會隨時更新,恕不另行通知。
商標聲明: 本網站所談論到的產品名稱僅做識別之用,而這些名稱可能是屬於其他公司的註冊商標或是版權。
本網站所提到的產品規格、應用程式、圖片及資訊僅提供參考,內容會隨時更新,恕不另行通知。
USB 3.0、USB3.1、USB3.2以及Type-C的實際傳輸速度將依據您的使用情境而變化,包括電腦的設備、檔案的規格以及系統配置和操作相關的其他因素而影響處理速度。
ASUS Footer