Nincsenek tételek a Bevásárlókosaradban.
Áttekintés
Specifikációk
Díjak
Galéria
Támogatás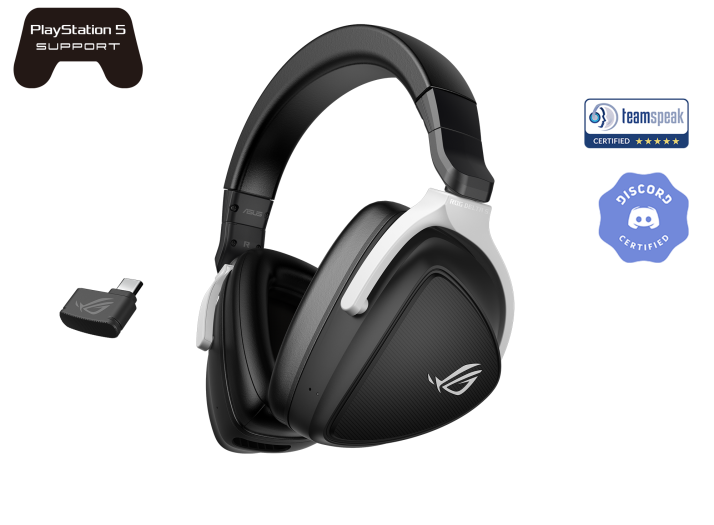 ROG Delta S Wireless
Könnyű vezeték nélküli gamer headset 2,4 GHz-es rádiós és Bluetooth kapcsolattal, 50 mm-es ASUS Essence hangsugárzókkal, AI hullámformálásos és Ai zajszűréses mikrofonokkal. PC-kkel, Mac-ekkel, PlayStation® 5 és Nintendo Switch™ konzolokkal is használható
Az alacsony késleltetésű vezeték nélküli 2,4 GHz-es és a Bluetooth® kapcsolat nagyobb szabadságot nyújt
Exkluzív 50 mm-es ASUS Essence hangsugárzókkal és légzáró kamrás megoldással gondoskodik a magával ragadó hangról
Az AI hullámformálással (AI Beamforming) és AI zajszűréssel rendelkező mikrofonok kivételes minőségben képesek a beszédhangok továbbítására és 50 millió fajta háttérzajt tudnak kiszűrni a játékon belüli tiszta kommunikáció biztosításához
A gyorstöltés mindössze 15 perc alatt 3 órányi használatra elegendő energiát ad, és az akár 25 órás akkumulátoros üzemidő folyamatos játékot tesz lehetővé.
Kis súlya és ergonomikus D alakú fülpárnája miatt hosszan használva is kényelmes
Sokféle platformmal használható: PC-kkel, Mac-ekkel, PlayStation® 5 és Nintendo Switch™ konzolokkal, emellett mobileszközökkel is kompatibilis
Videós megjelenés
The Delta S Wireless is one of the latest additions to Asus' ROG range of peripherals. It's packed full of features like AI noise cancellation, fast charging, multiple connectivity options and 50mm drivers.
Ultimate $5000 Gaming Setup 2022! [ASUS PG48UQ, RTX 3090, Peripherals & More!]
The Most Excessive Gaming Setup... Ever.
In conclusion, the ASUS ROG Delta S Wireless is a gaming headset that delivers good audio quality in a solidly-built wireless package.
[Review] The new ROG Delta S Wireless!
I'm TRYING TO MAKE TOP 1 MIRROR KEYBOARD AFTER 5 YEARS OF PLAYING HANDSET!
Wireless gaming peripherals terbaru dari ROG! Jom kita tengok
Saya uji keberkesanan Asus AI Noise Cancellation samada Gimik Marketing atau Betul-Betul Berfungsi. Guna Kipas gred industri untuk hasilkan bunyi bising!
The latest 2022 ROG gaming gear designed for gamers!
ROG Delta S Wireless, a headset with crystal-clear sound and unbeatable connectivity
クセが強いハイテクヘッドセット..君に使いこなせるか? ROG Delta S Wireless
Super compatible with any gaming platform, they can also be connected to the phone thanks to Bluetooth. The design is super ergonomic and the headset is really comfortable. The battery life is around 25 hours, perfect for long gaming sessions.
A large over-the-head model ASUS ROG DELTA S Wireless and also True Wireless earbuds ASUS ROG CETRA TRUE WIRELESS, which will not get lost even on the street!
Asus ROG Smart Game Products from
What is very important with gaming headsets is the sound quality, of course, and the Delta S Wireless has a very strong gaming DNA, when I say that I mean a completely flat or flat basic sound profile.
Delta S Wireless, as a model with a very small mass, has an excellent autonomy of 25 hours, and a fast charge option is also supported, where for e.g. 15 minutes of charging gives you 3 hours of normal use.
Due to its performance, the ASUS ROG Delta S Wireless has earned the AX Platinum Award.
Termékek összehasonlítása
Termék hozzáadva az összehasonlításhoz. Adj hozzá legfeljebb 4 terméket, vagy folytasd a kiválasztott termékek összehasonlításának megtekintésével.
ASUS Footer