Nincsenek tételek a Bevásárlókosaradban.
Áttekintés
Specifikációk
Díjak
Galéria
Támogatás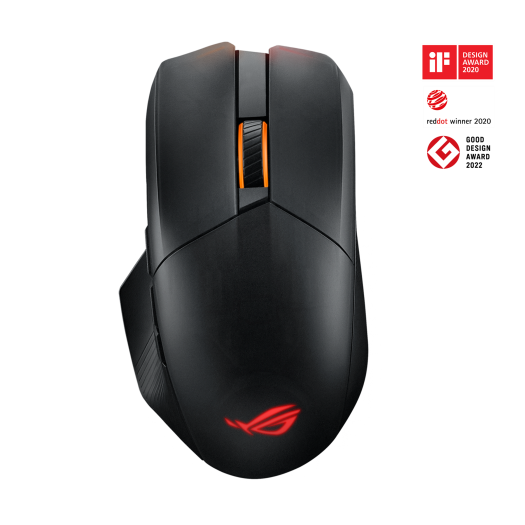 ROG Chakram X
ROG Chakram X RGB vezeték nélküli gamer egér következő generációs 36 ezer dpi-s ROG AimPoint optikai érzékelővel, 8000 Hz-es lekérdezési gyakorisággal, három kapcsolati móddal (2,4 GHz-es rádiós / Bluetooth / vezetékes), 11 programozható gombbal, analóg joystick-kel és gyors cserét (mechanikus/optikai) lehetővé tevő kapcsolófoglalatokkal
ROG AimPoint optikai érzékelő: Új generációs 36 ezer dpi-s optikai érzékelő 8000 Hz-es lekérdezési gyakorisággal az utolérhetetlen precizitásért
Háromféle csatlakoztatási lehetőség: Rugalmasság a vezetékes USB, alacsony késleltetésű 2,4 GHz-es rádiós és Bluetooth® móddal akár három eszköz csatlakoztatásához.
Programozható joystick: Az új, cserélhető joystick többféle méretben áll rendelkezésre a finoman szabályozható analóg vagy digitális lineáris vezérléshez.
Több vezérlőfunkció a kezed ügyében: Hét gomb és négyirányú joystick összesen 11 programozható gombbal a rugalmasan beállítható gyorsgombos funkciókhoz
Fantasztikus kattintásérzet: A tengelyen elforduló nyomógomb-megoldás a gyors reakciókat tisztán érzékelhető nyomásérzettel ötvözi
Azonnali DPI-váltások: A DPI On-The-Scroll funkcióval könnyedén állítható a felbontás játék közben
Push-Fit Switch Socket II: A gyors csere érdekében kompatibilis a 3 tűs mechanikus és az 5 tűs optikai mikrokapcsolókkal is. Így nem csak a kattintási erő változtatható, de az egér élettartama is meghosszabbítható
Sima és gyors mozgás: ROG Paracord és 100% teflon egértalpak
Kényelmes töltés: Töltsd vezetékkel vagy vezeték nélküli Qi-töltéssel az akár 114 órányi zavartalan játékhoz
Problémamentes személyre szabás saját kezűleg: Csavarozás nélküli mágneses gombok és borítás, valamint egy személyre szabható jelvény a kinézet és a használati érzet egyszerű változtatásához
NVIDIA®Reflex: Hivatalosan jóváhagyott eszköz az NVIDIA Reflex Latency Analyzerhez, az egér válaszkészségének figyelésére – További részletek
Videós megjelenés
Ultimate $5000 Gaming Setup 2022! [ASUS PG48UQ, RTX 3090, Peripherals & More!]
The Most Excessive Gaming Setup... Ever.
I'm TRYING TO MAKE TOP 1 MIRROR KEYBOARD AFTER 5 YEARS OF PLAYING HANDSET!
Wireless gaming peripherals terbaru dari ROG! Jom kita tengok
The latest 2022 ROG gaming gear designed for gamers!
【デバイスチート!?】まさかのジョイスティック付きゲーミングマウス!?が発売されてしまいました…
Review Gaming Mouse with Joystick
Review Gaming Mouse with Joystick
Review Gaming Mouse with Joystick
I'm excited because I've been dreaming of doing a collaboration with Asus for years and we're finally here! Today we will assemble my new computer for the one million special. I can't wait then to try this ORG Wingwall, I think I'm one of the first to try it and it looks super cool.
The surprise is the ROG Delta S Core, probably the best microphone I've experienced with Asus. I'm also excited about the ROG Strix Flare II Animate keyboard, I'll definitely be back to that one.
Creativity of Asus Rog Chakram X
Maherco Assembly #1: New Game 2022
Asus ROG Smart Game Products from
Best Wireless gaming peripherals set-up
Today we had the opportunity to test the ROG Chakram X. We have already tested the original ROG Chakram mouse at AX, which became part of Dulet's ROG setup.
The Chakram X is one of the best mice I've had the chance to test so far on the channel.
The review from the channel Texnoplov
Termékek összehasonlítása
Termék hozzáadva az összehasonlításhoz. Adj hozzá legfeljebb 4 terméket, vagy folytasd a kiválasztott termékek összehasonlításának megtekintésével.
ASUS Footer