Nincsenek tételek a Bevásárlókosaradban.
Áttekintés
Specifikációk
Díjak
Galéria
Támogatás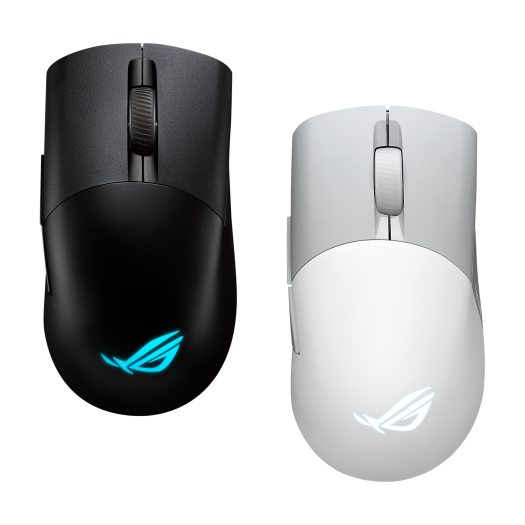 ROG Keris Wireless AimPoint
A ROG Keris Wireless AimPoint egy könnyű, mindössze 75 grammos vezeték nélküli RGB gamer egér, amely 36 ezer dpi-s ROG AimPoint optikai érzékelővel, három kapcsolódási móddal, ROG SpeedNova vezeték nélküli technológiával, cserélhető ROG mikrokapcsolókkal, PBT anyagú gombokkal, ROG Paracord vezetékkel, 100% teflon egértalpakkal, öt programozható gomb és ROG csúszásmentes fogómatricával érkezik.
Tökéletes precizitás: 36 ezer dpi-s ROG AimPoint optikai érzékelő 650 ips sebességgel és 50 g-s gyorsulással, valamint 1000 Hz-es lekérdezési gyakoriság
Háromféle csatlakoztatási lehetőség: Vesd bele magad a játékba a szivárvány színeiben ragyogva az akár 119 órás üzemidőt nyújtó alacsony késleltetésű 2,4 GHz-es rádiós kapcsolattal, párosítsd akár három eszközzel Bluetooth® módban vagy töltsd és játssz egyszerre a vezetékes USB-s móddal
ROG SpeedNova vezeték nélküli technológia: Alacsony késleltetésű, megbízható vezeték nélküli teljesítmény és optimális energiatakarékosság a 2,4 GHz-es RF módban
Könnyű felépítés: A modernebb megoldásokkal a strapabíró belső szerkezetű egér súlya mindössze 75 gramm lett.
Push-Fit Switch Socket II: A cserélhető egérkapcsolókkal könnyedén személyre szabható Keris AimPoint ROG mikrokapcsolókat tartalmaz, de más 3 tűs mechanikus és 5 tűs optomechanikus kapcsolókkal is kompatibilis
PBT ANYAGÚ BAL/JOBB GOMB Strapabíró, nem csúszós felszíne jól ellenáll a kopásnak és a kifényesedésnek, és mindig egyforma használati élményt garantál
Csúszásmentes ROG-mintás fogómatrica: Biztonságosabb fogást és menőbb kinézetet nyújt
Sima és gyors mozgás: ROG Paracord és 100% teflon egértalpak
Fehér színben (Moonlight White) is kapható
Videós megjelenés
If you are not someone that really cares too much about having the lightest mouse, then defnitely consider the ROG Gladius III Wireless Aimpoint and ROG Keris Wireless Aimpoint.
Build PC GAMER ROG Full White Powered by ASUS à 5000 €
The ROG Keris Wireless AimPoint gaming mouse has the same ROG design but is updated and feels more refined. The Aimpoint sensor is exciting and a step in the right direction too!
In this video, I take a look at the best wireless ROG gaming setup! The ROG Cetra True Wireless, ROG Keris Wireless Aimpoint, and the ROG Strix Scope RX TKL Wireless Deluxe
あの名作ゲーミングマウス&キーボードの新作が登場しました。
【ガチ勢発狂w】ASUSの最新ゲーミングキーボードとゲーミングマウスがヤバすぎてワロタw
【ガチ勢発狂w】ASUSの最新ゲーミングキーボードとゲーミングマウスがヤバすぎてワロタw
This is an excellent mouse whose attractive design, precision and light weight have rightfully earned it a more than deserved place of honor in its price range.
Preview 3 professional giming mouse
ROG GAMING MICE - 3 Ultimate
Rog Strix IIII III and Keris Wireless Aimpointgames
The review from the channel HDTanel (score 8/10)
There are even three-mode connections, ROG SpeedNova wireless technology, replaceable switches, ROG micro switches (switches), PBT buttons, ROG Paracord, 100% FE feet, five programmable keys, as well as a ROG mouse strap.
Termékek összehasonlítása
Termék hozzáadva az összehasonlításhoz. Adj hozzá legfeljebb 4 terméket, vagy folytasd a kiválasztott termékek összehasonlításának megtekintésével.
ASUS Footer