Features
Tech Specs
Awards
Gallery
Where to buy
Support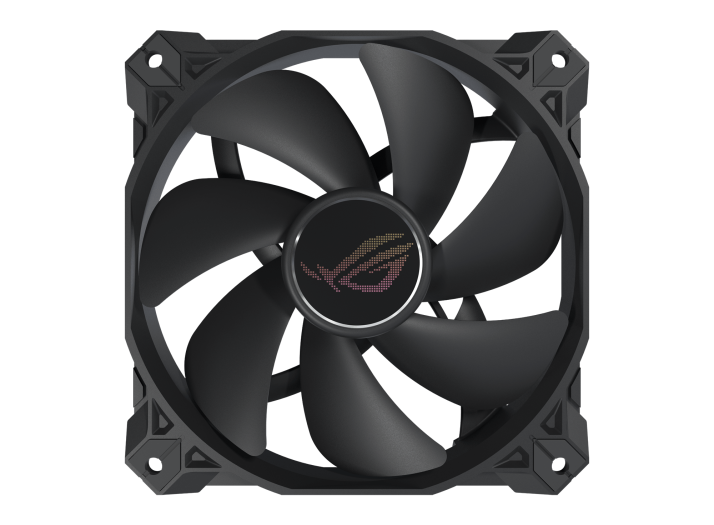 ROG STRIX XF 120
Whisper-quiet, 4-pin PWM fan for PC cases, radiators or CPU cooling
Optimal blend of airflow and static pressure: Enables use as a PC case, radiator or CPU cooler fan
MagLev bearing: Stabilizes rotor for reduced friction and noise, and offers 400,000-hour life span
Minimized acoustic profile: Whisper-quiet, 22.5 dB(A) cooling performance and tuned to deliver a smooth and stable sound frequency
Aerodynamic fan blade and frame design: Minimizes turbulence and maximizes airflow ​
Extensive operating range: 250 – 1800 rpm range for more flexibility and to create a quiet fan curve (fan spins down at 0% PWM utilization)
Anti-vibration pads and mounts: Reduces vibration and prevents rattling
5-year warranty
ROG STRIX XF 120
WHISPER-QUIET
CASE/RADIATOR FAN
Polychromatic ROG logo gleams from all angles

Silver-plated logo

50 cm sleeved cable offers more flexibility for installation
OPTIMAL BLEND OF AIRFLOW AND STATIC PRESSURE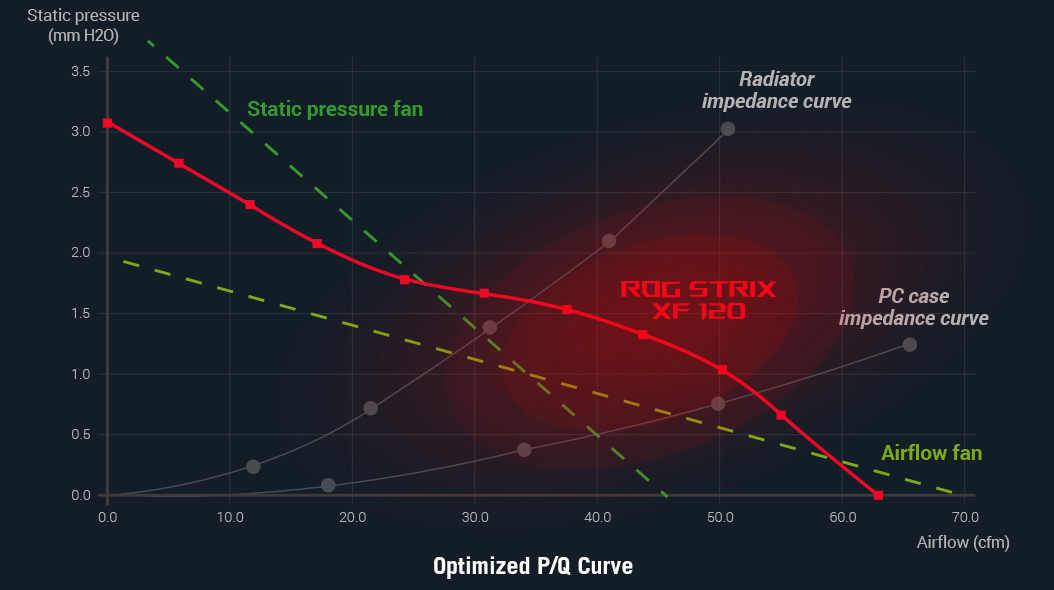 ROG Strix XF 120 fan provides exceptional cooling performance in the crucial middle area of the P/Q curve. This means optimized performance with a minimized acoustic profile for both static pressure and airflow cooling applications, including as a PC case, radiator or CPU cooler fan.
62.5 cfm

Air Flow

3.07 mm H20

Static Pressure

22.5 dB(A)

Acoustics
MAGNETIC-LEVITATION TECHNOLOGY
The fan bearing in ROG Strix XF 120 features 360° MagLev technology to prevent slanting and friction. This technology delivers exceptional cooling performance, low noise and a long lifespan of up to 400,000 hours.
Learn more about MagLev >>
MagLev Fan

360° MagLev technology stabilizes the rotor as it spins to prevent the fan from slanting or swaying. This minimizes friction, which reduces noise and protects the fan from wear and tear over time.

Regular Fan

After long-term use, friction from the shaft on a regular fan wears down the bearing, causing the fan to make more noise.
Fiberglass-reinforced material
Minimized blade hub
MagLev
bearing
Direct-flow frame
Anti-vibration pads & mounts
Patented 11° Tilt Design
Optimized airflow and superior thermal performance are critical in high-powered systems with compact form factors, and ROG Z11 delivers this with a patented interior layout that tilts the motherboard tray at an 11° angle, providing an additional 40 mm of space at the back of the motherboard. This additional space enhances heat dissipation around the CPU and graphics card, as well as the M.2 SSD that can be installed on the back of the motherboard. The layout also enables compatibility with a 3-slot graphics card without a riser cable and creates a striking visual display of components.
Optimal Airflow
ROG Z11 is built for optimized cooling performance. The entire design is conducive to efficient heat discharge from the case via the chimney effect and negative air pressure, which is generated by the fans expelling hot air at a faster rate than intake. With the choice of up to five 120 mm fans, or three 140 mm plus two 120 mm fans, users can maximize airflow and have the flexibility to customize.
Precision-engineered grooves on the fan blades direct and focus air to flow smoothly along the blades for reduced flow separation. This increases fan performance and reduces vortex noise, improving overall acoustics.
With Groove

Without Groove
The angle and curvature of the frame struts are carefully designed to direct and channel airflow in a unidirectional, highly focused stream. This design minimizes turbulence and the focused airflow enhances static pressure.
With Direct-Flow Frame

Without Direct-Flow Frame
Dynamic balance calibration treatment mark
DYNAMIC BALANCE PRE-CALIBRATION
The balance of each fan is manually tuned to minimize inefficiency and ensure optimal performance.
PRECISE, FLEXIBLE PWM SPEED CONTROL
An extensive operating range of 250 – 1800 rpm offers the precision and flexibility to maximize cooling performance across various workloads, and the fan automatically turns off when set to 0% PWM duty cycle for an ultralow noise profile when handling lighter workloads.
Product Comparison
Product added to comparison. Add up to 4 products or proceed to view compare products selected.
ASUS Footer