Non ci sono articoli nel carrello.
Descrizione
Specifiche tecniche
Premi
Galleria
Dove comprare
Assistenza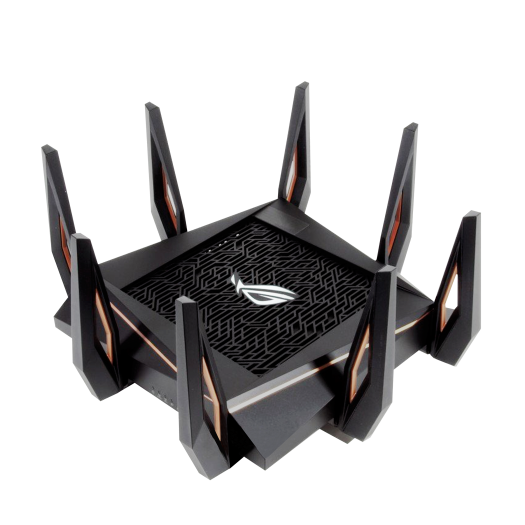 ROG Rapture GT-AX11000
AX11000 Tri-band WiFi 6 (802.11ax) primo Gaming Router al Mondo compatibile PS5 con Wi-Fi da 10 Gigabit e processore quad-core, porta da gioco da 2,5G, banda DFS, wtfast, QoS adattivo, AiMesh per sistema wifi mesh e Protezione della rete AiProtection Pro
Next-Gen WiFi Standard - Compatibile PS5.
Ultrafast WiFi Speed: 11000 Mbps di velocità WiFi per gestire con facilità anche la rete più trafficata.
Accelerazione del gioco a tre livelli: accelera il traffico di gioco in ogni fase del percorso, dal dispositivo al server di gioco.
Battle-ready-hardware - CPU quad-core da 1,8 GHz e porta da 2,5 GBase -T per prestazioni eccezionali.
Sicurezza di rete in prima linea - Neutralizza le minacce di Internet prima che colpiscano la tua rete.
Recensioni Video
If you are on the lookout for a router, look no further.
World's first 10 Gigabit Tri-band WiFi Gaming Router
🤖🤖 ROUTER GAMING CANGGIH DARI MASA DEPAN🤖🤖 - Review Router ASUS ROG Rapture AX11000
If you need one of the most steroid-rich gaming routers on the market, I think you will find for him a place on the shelf and money in the stash.
Confronta Prodotto
Prodotto aggiunto per il confronto. Aggiungi fino a 4 prodotti o procedi a confrontare i prodotti selezionati.
ASUS Footer