Features
Tech Specs
Awards
Gallery
Kjøp
Support
&lt/Zephyrus G14&gt
Opptil AMD Ryzen™ 9-prosessorer og AMD Radeon™ RX 6800S mobilgrafikk med en MUX Switch gir drivstoff til denne kraftfulle maskinen.
Intelligent ROG-kjøling: Et tilpasset dampkammer og flytende metall støtter 0dB-omgivelseskjøling.
ROG Nebula Display™: 16:10-bildeforhold, QHD/120hz-panel, Pantone®-validering, 100% PCI-P3 og Dolby Vision® HDR.
Oppgradert AniMe Matrix™ som har mer levende animasjoner samt nye funksjoner og minispill.
Hurtiglading opptil 50 % på 30 minutter, 100W USB Type-C-lading, og Wi-Fi 6E-støtte.
Quad-høyttalere, en 3D Mic Array for stemmeopptak og Dolby Atmos®-støtte gir krystallklar lyd.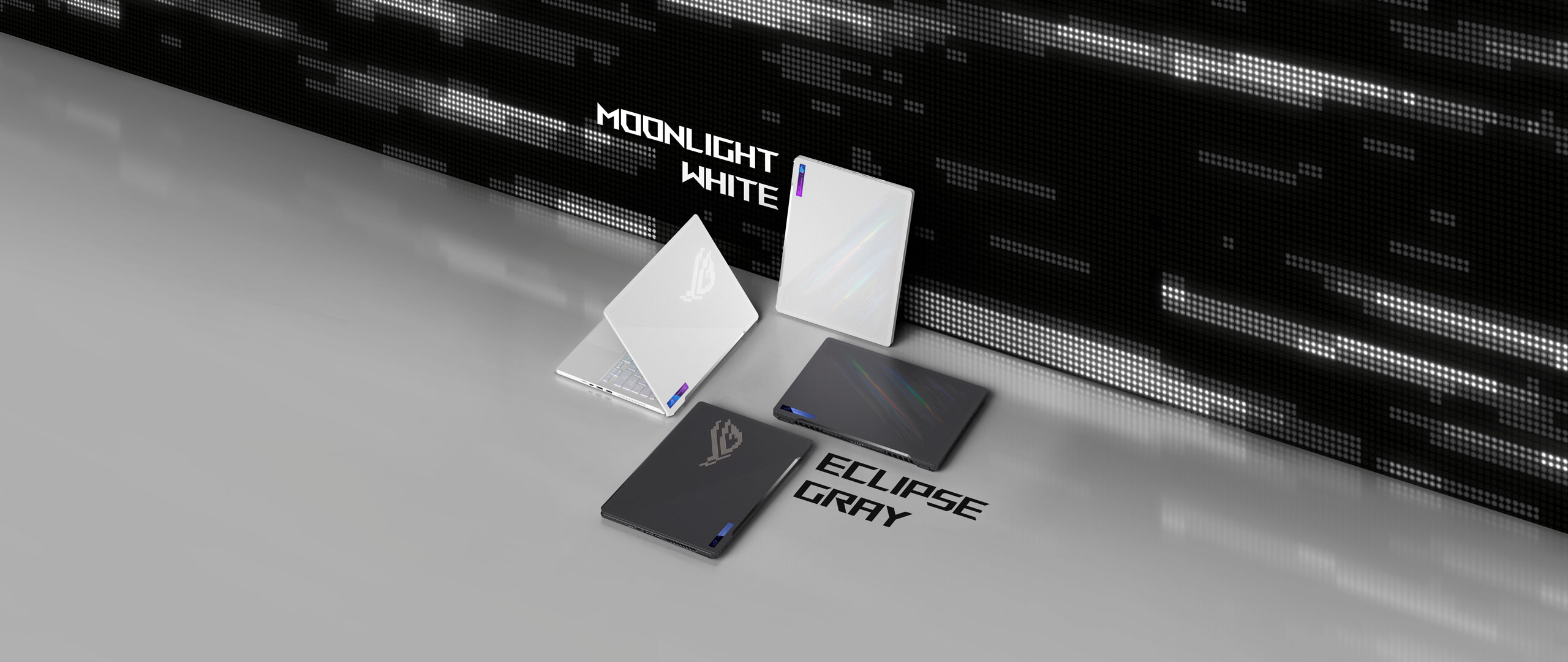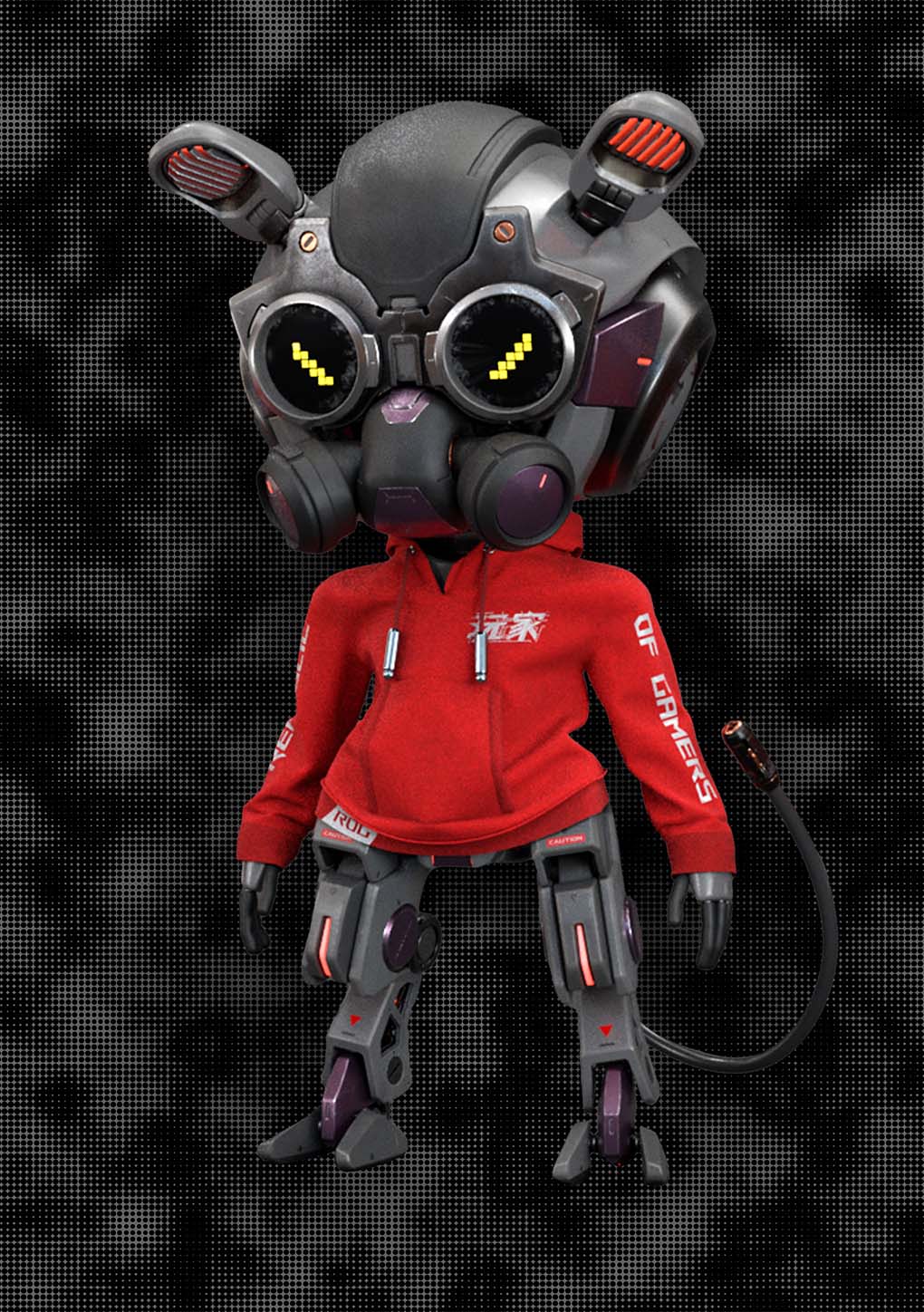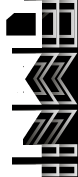 #AniMe Matrix
GÅ INN I MATRIX
AniMe Matrix™ og Virtual Pet OMNI er begge oppgradert. Flere lysdioder betyr flere animasjonsmuligheter, og OMNI kommer tilbake med en hel rekke minispill, som spilleautomat, Shoot'em Up og Whack-A-Mole. Spillene vil også lyse opp AniMe Matrix™ etter hvert som du går videre. Får du høyere poengsummer låser det opp flere animasjoner for OMNI når han møter deg på skrivebordet.
UENDELIG PERSONALISERING
Gjør Zephyrus G14 unik med tilpassbare animasjoner. Vis tekstmeldinger eller systemvarsler, still inn matrisen til å respondere i sanntid på lydkilden din, eller lag en egendefinert animasjon.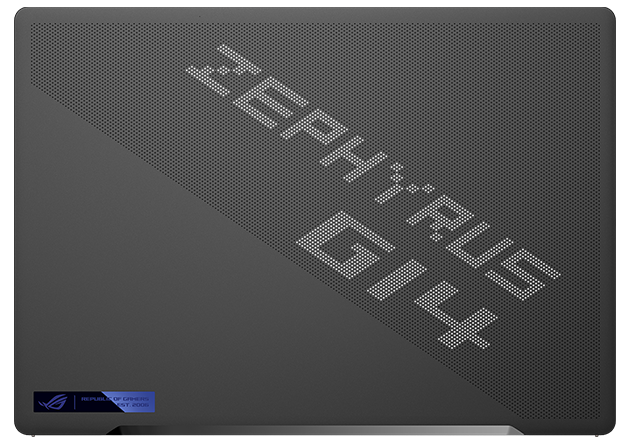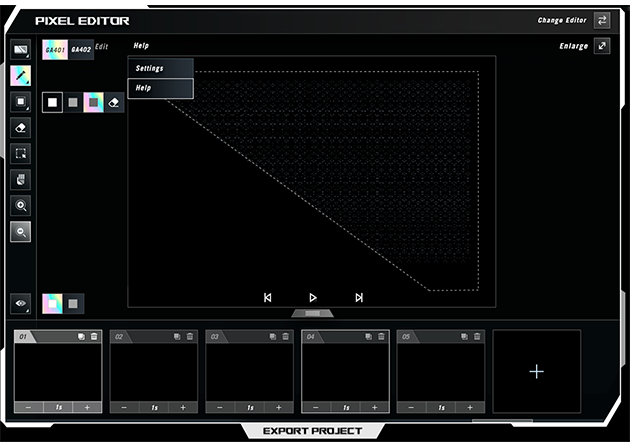 **PC kreves for å lagre tilpassede animasjoner
#YTELSE
AMD-MUSKELKRAFT
Splitter nye 2022 Zephyrus G14 drives av AMD og Windows 11 rett ut av esken. Med nye Ryzen™ 9-prosessorer og Radeon™ RX 6800S-mobilgrafikk, er dette AMD-kraftverket klart for både kraftig gaming og heftig multitasking. G14 bruker dessuten AMD-teknologier som Smartshift og Smart Access Memory for å komme litt på forkant. AMD Smartshift lar CPU og GPU dynamisk allokere strøm når og hvor det trengs mest, og AMD Smart Access Memory gir CPU-en full tilgang til GPU-ens VRAM, noe som forbedrer ytelsen når du spiller.
AMD
Radeon™ RX 6800S
Grafikk
5-10 % GJENNOMSNITTLIG
MUX-BRYTER
Ytelsesløft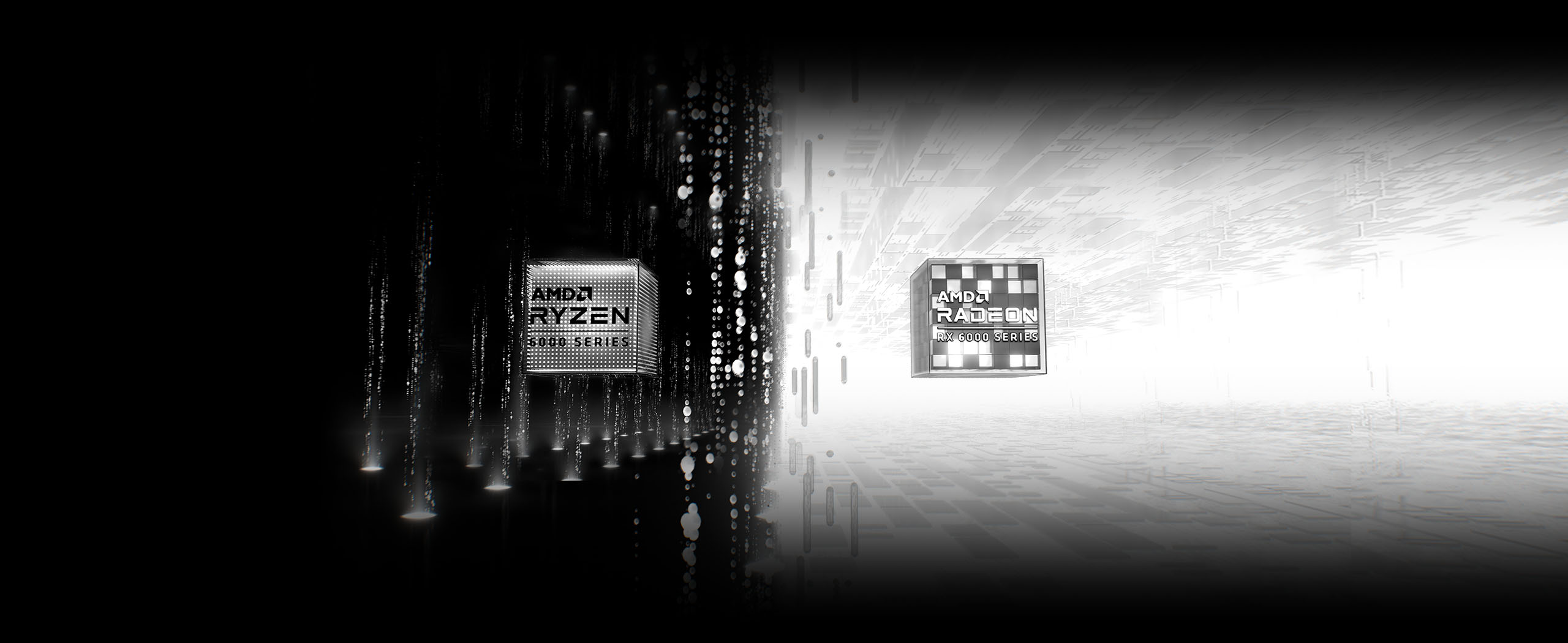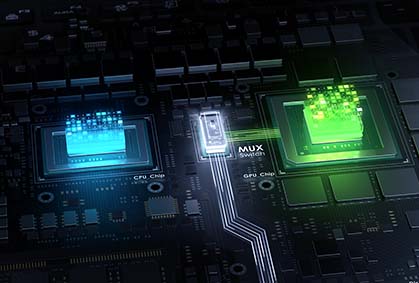 ROG MUX SWITCH
De fleste moderne gaminglaptoper bruker kraftige, dedikerte grafikkbrikker for høy ytelse – men ruter bilder gjennom CPU-ens integrerte grafikk før de når skjermen for å maksimere batteritiden. Dette forhindrer GPU-en fra å gi sin absolutt beste ytelse, og det er derfor vi innfører en MUX-svitsj på alle 2022 ROG-laptoper. For konkurransespill kan du aktivere en direkte GPU-modus som reduserer ventetiden og øker ytelsen med opptil 5-10 % i gjennomsnitt.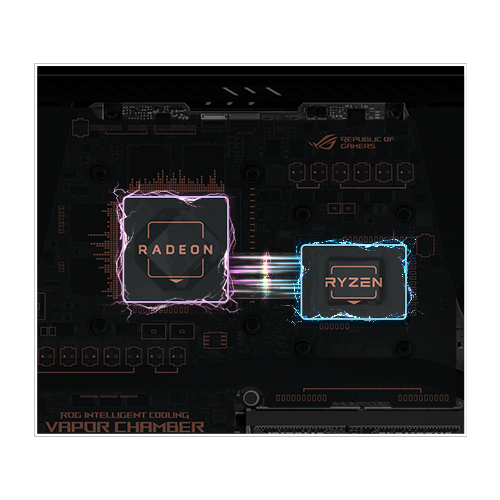 AMD SmartShift Max
AMD SmartShift-teknologi lar CPU og GPU kommunisere med hverandre og allokere strøm der og hvor det er nødvendig når du er i gang. Veiledet av maskinlæringsalgoritmer kobler SmartShift sammen CPU og GPU via Infinity Fabric, slik at begge komponentene kan reagere raskt på dynamiske arbeidsbelastninger.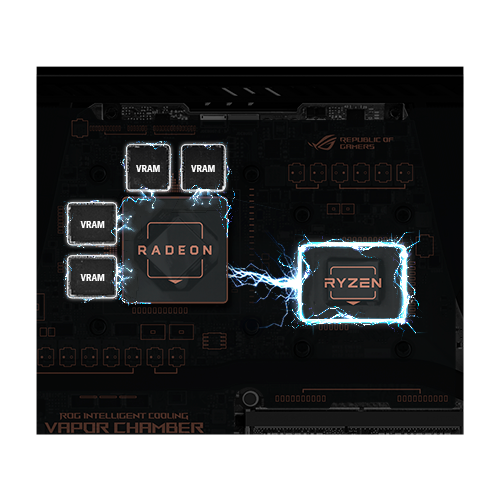 AMD Smart Access Memory
Tradisjonelle Windows-PC-er gir kun CPU-tilgang til små deler av grafikkminnet (VRAM) om gangen. Når den er sammenkoblet med grafikk i AMD RX 6000-serien, eliminerer Smart Access Memory denne flaskehalsen ved å gi AMD Ryzen-prosessorer full tilgang til VRAM for forbedret ytelse.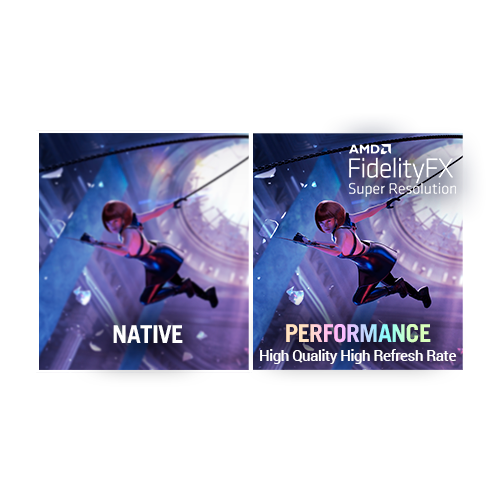 AMD FidelityFX™ Super Resolution
AMD FidelityFX™ Super Resolution (FSR) bruker banebrytende oppskaleringsteknologi for å hjelpe til med å øke bildehastigheten i valgte spill, og levere spillopplevelser med høy kvalitet og høy oppløsning.

DDR5-båndbredde
Utnytt de enestående dataoverføringshastighetene til DDR5 for å få mer responsiv spilling og multitasking.

Høyhastighets PCIe® Gen 4 SSD-lagring
En 1TB PCIe SSD gir raske oppstartstider, raskere spillinnlastingsskjermer og generell respons på tvers av operativsystemet.
pause
#TERMISK
SLAPP AV

Kraftig maskinvare krever robust kjøling, spesielt i et kompakt chassis. Zephyrus G14 har et dampkammer for CPU og GPU, med flytende termisk metallblanding for ultraeffektiv varmeoverføring fra de varmeste komponentene. I stillegående driftsmodus under lavstrømsoppgaver, lar 0dB-teknologi viftene automatisk deaktiveres for en virkelig stille opplevelse.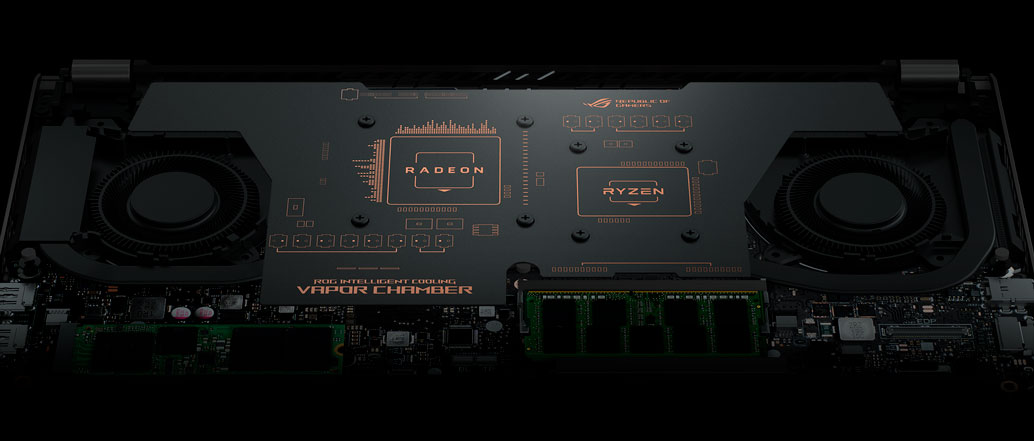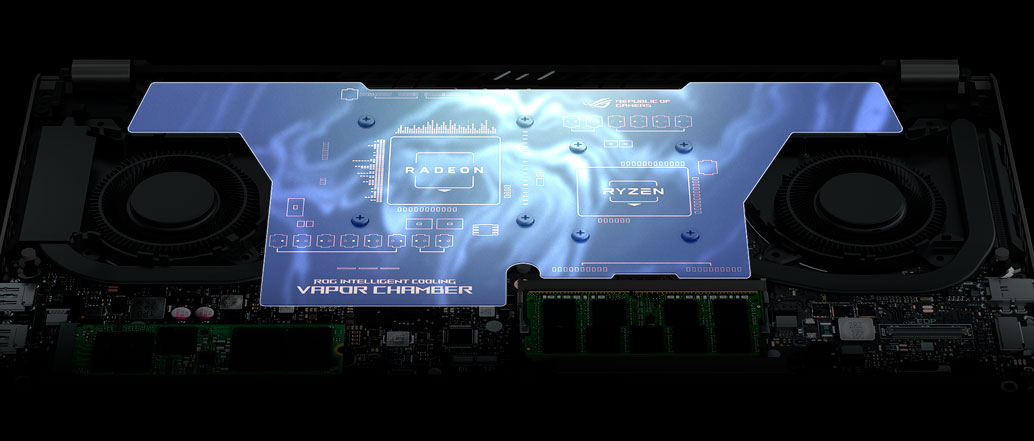 Dampkammeret

sprer varmen raskere

Sammenlignet med konvensjonelle varmerør som bare overfører varme langs sin akse, sprer dampkammerdesign varme over hele overflaten og skaper et bredere område for rask varmeavledning på trange steder. Reduksjon av temperaturen på disse kraftkomponentene bidrar til å forbedre langvarig stabilitet og pålitelighet.

25 W

MER PLASS TIL VARMEN*

*Forbedringer sammenlignet med bruk av varmerør, testet i Turbo-modus internt av ASUS.
Hold CPU og GPU-en avkjølt med
flytende metall
Opptil
10° kjøligere
CPU-temperaturer
Opptil
14 x bedre
Varmelede-evne

*Temperaturforbedringer sammenlignet med den tidligere termiske blandingen, internt testet av ASUS. Termisk ledningsevne sammenlignet med bransjestandard.
0 dB-teknologi

,
null distraksjoner

Opplev virkelig stille kjøling under lett arbeidsbelastning med 0dB-teknologi. I stille-driftsmodus slår kjølesystemet av alle vifter under lavstrømsoppgaver, noe som leder bort varmen passivt. Dette lar deg konsentrere deg om arbeidet ditt og fordype deg i filmer med mindre distraksjon. Hvis CPU- eller GPU-temperaturen øker, slik som i en spilløkt, slår viftene seg automatisk på igjen.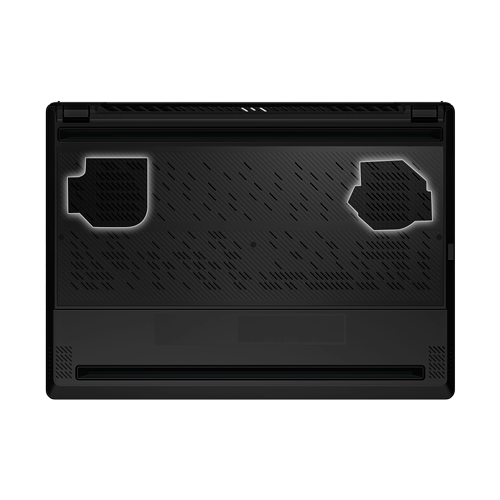 Filter inn. Støv ut.
G14 har i 2022 fått et støvfilter for begge viftene. Et filter hjelper til med å forhindre at støv og fibre suges inn i chassiset, slik at CPU-en kan kjøre med 15 % mer kraft og GPU-en 4 % mer kraft sammenlignet med maskiner uten filter etter lang tids bruk. Jo mindre støv, desto lenger kan datamaskinen kjøre med topp ytelse.
*Intern testing i et simulert støvete miljø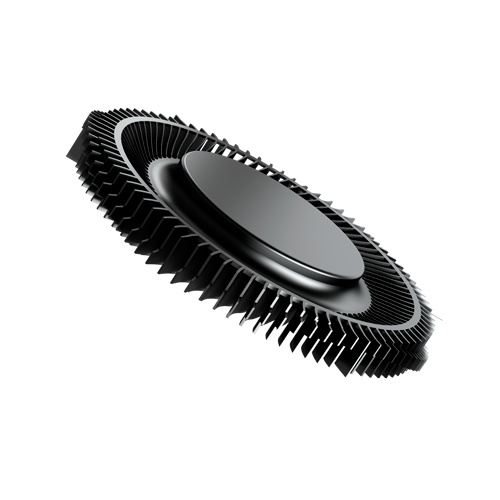 Oppgraderte
Arc Flow Fans™

beveger mer luft med mindre støy

Oppdaterte Arc Flow Fans™ har 84 buede blader spesialformet for å maksimere luftstrømmen med minimal støy. Blader med variabel tykkelse, som smalner ned til bare 0,1 mm på spissen, reduserer turbulensen ettersom viften akselererer luften med sentrifugalkraft. Det gir opptil 32 %* økt luftstrøm, samtidig som den er opptil 2 db mer stillegående. Ved å redusere vifteaksens diameter har viftene til 2022 G14 5 % høyere luftstrøm enn standard Arc Flow-vifter med samme rotasjonshastighet.

*Luftstrømsforbedringer sammenlignet med ROG-viftedesignen med 71 blader, internt testet av ASUS.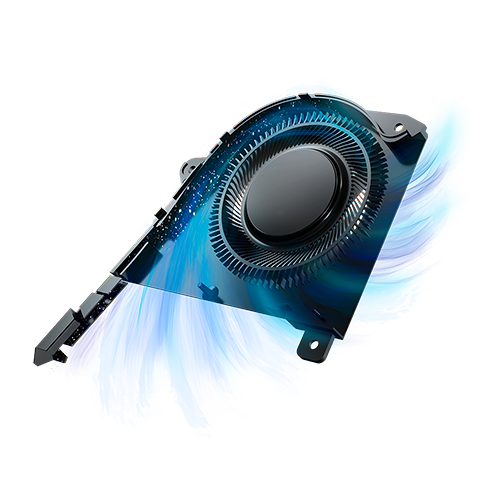 Anti-Dust Tunnels 2.0

opprettholder lang levetid

Vår oppgraderte termiske moduldesign har kortere antistøvtunneler som gir mer plass rundt viften, og forbedrer luftstrømmen med opptil 15 %. Forhindring av opphopning av støv sikrer langsiktig stabilitet og pålitelighet av systemet ditt.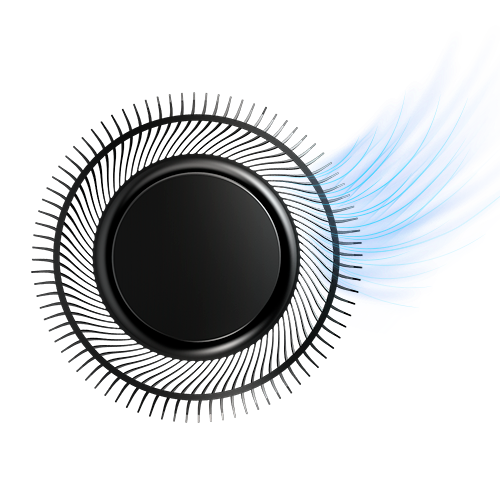 Utformingen med variabel bladtykkelse

reduserer luftkollisjon

Våre vifter bruker blader med variabel tykkelse og form, og endrer seg gradvis fra et høyt til lavt trykkområde før de blåser ut luft. Dette reduserer turbulens og maksimerer luftstrømeffektiviteten sammenlignet med tradisjonelle vifteblader. Denne patenterte nye designen skyldes den nyeste prosesseringsteknologien med flytende krystall-polymer som gjør at vi kan lage ultratynne, sterke vifteblad for økt luftinntak.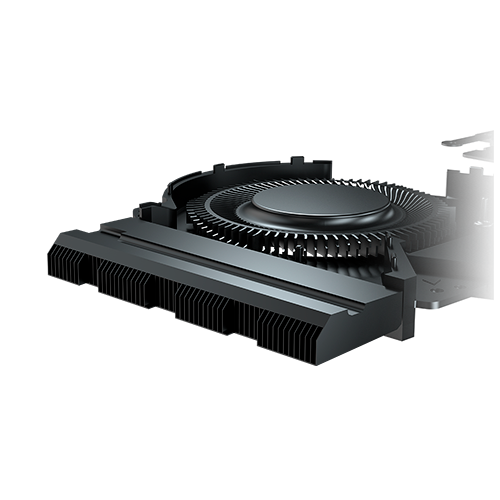 0,15 mm ultratynne

ribber

Termisk energi blir spredt av 4 kjøleribber, hver foret med ultratynne kobberfinner på 0,15 mm. Disse finnene har halve størrelsen i forhold til typiske løsninger, noe som gir høyere tetthet for varmespredning og lavere luftmotstand for å muliggjøre jevnere strømning. Det er opptil 211 kjøleribber med totalt 75 368 mm² overflate.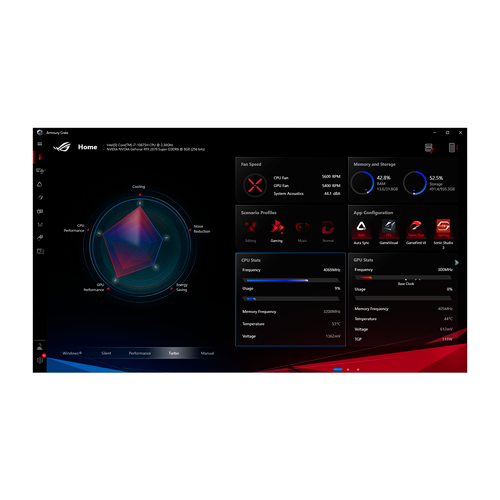 Scenarioprofiler

gir deg riktig kjøling til rett tid

Stille-, ytelses- og turbomodusene våre er bare begynnelsen. Scenarioprofiler lar systemet ditt automatisk bytte mellom dem basert på applikasjonen du kjører, sammen med andre viktige systeminnstillinger. Bytt automatisk mellom lyskonfigurasjoner, deaktiver Windows-tasten og pekeplaten under spilling og automatiser alt du ønsker. Armory Crate justerer på et øyeblikk ut fra det som skal gjøres.
pause
#SKJERM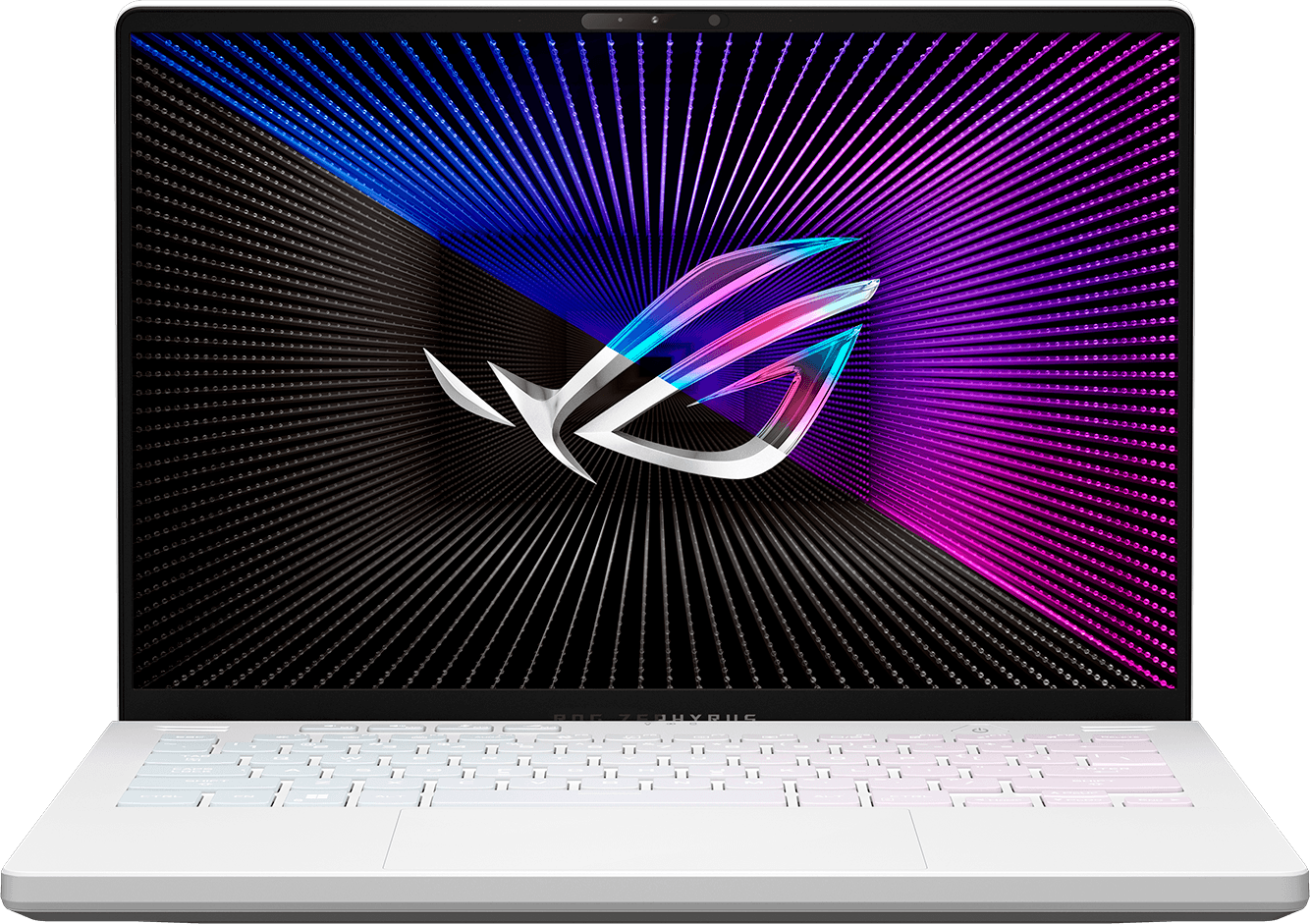 16:10
3 ms
Responstid
500 nits Lysstyrke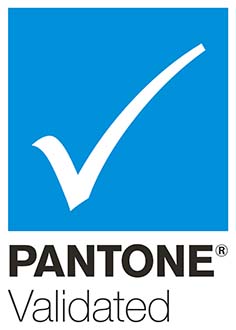 FANTASTISK GRAFIKK
Skjermen til laptopen er selve vinduet til alt arbeidet på maskinen. I år øker vi skjerm-til-kropp-forholdet på 16:10 til utrolige 91 %. Vår QHD 120 Hz-modell oppfyller også ROG Nebula-skjermstandarden, med 100 % DCI-P3-dekning, Pantone®-validering, 500 nit lysstyrke med en responstid på bare 3 ms. Denne nesten kantløse skjermen er omtrent så oppslukende som du kan få på en laptop.
*Finn ut mer om ROG Nebula displays her
*To flotte skjermalternativer – høyoppløselig, høyoppdatering med 120 Hz QHD eller ultraflytende 144 Hz Full HD – holder deg oppslukt med naturtro, Pantone®-validerte farger.
Opptil
500 nits
Lysstyrke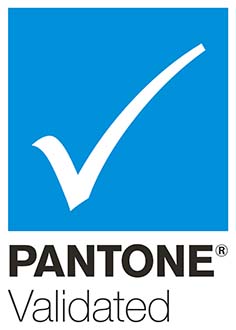 Dolby Vision®-teknologi
Dolby Vision® gjør medier bedre – fra scene til scene og fra bilde til bilde. Teknologien forbedrer standard HDR (4K) med høy dynamisk rekkevidde, og justerer det grafiske dynamisk for å gjøre alle bilder lysere og livligere. Kreatører kan filme og redigere strømmer, videoer og annet innhold i et format som ofte brukes av bransjefagfolk.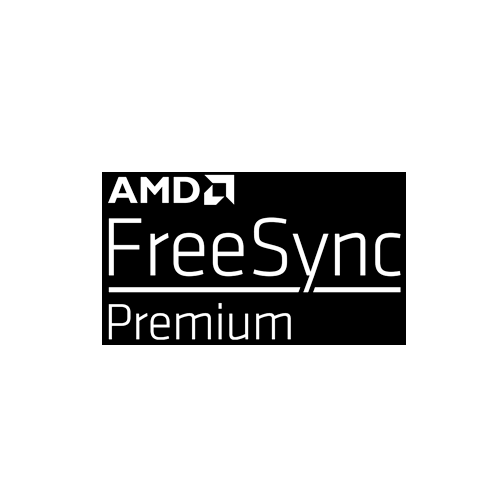 AMD FreeSync Premium-teknologi
Ingenting ødelegger spillet som lagging og hakking. GPU-er gjengir bilder med varierende hastigheter, men skjermer oppdateres normalt med et konstant klipp, ingenting forstyrrer innlevelsen i spillet som hakking og bildebrudd. GPU-er gjengir rammer med variable hastigheter, mens skjermer vanligvis oppdateres med et konstant klipp, slik at de kan bli usynkronisert og forårsake synlig hakking og andre ting som forstyrrer handlingen. Med FreeSync synkroniseres oppdateringsfrekvensen på skjermen med GPU-bildefrekvensen. Det eliminerer visuell hakking, minimerer lagging og reduserer inngangsforsinkelse. Gjør deg klar til å oppleve spill som ser ut og føles mer naturlig enn noen gang.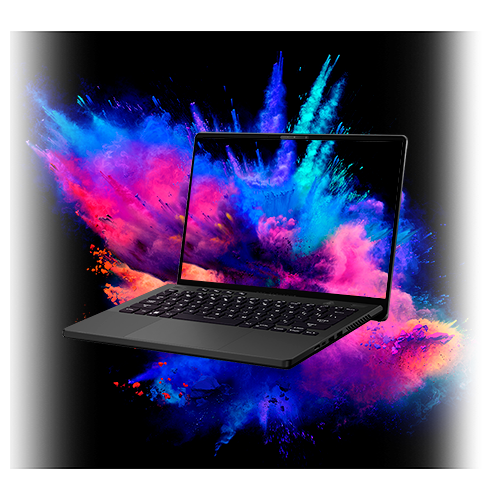 Pantone® Color Validation
Hver skjerm på IPS-nivå er fabrikkalibrert for å sikre at fargene er nøyaktige til Pantone®-paletten. Kunstnere, designere og innholdsskapere kan legge til innhold av høy kvalitet til porteføljene sine og oppleve fyldigere spillgrafikk på samme maskin.
pause
#BÆRBARHET
#LYD

FØL RYTMEN
Virtuell 5.1.2-kanals surroundlyd drevet av Dolby Atmos®-teknologi plasserer deg midt i handlingen, med et volum som er 1,78x høyere enn forrige generasjon G14. To diskanthøyttalere skyter lyden direkte på deg, mens doble Smart Am-basshøyttalere dunker lyden av gårde under maskinen. Bytt mellom 6 forhåndsinnstilte moduser som optimaliserer innstillinger basert på spilltype og media, eller gjør manuelle endringer som passer dine preferanser. To-veis KI-støydemping filtrerer både inngangs- og utgangslyd, noe som gjør strømmer, chatter og opptak klarere enn noensinne.

1,78 ganger
høyere lydvolum
Allsidig
3D-
mikrofonoppsett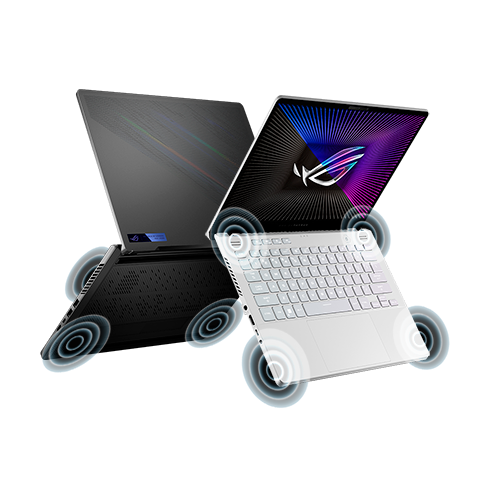 Dolby Atmos®
Enten du bruker hodetelefoner eller høyttalere i verdensklasse, forbedrer Dolby Atmos®-teknologien romlig fordypning med mer nyanserte og lagdelte virtuelle surround-surroundlydeffekter. Disse kan optimaliseres ytterligere med spesialinnstilte forhåndsinnstillinger for filmer og spill.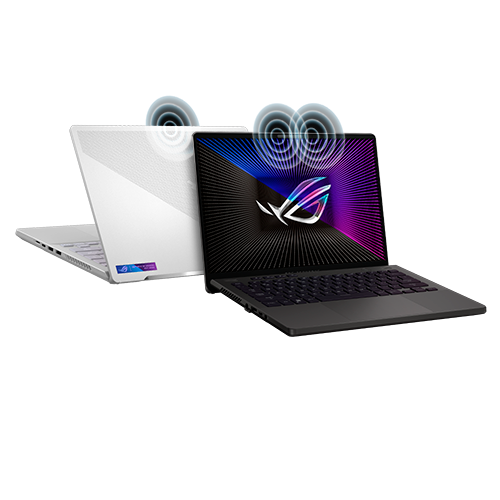 3D-mikrofonsett
Tre moduser for det integrerte mikrofonoppsettet gir deg større kontroll over inndataene. Kardioidmodus fanger lyd fra rett foran den laptopen, mens den reduserer lyd fra baksiden. Det gjør den ideell for strømming og spilling. Stereomodus bruker høyre og venstre kanal for å ta opp et bredere lydbilde for live musikk, eller andre oppslukende opplevelser. Retningsbestemt modus henter lyd fra alle retninger likt, for klarere gjengivelse av lyd i gruppekonferansesamtaler.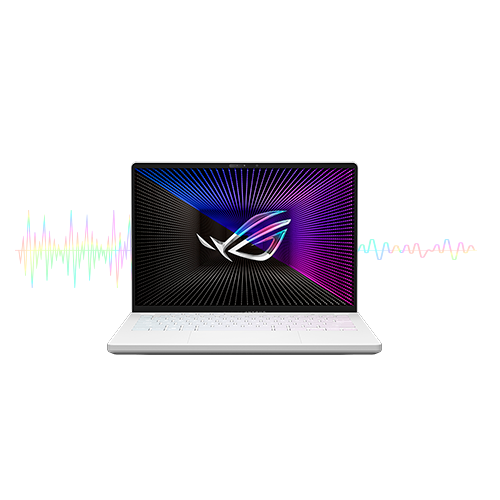 Toveis KI-Støydemping
Vår avanserte toveis KI-støyreduksjon fungerer med alle inngangsenheter og nedstrømsforbindelser, slik at du kan fjerne støy fra både mikrofonen og innkommende feeder. Den kjører også på CPU-en, som frigjør kapasitet på GPU-en for høyere FPS i spillet. Støyreduserende innstillinger kan til og med tilpasses per program, og filtrerer spesifikke apper som talechat uten å påvirke spilllyden.
pause
#TASTATUR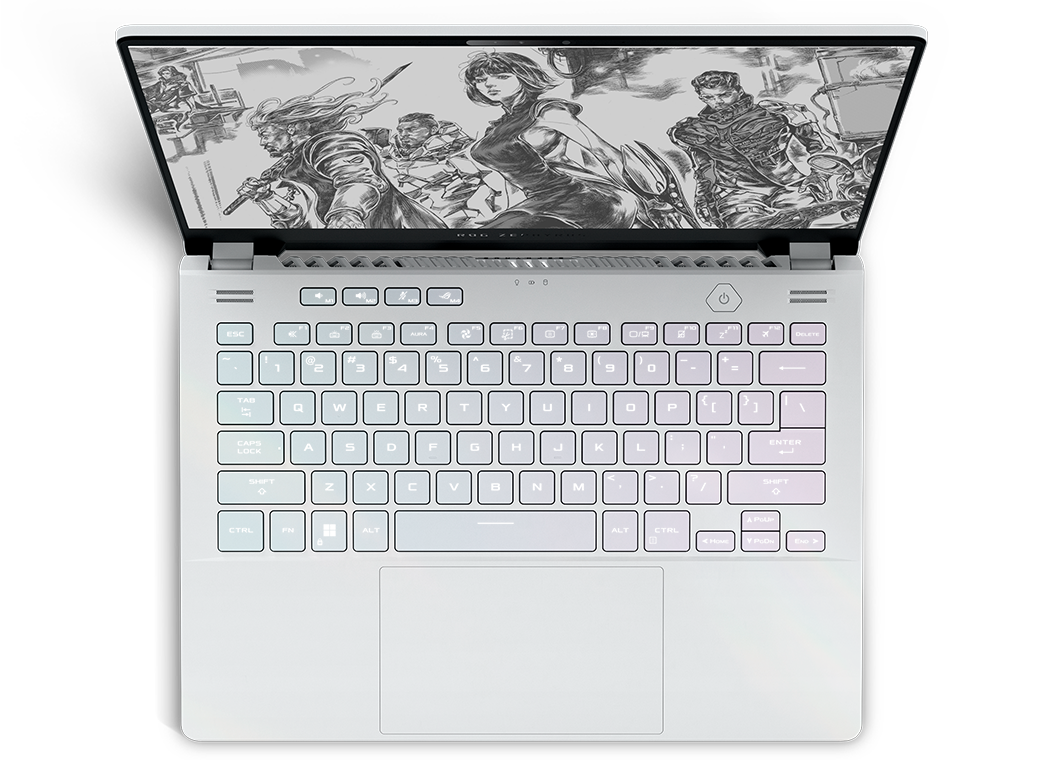 BLAND SAMMEN
2022 Zephyrus G14 har en større pekeplate for å matche den nye 16:10-skjermen for responsiv kontroll. Overstroke-teknologi utløser høyere ved hvert tastetrykk for raskere respons, og ErgoLift-designen hever tastaturet i en vinkel for å gjøre skrivingen mer komfortabel. En blendende Prismatic-glans dekker tastaturet, som gir dedikerte hurtigtaster for volum, mikrofondemping og ROG Armory Crate-programvare innen rekkevidde. De er også fullt tilpassbare og kan programmeres til å starte apper, brukes som funksjonstaster eller makroer.
Skrivebordinspirert
oppsett
Hurtigtaster
for spill
med makrofunksjon
Hurtigaktiverende
Nøkkelbrytere
#TILKOBLING
NESTE GENERASJONS WI-FI
Selv når det er mange klienter på et nettverk, holder Wi-Fi 6E deg tilkoblet. Når kompatible nettverk er tilgjengelige, kan du glede deg over nesten kablede hastigheter ved spill og videokonferanser.

TILPASSBARE TILKOBLINGSMULIGHETER
Doble USB Type-C-porter, en med strømforsyning og DisplayPort™ 1.4-støtte, samt et par USB 3.2 Type-A-porter gir mange tilkoblingsmuligheter. Den splitter nye Micro SD-kortleseren er perfekt for skapere som trenger å overføre data mens de er på farten.
#Programvare
TUNE OPP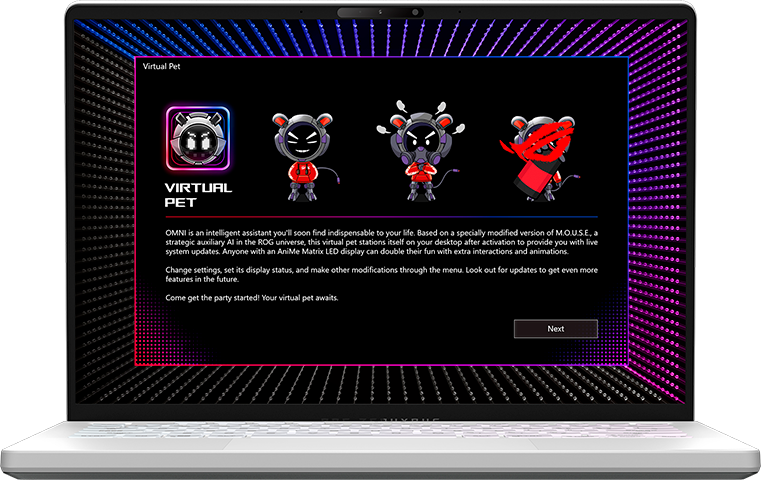 ROGs egen OMNI-maskot fungerer som en morsomt og interaktiv assistent. OMNI bor på skrivebordet ditt etter aktivering, og reagerer i sanntid på endringer i systembelastning og batterinivå. Det virtuelle kjæledyret kan også konfigureres til å henge på Zephyrus G14s AniMe Matrix™-skjerm.
Spill over 100 høykvalitetsspill med venner på din PC, konsoll, telefon eller nettbrett for én lav månedlig pris.* Med spill lagt til hele tiden, er det alltid noe nytt å spille.
*Vilkår og unntak gjelder. Spillkatalogen varierer over tid, etter region og etter enhet. Se xbox.com/gamepass og https://www.ea.com/eaplay/terms for detaljer. Xbox Cloud Gaming: Strømmegrenser gjelder. Krever kompatibel kontroller (selges separat), støttet enhet og Xbox Game Pass-app; se systemkrav. Systemkravene varierer fra spill til spill; ytelsesskalaer med avanserte systemer.
ROG GameVisual-programvaren tilbyr seks ekspertinnstilte grafiske moduser, laget for å optimalisere din visuelle opplevelse for bestemte spillsjangre. First Person Shooter (FPS)-modus forbedrer for eksempel synligheten i mørke omgivelser, slik at du kan få øye på eventuelle fiender som lurer i skyggene. Bruk GameVisual for å få den beste opplevelsen for alle spillene dine.
Automatisk bytte mellom modusene «lydløs», «ytelse» og «turbo» er bare begynnelsen for scenarioprofiler. Du kan også definere applikasjonsspesifikke preferanser for andre viktige systeminnstillinger, for eksempel belysningskonfigurasjonen, hvis Windows-tasten eller styreplaten er aktivert, samt hvilken GameFirst VI-profil som skal brukes. Armory Crate foretar justeringer på et øyeblikk for å best tilpasse seg oppgaven. Du kan konfigurere hver profil nøyaktig slik du vil.
Last ned Armory Crate-mobilappen for Android eller iOS gratis, og få få tilgang til innstillingene dine uten å forstyrre spillet! Tilgjengelig både på Google Play™ og App Store.
GIR OPP
Sett sammen ROG Zephyrus G14 med en rekke spillutstyr og tilbehør. Naviger jevnt og nøyaktig med ROG Impact-spillemusen. Få lettere oppakning med en mindre 100 W-adapter som gir nok strøm til at du kan holde deg produktiv hvor som helst. Og gi laptopen litt ekstra sikkerhet i en praktisk hylse i perfekt størrelse.
*Medfølgende periferiutstyr kan variere avhengig av region. Ta kontakt med lokale leverandører for nøyaktige tilbud.
Video Reviews
2022 ROG Zephyrus G14 Product Video
The Zephyrus G14 2022 is the best gaming laptop of the year. The specs are freakin' exceptional.
This year they just took it to a whole new level.
Not only is this gaming laptop a beast in performance, but it is also a master of memes. Is the Asus ROG Zephyrus G14 the gaming laptop of the year?
The 2022 Zephyrus G14 is back and more stylish than ever
The Radeon RX6800s makes any game you play smooth and enjoyable
The Zephyrus G14 is quite compact, featuring a sturdy and premium built. Its slim and lightweight, perfect for on-the-go users. The performance of the machine is also impressive and justifies the price of the product.
The look of the ASUS ROG Zephyrus G14 is really nice. It gives you that high end feel but at the same time, it's not too much. It's super portable and can be easily carried to schools and colleges.
I'm definitely impressed by the Zephyrus G14. One of the best options available currently for editing
Looking for power or mobility? Do you want it for something other than playing? Among these ROG laptops you will find the one that suits you
This gaming laptop is the best for me not because of its performance, but because in general, it gives us a complete and balanced experience. It not only allows you to play games, but also work and consume multimedia content at the same level.
We face the final stretch of the review with a magnificent taste in our mouths, and there is no area in which the Asus ROG Zephyrus G14 2022 does not stand out, offering the best on the market, with the best materials, the most cutting-edge components and a system of cooling capable of keeping temperatures at bay with a more than acceptable loudness, without neglecting other aspects such as the keyboard, the panel or the aesthetics and maintaining a price that is quite contained within its range
ROG Zephyrus G14 (2022) Gaming Laptop Unboxing + Gameplay
The newest gaming laptop from ASUS, ROG Zephyrus G14, is small, light, and powerful! We'll show you all the data, including benchmarks!
This beautiful white gaming laptop is very powerful [ROG Zephyrus G14]
The new laptop from the best-selling gaming laptop brand in Japan has arrived.
Here's what's so great about the ASUS ROG Zephyrus G14 GA402RK!
【악플러들 상대로 1대1】어느 티어까지 이길 수 있을까?
14인치 고성능 게이밍 노트북 ASUS ROG ZEPHYRUS G14 GA402 후기
Đánh Giá Chi Tiết Laptop Gaming ASUS ROG Zephyrus G14: Mẫu Laptop Gaming Mình Thích Nhất!
4 Lý do TẠI SAO mình chọn LAPTOP GAMING để LÀM ĐỒ HỌA!!
Đánh giá ROG Zephyrus G14 (2022): Sự lợi hại của AMD?
ROG Zephyrus G14 2022 (Ryzen 6800HS + RX6700S): Tò mò nhiều thứ về Laptop Gaming AMD
If you are looking for a lightweight notebook that can work, play games, ROG Zephyrus G14 is a good choice.
(2022) Asus ROG Zephyrus G14 // AMD Ryzen 9 6900HS + RX6700S
ASUS Zephyrus G14 (2022) – Jak dobrze to gra?
The New ASUS Zephyrus G14 is WAY Better!
ASUS Zephyrus G14 (2022) Review - The Best Laptop?
Asus ROG Zephyrus G14 Review - Is it ACTUALLY Any Good? [2022]
It Actually Got BETTER 🤯 - Zephyrus G14 2022 vs G14 2021
2022 ROG Zephyrus G14 - Every game is your game
The Rise of Gamers - 2022 Brand New ROG Gaming Laptops
ASUS Goes Crazy With Gaming Laptop Updates in 2022!
These NEXT-GEN Gaming Laptops will Blow Your Mind!
ASUS Is Already Killing It!
ROG Zephyrus G14 (2022) Review: Still THE Best 14" Gaming Laptop
"This 14 portable gaming laptop offers offers far better value compared to other small gaming laptops... To name a few it is lighter, has a better screen, a better battery life and a better CPU performance, all while being cheaper."" "If you want the best battery life and gaming performance... then the ASUS Zephyrus G15 is the way to go." "If you want better CPU performance and a larger 16:10 screen which just looks better while also getting better performance in creator loads."
There is a webcam, but the resolution is only HD, no RJ45 port.
The back cover of the machine is a hole making it difficult to keep clean. Fan vents come out of the front of the screen. causing heat vapor to hit your hand while in use Ports are fairly close together, no RJ45 ports.
It is a complete notebook. Comes with a light body, beautiful note page, with features with AniMe Matrix lights. The camera can be used for about one.
The power management feature is quite good, the screen is beautiful, the game can be played smoothly.
Video review from the channel Konsumer
Video review from the channel MrBegėdis
Product Comparison
Product added to comparison. Add up to 4 products or proceed to view compare products selected.
ASUS Footer