Features
Tech Specs
Awards
Gallery
Support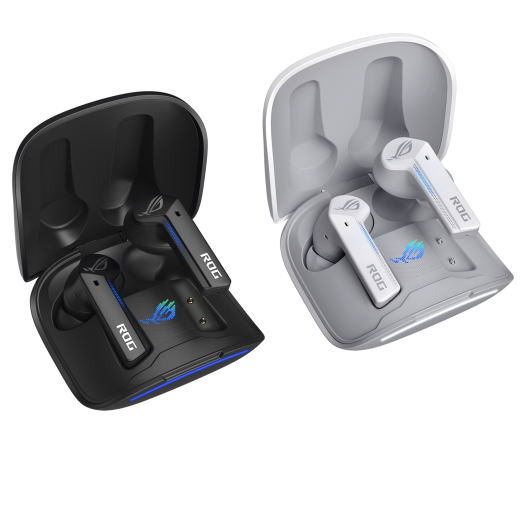 ROG Cetra True Wireless
ROG Cetra True Wireless gaming headphones with low-latency wireless connection, ANC, up to 27-hour battery with wireless-charging case, IPX4 water resistance and support for EQ/virtual 7.1 via Armoury Crate
Low-latency wireless audio: Gaming mode offers greater synchronization of audio with video for competitive gaming.
Active Noise Cancelation (ANC): Hybrid ANC technology detects and filters out noise coming from inside and outside the earbuds, enabling immersive audio experiences.
Extensive battery life: Features 27-hour battery life with quick-charge technology.
Wireless charging: Case can be charged conveniently via wireless charging.
Touch control: Simple quick-touch controls enable rapid in-game adjustments.
Water resistance: IPX4 splash-proof water resistance adds protection.
Video Reviews
Hadvon strong games from Rog Cetra True Wireless
Microphone quality is pretty decent, you'll probably be using these to talk to your teammates if you're playing battle royale games and such, so rest assured they can hear you well enough. As for sound quality, it's actually better than I expected. The 10mm driver inside does a good job of keeping the sound detailed,
Build PC GAMER ROG Full White Powered by ASUS à 5000 €
In this video, I take a look at the best wireless ROG gaming setup! The ROG Cetra True Wireless, ROG Keris Wireless Aimpoint, and the ROG Strix Scope RX TKL Wireless Deluxe
I've never felt comfortable using wireless earphones for gaming as they are known to have some latency issues. However, that has changed with the introduction of the ASUS Cetra True Wireless, a low latency wireless gaming audio solution!
4/5 candies for this excellent set of earphones. At least equal to the much vaunted Apple Airpods for around half the price.
gaming headset with active noise cancellation and great sound quality and volume.
ぽこえふろんに勝てる人は1人もいません【フォートナイト】【ROG Cetra True Wireless】
モンハンサンブレイク直前にすげえイヤホンが送られてきた件【Bluetoothイヤホン】ROG Cetra True Wireless (アールオージーセトラトゥルーワイヤレス)
【実機比較】ゲーミングワイヤレスイヤホンの最強が見つかりました
ワイヤレスゲーミングイヤホンの遅延が超少なくなってた件。FPSゲームも余裕でイケる!【ROG CETRA TRUE WIRELESS】
敵の位置が分かる「最強イヤホンで」目隠しフォトナしたら面白すぎたwww【フォートナイト】
【原神】とあるゲーム実況者の一日【Genshin Impact】
【無音の世界を創造する】ワイヤレスで見た目もカッコ良すぎるゲーミングイヤホンがやってきた。
FPSでも使える遅延が少なすぎるゲーミングイヤホン【ROG CETRA TRUE WIRELESS】【自作PC/ゲーミングPC/デバイス】
TWL Gaming headphones Top 1 ASUS ROG Cetra True Wireless #tainghe #Asus #phongvu
Asus ROG races to make TWS headphones and ends ... | Review Asus Rog Cetra Wireless
Asus Rog Cetra True Wireless - Gaming headphones "full" feature !!
ROG Cetra True Wireless | Best True Wireless Gaming 2022
Review the first True wireless from ROG
Headset ROG Cetra True Wireless with Ai Noise and RGB
Headset ROG Cetra True Wireless with Ai Noise and RGB
The ROG cetra wireless is a very good headset for gaming sessions but also for everyday music listening. Moreover, aesthetically they are very nice and the case is also of quality. Finally, they have the USB C port for fast charging and also the possibility of wireless charging.
Earbuds GAMING !! Ui | ASUS ROG CETRA ANC
A large over-the-head model ASUS ROG DELTA S Wireless and also True Wireless earbuds ASUS ROG CETRA TRUE WIRELESS, which will not get lost even on the street!
FIRST EARBUDS FROM ASUS! | ASUS CETRA TRUE WIRELESS | 4K REVIEW CZECH!
Compared to Airpods, they sound worse, but they also cost significantly less. And certainly the quality for the money doesn't mean that they are, say, 3x worse than AirPads. For the price, the utility value of the ROG Cetra TW is very good.
Video review from the channel KonsumerTV
As we have already tested the model in black color, we can say that the scenario is repeated. ROG Cetra True Wireless are excellent and more than excellent.
Because of everything shown, the ROG Cetra True Wireless headphones leave with the AX Advanced Design award.
Product Comparison
Product added to comparison. Add up to 4 products or proceed to view compare products selected.
ASUS Footer