Nie masz żadnych produktów w koszyku.
Funkcje
Specyfikacja
Nagrody
Galeria
Wsparcie klienta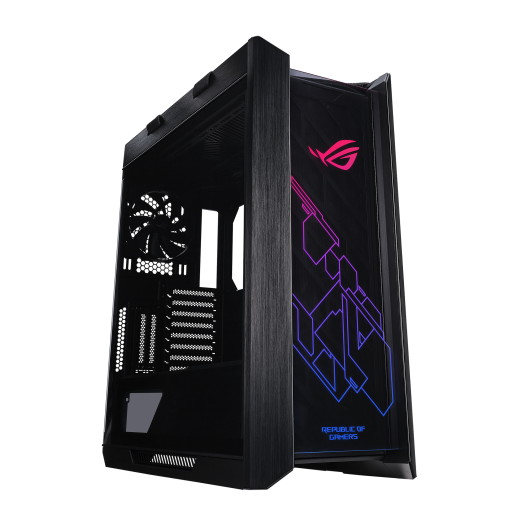 ROG Strix Helios
ROG Strix Helios RGB ATX/EATX – obudowa gamingowa o formacie mid-tower, z panelami z hartowanego szkła, aluminiową ramą, uchwytami na GPU, obsługą radiatora 420 mm i oświetleniem Aura Sync
Design i wygląd klasy premium: opracowana do optymalnej prezentacji systemu, dysponuje trzema panelami z hartowanego szkła, ramą ze szczotkowanego aluminium, a także zintegrowanym oświetleniem Aura Sync RGB z przodu
Łatwe składanie systemu o uporządkowanym wyglądzie: wielofunkcyjna pokrywa z uchwytami na kartę graficzną, osłona jednostki zasilającej oraz półprzezroczysta tylna osłona kabli gwarantują wygodne zarządzanie kablami
Elastyczne opcje instalacji GPU: możesz zainstalować trzy karty graficzne w orientacji standardowej albo dwie karty graficzne w ułożeniu pionowym – podkreślając świetnie prezentujący się system przy wykorzystaniu dołączonego uchwytu
Gotowa na wydajny układ chłodzenia: obsługuje płyty główne o formacie do EATX, zapewniając miejsce na rzednie radiatory o długości 420 mm, jak również pompę i zbiornik do chłodzenia cieczą
Zaawansowany panel I/O: gniazdo USB 3.1 Gen 2 Type-C™, cztery gniazda USB 3.0, przycisk do sterowania oświetleniem RGB oraz przycisk do zmiany prędkości pracy wentylatorów
Wygodne uchwyty na obudowie: możesz łatwo przenosić swój system na imprezy LAN dzięki wbudowanym ergonomicznym uchwytom z tkaniny
Recenzje wideo
Also very very good in terms of temperature.
I build a 5000€ Gaming PC !
Doigby discovers his new 4000€ Gaming PC
My dad is building a Gaming PC for the first time !
I offered him a 6500€ Setup GAMER !
WE REMAKE YOUR GAMING ROOM ! (ft. Guillaume)
Holy smokes, they sent some cool stuff.
Have you checked out Zizan Razak 's latest all ROG PC build lately!? 🤩 If you haven't, click on the link and admire this absolute beauty of a build!
You've GOTTA check out the 1.77" LiveDash OLED display on this motherboard! Let Summerr take you on a quick tour ;)
Must be a strong build cause it's got both a Hero AND the Avengers in it, right? 🤭 Anyway, let Xiaoting Miaomiao tell you more about this super-powered build with the ASUS Republic of Gamers Z590 Maximus XIII Hero!
ROG Strix Helios is a beast!
Perakitan ini dibantu channel Denny PC. Kalian bisa subscribe Denny PC di end screen belakang
I'm excited because I've been dreaming of doing a collaboration with Asus for years and we're finally here! Today we will assemble my new computer for the one million special. I can't wait then to try this ORG Wingwall, I think I'm one of the first to try it and it looks super cool.
It is definitely a very special model among the RTX 3080 Ti models. A very successful graphics card has emerged with its stylish design and excellent cooling that does not exceed 60 degrees.
Space, of course, but also expensive.
I really enjoyed playing in 4K resolution, and this PC build provided 120 frames at ultra settings.
A strong, strong assembly for games, all pieces of Asus
The monster that prevails all 🔥
Video review from the channel Uldons TV
ROG Strix Helios - Not your average gaming chassis. Sleek design, dust-filter protected fans, easily detachable side panels and multi functional cover make this chassis an absolute beast ROG Ryujin 360 Cooler - It allows for a quick glimpse at your PC's current health while looking awesome all at the same time ROG Zenith Extreme Alpha - Monster of a Motherboard, smooth performance and the brains of any pc
The review from the channel Texnoplov
Porównanie produktów
Produkt został dodany do porównania. Dodaj maks. 4 produkty lub wyświetl porównanie wybranych produktów.
ASUS Footer